Oscars Best Picture Spotlight: What to Read (and Watch) If You Liked Dune
Lit Hub's Literary Countdown to the 94th Academy Awards
With a hefty ten nominations, Dune comes in only second to The Power of the Dog in terms of how much it stands to win (or lose) on Sunday night—though four of the categories will be awarded off-screen, much to the (understandable) chagrin of the nominees. In addition to Best Picture, the adaptation of (the first half of) Frank Herbert's 1965 novel is vying for Best Directing (Denis Villeneuve), Costume Design, Sound, Original Score, Adapted Screenplay (Denis Villeneuve, Jon Spaihts, and Eric Roth), Film Editing, Makeup and Hairstyling, Cinematography, Production Design, and Visual Effects. It takes a village! Notably, Dune didn't land any acting nominations, which seems a shame given how hard Oscar Isaac's beard works.
*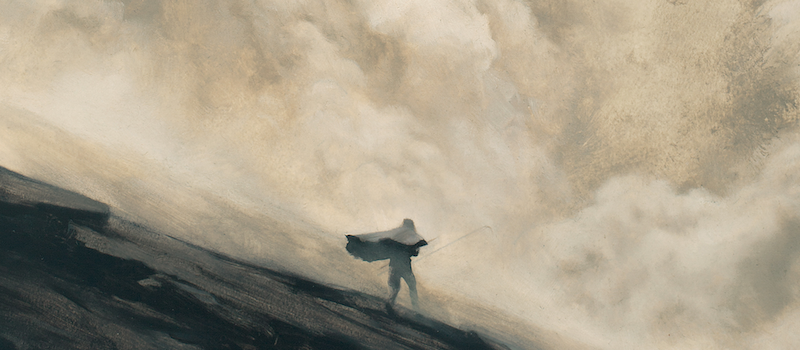 Arrakis, the desert planet sometimes known as Dune, is the only place in the universe where melange can be found. When ingested regularly, this expensive and addictive spice yields a remarkable effect—it can prolong a human life by two to four times the normal span. In special cases, even longer. Mining "spice," however, is not only difficult but also exceedingly dangerous, mainly because the operations attract gigantic, voracious sandworms, some as long as four hundred meters. Nonetheless, the Baron Vladimir Harkonnen has brutally exploited Arrakis and its people for years, thus acquiring a sizable fortune to underwrite his own outsized ambitions, which may extend to the Imperial throne itself.
Even now, half a century since it first appeared in 1965, Dune is certainly still "the one"—it continues to top readers' polls as the greatest science-fiction novel of modern times. Many would say of all time. Before Star Wars, before A Game of Thrones, Frank Herbert brought to blazing life a feudalistic future of relentless political intrigue and insidious treachery, a grandly operatic vision—half Wagner, half spaghetti western—of a hero discovering his destiny. Characters include elite samurai-like warriors, sadistically decadent aristocrats, mystical revolutionaries, and, not least, those monster worms, which barrel along under the desert surface with the speed of a freight train, then suddenly emerge from the sand like Moby Dick rising from the depths.
Frank Herbert (1920-1986) was approaching 40 when he began to work on Dune. Although he had published a handful of stories and, in 1956, one excellent novel of psychological science fiction (The Dragon in the Sea, also known as Under Pressure), he mainly earned his living as a journalist, for a while as night photo editor at the San Francisco Examiner. Over the years he also composed speeches for Washington politicians, took on freelance writing assignments, and unsuccessfully submitted fiction to well-paying magazines such as The Saturday Evening Post. As late as 1962 Herbert's science fiction brought in so little—only a few hundred dollars a year—that he relied on his wife Beverly to take part-time jobs while caring for their two sons. Middle-aged and frequently in debt, Herbert must have sometimes felt himself to be a failure. (Keep reading)
*
IF YOU LIKE DUNE, TRY: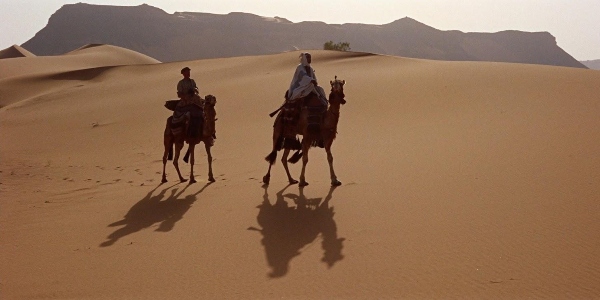 Lawrence of Arabia, dir. David Lean (1962)
Stream it on: Amazon Prime
If you like your movies long and sandy (and if you're a Dune fan I'm going to assume that's the case), then you'll love the longest sandy movie of them all: David Lean's four-hour Oscar-winning 1962 historical epic Lawrence of Arabia. Based on the life of famed archeologist, diplomat, writer, and "gentleman soldier" (which, I believe, is a Britishism for any officer who believes in both table manners and phrenology) T.E. Lawrence (memorably played by Peter O'Toole), it tells the sandy, sandy story of how Lawrence (on behalf of Alec Guinness in brownface) singlehandedly defeated the entire Ottoman Empire and looked damn good doing it.  –Dan Sheehan, Book Marks Editor in Chief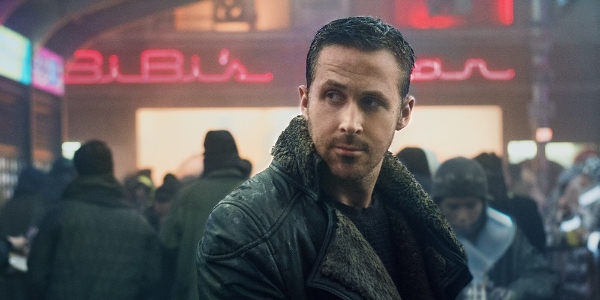 Blade Runner 2049, dir. Denis Villeneuve (2017)
Stream it on: Amazon Prime
Perhaps you enjoyed Dune because of its visual richness and enormous scope? Well, in that case, you should check out Villeneuve's other extensive, visually dazzling sci-fi epic: Blade Runner 2049. If you, like me, were a little dubious about revisiting the Blade Runner story so many years later, rest assured that the film's lush immersiveness is truly on par with the original.  –Olivia Rutigliano, CrimeReads Associate Editor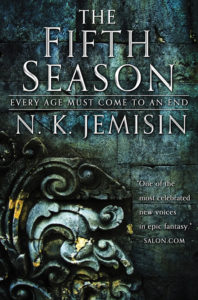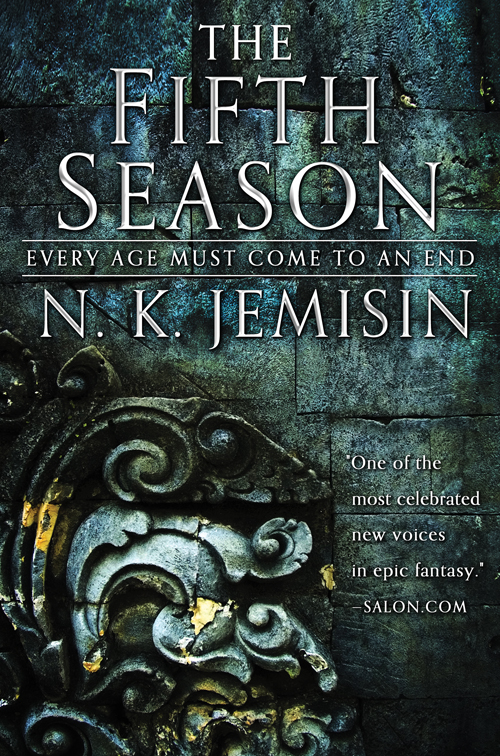 N.K. Jemisin, The Fifth Season
To be fair, Jemisin's Broken Earth Trilogy (The Fifth Season, The Obelisk Gate, The Stone Sky) doesn't feel particularly similar to Frank Herbert's Dune series while you're reading it. But Dune was one of the first popular speculative novels to take ecology, climate change, and the earth's systems as a subject—and Jemisin's novels are among the most recent (and best) to do so. (Neither, in case you're wondering, is at all didactic about it.) But on a more essential level than that, I'll declare this: Dune was the fantasy novel everyone should have been reading 50 years ago, and The Fifth Season is the fantasy novel that everyone should be reading now.  –Emily Temple, Managing Editor, in 10 Books to Read by Living Women (Instead of These 10 by Dead Men)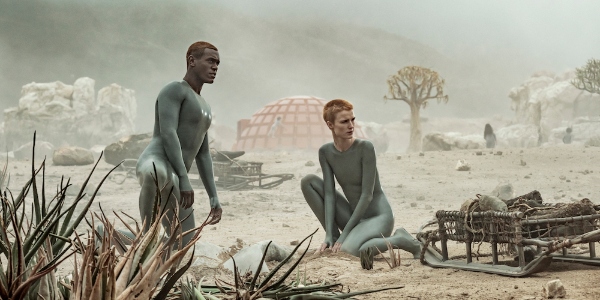 Raised by Wolves (2020–)
Stream it on: HBO Max
It's fairly surprising to me that more people aren't talking about this show. If you're looking for a big-budget, otherworldly sci-fi epic that tackles such heady topics as motherhood, theology, and the possibility that the universe might hate us, HBO's Raised by Wolves is just the ticket. (It should be said for newcomers that the second season moves at a much faster clip than the first.) Also featuring: excellent costume and set design, executive producer Ridley Scott's famous milky android blood, and a giant (flying) sandworm!  –Eliza Smith, Special Topics Editor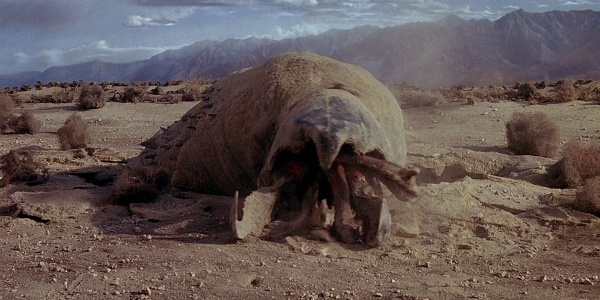 Tremors, dir. Ron Underwood (1990)
Stream it on: STARZ, Amazon Prime
You can't talk about sandworms without talking about the Graboids of Tremors. A recent rewatch of this classic reminded me that it's blatantly pro-gun, so take it with a grain of sand (sorry)—but vintage Kevin Bacon is one of my favorite aesthetics, and creature features one of my favorite genres, so I can't help myself but love this one forever.  –ES
*
Further reading:
On the unsung history of Jewish writers and the birth of science fiction • From Gatsby to Giovanni's Room, the stories behind five American classics • The seven fictional planets we hope NASA just discovered • Fictional drugs of literature, ranked • Let's stop with the realism versus science fiction and fantasy debate • The most-rejected books of all time • Ten books to read by living women (instead of these ten by dead men).
---