Jews in Space: On the Unsung History of Jewish Writers and the Birth of Science Fiction
Lavie Tidhar Considers the Past, Present, and Future of Jewish Writers in Sci-Fi and Fantasy
"Jews in… spaaaace!
Mel Brooks promised us something we never really saw. And there was never a History of the World: Part II. Mel Brooks has a lot to answer for.
Many years ago in my teens, wanting to write about Israeli science fiction, I contacted the eminent translator and editor Emanuel Lotem. The first thing he said to me was to forget it: "There is no such thing as Israeli science fiction."
I think I spent the years since still trying to prove him wrong.
Ironically, of course, the modern genre of science fiction owes much of its existence to Jewish writers. The term itself was coined by Hugo Gernsback (originally: Gernsbacher), a Jewish immigrant to the United States from Luxembourg. He founded the magazine Amazing Stories in 1926, and launched the genre as we know it today. And in 1934, Gernsback created the Science Fiction League, creating chapters of young fans in cities around the United States and ushering in the modern era of fandom.
It is a sad reflection of the period that many of his writers referred to him as Hugo the Rat, a hint of the anti-Semitism that was never absent from the field. At least science fiction's oldest awards, the Hugos, are named in his honor.
Jewish writers flocked to this new literature. The most prominent was Isaac Asimov, who worked in his parents' candy store, where he devoured the new magazines that showed spaceships and aliens on the cover. Before long he was writing his own stories, among them the classic Robot series and the Foundation (a retelling in outer space of the fall of the Roman Empire). But there are no Jews in these worlds. And the editor who published them, John W. Campbell, Jr., was of the genteel anti-Semitic sort: the reason there are no aliens in Asimov's Foundation is because Campbell believed in the superiority of Man—that is, in the superiority of white Nordic-stock men. So Asimov—who feared he would have to change his name for being too Jewish, as had happened to another Campbell author—removed any mention of aliens from his work.
At the same time, young Jewish boys were inventing a new kind of storytelling. Jerry Siegel and Joe Shuster created Superman in 1938 in the emerging shadow of World War II and the Holocaust, utilizing the Nazis' own Nietzschean philosophy of the "Übermensch" or Super Man. One of Superman's first tasks was to fight the Nazis, which he did throughout the war years. My own later novel, The Violent Century, touches on these themes.
Superman might be the ultimate Jew passing—a refugee child growing up in America, assuming the Anglo name "Clark Kent," forever hiding the secret of his true identity—but as in the world of science fiction, the heroes of the funny pages were not outwardly Jewish. There were, still, no Jews in space.
It might be worth noting how many comics artists did change their names, incidentally. Milton Finger became "Bill" Finger, Robert Kahn became "Bob Kane," and together they created Batman. And the most prominent of all superhero creators, "Stan Lee," began his life as Stanley Lieber. In his autobiography, Isaac Asimov mentions how the name Stanley (as Asimov's brother was also called) was initially chosen by many Jewish immigrants for its Anglo-Saxon sound. But the result was to make the name unmistakably Jewish in America.
There are plenty of Jewish writers in SF, but a scarcity of Jewish characters.
American Jewish writers continued to be drawn to science fiction, meanwhile: Robert Silverberg, Harlan Ellison, Robert Sheckley, Alfred Bester, the list goes on. But like Asimov before them, they seldom wrote explicitly Jewish stories.
On the other side of the Iron Curtain, meanwhile, in the Soviet Union, a different group of science fiction writers was flourishing. The most prominent were the brothers Arkady and Boris Strugatsky. They survived the Siege of Leningrad as children. Their Jewish father did not. The Strugatsky Brothers went on to write such classics as Roadside Picnic (1972) and the many tales of the Noon universe, which imagines a Socialist utopia extending far into space. In Poland, the Jewish Stanislaw Lem became one of the leading writers of SF in the world: he is best known in the West for his classic novel, Solaris (1961).
But in most of these works, Jews don't really make an appearance. They may be coded or in disguise, but neither American nor Soviet SF seemed much interested in the idea of anyone other than the dominant heroes going into space.
In the meantime, however, the dream of space slowly went from being fantasy to reality. Ironically, much of the US space program was built on the work of Nazi scientists. Wernher von Braun, father of the V-2 rocket (the building of which relied in part on the use of Jewish slave labor), was recruited after the war in the American Operation Paperclip. The operation scoured Germany for rocket scientists, repatriating them to the US, sometimes under new identities, in order to work on the new Space Race.
And as the US and Russia competed to see who would first get into space and then the moon, it was the Soviets, remarkably, who really did send the first Jew into space. Cosmonaut Boris Volynov flew into Earth orbit on the Soyuz 5 mission as flight commander in 1969.
He wasn't entirely alone, either. There have been some fourteen Jewish astronauts so far, though two of them died tragically—Judith Resnick in the 1986 Challenger disaster, and the first Israeli astronaut, Ilan Ramon, in the 2003 Columbia disaster. Space travel, previously the domain of science fiction, has now become a facet of contemporary life (and death).
*
In literature, meanwhile, Jews were still mostly absent. Growing up on a steady diet of translated American SF and the occasional odd work of Hebrew, I scoured the shelves for them. They were there but… they were… strange.
No one seems to remember, for instance, the bizarre ending of Frank Herbert's enduring sci-fi classic Dune series. In 1985's Chapterhouse: Dune, set in the ancient galactic space milieu of feuding royal families, multiple planets and mutated assassins, the space Jews suddenly appear. They have apparently hidden out in space for millennia, maintaining the old ways all the while. Jews in space! And as Herbert died a year later, we never did get to find out what they were doing out there among the stars. It was truly a Judaeus ex machina ending.
Or take Joel Rosenberg's Not For Glory (1989), a pulp military SF novel about the Jewish mercenary planet of Metzada, featuring an unlikely space hero named Shimon Bar-El! Rosenberg wrote several novels in this milieu. And there was Robert Silverberg's Roma Eterna (2003), an alternate history where the Roman Empire never fell, which concludes with the Jews launching off into space in search of the Promised Land.
These books were few and far between. Perhaps my favorite remains Isidore Haiblum's obscure The Tsaddik of the Seven Wonders (1971) a comic novel about a galactic operative who finds himself trapped in Jewish history.
"Why Jewish history?" one of the protagonists, bewildered, asks at one point.
The answer, delivered matter-of-factly, is that "Jews are everywhere."
I won't even tell you about the handful of Israeli SF novels that came out during that time. Perhaps the weirdest is geneticist Ram Moav's Luna: The Genetic Paradise (1985), which imagines a genetic utopia on the moon in which a new breed (literally) of Israelis dominate. Moav, dying as he wrote the novel, offers both a searing critique of contemporary Israeli society in the novel, while advocating a deeply uncomfortable eugenicist philosophy for the future. It makes for strange reading.
The one author who did feature Israelis of sort in his novels, however, was not in Israel. Philip K. Dick—then an obscure SF writer, though later his works would become a mainstay of Hollywood films—was fascinated by the idea of the Israeli kibbutz. Having grown up in one, I was equally fascinated to find them crop up in Dick's work—especially when he placed them on Mars.
"Is it true," Nicole asked, "that your people are about to launch a probe of Mars?"
"Not a probe," Stark said. "A transport. We will set up our first kibbutz there, one of these days. Mars is, so to speak, one great Negev. We will have orange trees growing, someday."
"Lucky little people," Nicole said, under her breath. (Dick, The Simulacra)
But like the moon landings themselves, much of this potted history is just that—history. These books and fragments remain anomalies in the field to this day. I tried to do my own bit—with HebrewPunk (2008) and Martian Sands (2013), Central Station (2016) and Unholy Land (2018). My short story "The Old Dispensation" has fun with the concept of an entire galactic milieu only settled by Jews. But on the whole, Jews in science fiction stories—Jews in spaaace!—remain thin on (or off) the ground.
Will things change? I can't say for sure. There are plenty of Jewish writers in SF, but a scarcity of Jewish characters. And there's a new generation of Jewish writers who certainly seem more inclined to explore Jewish themes, but in fantasy fiction. Perhaps, then, let this be an open call. Jump in.
There's room enough in space for everyone.
__________________________________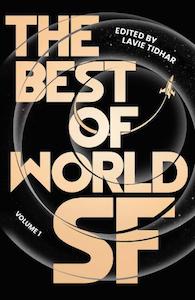 Excerpted from The Best of World SF: Volume 1. Used with the permission of the publisher, Head of Zeus. Copyright © 2021 by Lavie Tidhar.
---