Oscars Best Picture Spotlight: What to Read (and Watch) If You Liked CODA
Lit Hub's Literary Countdown to the 94th Academy Awards
With only three nominations (compared to, say, The Power of the Dog's twelve), CODA wasn't originally a favorite to win Best Picture. But the heartwarming coming-of-age story of Ruby, the only hearing person in her deaf family, pursuing her love of music and trying to help the family fishing business stay afloat, has been hugely successful so far this awards season: they've won two SAG Awards, two BAFTAs, a Producers Guild of America Award (Best Picture—a pretty reliable Oscars Best Picture predictor), and the Writers Guild of America Award (Best Adapted Screenplay; Sian Heder adapted the film from Victoria Bedos's and Stanislas Carré de Malberg's La Famille Belier). On Sunday, CODA will compete for Best Picture, Best Supporting Actor (Troy Kotsur), and Best Adapted Screenplay. Fun fact: since the creation of the Film Editing Academy Award in 1934, no film has won Best Picture that hasn't been nominated for Best Director and/or Film Editing (CODA was nominated for neither). So if this so-called dark horse wins, it'll end an 87-year streak of Oscars history. And if it wins all three categories, it'll be only the seventh Best Picture to win every category for which it was nominated. No pressure!
*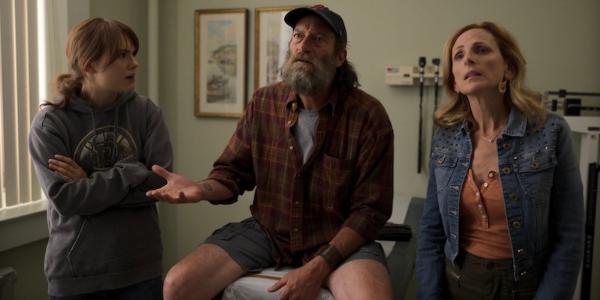 "CODA" is an acronym which stands for "Child of Deaf Adults." It is also a term in musical notation: a symbol which signals to musicians to jump to another section in the sheet music, to perform a variation on the music they have already played. Both meanings are relevant to Sian Heder's joyful new film that takes this term as its title—it is the story of a teenage girl who is the only hearing person in a deaf family and therefore must constantly jump back and forth between different worlds of communication and expression.
To her neighbors in the fishing town of Gloucester, Massachusetts, Ruby Rossi (Emilia Jones) is seen as her family's American Sign Language interpreter: a bridge between her deaf parents and brother to the rest of the hearing and speaking community. She feels like an outsider at school and in the town at large for the ableist prejudice directed at her family, and she feels like an outsider in her family for being the only one with a different experience of the world. No one—not even Ruby—sees her bilingualism for the beautiful thing that it is, an endowment of two special means of self-expression. She (a teenager, after all) is urgently looking for a way to express herself and does not yet realize what she has at her disposal.
From the outset, CODA skillfully manages to represent its deaf characters not as disadvantaged for being deaf, while managing to illustrate the rest of the world's complete incomprehensibility regarding what to do about their deafness. Some people see it as a problem, while others see it as an awkward inconvenience. The Rossis don't care what the town thinks about them. But none of the film's hearing characters, Ruby included, see ASL as an opportunity, or even as an equal to spoken/heard language. In fact, Ruby associates ASL with chores, draining tasks she doesn't want to do. (Keep reading)
*
IF YOU LIKE CODA, TRY…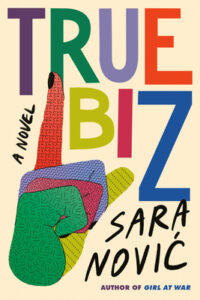 Sara Nović, True Biz
"True biz" is an exclamation in American Sign Language: really, seriously, definitely, real-talk. Novic's second novel is a coming of age story set at the River Valley School for the Deaf, where students Austen and Charlie, and CODA (child of deaf adults) headmistress February learn to navigate their place in the world. With a television adaptation optioned, this is an incredible story of sign language, disability rights, first love, and loss. –Emily Firetog, Deputy Editor, in Lit Hub's Most Anticipated Books of 2022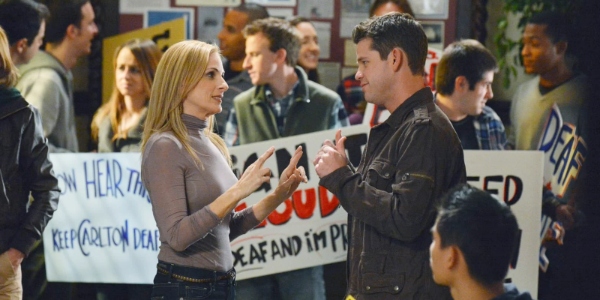 Switched at Birth (2011-2017)
Stream it on: Hulu, Freeform, ABC, IMDB TV
If you loved Marlee Matlin in Coda, you might also enjoy her performance in the hit ABC Family series Switched at Birth. The crux of the show might feel like a soap opera, but bear with me: two daughters are accidentally (you guessed it) switched at birth. The mistake is discovered through a DNA test when they're teenagers, and the families start to get to know one another. One daughter (Vanessa Marano) was swept into an incredibly wealthy family. The other (Katie Leclerc) was brought into the loving home of a struggling artist single mother. She's also deaf. The show was widely celebrated for its nuanced depiction of deaf culture. Of course, no show is perfect, but Switched at Birth marked a significant shift in representation. Marlee Matlin plays a mother and dedicated guidance counselor at the Carlton School for the Deaf, which in one particularly moving episode, the students must protest to keep open. The episode is done entirely in American Sign Language—something that, according to the network, had never been done on mainstream television before. In addition to these obvious similarities, the show is very much about teenagers feeling like they don't fit in with their families and the ways our paths might diverge from those of our parents. There's even one plot line about seriously pursuing music, much to the dismay of the parents. There's also the added feel-good bonus of the surprising bond between students and the teachers who really believe in them. –Katie Yee, Book Marks Associate Editor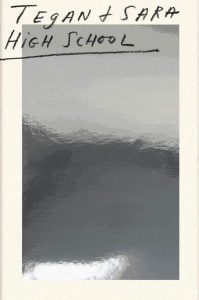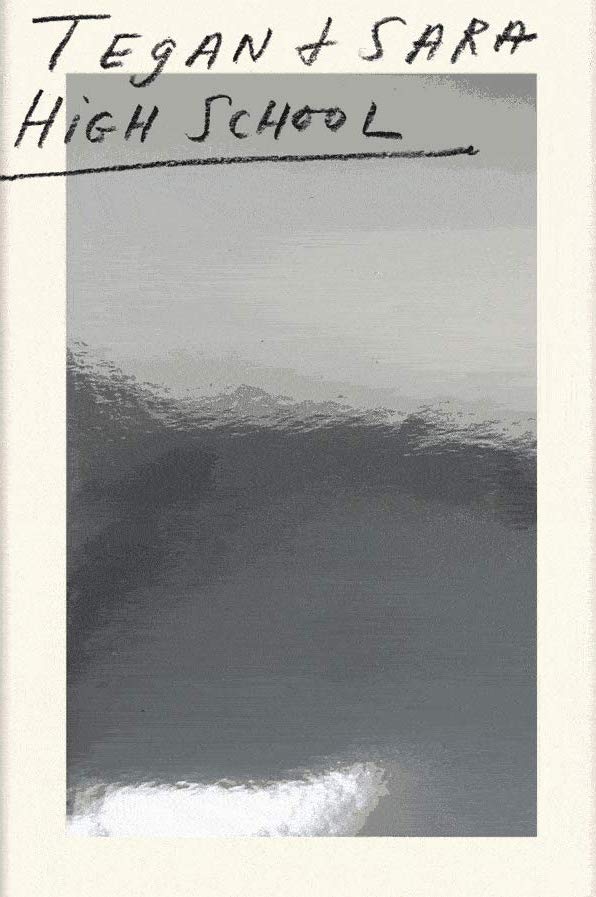 Sara and Tegan Quin, High School
Fans of CODA, might I direct you to High School, the memoir by beloved Canadian indie pop duo Tegan and Sara? You don't have to be a fan of their music to love this book. (Though I would also recommend their music.) Obviously, the actual plotlines here are very different, but what pulses through both stories is a fierce love of music, discovered at a tender age. As twins, Tegan and Sara also write thoughtfully about what it means to craft your own identity while holding tightly to family. –KY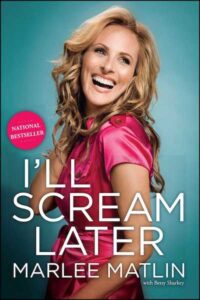 Marlee Matlin, I'll Scream Later
Marlee Matlin, who stars in CODA, was adamant that the film cast deaf actors to play the deaf characters when she learned the studio wanted to hire more famous hearing actors for those parts. But she insisted, and they listened. (This is fortunate on many levels, including that it gave Troy Kotsur, who plays her husband, the opportunity to give his incredible Oscar-nominated performance.) Since she won the Academy Award for Best Actress in 1984 for her role in the movie Children of a Lesser God, Matlin has had a complicated journey advocating for herself against detractors and abusers (including her ex-boyfriend and that film's co-star, William Hurt) and critics who incorrectly and vituperatively suggested that she won her Oscar purely out of sympathy. Matlin's journey has been intense, and her whole career has been dedicated to expanding the opportunities for deaf actors, as well as changing the attitudes and structures of the hearing world who view deafness as a disadvantage or problem. And she has! I'll Scream Later is a badass story of recovery, strength, love, fortitude, and creativity from one of the most important and influential game-changers working today. –Olivia Rutigliano, CrimeReads Associate Editor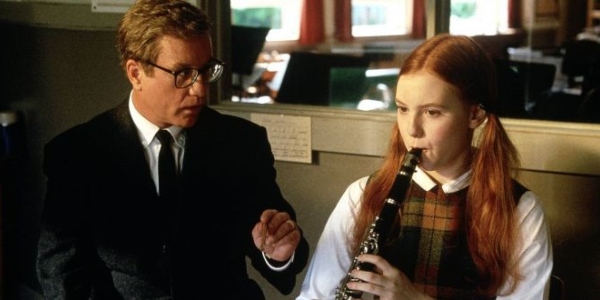 Mr. Holland's Opus, dir. Stephen Herek (1995)
Stream it on: Amazon Prime

In Mr. Holland's Opus, a musician named Glenn Holland (Richard Dreyfuss) working on a symphony takes a job as a high school music teacher just to pay the bills, with no intentions of staying. But as the years pass and he winds up being an integral part of the school community, he grows increasingly frustrating and resentful at his seeming-failure to pursue his dreams of professional composing or do something "meaningful" with his life. His anger grows when he and his wife Iris (Glenne Headly) give birth to a son, who turns out to be deaf. While Iris learns ASL and does everything she can for her son, Holland grows resentful and angry because he thinks he can't even pass on his love for music to his child. But then he realizes he's wrong about everything, and that he has the opportunity to change many lives for the better. We don't necessarily need more films about hearing people learning to accept and appreciate the deaf community, but it's an interesting story about the discovery of many types of music, many types of connection, and many types of success. –OR
*
FURTHER READING
Who can speak for the deaf community? • At home in deaf culture: storytelling in an un-writable language • The isolation of being deaf in prison • How a sensitivity reader gave me a clearer picture of my grandfather • What counts as standard? On Black English and Black American Sign Language.
---