On the Unconventional 19th-Century Women Who Ventured to Write Novels
Rosalind Miles Considers Progress, Change, and "Lady Novelists"
Women make progress in times of change, when the old certainties break down and create cracks and fissures in the monoliths they previously could never hope to penetrate.
Some spirited women found their natural home in untamed pockets of the globe like the Wild West of the young USA. In the early days of the American frontier, the daredevil horsewoman and army scout Martha Jane Cannary wore men's clothes for safety as well as convenience, and earned the nickname "Calamity Jane" by warning any men who messed with her that they were "Courtin' calamity!" With that established, "I was at all times with the men when there was excitement and adventures to be had." she said, proudly recalling an overland trek from Missouri to Montana in 1865. "I was considered a remarkable good shot and a fearless rider for a girl of my age."
The American sharpshooter Annie "Get Your Gun" Oakley traveled the world with a hair-raising repertoire of terrifying tricks, including knocking the ash off a cigarette held in her husband's mouth with a single shot. "Little Miss Sure Shot," as she was billed, entranced the crowned heads of Europe and despite serious injuries in road and train accidents never missed a shot. Still a sure shot in her sixties, Oakley taught other women to shoot, and proposed putting together a team of female sharpshooters to fight for the United States in time of war. Shooting should be a normal part of women's lives as it was for men, she remarked. "I would like to see every woman know how to handle [guns] as naturally as they know how to handle babies." 
Circus life carried clear risks for Annie: her repertoire included taking potshots at various targets while standing on the back of a cantering horse. But as daring goes, few could match the Italian high-wire artiste Maria Spelterini. Born into the circus, Spelterini discovered her gift for rope-walking at around the age of three, and from her father's big top in Italy, she toured as far as Russia, completing death-defying feats like crossing the Neva River in Saint Petersburg without any kind of harness or safety net. Her pièce de résistance came in 1876, on the border between Canada and America, when she became the first and only woman to walk a tightrope over Niagara Gorge.
With her good looks ("buxom" and "about 150 lbs" as the newspapers admiringly recorded), Spelterini won admirers wherever she went, performing in a jaunty hat, a bright red tunic showing off her legs, and a vivid green bodice tightly corseting her waist (how did she breathe?). That summer in Niagara, she walked the tightrope across the gorge, then returned, stepping backward. She crossed with her feet in baskets, with her head in a bag, and with her wrists and ankles manacled, though not all at the same time. In a lifetime of performing terrifyingly dangerous stunts, Spelterini's uncanny skill never failed her, and she died peacefully in her bed. If you ever feel your own nerve failing, think of Spelterini and tell yourself, "Whatever this is, it's not Niagara Falls!"
Women make progress in times of change, when the old certainties break down and create cracks and fissures in the monoliths they previously could never hope to penetrate.
These women put paid to the notion of female frailty at the same time the women's movement was beginning to mount a serious challenge to the idea that women were weaker than men. A similar strength and growing self-confidence was evident throughout the Western world as women began moving for themselves and making progress over the whole range of science and the arts. Poetry, drama, music and dance, fine art and sculpture, all invented by the Ancient Greeks, had given men a head start of two thousand years. But now came an art form open to women on the same terms as men, one as fresh and new as its name, the novel.
*
Enter the "Lady Novelists," stepping into history in their hundreds worldwide, along with Fanny Burney, Jane Austen, Maria Edgeworth, and all the other well-loved "authoresses" of the UK. In the US, Sarah Josepha Hale gave the world the nursery rhyme "Mary Had a Little Lamb," and dreamed up the country's national Thanksgiving holiday in addition to blazing a trail as one of America's first women novelists, while the expressive Anna Cora Mowatt first broke out at the age of fifteen by eloping with a man almost twice her age, then went on to dazzle New York and London as a journalist, biographer, novelist, playwright, and, not least, a leading lady winning acclaim in Shakespearean roles.
Mary Theresa Vidal became Australia's first female novelist in 1845 with her Tales for the Bush (a somewhat sanitized account of life in the outback, so real-life bushwhackers said), while the writer Harriet Miller Davidson was so highly regarded that when her husband was appointed a professor of English at the newly created University of Adelaide, the common view was that the post should have gone to his wife. The well-traveled Mary Anne Barker published a total of twenty-two books, starting in 1870 with Station Life in New Zealand, moving on to A Year's Housekeeping in South Africa (1880), and ending with her valedictory Colonial Memories of 1904.
None, however, had the success Isabella Bird enjoyed with A Lady's Life in the Rocky Mountains (1879). In it Bird enthusiastically relates the adventures she had with a "dear desperado," the attractive, one-eyed "Rocky Mountain Jim," an escapade the august Royal Geographical Society does not seem to have held against her when they honored her with the invitation to become their first female fellow in 1892.
Wherever they were writing, these women had dared to move out of the conventional female role of service and self-sacrifice to pursue their own needs and drives. Dogged by financial insecurity, ill health, and bad eyesight as a number of them were, it took a special kind of courage to defy the stifling social expectations of the time and to bear the often brutal discouragement they faced, usually in the family.
Poetry, drama, music and dance, fine art and sculpture had given men a head start of two thousand years. But now came an art form open to women on the same terms as men.
This peculiar misery befell the pioneer Fanny Burney not once but twice. To her father, his middle daughter was neither as good looking nor as intelligent as her two sisters, so they were sent to Paris to be educated while she was left at home to teach herself. Her father's second marriage, to a rich but ignorant and bad-tempered widow in 1767 when Fanny was 15 brought another setback, the dread of her stepmother's disapproval. Within the year the anxious teenager made a bonfire of all her "scribblings," burning everything she had written, including a full-length novel, for fear that this "unladylike" activity "might vex" her stepmother. Happily, the lost girl found herself and tried again. Fanny went on to enjoy great success as a writer, not least with her novel Camilla (1796), among whose purchasers was a twenty-one-year-old resident of Steventon Parsonage in Hampshire, one "Miss J. Austen."
As the great Jane well knew, a woman attempting any form of writing risked severe censure, social exclusion, a despised old-maidhood, and more. Very few at the time, male or female, would have disputed the assumption that a woman's duties were social, matrimonial, and domestic, and could not, should not be anything else. When the young Charlotte Brontë wrote for advice to the poet laureate Robert Southey, she was loftily told that "literature cannot be the business of a woman's life," and referred back to peeling the potatoes and washing the pots and pans.
Fortunately Charlotte resisted Southey's advice and beat on into the murky waters of storytelling, that dark and dangerous, ever-beckoning sea. And what a voyage! Charlotte, Anne, and their equally extraordinary and even more original sister Emily, all cruised the wilder shores of love, and their daring is without parallel. Nineteenth-century critics objected strongly to the throbbing eroticism and sadomasochism of their work. Their contemporary, the prominent British writer Elizabeth Rigby, considered Mr Rochester to be a "strange brute," dark, surly, sarcastic, and "of the brigand stamp." But the heroines of these novels were also spirited, particularly given the age. Who can forget that great line from Jane Eyre: "I do not think, sir, you have a right to command me, merely because you are older than I, or because you have seen more of the world than I have; your claim to superiority depends on the use you have made of your time and experience."
Jane is shown here as challenging Rochester's "right to command" and his "claim to superiority," expressing her defiance of convention and her refusal to be judged as inferior to a man. This is no less than her claim as a woman to the right to control her own existence—to freedom and independence, in fact.
__________________________________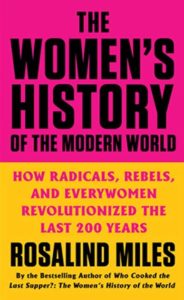 Adapted from The Women's History of the Modern World by Rosalind Miles. Reprinted by permission of William Morrow, an imprint of HarperCollins Publishers. Copyright © 2021 by Rosalind Miles.
---