On Reframing and Overcoming the Bodily Colonization of Stage 4 Cancer
Fred D'Aguiar Considers the Meaning of Liberation in the Face of a Life-Threatening Disease
The surgeon says he needs eyes and this next MRI, a prostate­ specific membrane antigen (PSMA) test provides that sight, lights up the pathways of the spread of the disease, so that when he goes in he knows exactly where he has to head. Only problem is the test is not approved by the Food and Drug Administration (FDA), so my insurance will not cover it and it costs three grand. I agree to pay.
My frame of mind (I am the one, not Debbie, who is strapped in a car at the zenith of a roller coaster) never enters my think­ing until I find myself lying awake in the dark listening to the cat snore and measuring the breaths of my wife by touch as our spoon­-sleep posture allows.
I have to Ngũgĩ wa Thiong'o my mind; that is, decolonize the mental frame of my cancer, which has colonized my body. Ngũgĩ models his analysis on the mental chains that survive the physical dismantling of colonization. The postcolony is really the colony by other means, the same situation with different faces operat­ing the old structures of oppression. The Marley invocation to "emancipate yourself from mental slavery" is a spiritual rendi­tion of Ngũgĩ's philosophic and political mission conducted on this psychological front (with material ramifications).
I modify Ngũgĩ by working within the structure he admon­ishes as the thing that compromises the thinker. For Ngũgĩ it is not possible to operate freely with the tools responsible for op­pression in the first place. Lucky for Ngũgĩ that he can think in Gikuyu; that is, outside the frame of English, before moving into English to break it down. My cancer thinks (if I may personify the disease) inside me, and I have to think within the frame of the disease. I grapple with cancer as if the disease itself carries the emblems of my cure as much as my demise. My fight is not a binary of one thing against another but of two things conjoined. In one sense I need more Marley than Ngũgĩ. I must chant down the disease, smooth those spikes of its register in me. To sleep at night I need to be at peace with my disease, not peace as in surrender. The kind of peace, uneasy for sure, where oppos­ing armies live cheek by jowl and know that both parties have to share the same space even if their views about the use of that space may vary.
The song of my cure resides in my sense that chant, move­ment, deep breathing, some drum and a little bass go a long way toward making me strong. With strength I can react in less neg­ative ways with the drugs. I say drugs after I start to take a pill to block the production of testosterone considered a food by my can­cer. The tablet, bicalutamide, is bitter and much smaller than the Flomax. I am warned that it may result in hot flashes, to which my wife responds, "Welcome to my world." I ask if it means that I might grow breasts. My wife guffaws, shocked at the suggestion, and the doctor nods and admits that some breast enhancement may result from the medication.
Bicalutamide, 50 mg once daily, is the latest recruit into my army, the one that I have to raise to combat the cancer. Its ac­tion of stopping testosterone means that my body will soon be depleted of that male stock. As a carpet-­bombing military strat­egy, that is the equivalent of collateral damage to me as the drugs attack the cancer. There is always this trade­-off with medicine. To get better there has to be a transaction with a personal cost attached to it. Die of cancer or live as a testosterone-­empty male. I teach that gender is fluid and we must in our state of gender binary revise our outlook to take on board the flotation of gen­der, its fluidity as a condition of our modernity. My students are at ease with the use of plural pronouns for singular fluid bodies. I have to adjust. Now if I feel tender in my breasts or come over all hot and bothered I have a visceral reminder of a cultural state of affairs for many. A by­-product of the drug treatment for my illness, unintended and beneficial, is that I begin to belong to the consciousness of this new societal norm.
I grapple with cancer as if the disease itself carries the emblems of my cure as much as my demise.
Rastafarians want us not to under­-stand a thing, rather to over-­stand it; that is, to truly comprehend a thing by overcoming our ignorance about it. To understand it would be to capitulate to its overpowering colonization of our consciousness, literally, to accept our subjection to its strictures. To over­-stand is to rise above the subject and see its true dimensions and so free the mental process of the chains of the thing. The mind wishes to get to know, or over­stand, in order to be free of those straitjacketing mechanisms. The Rasta vibe in me with the help of chant and drum and bass (though no puffing on the smokestack of a spliff's herbal transportation) fancies itself attuned to liberation.
The tune of liberation from my disease, on this personal and metaphysical plane, is a combination of these rhythms from my cultural and philosophical life. Goffman's Asylums and Foucault's Madness and Civilization helped me frame some of what I am go­ing through in terms of my life as a reader. The act of reading illuminated what I thought, provided form for thoughts that were otherwise scattered and rhapsodic. I read Goffman while I trained as a psychiatric nurse and Foucault at university. I glean from the former the way the place takes over everyone, doctors, nurses, administrations, porters, and patients alike. The insti­tution becomes an organism. People pool their nervous system into its workings in nefarious ways. Our modernity amounts to a madness in light of this institutional transformation of individ­uals. So that I feel bad and mad: bad that I question my medical experience, and mad for thinking that I may be wrong to be crit­ical at a time of dire need.
Liberation is too strong, though I feel indebted to my conscious­ness for housing Goffman's world. I am both the subject of a dis­ease and its incipient host, the person talked about and the person generating that talk, so that the drama of being taken in by some­thing and becoming that thing is now two things folded into the one body and mind captured by the disease. Put another way, I am institutionalized by my disease, which forces me to behave with it as if hostile to my plight and impelled to conquer it.
This is hard for me to reconcile with the politics of illness as the shape taken by our contemporary moment, that the times are mad for taking this shape and in so doing electing to be ill as part of being modern. Foucault obliquely addresses my cancer by situating me in the entrails of a modernity designed to procure cancers of various sorts. That I have cancer signals that I am in modern times, and how I react pulls me into the rules that govern a body afflicted by disease in these times.
In order to modify the term liberation as an operating system in my life of disease, let me say that what I am going through and how I decide to cope with it is my way of assisting the work of the drugs: to help the chemistry with a body and soul philosophical practice. Together, pharmacy and philosophy might be able to defeat the spread of the disease and even banish it from its strong­ hold in my prostate. In the absence of any conventional religion, I see that I need a spiritual frame that is usually the remit of reli­gion. My secular spiritualism insists on having access to the same depth charge of meaning as that supplied by the best of religion; let's say, the Psalms.
Though my body is overrun with disease, my spiritual cup runneth over with the help of music, politics, culture, education, arts. Poetry with its many colors may well be encoded with vari­ous registers of this overcoming of the disease. The poetry in me of chanting, music, boom box, and meter of my walk and move and groove, when taken together conspire to lift me from de­pression instilled by disease. A poetry of the senses insists on all five senses, and a sixth sense, come into play in over­-standing my disease and making moves against it embedded in my prostate.
What are the sights, touches, sounds, tastes, and smells of my liberation? Where around me might I lay eyes on this useful ap­proach to add to my cure? Is it in the sight of the arrival of morn­ing? Could it be in the pleasure of trees? My daughter walking up to the car to meet me after her school day? My sons at their desks looking up from gaming to talk to me about something? My wife at my side grilling the doctor about the specifics of a drug regi­men? A painting or sculpture or elegant building? I think I may (as a condition of being awake and even while asleep) extract from all these visual stimuli emblems of my over­-standing.
What are the sights, touches, sounds, tastes, and smells of my liberation?
The same can be said for the other senses. They too help me to garner aspects of truth to add to the curative approach to my disease. Not to mention that sixth sense. Some see it as aligned with superstition. As somehow the hunch or feeling that you get that makes you change your conscious course. Or a practice to counter obvious totems of ill will—the poor black cat that gets a bad rap, the dropping of utensils that to my Guyanese elders signals the arrival of a stranger (a fork for a woman, a knife for a man, and spoons I do not remember, perhaps for a child), the seeing of a likely outcome based on an instantaneous eureka mo­ment of insight supplied by this intuited knowledge. All of them define this sixth sense, ethereal, that shadows the chemical and physical other five.
With that in mind I turn up to the hospital for an injection (Lupron Depot) that delivers a three­-month dose of testosterone blocker into my buttocks. I am told it is like a couple of flu shots to the arm—not one but two. I read up on it and the witnesses say that it can lead to all kinds of ill affects. The site gets very sore a day or two afterward. The mind becomes a little skittish. There may be a dull headache following you all day that you cannot do anything about except devise ways not to think about it. And of course the ever-­present feminization of the body, with aug­mented breast tissue and hot flashes.
I arrive for the morning appointment, having moved around a few work meetings, equipped with all this knowledge and still afraid. The nurse is chatty and takes her time to point out the bullet marks of possible and probable side effects that run to four pages. I ask her how much pain I should expect from having syrup pumped into my butt muscle. She says it is more of a liquid than a syrup. I ask her if the one­-month dose is less of an amount than the three­-month dose. She says it is not; the mix is the same volume though the dosage is different. I watch her mix a powder and liquid in a syringe fed by tubes with two compartments to it. The white powder turns slightly gray once it comes into contact with the liquid that is meant to reconstitute the medicine.
Which side, she asks me. I pick my right buttock, on the as­sumption that I am left handed and favor my left step when I walk and may well favor the left buttock when I sit (though I have to think about this for a moment since I assume that I sit square on both and I do not cross my legs when I sit). I open my trousers and lower the right side and she asks me to lean on the gurney and contract that right buttock. She sanitizes the area with vig­orous rubs of a cool menthol wipe. I take her slight aggression as a declaration of her business approach. While in the vicinity of an erogenous zone the last thing a nurse wants to convey to a patient is the slightest intimation of intimacy. Those vigorous rubs declare a sort of nonchalance, a degree of utility, like drying a plate before putting it away.
She asks me to relax my right buttock and take a deep breath and prepare for a little pinch. I shift my weight to my left leg and let that right buttock fall. I inhale and sure enough the pinch follows, more a stab and puncture of a bicycle tire by a nail, dear nursey­o, than a little pinch. She applies a plaster, which she says is to protect my clothes in case of a spot of blood at the site of the injection. I tuck my shirt into my pants and zip up. She wishes me well and we part with smiles.
I want my pushback at my cancer to bring multiplicity of form to that splurge of content that is my cancer as it threatens to break out of its confines to my prostate and invade the rest of my body. My cancer has a form of its own that it deploys against my body. That it spreads with its deformed outgrowths by invading healthy cells and subjecting them to its deformity. I know that it feeds on the very nutrients meant to keep me healthy and functioning and that it hides from the troops in my body that look for sick expres­sions to surround and drown.
I do not know what to do with what I know. I do not know how I am going to write a poem or chant and direct those forces with any certainty against such a methodical spread of disease in me. Even with meds on my side and with the promise of a surgery to help me, and further radiation therapy, I wonder if my self­-help of chanting and the arts can even make a ding against such a virulent thing. The doubt is not despair. My outlook consists mostly of uplift, more positive than negative, more realist than pessimist, and therefore hardwired to see a lit path where none might appear to the darkened outlook.
__________________________________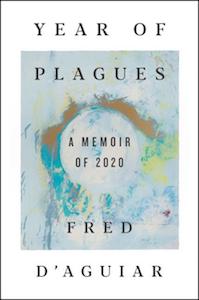 From the book: YEAR OF PLAGUES by Fred D'Aguiar. Copyright © 2021 by Fred D'Aguiar. Reprinted courtesy of Harper, an imprint of HarperCollins Publishers.
---