On Didion, The Dead, and the Dawn of a California Arts Revolution
Jim Newton Looks Back at the Early 1960s and a Cultural Moment That Would Shape America
Run River was published in 1963—a year before Berkeley, two before Watts. Joan Didion wrote it in New York in a "raw" yearning for her native California—Sacramento, with its levees and ranchers, its winter floods and summer heat. "I sat on one of my apartment's two chairs . . . and wrote myself a California river," she reflected many years later. From that chair, Didion wrote herself into the history of her place and re-created the lost art of writing about and above one's youth. It marked Didion as a significant new literary presence, one rooted squarely in California.
No author since Frank Norris had more forcefully channeled the currents of the American West, and none had done so with such a deliberate voice. Joan Didion gave California a position: serious, sober, and curious at a time when much of the country thought of it as anything but those. She wrote about California, but more important, she wrote as one who knew California. She and her neighbors killed rattlesnakes as a favor to one another. She puzzled over gangs and uncertainty, waded skeptically through the currents that swept up others. She thought with care and intelligence and would come, much later, to examine her own life and family with the same heartbreakingly clear eyes that defined her body of work. Through Didion, California connected Ronald Reagan and the Donner Party, the Grateful Dead and El Salvador. Didion, who visited the California governor's mansion as a young girl in the era of Earl Warren, would become, in due course, a chronicler and friend of Jerry Brown.
More than just announcing a new literary talent, Run River encouraged a writers' movement, creating a more self-consciously California literature on a more abstract foundation. The Beats already had established a beachhead in San Francisco, where, in the early 1960s, poet Gary Snyder built upon the ideas of his predecessors and brought a deeper immersion in Japanese literature and Zen to his simple and moving verse. Snyder's work, which would affect Brown deeply, bridged the Beats and an avant garde period that came to be known as the San Francisco Renaissance.
Meanwhile, a few miles south, Wallace Stegner, a great writer of the American West, gathered some of the talents of a generation around him at Stanford University. Ken Kesey, whose One Flew over the Cuckoo's Nest introduced him to the world in 1962, was part of that band, though he would eventually grow estranged from Stegner. For Stegner, California was "the edge of the continent, and he thought you were supposed to stop there," Kesey remembered. "I was younger than he was and didn't see any reason to stop, so I kept moving forward." Kesey was part of an extraordinary class of writers that year at Stanford, including Wendell Berry, Ken Babbs, Larry McMurtry, Ed McClanahan (a.k.a. Captain Kentucky), Gurney Norman, and Robert Stone. Together, they put down a literature of fields and wars, drugs, liberation and reflection, fiction and nonfiction, New Journalism and inventive flights.
The visual arts exploded, too. Andy Warhol launched his career in Los Angeles in 1962 with an exhibition at the fabled Ferus Gallery. Irving Blum, director of the gallery, sold five of Warhol's thirty-two paintings (Campbell's sold thirty-two flavors of soup) individually before realizing that their power emanated from being displayed together. He managed to reclaim the sold works, including one from actor Dennis Hopper, and eventually donated them to the Museum of Modern Art in New York. Their appearance at Ferus meant more than just the emergence of a new talent: it signaled a shift away from abstract expressionism—Barnett Newman, Mark Rothko, Franz Kline, Philip Guston, Willem de Kooning, and Clyfford Still all showed at Ferus—and toward something new, more playful and interactive, more drawn from streetscapes than from landscapes, more a conversation than a speech. At first, critics called it commonism. "Happily that didn't stick," Blum recalled. Later, it became known as pop art. That one stuck.
Warhol was a New Yorker, notwithstanding his California show, but the Ferus Gallery was just one hub of a growing California presence in the visual arts. Richard Diebenkorn, a native of Oregon but a Californian since the age of two, made a breakthrough in 1964 after a trip to the Soviet Union exposed him to the great works of the Hermitage. Diebenkorn, who relocated from Berkeley to Los Angeles in 1966, began his dreamy, arresting Ocean Park series that year. Influenced by Matisse, the Ocean Park paintings were magical, impossible to process without a skip of the heart. Though he defied cultural trends—Diebenkorn moved from figuration to abstraction just as Warhol and the pop artists were headed in the other direction—his influence spread wide, in part through his work and in part through his position as a teacher at UCLA. The New York Times described the series as "one of the most majestic pictorial achievements of the second half of this century, in this country or anywhere else." And Time magazine proclaimed that Diebenkorn had joined the grown-up table of artists: a retrospective of his work proved that Dienbenkorn was not, "as the condescending tag once read, a California artist, but a world figure."
California's counterculture snowballed, and the nation's cultural center of gravity shifted west, tracking the movement of politics and baseball.
Talent took note. John Baldessari and Ed Ruscha stood out, their works demanding attention from critics accustomed to looking to New York and inclined, as Time noted, to label artists from California as something less than those from New York or Paris. The Ferus Gallery provided a center. As the Guardian wrote: "Ferus was founded in 1958, preaching a gospel that had tenets in common with pop art and the Fluxus movements in New York, and reacting in its own diverse ways to the long shadow of abstract expressionism. [The curator Walter] Hopps quit Ferus in 1962 to run the Pasadena Art Museum, where he curated landmark shows by Marcel Duchamp (1963) and Man Ray (1966), both of which profoundly influenced the Ferus group."
Given California's vast spaces and outdoor orientation, it seemed natural that architecture would flourish, and it did. In midcentury, Southern California was known for residential innovation, while the northern part of the state was more distinguished by public works, a distinction that would grow less pronounced over time. Frank Lloyd Wright made a mark in Los Angeles with his Hollyhock House in 1921 and his sublime La Miniatura, in Pasadena, two years later. But his greatest impact was realized by those influenced by his work.
In the 1960s, Richard Neutra pulled the leading oar of modernism in residential architecture, propelled in part by his inclusion in an influential MoMA exhibition in 1932. His work, along with that of Charles Eames and Pierre Koenig, among others, was sponsored by Arts & Architecture magazine, which, over the course of two decades, made possible the construction of the Case Study Houses, concentrated in Los Angeles though with a few in San Diego, one in Phoenix, and one in Northern California. The case study houses persist in the modern imagination in part because one of them was captured by the work of another brilliant artist, photographer Julius Shulman. In Shulman's photograph, two women are seated in the glassed-in corner of a Pierre Keonig case-study home, jutting out beyond a ridgeline, the lights of Los Angeles outside and below.
That one image conveyed precariousness and playfulness, the edge of a continent and the beginning of something new. Few photographs have communicated modern Los Angeles more fully or concisely.
In San Francisco, meanwhile, the standard for public architecture was set—and never matched—by completion of the Golden Gate Bridge, in 1937. It was a mark so defining that it became synonymous with San Francisco's entire persona—its orientation to the west, its welcoming of the new and the foreign.
Nothing would surpass the bridge, but many greats succeeded it.
Having built homes in Los Angeles, Frank Lloyd Wright made a memorable impression in the hills north of San Francisco, where his Marin County Civic Center displayed his brilliance for horizontal lines and landscapes. The architectural firm founded by William Pereira, builders of the Theme Building at Los Angeles International Airport as well as that city's Times Mirror headquarters, countered by exploring San Francisco's vertical potential, a source of nerves ever since the 1906 earthquake leveled the city. Emboldened by advances in earthquake engineering, the firm's architects designed and built the world's largest pyramid, home of Transamerica, begun in 1969 and completed in 1972.
The California 1960s-era project with the most profound cultural and political impact was, by contrast, almost hidden from public view, a collection of private and public structures built along the coast north of the city. The Sea Ranch, designed by Charles Moore, Donlyn Lyndon, William Turnbull, and Richard Whitaker as the firm of MLTW, along with a small army of consultants and land-use advisers, was tastefully dramatic, hugging the cliff lines of the Northern California shore. It was intended to melt into natural hedgerows that dotted the coastal plain, leaving stretches of grass and timber unmolested. In those ambitions—to "live lightly on the land," as one early designer insisted, borrowing language from the area's native settlers—the Sea Ranch reflected California's emerging environmental sensibilities and offered a community uniquely harmonized with its surroundings. At the same time, the Sea Ranch sparked debate about access to the coastline, about whether developers and owners had some special right to California's beaches. The Sea Ranch managed to be both a masterpiece of community design and a warning about environmental encroachment. It helped propel adoption of the California Coastal Plan, completed under then governor Jerry Brown in the 1970s. And it would require the intervention of the California legislature to sort out the project's responsibilities for providing coastal access.
In music, the Beach Boys moved from local band to national phenomenon, supplying a sound track for surfing (in 2018, surfing would become California's official sport, for what that's worth). Raised in Hawthorne, California, and battle-readied by an abusive father, Brian, Carl, and Dennis Wilson, along with a cousin and friend, produced a musical style that was distinctly Southern California—soft harmonies and light themes, including their 1962 phenom album, Surfin' Safari. Never mind that the Beach Boys weren't really surfers; they tapped a yearning for warm sand and girls in bikinis.
In 1965, the Grateful Dead, initially known as the Warlocks, performed their first concerts as a jug band before sliding into a trippier groove and landing a spot at Kesey's Acid Tests in La Honda, a tiny hamlet in the hills above Palo Alto, where Jerry Garcia gave guitar lessons at a music store on California Avenue. One of his students, a lost teenager named Bob Weir, went on to become the Dead's lead singer and rhythm guitarist. Like Didion and Kesey, Warhol and Diebenkorn, the Dead would lead a hearty band of followers and imitators, in their case anchoring a San Francisco music scene that would host the Summer of Love in 1967.
California's interior, often a trailer in cultural innovation, made its contribution to the music scene as well. North and east of Los Angeles, along the eastern edge of the Central Valley, Alvis Edgar "Buck" Owens held down a regular gig at the Blackboard, a honky-tonk bar that became the hub of the "Bakersfield sound" in country music. Starting in 1963, Owens wrote and performed Number 1 country hits for six years in a row, with some of his signature numbers covered by bands more popular on the coast, from The Beatles to the Grateful Dead. As in literature and other arts, success bred success; Owens would continue to record in and from Bakersfield for decades, joined there in 1960 by Merle Haggard when Haggard was paroled from San Quentin prison, and much later by Dwight Yoakam, a Kentucky native drawn to California by the Bakersfield sound, which he modernized in the 1980s and rechristened the "Bakersfield beat."
Led by those artists and writers, California's counterculture snowballed, and the nation's cultural center of gravity shifted west, tracking the movement of politics and baseball. By 1965, Los Angeles rivaled New York in the visual arts, attracting and developing talented painters and experimental artists who longed for its freedom and the quality of its air, the soft light of Venice near the beach and the filtered hills above Hollywood. And San Francisco, led by the Dead, was on its way to becoming the center of the country's music and drug culture. The Haight, just a short walk from where Jerry Brown grew up, would soon shed its quiet, middle-class sensibility in favor of becoming a wellspring of hippies, free concerts, and LSD.
__________________________________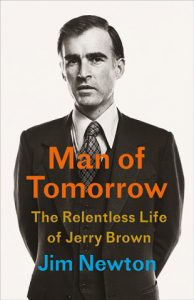 Excerpted from Man of Tomorrow: The Relentless Life of Jerry Brown. Copyright (c) 2020 by Jim Newton. Available from Little, Brown and Company, an imprint of Hachette Book Group, Inc.
---