Lit Hub Recommends: Susan Choi, Santa Clarita Diet, and Walt Whitman
French Canadian Movies, American TV, and Books, Lots of Books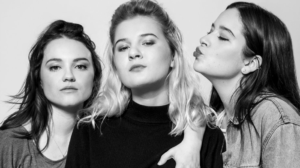 This month, I am recommending a black and white film. It is also in French. Sorry! But I mean, it's Canadian French, which is honestly a whole different game, and it's a completely un-self-serious delight. The original title was Charlotte a du fun (Charlotte Has Fun) but in America it's being shown as Slut in a Good Way (I understand why, and it was definitely the title that made me notice the film enough to go see it, but Charlotte Has Fun is a much better title, both in general and for this film). It's about a bunch of teenagers working at a toy store over the holidays, and what happens when one of them, newly heartbroken after her boyfriend tells her he's gay, decides to . . . have some fun. What's really fun about this movie is that there are no adults—it's a completely teenage society and drama. It's irreverent and funny and if it spirals into too-cuteness at the end, so be it. It's the most refreshing movie I've seen about young people in recent memory.
–Emily Temple, Lit Hub senior editor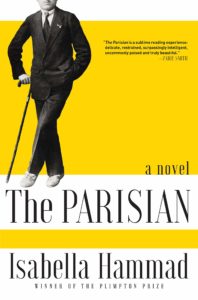 From what I can tell, British author Isabella Hammad seems to be enjoying the kind of early literary stardom that greeted Zadie Smith upon the publication of White Teeth. Hammad's much-discussed debut, The Parisian, merits whatever enthusiasm it's generated. The novel's protagonist, the Palestinian-born Midhat, is studying medicine in France as WWI reaps young men from their homes, ejecting them onto distant battlefields (though I'm not quite there, most of Hammad's novel takes place in Nablus, the Palestinian city where Midhat was born). Hammad has crafted a lovely romance and war novel, which deals in a substantive way with the clash between "East" and "West," and the Palestinian struggle for independence. I can hardly wait to get back to it. 
–Aaron Robertson, Lit Hub senior editor
Article continues after advertisement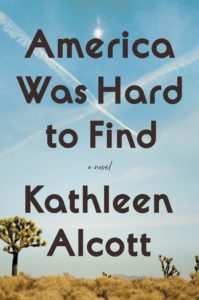 I love space. In another life (where I can do math, join the Air Force, and leave New York City) I would absolutely be an astronaut. Kathleen Alcott's novel America Was Hard To Find (out in May) has maybe the best chapter about the moon landing I've ever read, showing a seminal moment in scientific and technological history as a lyrical and emotional day for a lonely man. The rest of the book weaves together the stories of this Neil Armstrong-like astronaut and a left-wing radical woman, their early tryst, and their wildly differing life trajectories. Full of Alcott's often inverted and wonderful prose, it digs into the complex emotional reality of what makes humans human. Highly recommend!
–Emily Firetog, Lit Hub deputy editor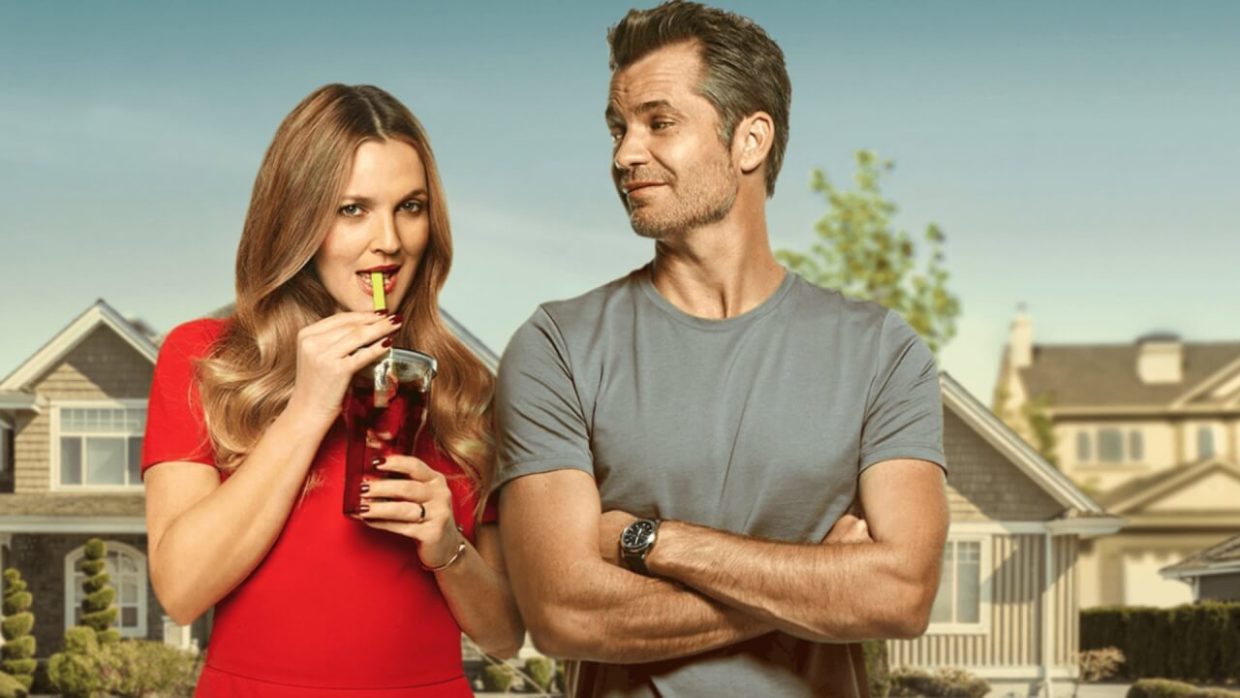 Now that the weather's nice I've been staying inside watching a lot of TV. The third season of Santa Clarita Diet just premiered on Netflix and I binged all ten episodes in one weekend. Picking up where season two left off, the husband-wife realtor team played by Drew Barrymore and Timothy Olyphant continue killing people so Barrymore, recently undead, can eat them. I'm rarely interested media portrayals of suburban white families, but I have a soft spot for this one, their dynamic so loving and their cannibalism so responsible (she only eats Nazis and abusers). Another TV white family I enjoy, differently, is the one in The Other Two, the first season of which is out now from Comedy Central. Heléne Yorke and Drew Tarver play washed up 30-year-olds whose 14-year-old brother's music videos go viral on YouTube, leading them, naturally, to exploit him to further their own careers. So disturbingly relatable to those of us who grew up on the internet, this show brings us comic gems that make as much sense in context as they do out, including "I'm gagging for you, faggot" and "I used to be fat but now I have two nieces."
–Kevin Chau, Lit Hub editorial fellow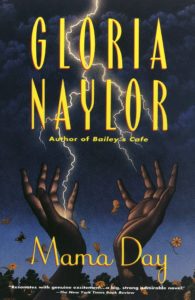 It's so mysterious how a book can fall back into your hands one day, like a slowly detaching leaf. I first read Gloria Naylor's Mama Day in 1993 in a university class which paired her book with novels by William Faulkner, Charles Chesnutt and other gothic writers of the south. This past week, it wound up back in my hands on an extended trip from New York. Rereading Mama Day away from the classroom, the book's magnificent strangeness and warmth cast such an overwhelming spell I disappeared entirely into it. Boulder dragged before the cave and all. On a very basic level, the novel rewrites The Tempest in modern-ish times, dramatizing the way betrayal and revenge animate a multi-generational African-American family. Set in New York and on Willow Springs, a fictional island off the Georgia coast inhabited entirely by descendants of slaves, the book also tugs at how migration is part of those cycles of betrayal and revenge.
The eponymous heroine of the book is 100 year old (depending on who you believe) Mama Day. Mother, aunt, neighbor, and giver of parable like stories. She's also said to possess magical powers, which might be operating on the story we follow of George and Cocoa, displaced twenty-somethings courting in New York City in diners and on subways and in mid-town office buildings. This isn't a huge novel, but it's wonderfully overstuffed. It's a book full of magic and secrets and thwarted love that manages to also tell you about as much about northward migration and the ghosts it left behind as Jacob Lawrence's great series of paintings. Reading it again 25 years since I first picked it up, it feels insane my college professor entrusted such a huge, robust and complex piece of storytelling to the 9 of us in that class all those years ago. If you've been on a jag of picking up books that pretend like most of what runs the world has nothing to do with magic and are getting frustrated, here's one for you. 
–John Freeman, Lit Hub executive editor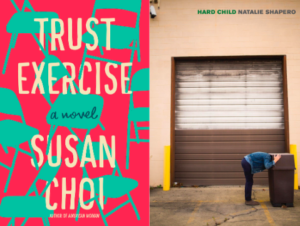 Allow me to be the last one in the Lit Hub office to recommend Susan Choi's Trust Exercise. Usually when a book comes to be after months of hype, it disappoints me (through no fault of its own). This one did not. It's brilliantly written and unputdownable. I don't want to say more about it, but that I resented all the plans I made the weekend I started reading it. Another thing I suggest is having friends who will send you pictures of pages they're reading and send those pictures to you, which is how I came to my third recommendation: Natalie Shapero's 2017 poetry collection Hard Child. Her poems are sardonic and sharp as hell and quick and know just when to hit your soft parts. Happy April!
–Jessie Gaynor, Lit Hub social media editor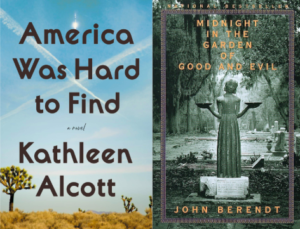 I cannot stop raving about Kathleen Alcott's magnificent and utterly devastating new novel, America Was Hard to Find—a lyrical, thrilling, and achingly intimate portrait of three lost souls in Cold War era America that will, if the Gods are just, take the book world by storm when it's released next month. I've also been devouring John Berendt's Savanah-set true crime classic, Midnight in the Garden of Good and Evil which, with its high southern gothic atmosphere and rouge's gallery of local eccentrics, is a pure pleasure to get lost in.
–Dan Sheehan, Book Marks editor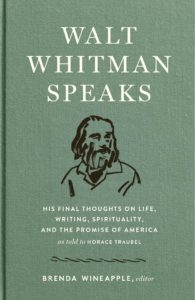 I realize I just told you last month to forget Walt Whitman. Now forget what I said! Come back to him with Walt Whitman Speaks, a joyous assemblage of the poet's thoughts collected by the writer Horace Traubel, who visited him regularly in Camden, New Jersey, for the last few years of Whitman's life, and meticulously documented their conversations. Editor Brenda Wineapple pulls short snippets on a number of topics from the thousands of pages of transcripts Traubel left behind, and the result is a slim book where Whitman wanders from lofty ground ("I believe in immortality, and by that I mean identity") to some truly delightful literary gossip ("Beware of the literary cliques … beware of book sympathies, caste sympathies"). This is a book for Whitman nerds, and I loved it.
–Corinne Segal, Lit Hub senior editor

I couldn't think of a new and interesting way to recommend Trust Exercise, so instead I'm going to recommend things that I am in the middle of. One hundred pages into Miriam Toews' All My Puny Sorrows, I can say that—so far—it's a well-balanced delight. The story follows two sisters, Elf and Yoli, raised in a Mennonite household. As grown-ups, Yoli is a divorced mother of two and Elf is a renowned concert pianist who wants to end her life. The part I'm in right now—Elf in a hospital room, Yoli concocting elaborate plans to kickstart her sister's will to live—is devastating. But also sometimes funny. Miriam Toews is so good at letting us into the world they've created as sisters, and I am grateful for the playful and tender moments between them. Another thing I have recently started: Good Girls, which follows three suburban moms (Mae Whitman, Retta, and Christina Hendricks!) so in need of cash that they decide to rob a supermarket. It sounds lighthearted and hilarious, but it gets pretty dark pretty fast. Again: my disclaimer is that I have not finished these things, but the beginnings are promising.
–Katie Yee, Book Marks assistant editor
More often then I'd like I find myself walking through Penn Station during rush hour, one of thousands of harried commuters trying to get from one end to the other. Honestly, the only way to do this without going mad (or crying, or getting in a fight) is with a hard-driving up-tempo soundtrack, half on-deck music, half-closing credits. Nilüfer Yanya's Miss Universe does all of this. What if Sade, Bronski Beat, and the Deal sisters had somehow ended up as flat-mates in early 90s Bristol? Aside from how old those references make me, that is, in fact, the timeline I'd rather be in, and which I am with each listen of this album.
–Jonny Diamond, Lit Hub editor-in-chief
---