Lit Hub Recommends: Parasite, Roadhouse, and a Children's Book About Marijuana
Also, Listen to the Moulin Rouge Broadway Soundtrack!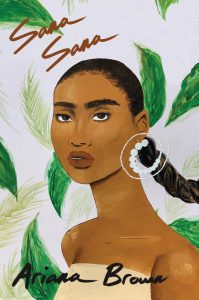 "How does one lose an accent?" That's the question that begins "Volver, Volver," the first poem I ever heard from Ariana Brown, whose work explores power, politics, and healing in the context of queer Black Mexican American identity. Now, Brown's Sana Sana gathers some of this work together in a chapbook that asks us to contemplate the legacies of tradition and ancestral strength as we witness everyday acts of community and joy.
–Corinne Segal, Lit Hub senior editor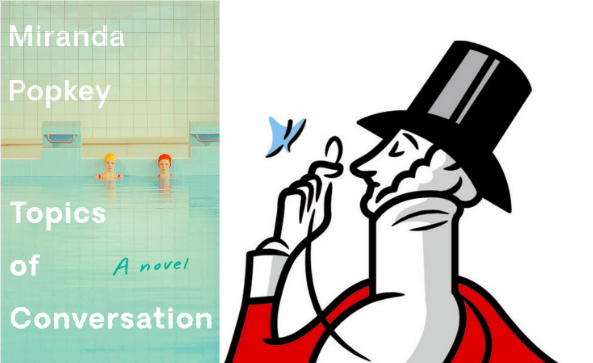 I'll recommend a New Yorker article that was published in January that I've thought about and talked about relentlessly since I read it. Written by Sarah Resnick, it's a smart and riveting review of the upcoming book Topics of Conversation by Miranda Popkey that ties the certain method of narrative control and storytelling represented in Popkey's book to Rooney novels and the TV show Fleabag, which are, how could you guess, also exactly my cup of tea. It was mainly one sentence from the review that made me stop, rethink my entire life, and understand my generation in a new light (casual!): "For them, communicating through text and e-mail, Facebook and I.M.—which is to say through writing—is as instinctive as speech, sometimes preferable to it." Finally, I had words to explain how important the particular method of texting, dialogue, and conversation depicted in Rooney's novels, more specifically Conversations With Friends, had felt to me: these conversations had a gravity I've always felt difficult to name, partly because I never recognized them as "writing," per se.
And yet there it was, summed up succinctly in that one sentence of Resnick's. I realized my love for Rooney's depiction of modern communication had everything to do with the specificity of the way I text my best friend and the narrative universe we have created in that method of speech––how we are used to writing our lives to each other daily, minutely. It feels like just the beginning of seeing that kind of writing and communication authentically depicted in books and media, and it took Resnick's words to help me recognize how my own communication with friends is (shocking!) a practice in writing.
–Julia Hass, Lit Hub editorial fellow
Article continues after advertisement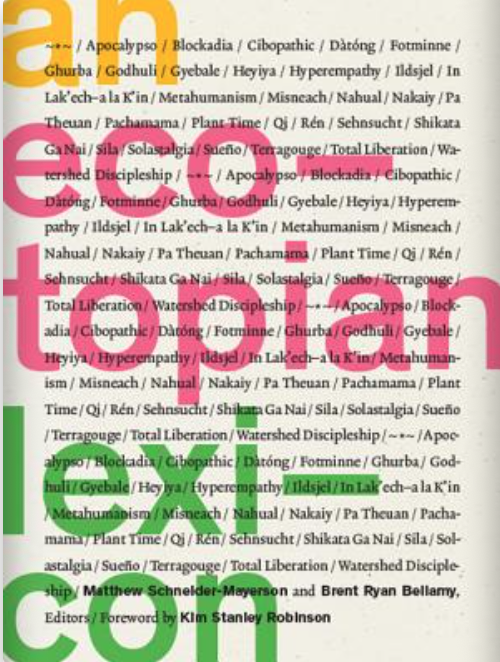 I am having a certain level of conceptual fatigue when it comes to ongoing climate collapse. The last 18 months—as massive pillars of ice calve like porch icicles into the southern ocean—has seen the publication of a half-dozen diligently collated books that present to us the details of civilization's imminent collapse like so many hidden charges on a hotel bill. I get it, we get it, but the self-flagellating pessimism is getting a little… rote? Which is why I have fallen in love the University of Minnesota's An Ecotopian Lexicon, a sly collection of eco-forward essays that reimagine ways of thinking through radical ecologies, post-scarcity realities, and transformative climate justice, described as follows:
From "Apocalypso" to "Qi," " ~*~ " to "Total Liberation," thirty authors from a range of disciplines and backgrounds assemble a grounded yet dizzying lexicon, expanding the limited European and North American conceptual lexicon that many activists, educators, scholars, students, and citizens have inherited.
  –Jonny Diamond, Lit Hub editor in chief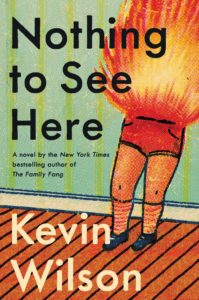 A few weeks ago, I finally got my hands on Kevin Wilson's Nothing to See Here, and even though I was already a fan of Wilson (The Family Fang could charm the absolute pants off anyone), it exceeded my expectations in every possible way. I was expecting quirk, and joy, and boundless creativity, and I got all of it, but I also got some deep emotional stakes and, more importantly, one of the most deliciously savage narrators in recent memory. I loved being in her head for the two days it took me to tear through this book. Since finishing, I have mostly been playing Dragon Age: Inquisition on PS4 and if you were wondering, that is why you haven't heard from me in many days. Sorry, Mom.
–Emily Temple, Lit Hub senior editor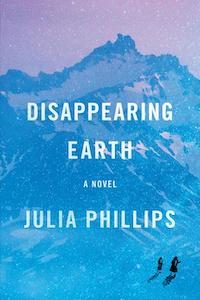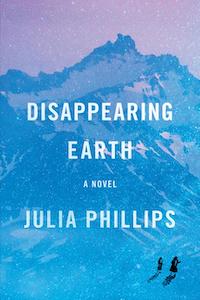 This time of year makes me want vaguely bleak books and unabashedly heartwarming television. For the former, I recommend Julia Phillips' gorgeous Disappearing Earth, which is bleak in setting—the remote Kamchatka Peninsula in Russia. It's melancholy, tense, and thoroughly gorgeous. I went in with almost no knowledge of this one, which I recommend, so I won't say more than that this is the perfect novel for the winter doldrums. When it comes to heartwarming television, I suggest Josh Thomas' new Freeform show Everything's Gonna Be Okay, a sort of parallel coming-of-age story about a 25-year-old Australian man who becomes the guardian of his two teenage American half-sisters after their father dies. Is your heart warm yet? If not, you might want to get that checked out.
–Jessie Gaynor, Lit Hub social media editor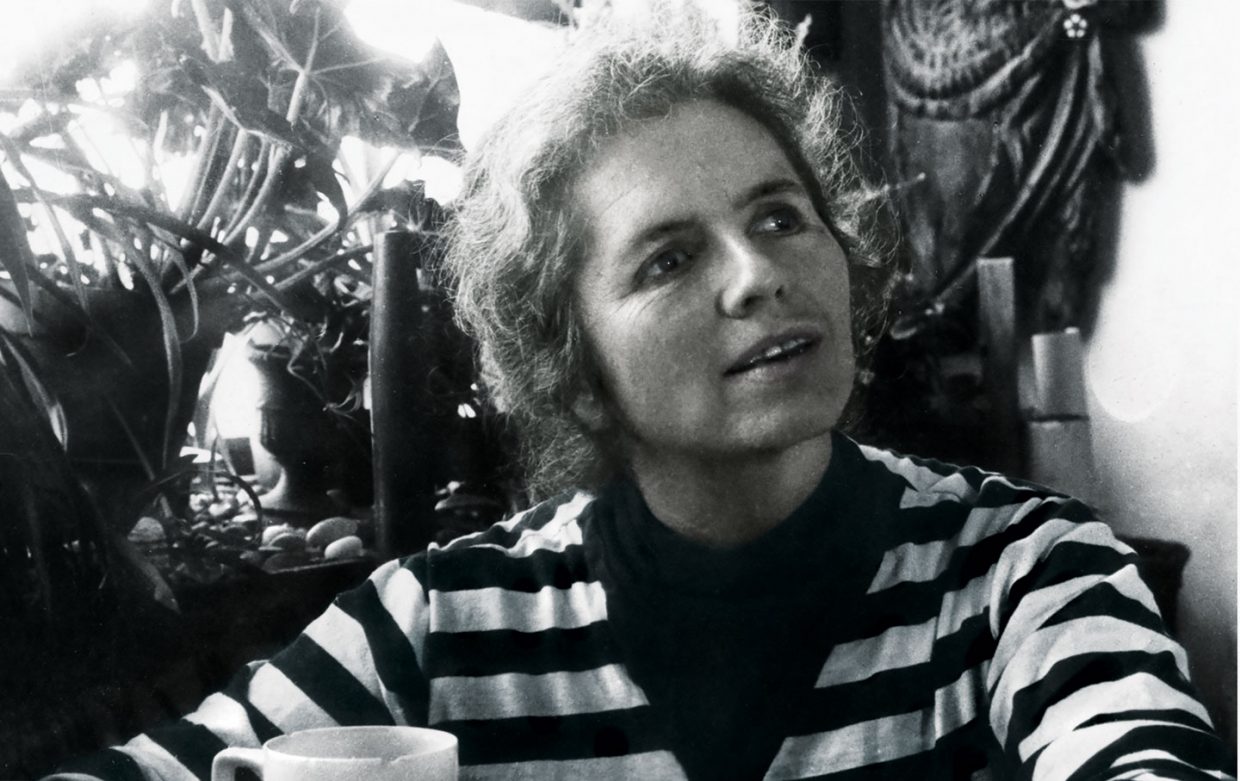 Lately I've been reading a lot of short stories as I'm editing a Penguin Book of the Modern American Short Story. It's my favorite diet ever. Five or so stories a day the past six months, pulled from work published in the last fifty years. Read with coffee. Good god is it hard to write a perfect story, but when someone does—it levitates like a UFO. You read one of Grace Paley or Toni Cade Bambara's classics and think, how in the world did that happen? I've been searching broadly for about six months now, and I have found that I have fallen out of love with some stories, and into love with new stories. Then there are the ones that have just gotten better. Recently, I went through a jag of pieces I adored when I first encountered them, and love even more now. Sadly, though, I'm not sure they're not stories—at 10,000 plus words they feel like novellas.
Andrew Holleran's "The Penthouse," for example, tells the tale of a group that gather in a friend's giant West Village apartment as the '70s crashes into the vulgar, scary '80s. Someone should make a film of it. Not only is it one of the funniest stories I've read in ages, it's also certainly, quietly, one of the most sad. In the same vein from a slightly later period is Edmund White's "Skinned Alive", which updates the innocent abroad story to a love story in the age of AIDS. I read those two stories, novellas, whatever, and just stopped for a bit—that's when I know I have something to consider, if not for this book, then for a Book of the Novella, or whatever. When the piece is so good it forces you to stop and consider it like a note that keeps ringing.  
–John Freeman, Lit Hub executive editor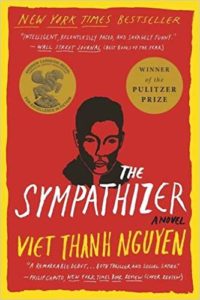 This month I'd like to recommend Viet Thanh Nguyen's 2016 Pulitzer Prize-winning novel, The Sympathizer—a dazzling, maximalist epic told from the perspective of a North Vietnamese spy in the South Vietnamese army who remains embedded in a South Vietnamese community after they become exiled in the United States. I also want to recommend the marvelous Patrick Swayze vehicle, Roadhouse—in which Swayze's philosophical bouncer Dalton moves to a small Missouri town to take out the proverbial trash—mostly so that you can all see how goddamn magnificent Sam Elliot (who plays Dalton's silver-haired bouncer mentor, Wade) looked in 1989. You're welcome.
–Dan Sheehan, Book Marks editor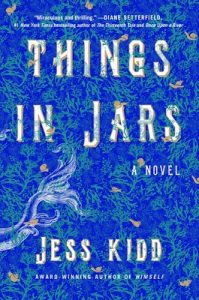 It's somehow still winter and everything is hard, so I have been scrounging for the least-drab content I can find to sustain myself until spring. Friends, LET ME INTRODUCE YOU to Jess Kidd's brand-new novel Things in Jars. It's dark, it's dank, but it's definitely not drab. Its protagonist, an unflappable, pipe-smoking Victorian resurrectionist-turned-lady-detective named Bridie Divine, is dogged and delightful, propelling the already-robust and imaginative story with guts and gusto. Bridie knows how to read bodies and find missing people, is on the case to track down a stolen infant girl, the secret child of a prominent gentleman, who is rumored to have strange supernatural powers (AND how).
This book is just the sort of thing you need to raise your spirits—highly original and stupendously creative, and full of pooling, evocative descriptions that will dazzle you. It's the kind of thing you'll want to read if you're a fan of Samantha Hunt, Kelly Link, or Karen Russell. (Which means that it can get grisly at parts. Very much so. But it's worth it.)
Not that it needs my endorsement after winning ALL the Academy Awards, but I also recommend the movie Parasite. Just saying.
–Olivia Rutigliano, CrimeReads and Lit Hub staff writer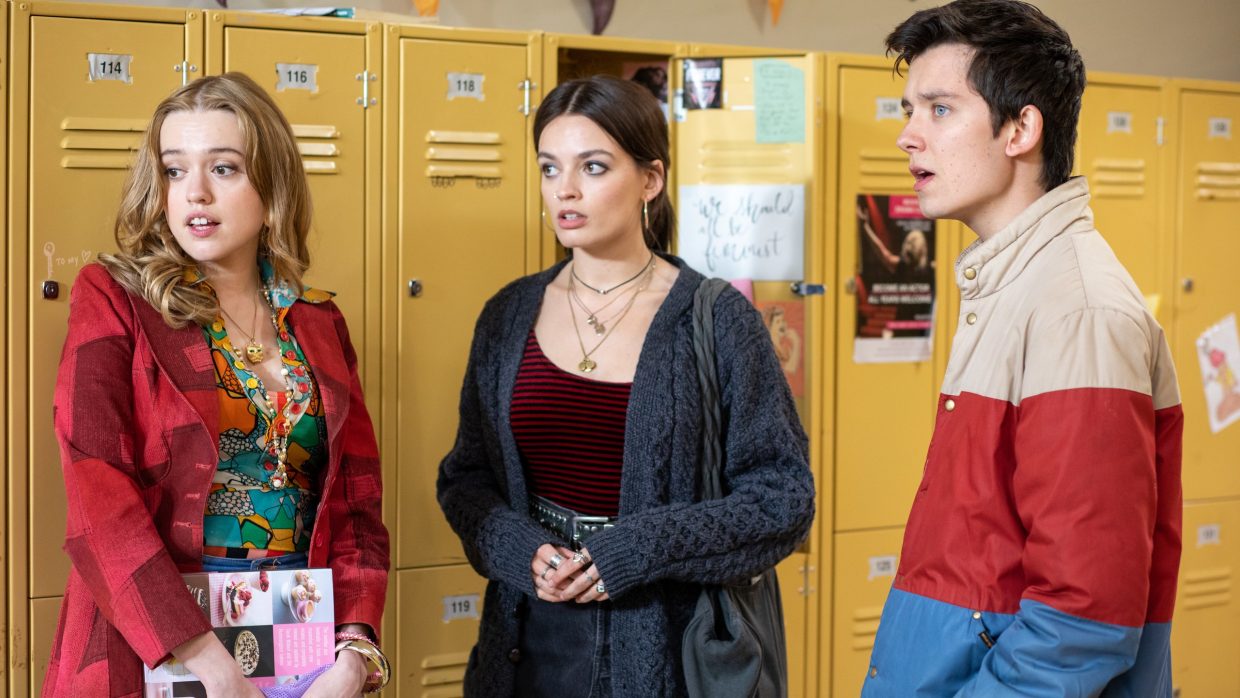 Few shows can open a second season with a simultaneously hilarious, heartwarming, and tactful montage of its protagonist masturbating vigorously. The Netflix critical hit Sex Education is that show. Featuring an ensemble cast that includes Gillian Anderson (Agent Scully!), a perfectly awkward Asa Butterfield (Hugo from Martin Scorcese's Hugo), and a suave Margot Robbie Emma Mackey, the show succeeds as a consistently funny high school comedy that highlights the joys and disasters of sexual coming-of-age. One of the most entertaining aspects of the show is that the high school students at its center have wildly inaccurate understandings of just about everything concerning sex. We watch these characters learn about their emotional needs at the same time they're processing information about the basic facts of life. 
–Aaron Robertson, Lit Hub assistant editor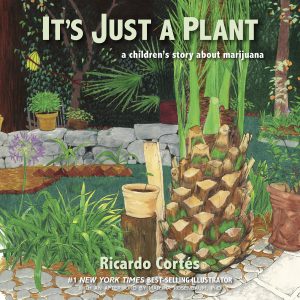 I recommend Akashic Books' upcoming children's book It's Just a Plant: A Children's Story About Marijuana, written and illustrated by Ricardo Cortés, which will of course be released on April 20th. At first, when this came to the office, we thought it was a joke book along the lines of Go The F*** To Sleep, but after perusing its beautifully illustrated pages, I realized this book was much more than a joke—it's part of a growing category of books that attempt to explain difficult and complex topics to children, simply. Whether you're looking at Death Is Stupid, by Anastasia Higginbotham, or A is for Activist, by Innosanto Nagara, children's fiction is much less likely to shy away from topics that were previously reserved for those considered to be "adults," or to cloud those topics in euphemisms. These works are also not meant to be consumed by the white, middle-class, sheltered, suburban child that much of yesteryear's kid lit pandered to; It's Just a Plant includes a section where several men of color are targeted by police for smoking weed, only to have the police officer, ashamed of arresting them in front of a child for breaking a law he doesn't believe in, let them go while assuring the child that laws change. Can we imagine that scene in a children's book in the 90s? I certainly can't.
–Molly Odintz, CrimeReads senior editor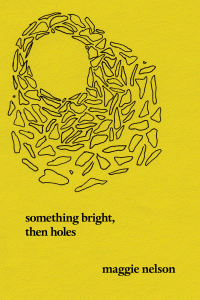 I have been wanting to read Maggie Nelson's Bluets for an eternity, but for some reason, I have a stubborn theory that it will find me in a used bookstore when the time is right. For now, though, another one of her poetry collections, Something Bright, Then Holes has found its way to me, and it is something of a small miracle. In this slender book, Maggie Nelson takes us to the polluted Gowanus Canal, to her friend's hospital bedside, and into the caverns of heartbreak and healing. ALSO, because it's Valentine's Day, I am recommending The Magnetic Fields' 69 Love Songs—ideal for that long, exhausting evening subway ride to either your sweetheart or your sweatpants. Alternatively, if you're in the mood for something a little less melancholy, a little more funky, consider the Moulin Rouge Broadway soundtrack, which I have not been able to stop listening to, specifically "Elephant Love Medley."
–Katie Yee, Book Marks assistant editor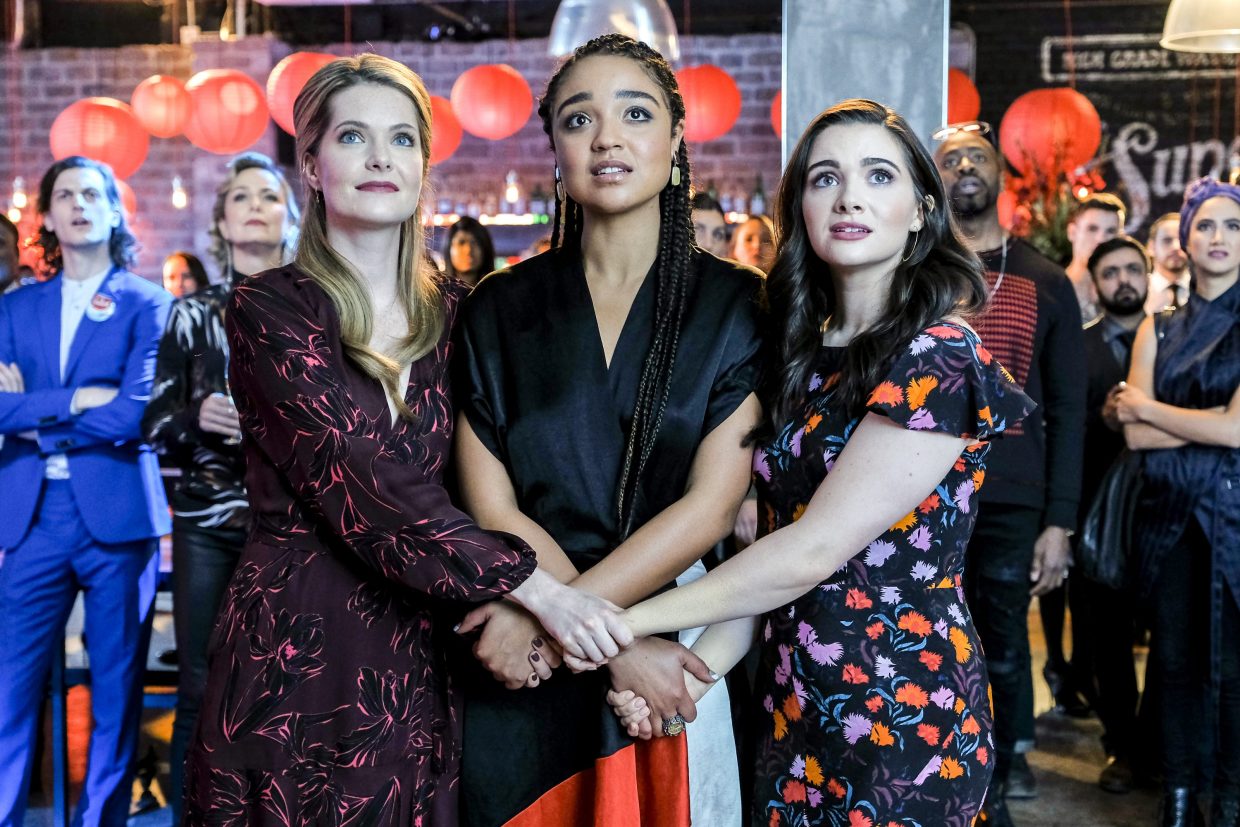 I recommend The Bold Type.
–Dwyer Murphy, CrimeReads managing editor
---