Lit Hub Recommends: Maniac, David Bowie, and Dan Simmons
Also, Consider Becoming an Ordained Minister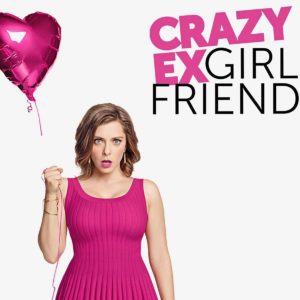 I spent much of last week throwing away cherished memories in my mother's home in preparation for a move, so I was going to recommend ridding yourself of object-based sentimentalism for the sake of your children/future children/unspecified loved ones. Actually, I still recommend that. But if you're looking for more of a cultural recommendation, and less of a personal, trauma-born one, here it is: Crazy Ex-Girlfriend, which has just returned for its fourth season. It's a flat-out hilarious show that features mental illness, "unlikable" female characters, fluid sexuality, and also SONGS. Look, I know that the musical aspect is a turn-off for some people, but I am a person who fast-forwarded through all the musical numbers when I briefly watched Glee so please trust me when I say that the songs are a pure delight. One of my favorites, "This Is the End of the Movie" is a duet between the protagonist and an unexplained Josh Groban about how life has no narrative arc (which is why biopics are so boring!!). Sample lyric: "If you saw a movie that was life real life/you'd be like 'what the hell was that movie about/it was really all over the place.'/Life doesn't make narrative sense." Honestly, just watch it from the beginning. As you throw out all your paper memories.
–Jessie Gaynor, Social Media Editor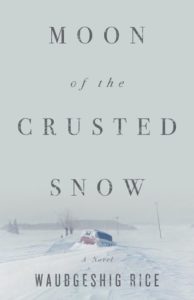 This is a cheat, as I read it last week, but Waubeshig Rice's second novel, Moon of the Crusted Snow, has, like all strong books, gotten better the further I am from the last page. It's the first cli-fi novel I've read from a native perspective, which in some ways makes it a book of realism. The tribe at the heart of Rice's book after all have already lived through what many non natives fear today: the destruction of landscape, forced migration, a loss of civilization. The novel begins in the present day and their reservation is getting on well. Everyone hunts what they need, a power grid has made diesel generators a thing of the past, and broadband means that while Evan, the book's hero, goes hunting for winter moose, his kids can watch downloaded movies. It's not a utopia: marriages still flail, some people never quite find their way, and many tribe members deal with a ban on alcohol by drinking on the sly. Their equilibrium is jolted when the power and phone lines go down, and what follows is as much a replay of the past as a celebration that old ways of living and surviving have been preserved. The small community doesn't turn on each other but, for the most part, band together. This is a very intelligent thriller with some gorgeous writing in it. The questions it asks however linger long after your heart has stopped pounding.  
–John Freeman, Executive Editor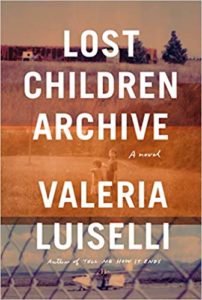 Over the past week I've been wholly immersed in Valeria Luiselli's upcoming novel, Lost Children Archive (Knopf, 2019), which tells the story of a family embarking on a road trip from New York City to Arizona (the father to record echoes from the last place where the Chiricahua Apache lived, the mother to try and locate two little girls being held in a detention center on the border). A haunting hybrid of lyrical storytelling and political fury, the book is a powerful indictment of the cruelty and inhumanity inherent in the current American immigration system.
–Dan Sheehan, Book Marks Editor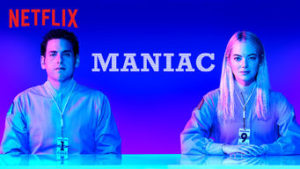 The only thing I can responsibly recommend this week is Netflix's Maniac, which is good, and literary (Patrick Somerville created it, and Amelia Gray and Danielle Henderson wrote for it), and doesn't make me want to throw things the way most of what I'm seeing on my screens these days does. Stay away from screens, is my real recommendation. But maybe we wouldn't have to, if only we could all retreat into elaborate plots invented by our own brains (and drugs) meant to cure us of all our psychological problems and reunite us with our lost loved ones and also make new connections for us in the real world, with real people. That would be great.
–Emily Temple, Senior Editor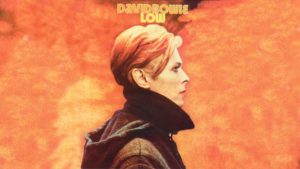 Last week I had the strange, wonderful experience of seeing members of some of my favorite bands (and Carlos Alomar, David Bowie's longtime collaborator and right-hand man) perform David Bowie's Berlin trilogy… in a shopping mall. If you have a time machine, it's 100% worth going back to October 17-19 and watching all three shows at Brookfield place; unfortunately for me, I only caught the final night, where the lineup of musicians (including members of Shearwater, Xiu Xiu, and Deerhoof) played Low. If you do not have a time machine, there's some in-depth reporting on the trilogy of shows here, and photos and video from the third night here, and audio of Jonathan Meiburg, the multi-talented frontman of Shearwater (who also happens to be an ornithologist and is working on a book about "strange, social, intelligent birds of prey in South America" and "a South American writer who changed the way we think about animals") speaking with WNYC's John Schaefer about the shows.
–Miriam Kumaradoss, Editorial Fellow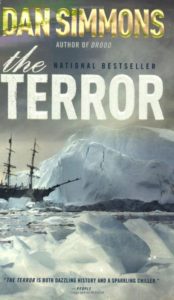 Some books have had me enthralled without me fully realizing it. These are works that catch on like an itch, or a sneeze. I have very little sense of how the world regards Dan Simmons, and I've never exactly cared. His classic Carrion Comfort (1989), which was a disturbing and genuinely surprising revision of the vampire novel, frightened me in a way I thought only movies and Wednesday night bible study could. (Appropriately, it was one of the first novels to pick up the Bram Stoker Award). When I heard they had made a TV adaptation of The Terror (2007), Simmons' fictionalization of an ill-fated 19th-century expedition to navigate the last unexplored stretch of the Northwest Passage, I remembered I'd started the book years ago and never finished. But I've gone back and, oh boy. Reading the true account of the HMS Erebus and the HMS Terror is unsettling enough. The 129 crew members probably died from some combination of hypothermia, starvation, disease, cannibalism, and even lead poisoning. Leave it to Simmons to throw in some ghastly Arctic…creature into the mix, and you've got the ingredients for my macabre pick of the week.
–Aaron Robertson, Assistant Editor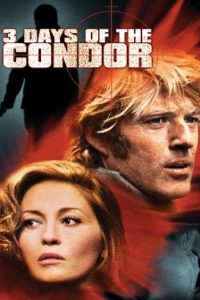 This week I'm recommending you (re-) watch Three Days of the Condor, now streaming on Amazon, but this time you watch it as a Christmas movie, with two goals: (i) noticing how many times there are carolers in the background singing God Rest Ye Merry Gentleman; and (ii) believing that this seemingly deadly game of cat-and-mouse is in fact an elaborate and somewhat morbid but still very thoughtful Christmas gift to Turner from his on-again off-again girlfriend Janice, who knows how much he loves mystery stories and has always imagined living one himself and so she set the whole thing up and staged all the deaths along with a load of actors. So, basically, it's David Fincher's The Game, only it's still Sydney Pollack's Three Days of the Condor. And Christmas. Anyway, it's October and my recommendations are going to get strange as the year comes to a close. Come over to CrimeReads.com and we'll play out these weird thriller and mystery mind-games together.
–Dwyer Murphy, CrimeReads Editor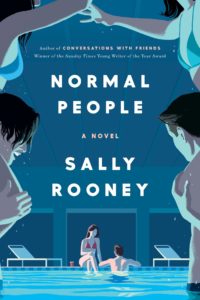 Do you want to be sad in a fun way? Do you enjoy turning small gestures over and over in your mind, analyzing them until they tell you everything you need to know about a person? Are you interested in people's internal landscapes? Do you miss George Eliot? If you answered yes to these questions, I highly recommend you pick up Sally Rooney's Normal People when it comes out next spring. Because that's a while away, I'm going to give you a bonus recommendation: get ordained. It's ridiculously easy (hey, both Joey Tribbiani and Tom Haverford managed to do it), and you can do it from the comfort of your home. Now you can officiate a wedding between your best friends (congrats, Catherine and Logan!) and add "Ordained Minister" to your resume. You're welcome.
–Katie Yee, Book Marks Assistant Editor
---