Lights, Camera… Corn: 15 Quintessentially Midwestern Movies to Watch After Fargo
Charlie Berens Recommends Heartland Classics, from Purple Rain to Planes, Trains and Automobiles
Need a crash course in Midwest life for an upcoming trip to Dubuque, or perhaps you're a native feeling a little homesick? Here're some flicks you can check out. The Coen brothers (born and raised in St. Louis Park, Minnesota, a suburb of Minneapolis) have set many of their films in the heartland and crafted the gold-flannel standard with Fargo, forever capturing the perfect blend of Midwest snow, talking through your nose, and wood chippers. After you've given that one a look, make a big bowl of puppy chow or grab a bag of BBQ chips from Guy's Snacks or Lutz's and plop down for another Midwest classic. As a proper study guide, included are all the MBCs (Midwest Basics Covered) and the MMM (Most Midwest Moment).
Purple Rain
Ordinary kid from Minnesota works hard to make his music dreams come true. MBC: Velvet pants, cravats, and silk ruffle shirts. Great local bands, dressing in layers, scarves, empty downtowns after six p.m. MMM: The most Midwest first date: "You have to purify yourself in the waters of Lake Minnetonka."
The Rider
Brady Jandreau is a Lakota Sioux cowboy who suffered a traumatic brain injury riding in the rodeo. His real-life story became the plot for The Rider, which was filmed on the Pine Ridge Reservation in South Dakota. It's best to watch this movie in spring so you can say "Geez Louise, something must be bloomin'" when you're crying your face off. Nobody will believe you, but it's customary. MBC: Ignoring doctor's advice. MMM: Removing your own surgical staples with a buck knife.
Super 8
Five years before the Stranger Things kids were dealing with aliens and government cover-ups in Hawkins, Indiana, a group of Ohio kids dealt with the same in J. J. Abrams's Spielberg rip-off homage Super 8. Fun fact: while both stories seem to be set in the 1980s, they're actually both set in present time. MBC: Sidewalks, politely declined dinner invitations, local shops on Main Street, kids nostalgically riding bikes without helmets, a cop in the family. MMM: Having your plans thrown off by a passing train.
Barbershop
A Chicago man sells his barbershop, only to realize how much it really meant to his neighborhood. MBC: Money doesn't make you rich, people do. MMM: Accidentally leaving the bumper to your pickup truck behind after a botched towing job.
Escanaba in da Moonlight
A middle-aged Michigander (played by Michigan native Jeff Daniels) must bag his first deer or risk being the oldest person in his family's history not to have a buck notch. Captures the spirit of Opening Day and time spent with family and booze in the woods. "It's like Christmas, with guns": the brother encapsulates so much of the Midwest in just five words. MBC: Plaid, outhouses, drinking deer urine, group cabin sleep destroyed by that one guy/gal who snores/ farts all night. MMM: Getting plenty done in only long johns and a good hat.
Field of Dreams
Guy builds a baseball park in his Iowa cornfield and is haunted by ghosts. MBC: Playing catch with dad, hearing weird stuff while in the corn, choking on a hot dog, good-looking men. MMM: Locals openly mock the main character for not being good at yard work.
The Wiz
The Wheat State and Motown combine to share the whole Midwest in one story. MBC: Disorienting snowstorms, faithful hardy dogs, great music, making new friends easily, long travels. MMM: Original musical's Kansas setting yanked to New York City for movie.
Road House
Local tavern owner in Missouri hires a consultant to improve customer service. MBC: A dress that was once a picnic table cover, McMansions directly next to farms, mullets that totally work, reading James Harrison. MMM: Neighbors unite to murder town bully, then chuckle about it.
Cedar Rapids
A Wisconsin insurance agent who's never stayed in a hotel or flown in a plane is chosen to represent his company at a convention in the big city . . . Cedar Rapids. MBC: Knowing the airport's only TSA agent by name. MMM: The out-of-focus pool boy is also the host of the Manitowoc Minute.
The Blues Brothers
They're on a mission from God. After Jake Blues is released from prison, he and brother Elwood get the band back together in order to save their childhood orphanage. MBC: Not paying 116 parking tickets, helping friends, utter appreciation for the Queen of Soul. MMM: Jumping an open drawbridge in Chicago to demonstrate the power of a Dodge Monaco.
Grumpy Old Men
Neighbors in Minnesota torment each other passive-aggressively for decades and then fight over visiting redhead. MBC: Grudges that last thirty-plus years, shoveling snow, talking about love in a bait shop. MMM: Attempted aggravated assault with a frozen walleye.
Twister
Okay, so it's set in Oklahoma, and only Midwest-adjacent, but not since Dorothy has a film captured the unique delight of foolishly storm chasing or waking up a visiting in-law in the middle of the night to say, "We need to get down into the basement now. Like, right now! Come on, it'll be fun . . ." The United States averages more than twelve hundred tornadoes a year, more than any other country. The Midwest—with a respectful nod to the kings in Texas—accounts for half of them. MBC: Total disregard for storm safety, pickups. MMM: Passing cow while driving (even one soaring through the air) and reflexively having to say "cow" out loud.
Planes, Trains and Automobiles
Bears fan wants to fly straight from New York to Chicago and skip all that crap in between. Instead, he's forced to drive from Wichita, Kansas, to Jefferson City, Missouri, and St. Louis before finally heading north to Chicago. It's like Dante's Inferno without the poetry. MBC: Long drives, ice scrapers. MMM: Customer service turkey call.
The Revenant
Non-bears fan wants to find his friend in the Dakota woods. (Even when being mauled to death, still sneaks in the SKOL chant; respect.) MBC: Snowy breath, grit, lots of trees, playfully catching snow on the tongue, great bear story. MMM: Goes full tauntaun with a horse to survive a blustery night.
Hoosiers
Locals support the high school sports team. MBC: Locals supporting high school sports team, making out in the woods in a knit hat, old school is still the best school, being suspicious of new guy for most of the school year, actually knowing the name of the high school basketball coach and/or caring, backboards attached to sides of barns. MMM: Jimmy Chitwood says, "I'll make it." Does.
Honorable Mentions: The Music Man, Children of the Corn, The Bridges of Madison County, Tommy Boy, My Friend Dahmer, Reindeer Games, Ordinary People, Meet Me in St. Louis, Abraham Lincoln: Vampire Hunter, Heathers, A Christmas Story, Rudy, Superman (1978 version), The Wonderful Wizard of Oz (1910 version), Starman, Wayne's World, A Nightmare on Elm Street 3: Dream Warriors, Grosse Pointe Blank.
Also check out Vision Maker Media: Hollywood has typically fallen well short of accuracy in films about Indigenous Peoples in the past, but Vision Maker Media (based in Lincoln, Nebraska) supports, funds, and streams Indigenous-made films. They even do a Halloween film fest!
______________________________________________________________________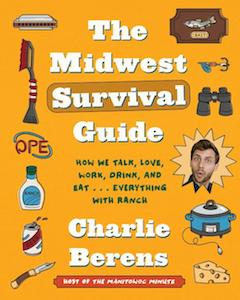 Excerpt from THE MIDWEST SURVIVAL GUIDE by Charlie Berens. Copyright (c) 2021 by Charlie Berens. Used with permission by William Morrow, an imprint of HarperCollins. All rights reserved.
---