James Ivory on the Long, Rocky Road to His Collaboration with Vanessa Redgrave
The Story of The Bostonians Involves Palestinian Activism, Glenn Close, and a Dismaying Dinner Party
Above: James Ivory with Madeline Potter and Vanessa Redgrave on the set of The Bostonians (From the collection of James Ivory)
Ask directors and they'll tell you there's actress A, B, or C (it could also be actor X, Y, or Z) they're crazy to work with some day. Vanessa Redgrave was at the head of my list, and when Merchant Ivory started to think seriously about The Bostonians—or as soon as there was a script—we got in touch with her. She was our first choice for the part of Olive Chancellor, but she turned it down. This was the spring of 1981. Since we were in London, we asked her to dinner in order to talk about it, even though we knew she felt negative about the project.
It was not the first time we had gone to her. We had offered her the part Lee Remick played in The Europeans, and there had been much going forward and backward then. She liked the part, but when we were ready, she decided to stand for election as well as to appear in Ibsen's The Lady from the Sea. Later, not knowing we'd already shot The Europeans, she wrote me a letter to say she would like to play the Baroness Munster if we ever did that film. Something like that happened with Quartet, until the part of Lois Heidler was offered at last to Maggie Smith, who snapped it up, whereupon Vanessa announced that she was free after all, but by then it was too late.
So this time, after she'd said no I wrote to ask if she were very sure. She came to dinner at Tony Korner's flat, in Cornwall Gardens, where we were staying, to tell us her reasons, trudging up the four flights as she must have done hundreds of times in tall English houses, campaigning or gathering names for some petition. She wore tweeds and sturdy shoes and her glasses.
She had little to say about Olive that night; it was as if she had already put Olive out of her mind and wanted to get to other topics. Olive Chancellor wasn't a woman she could identify with easily, or that she had any feeling for. She didn't see herself as that character. Because Olive was a rich Boston bluestocking? She would not be pinned down.
We then ate dinner. During the salad she began a monologue, not looking at us but staring at the wood of the tabletop, her face half in a shadow. To give a better idea of her here I will quote E. M. Forster's description of how Charlotte Bartlett speaks in A Room with a View: "Her long narrow head drove backwards and forwards, as though she were demolishing some invisible obstacle." This harangue, delivered in a low, hollow-sounding monotone, like the prophecy of an oracle sitting in a cave, and mainly about the forces of evil generated by most governments, went on for some time as we—her obstacles?—nervously plucked string beans out of a bowl. What we could not appreciate was that the style of this piece would be duplicated three years later as Olive Chancellor, with head bent and eyes lowered, reproved the worldly if ill-informed Mrs. Burrage in the following speech from The Bostonians:
OLIVE
You seem to think that I control Verena's actions and her desires, and that I'm jealous of any other relations she may possibly form. I can only say your attitude illustrates the way [demolishing object!] that relations between women are still misunderstood and misinterpreted. It is these attitudes we want to fight. With all our strength and all our life, Miss Tarrant—Verena—and I.
The climax of this somewhat dismaying evening (dismaying in that I could not help thinking, Oh, where is the quicksilver Vanessa Redgrave of our dreams, the Vanessa Redgrave of Blow-Up and Morgan!, the valiant creature that was Isadora?) came when she asked Ismail for a substantial donation for the News Line, the paper of her Workers' Revolutionary Party. The paper's cost had to be raised five pence per issue, putting it out of reach of many; our contribution, a kind of subsidy, would help make up the printer's losses. The buck was passed to me and I told her some narrow-eyed Yankee lie about seeing what I could do. After this, she left.
The rejection of a starring role based on a great figure of our literature seems incomprehensible, a perversity.
Many months later, during a blizzard in London, she called Ismail to ask him to come out and march against Ronald Reagan's Central American policies. He lay in a warm bed, drowsily watching a movie on TV. The wind roared, snow blew about, the windows had iced over, while Vanessa's armies were gathering in—I think—Kensington High Street. This made us a little sad. Brave, noble, wrongheaded being!
Thus ends the first phase of our relationship with, and a way of thinking about, Vanessa Redgrave. We did not do The Bostonians, we made Heat and Dust instead, while at about the same time she was getting into difficulties with the Boston Symphony Orchestra over—apparently—having so openly championed the Palestine Liberation Organization. We sent the script for The Bostonians out to other actresses for their consideration. We did not have much success with it, which seems strange since Olive Chancellor is certainly one of the great Henry James characters and one of his most fascinating women. Forty years before, Katharine Hepburn could have played the part, but the suggestion of lesbianism within the central triangle of the story would have kept Hollywood away.
At the beginning of the novel James describes Olive's first encounter with her enemy Basil Ransome: "A smile of exceeding faintness played about her lips—it was just perceptible enough to light up the native gravity of her face. It might have been likened to a thin ray of moonlight resting on the wall of a prison." She is last seen by him (and by the audience of the film) in her dash to the stage lectern at the end: "[It] might have seemed to him that she hoped to find the fierce expiation she sought for in exposure to the thousands she has disappointed and deceived, in offering herself to be trampled to death and torn to pieces. She might have suggested to him some feminine firebrand of Paris revolutionaries, erect on a barricade or even the sacrificial figure of Hypatia, whirled through the furious mob of Alexandria."
In between, there are fierce confrontations between Olive and a gallery of adversaries—scenes in which good actresses (and even some mediocre ones) may shine: scenes of passionate avowals to a cause and to love, and scenes showing how that love is manipulated, as well as a whole range of jealousies, to find expression. Who would turn down such a role?
Directors like to think that any role they offer an actor is an irresistible one, and when it is turned down, it is often the actor who seems to them to fall short of the mark, and not the part. Directors are in the position of powerful if importuning lovers; rejection hurts, because in offering a part to someone a director has taken an important step, has said in effect, "I trust you." Therefore the rejection of a starring role based on a great figure of our literature seems incomprehensible, a perversity.
The analogy to a spurned lover is not inexact; depending on how attracted you are, you continue the pursuit, or you move on to someone else. The first of these was Blythe Danner, who turned down the part; then Meryl Streep, who also turned it down. We hit on Sigourney Weaver, at that time being groomed by her agents at International Creative Management to be a "big, big star." She kept us dangling for a month while she fretted. Wasn't Olive a bitter old maid/a probable lesbian and a man-hating spinster? Wasn't she dowdy? And dried up? Could Sigourney's dashing new image that was being refashioned out of the approving reviews for her film The Year of Living Dangerously accommodate all those bad words? She was being hailed as the 1980s Vanessa Redgrave.
Christopher Reeve, in agreeing to play Basil Ransome, had consultation rights in the casting of Olive and Verena. He now suggested Glenn Close as a potential Olive. I'd never seen her work but I liked the way she looked and spoke when I met her. I went to see The World According to Garp and felt encouraged by the material she'd chosen. In that film she played a virulent man-hater; compared with this, Olive Chancellor's views on that subject seem almost benign. But then it turned out that Glenn Close was also having image problems. The tragedy for actresses in both the United States and Britain is that by the time they have established themselves, they're often no longer young—or they don't feel they're really young anymore, so everything they do after thirty is seen in terms of the "right career move" and of enhancing their image as a saleable commodity.
With Glenn Close, who proved later that she could be winning on Broadway in The Real Thing—could be soft and feminine, that is—the risk was in doing another castrator. Wouldn't she be typecast? The Big Chill hadn't come out—more cuddliness—but influential people hadn't seen her in it yet. I began to read her hesitation as resisting me. Heat and Dust was screened for her. We presented it to her beforehand as a film with complex characters, a film in which people are seen in varied lights, good and bad, and still manage to come across as sympathetic. After the screening we had this conversation in Ismail's office:
CLOSE
I had some trouble with Heat and Dust. I felt you were sort of removed from your characters.
IVORY
Me? [Getting red in the face.] I reject that.
CLOSE
[Shrinking down inside her raincoat.] I'm sorry. I only meant . . .
IVORY
[Looking over the top of her head.] I reject that totally.
She said she needed a month to think about our offer, but meanwhile terms were gone into and some provisional dates were set aside. We left for Cannes with Heat and Dust. What we didn't know was that her agent, Clifford Stevens, was in negotiations for her over The Natural, starring opposite Robert Redford, and for a lot of money.
Meanwhile, Vanessa Redgrave came back into our lives. As Glenn Close debated in New York, Ismail, who can't stand indecisiveness in any form and feared we would lose more time if she ended up saying no, sent The Bostonians screenplay again to Vanessa, whose career seemed to have stalled because of the continued fallout over her PLO and anti-Zionist stands. She read it and came right back: she wanted the part very much. Ismail cautioned her that Glenn Close had also been offered the part and was hesitating; she hadn't definitely turned it down.
Now Clifford Stevens had a brainstorm. Why couldn't his client play both parts, and commute between Boston and Buffalo, New York, where The Natural was to be shot? She would be needed in Buffalo for only ten days; if we agreed to this, she would play Olive Chancellor. Used to these kinds of arrangements in India, we said we would try to work it out. Glenn Close still had many reservations about who and what Olive Chancellor was—she wanted to read the revised script before she really committed herself—but she said she'd go to London for costume fittings. Vanessa, somewhat irritated by now, waited to see what would happen, while the production managers of the two films tried to work out a schedule. Such situations are a nightmare for low-budget films. A single episode of an airport's being fogged in would cost us thousands of dollars. The more comfortably financed film would be able to absorb losses like that without difficulty.
Glenn, back in New York from the fittings for The Bostonians, now read the new script. It did nothing to allay her fears and if anything intensified them. So I, from Boston, set up a meeting between her and Ruth Jhabvala. On that same day, Clifford Stevens escalated his demands for more shooting days for his client on The Natural, saying that it was "vital for Glenn to work in that film." The ten days became fifteen, and that might not be the end of it. If we wanted Glenn, he told Ismail over the telephone from New York, the bottom line was that we would have to release her not only when she wanted to go to Buffalo, but as often as she wanted to go. At this, a furious Ismail, acting in the imperial style of the Hollywood czars of yore, gave orders from London to an underling to fire the leading lady and, rapidly passing on to more important matters, set about replacing her with Vanessa Redgrave.
While all these telephone calls were being made, Glenn Close was making progress in Ruth Prawer Jhabvala's Manhattan apartment on an understanding of Olive's character. Every obstacle had been overcome and actress and screenwriter had passed on to fictitious projections of Olive's future: how that tragically disappointed lady, once she had climbed down from the lectern in the music hall, would catch some slow, wasting disease and soon die, etc. Glenn Close made her way to her agent's office, and in the midst of reporting that her problems with the script had been settled, the telephone rang. This was the MIP underling (if one may call, for the purposes of this tale, the dignified production manager Ted Morley an underling). He was calling from The Bostonians company in Cambridge, Massachusetts. The unexpected news was related. I knew nothing of this drama; while it was going on I was in an airplane.
When I reached La Guardia, Ruth Jhabvala told me what had taken place. That evening in London, Vanessa went to Cosprop, the London costumiers, for fittings. When it was found possible to sew a foot or so of cloth on to the hem of dresses being made for Glenn Close, which were far along by this time, that was done and other things, which Vanessa had worn in the miniseries Wagner, were packed.
There is a moral in all this, I think, for agents who use too peremptory a tone with the prospective employers of their clients: it may happen that a preferred first choice for a part is suddenly available. And though Glenn Close rendezvoused successfully with Robert Redford in Buffalo, I sometimes felt her ghost hovering over our shoot. I felt—I still feel, perhaps illogically—that I owe her a film.*
*
In April 1982 Vanessa Redgrave was in effect fired by the Boston Symphony Orchestra without notice when a series of performances of Oedipus Rex at Symphony Hall in Boston and Carnegie Hall in New York were cancelled.
She had been engaged to narrate the Stravinsky work. No official reason was given for the symphony's action, but it was widely suspected that her well-publicized sympathies for the PLO made her unacceptable to the symphony's Jewish trustees and donors. There had been unsubstantiated rumors of threats of uproar and violence by the Jewish Defense League if she were allowed to perform, and the symphony management was thought to have panicked, justifying their action to themselves on the grounds of public safety. News of all this—or just some bad rumors— had a sort of domino effect in New York and she lost a Broadway part because of the cancellations. For fourteen months after that she did no work.
Vanessa began to bear down ideologically on The Bostonians and on Henry James, who was not there to defend himself.
She decided to sue the symphony, alleging that she had been denied her civil rights under a new and still untested Massachusetts statute, and asked for damages. Her going to court was no small thing. As it developed, she was taking on the Boston establishment. At first only she took her suit seriously, and it was dismissed as having merely a nuisance value. Boston's artistic community took sides and in time the Museum of Fine Arts, the Boston Athenaeum, and the Fogg Museum at Harvard all lined up behind the orchestra, declining to host benefit premieres of The Bostonians because the star of the film was in litigation with their "sister organization." But influential members of Boston's Jewish community were saying that the cancellation of Oedipus Rex had been a disgrace to the city; old friends weren't speaking to each other anymore. In this atmosphere we arrived in Boston with Vanessa to make The Bostonians.
We stayed long enough there to have rehearsals and then the unit moved to Newport, Rhode Island, our first location. Some of us—Vanessa, Christopher Reeve, Madeleine Potter (who played Verena Tarrant), and Merchant-Ivory-Jhabvala—put up at Richmere, a turn-of-the-century Newport "cottage" that was being run as an executive retreat. Life seemed to center around the kitchen, where Vanessa did a lot of the cooking. We were doing night shooting next door at Chateau-sur-Mer, and she prepared herself every afternoon with large servings of steak tartare. This kitchen was the scene of heavy script conferences. Strengthened by years of polemical discussion and doubtless by her steak tartare, Vanessa began to bear down ideologically on The Bostonians and on Henry James, who was not there to defend himself, and on Ruth Jhabvala, who had imagined that all this sort of thing had already been gotten resolved.
Was not the reactionary Basil Ransome a slave-beater, Vanessa asked? Was he not deeply evil, and should he not therefore be made to seem more satanic? Had Ruth shown this clearly enough? Hadn't she made Basil much too sympathetic? Shouldn't he be shown in his true colors so that she, Olive, by contrast should shine forth—not be seen just as a hysterical eccentric, but as a figure of righteousness? That being the case, added Madeleine Potter, she—Verena—didn't want to be put in a bad light by loving Basil, she was only there to reform him. Since Basil was so villainous, wasn't her attraction to him suspect? There was about Madeleine Potter and Vanessa's relationship throughout the film a similarity to that of a mama bird and baby bird: the mama bird flies down with a worm; the baby bird goes cheep, cheep and opens its beak; the mama bird puts the worm in it.
It hardly needs saying that Christopher Reeve knew nothing of these discussions, but when Basil and Verena were out filming one of their rare dates together—at Harvard, or walking by the sea—it seemed to him that Verena, the character, wasn't having as much fun in his company as she should be. Why was that? Why at first did she wear a look of such concentration, frowning down at the path and kicking at stones when she should be smiling up into his face? Why did she seem so often to be on the verge of tears?
She could be as stiff-necked as Olive out of a sense that she was right and the rest of us deeply wrong.
Some people said that Vanessa, too, was often on the verge of tears, because she was forced to spend so much time in enemy territory—i.e., Boston, a place that had shown itself to be hostile to her—and that the strain of being there made her tense and unhappy. Furthermore, she was helping to prepare her case for trial, which caused her to spend a lot of time on the telephone with her New York–based lawyers, adding further to the strain. These things may have been true, but the principal impression she made on most people was that she was having a good time in Boston.
There were no threats, no pickets, none of the disruptions that were supposed to take place when she appeared in public as a performer. She was always visible and accessible, in a way Christopher Reeve could not be. She carried requests for autographs in to him, and when he'd signed, she brought them out again to be distributed and posed for photographs. She did not try to push her political views on her coworkers, as we had been told in England she might try to do. Some people said she elected herself the shop steward for the actors and extras hired for the film; others, that nobody else wanted the job and somebody had to do it.
Every morning she went through The New York Times, The Boston Globe, and The Wall Street Journal during hair and makeup time, reading aloud articles that interested her and puffing on a cigarette. When she arrived on set, all corseted, her petticoats rustling, murmuring to the throng, the feather on her hat high above other people's heads as she passed through, she was a queen by natural rights and in everything she did or said.
But it seemed to me that her recent identification with the People, meaning the underprivileged and disenfranchised, had perhaps had the unconscious effect of politicizing her portrayals of members of the Privileged, so that she could make them seem the monsters her propaganda said they were. Thinking of herself for so long as a People's Revolutionary, in her playing she had effaced some of her natural noblesse oblige. In her mind perhaps she had become a Woman of the People, who never possessed that quality, and who cannot easily introduce it when called on to be a fastidious great lady thrown among the nasty proletariat—as during the scene of the Tarrants' tea party in The Bostonians, at which she made faces and noises to indicate ostentatious distaste.
This led to our only real row, but when I tried to tone her down a bit, she refused to take my direction; for the only time in my life I left the set, saying I'd come back when she agreed to do it my way, without all that sneering. In the lunch line by accident I hit on the key word that would bring her round: I told her that her morning's work had had the unfortunate effect of making Olive seem a little common,* and after we went back she was more in character again. This episode is strange, because you could say Vanessa Redgrave's whole life of idealism and generosity to others (though not to Zionists) is a lesson in noblesse oblige, carried sometimes to lengths of real deprivation for her and personal sacrifice for the causes—mostly unpopular—she supports.
There were other scenes like these. When are there not, on a film set? She could be as stiff-necked as Olive out of a sense that she was right and the rest of us deeply wrong. On a bad day this could be carried to ludicrous lengths, when a detail—any detail: a line of dialogue, some bit of action, a prop, a piece of costume—seemed to her to be invested with the full weight of the entire enterprise, an absolute moral weight, so that if she did not get her way everything would be compromised. If I had said to her, "Vanessa, you cannot wear that dresser scarf around your neck," her mood might have been spoiled and the scene reduced. These eccentricities seemed a small price to pay for the performance I could see she was giving. In the end we parted as friends and collaborators. This was the second way I learned to look at her and to think about her, in the course of the intense relationship, tinged with lunacy, that a film shoot forges between director and star.
* We cast her in 2002 in Le Divorce, a film made in Paris from the novel by Diane Johnson, in which she played a famous author.
**The word "common," introduced to describe the manner, or behavior, of a certain kind of educated middle-class English person, kills them, I've found—stops them dead in their tracks.
_________________________________________________________________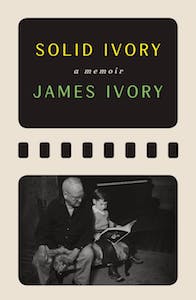 Excerpted from SOLID IVORY: A Memoir by James Ivory, Edited by Peter Cameron. Published by Farrar Straus and Giroux November 2nd 2021. Copyright © 2021 by James Ivory. All rights reserved.
---