Jacques Pépin on Learning the Many Ways to Cook a Chicken as a Young Parisian Chef
"This classic tour de force was carried out to the guests in the dining room..."
I fibbed to Maman. Okay, I told her a bald-faced lie. If she had known the truth, she would never have approved of me going to Paris. But I wanted to play in the big leagues, even though I was barely a year out of apprenticeship and still as parochial as you can get, having never ventured outside the region between Lyon and Geneva, about sixty miles in diameter. No one in my family had ever been to Paris.
So, I blithely assured Maman that I had a place to stay in the city and a good job lined up, even though all I had was the smudged pages of a letter I'd received in Bellegarde from Robert, a fellow former apprentice at L'Hôtel de l'Europe, who'd found work in Paris. He suggested I come there, too. I would love the place.
I arrived at Paris's Gare de Lyon with an old suitcase containing a few changes of clothes and a wooden box my father made for my collection of knives. After trudging through the unfamiliar streets, I somehow found my way to Robert's apartment. He let me sleep on his floor for the night, and the next morning showed me the way to a work agency for cooks. By evening, I had secured a job at a nondescript brasserie. Cooking simple food like steak, onion soup, and roast chicken there kept me fed and allowed me to rent a room (Maman could rest easy) but didn't provide the learning experience I'd hoped to find in the city.
After a few other less-than-satisfying positions, I landed at Le Meurice hotel, which was (and still is) one of the most elegant and chic hotels in Paris. I stayed there for six months. During that time, I was exposed to the cuisine of Escoffier and learned to make many classic dishes. Eventually I moved to the three-star Hôtel Plaza Athénée, one of the biggest and finest hotel restaurants in the city. Like the Meurice, its reputation continues to this day.
There, I joined a regimented brigade of forty-eight chefs who each day prepared classic French cuisine for about 250 guests—a high employee-to-customer ratio. "Brigade" was an apt description. The chef managed the kitchen staff with military precision and discipline. He rigidly assigned us to well-defined sections—pastry, sauce, grilling, vegetable, fish, and garde manger (where cold dishes were prepared and meat and fish portioned and refrigerated). A chef de partie commanded each section, the equivalent of a military officer. He oversaw a first, second, and third commis, the brigade's enlisted soldiers. Once a third commis had mastered the duties at one station, he rotated to another until he had worked at every station, at which point he got promoted to second commis if his work was satisfactory. He repeated the cycle to become first commis. Beginning as a lowly third commis, I thrived under the system. The Plaza was everything I had ever dreamed of, and I stayed there for close to eight years.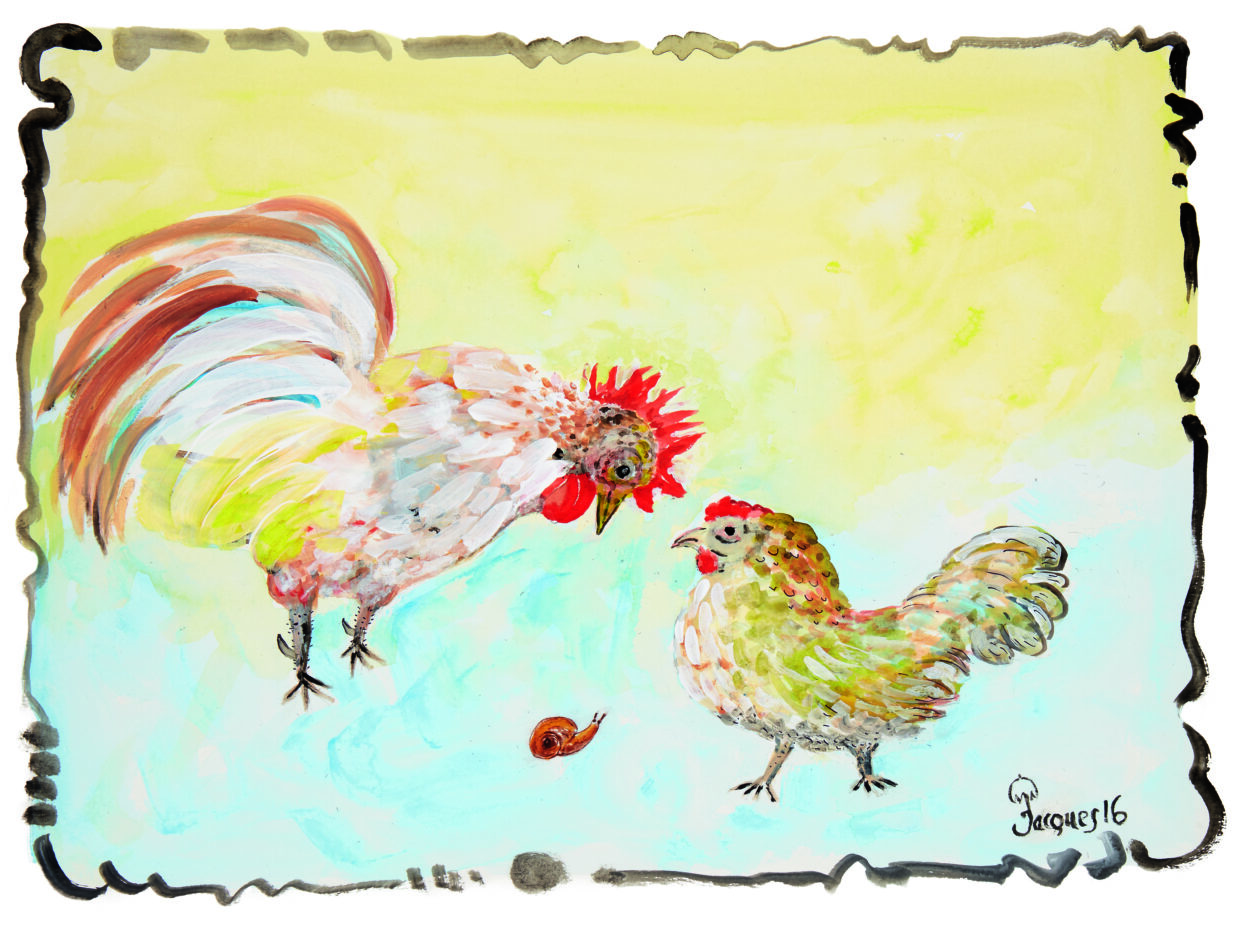 I eventually became chef de partie for the night shift, which started at six o'clock in the evening and finished at two in the morning. But we were young and, after all, this was Paris, so even at that hour we had plenty of options for food and drink after work. Often, we ended up at Les Halles, the labyrinthine Paris market. At five in the morning, the place bustled with revelers dressed to the nines who had just come out of fancy restaurants or nightclubs.
They rubbed shoulders with butchers in blood-stained aprons, farmers in boots with brown mud stains, and chefs in crisp white jackets just starting their workday. Shoppers picked through the aisles to procure the finest Les Halles had to offer, which included more different chicken breeds than I knew existed: reddish Estaires from northern France, Faverolles with feathered ankles, crested black-and-white Houdans, jet-black savage-looking La Flèches, and of course, my bleu, blanc, rouge Bresse chickens. Vendors proudly displayed them hanging from rails with the neck and head feathers still in place, enabling knowledgeable shoppers to determine their age.
Working at the apex of Parisian haute cuisine meant that I had to master difficult classical preparations, many of them for chicken. For the poularde Trianon the chicken was browned nicely in a saucepan first, then a small amount of chicken stock was added, and the chicken continued braising in a hot oven, covered, until fork-tender. Chicken quenelles were made by pounding chicken meat with a large mortar and pestle first, then the mixture was pushed through a tamis, or fine sieve, using a wooden tool called a mushroom (because of its appearance) to get a very smooth purée of chicken meat. The purée was placed on ice, and heavy cream was incorporated spoonful by spoonful to produce a creamy, soft, and smooth mousse.
The mousse was divided into three parts, and each part was differently seasoned—one with chopped black truffles, one with chopped cured tongue, and one with herbs such as chervil, parsley, and basil. Three seasonings, three tastes, and three colors: black for the truffle, red for the tongue, and green for the herbs. The quenelles were molded into miniature footballs using two spoons and poached in salted water.
At serving time, the braised bird was presented whole with little batches of quenelle in alternating colors placed in small cooked pastry shells around it. The chicken was coated with a supreme sauce made with thickened chicken stock and finished with cream and a purée of foie gras. The top was decorated with extra slices of truffles. This classic tour de force was carried out to the guests in the dining room by a skilled maître d'hôtel. This glory of classic French cooking would be difficult to duplicate in a home kitchen!
Featured image by Jacques Pépin
_____________________________________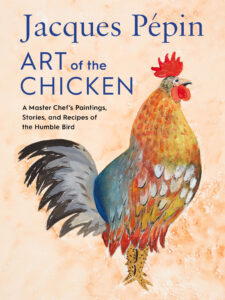 Excerpted from Art of the Chicken: A Master Chef's Paintings, Stories, and Recipes of the Humble Bird by Jacques Pépin. Copyright © 2022. Available from Harvest, an imprint of William Morrow, a division of HarperCollins, Inc.
---