How to Spend a Literary Long Weekend in New Orleans
Walk in Faulkner's Footsteps and Discover the City's Newest Voices
To celebrate our partnership with Kimpton, enjoy 20% off their Best Available Rate. Cozy up in your hotel room with one of our seasonal book recommendations, or venture out on a book lovers' travel itinerary.
In the 14 years since Hurricane Katrina made landfall, New Orleans has regained its status as an international travel destination for its food, music, and nightlife. But after a Sazerac or two, it's easy to miss the city's literary side, especially if you're traveling by strobe-lit party bus. If you know where to look, New Orleans offers historic connections to authors closely associated with the city, such as Tennessee Williams and Anne Rice, and those who only lived here briefly (Faulkner, Whitman, Burroughs, and others). You might also discover a vibrant contemporary literary scene, despite the belief, famously perpetuated by Walker Percy, that the city's charms are "too seductive for a writer." Nonetheless, you'll find an active network of artists and organizations carving out spaces within our still-vulnerable city in which to imagine a better future. Some even feel like a party.
*
· FRIDAY ·
Antenna (3718 St. Claude Ave)
2:00 pm
Begin your literary weekend on St. Claude Avenue, the commercial corridor through the Marigny, Bywater, and St. Roch neighborhoods. Despite rapid post-Katrina gentrification, the area remains an artistic hub, and of the many galleries in the St. Claude Arts District, Antenna has the widest literary reach. Originally founded as the Press Street collective, its building houses an upstairs gallery and downstairs shop, both free and open to the public. There, you can find copies of Rm. 220, Antenna's literary journal, as well as chapbooks printed in its Paper Machine printshop further down St. Claude in the Lower Ninth Ward. Events vary weekly, but could include author talks, publishing boot camps, New Orleans Writers Workshop classes, or performances of Signals, its quarterly "live-action arts magazine." Antenna also sponsors off-site events, like a recent party at Saturn Bar for Kristen Arnett, which featured readings by three native New Orleanians—Ann Glaviano, Kristina Kay Robinson, and Maurice Carlos Ruffin—and was co-hosted by Jami Attenberg.
*
Community Book Center (2523 Bayou Rd.)
4:00 pm
A 10-minute cab trip from Antenna, Community Book Center has served the African-American community for 35 years. It's easy to spot, thanks to a striking mural by Brandan "B-Mike" Odums and graffiti artist Reader. Store owner Vera Washington offers a curated selection of books by authors of African descent, including a diverse array of children's books, from local titles like Trombone Shorty's The 5 O'Clock Band to the deepest cuts in the Ezra Jack Keats backlist, much to my son's delight. The store hosts events and more informal gatherings at the tables in the back. Fair warning: you might smell some delicious food brought in from a nearby restaurant, like McHardy's, Coco Hut, or Pagoda Café.
Also in the Seventh Ward is the home of 826 New Orleans (formerly Big Class), a local chapter of the national writing-center network. Though you'll want to call for hours before stopping by, its store stocks books by its students—such as Courageous, Eccentric, Diverse, in which local third graders suggest replacing former Confederate monuments with ones for entities like Drew Brees, crawfish, Ellen DeGeneres, and beignets.
*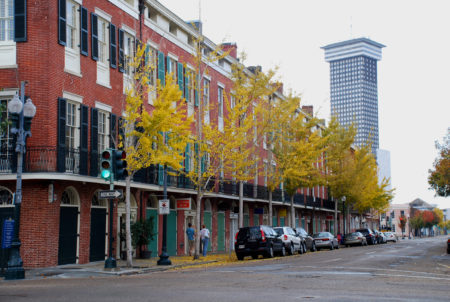 Julia Street
6:00 pm
If it's not too humid, catch a ride downtown for an evening walk around the Warehouse District. It's another area that's experienced a staggering amount of development in recent years, with warehouse conversions, hotel construction, and a significant expansion of the WWII Museum. Stroll down Julia Street, home to art galleries and upscale condos like the one in which film scout Eve Broussard lived in Mary Robison's novel One D.O.A., One on the Way. When you get hungry, Carmo and Long Chim Thai at Auction House Market offer alternatives to po'boys and gumbo.
*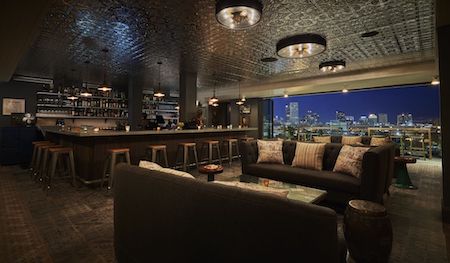 The Pontchartrain Hotel (2031 St Charles Ave.)
10:00 pm
After dinner, hop on the streetcar and head to the Pontchartrain's rooftop bar, Hot Tin (Josephine stop). It has Tennessee Williams-themed décor and one of the best views of the skyline. Though the bar gets busy at night, the rest of the hotel, which opened in 1927, remains fairly quiet. I stayed there last March during the annual Tennessee Williams/New Orleans Literary Festival and got so much writing done that I now consider that visit a mini-residency. I've even held on to the little black notebook that came for free with my room, which non-guests can purchase for $5.
*
· SATURDAY ·
Latter Library / Friends Book Sale (5120 St Charles Ave.)
10:00 am
If you're looking for a quiet place to read, it's hard to beat the Latter branch of the New Orleans Public Library. It's housed in a mansion built in 1907 that's situated on an entire city block in Uptown. Though renovated for its adapted use, the reading rooms that occupy the home's former solarium, dining room, office, and ladies' drawing room preserve its historic character. Locals know to visit on Wednesdays and Saturdays between 10 am and 2 pm, when Friends of the Library runs a book sale in the adjacent carriage house. The well-organized selection includes library copies and private donations, with most hardcovers priced at $2 and paperbacks $1.
*
The French Quarter
12 pm
From the Dufossat streetcar stop, head to Canal Street, soaking in creative inspiration from your open window as miles of stately mansions give way to downtown density. Fans of A Confederacy of Dunces should pass the Hyatt Centric, where a sidewalk statue of Ignatius Reilly marks the former D.H. Holmes Department Store from the novel's opening scene. You might also find a Lucky Dogs vendor on Bourbon Street, which inspired the novel's fictional Paradise Vendors. If you're not up for a hot dog from a cart shaped like one, other affordable lunch options include Johnny's Po-Boys, Petite Amelie, or takeout from Verti Marte.
Grab a go-cup from the library-themed Backspace Bar, which opened in 2012, or more historically, the Carousel Bar inside the Hotel Monteleone, dating back to 1886. The latter was a hangout popular with Hemingway, Faulkner, and Truman Capote, and it was also featured in Eudora Welty's story "The Purple Hat." The hotel has received Literary Landmark status; many other sites on the list, including two Tennessee Williams residences, Sherwood Anderson's Pontalba salon, and the Beauregard-Keyes House, are a short walk away. You can also stop by The Historic New Orleans Collection's Williams Research Center, which has a beautiful second-story reading room for serious researchers.
*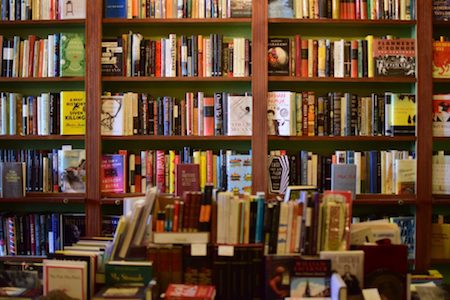 Faulkner House Books (624 Pirate Alley)
2 pm
Another literary landmark, Faulkner's residence during his time in New Orleans, is now home to an excellent bookstore. Faulkner House Books specializes in literary fiction and has an expansive collection of poetry, my favorite among area bookstores. While it's too small for events, the owners have stacked the tall shelves with a well-curated selection, and the helpful staff can open up the glass cases of rare editions, with one dedicated entirely to Faulkner. Prices on collectibles start around $175 and top out in the five figures.
*
City Park 
5 pm
Back on Canal, hop on a red streetcar bound for City Park (not "Cemeteries") to coast through Mid-City. At the Orleans Avenue stop, you'll find Tubby & Coo's, an independent bookstore devoted to sci-fi/fantasy literature, and The Bean Gallery, which has a shady patio for writing and people-watching. Or take the streetcar all the way to City Park, where an extension of the Besthoff Sculpture Garden at NOMA has expanded the park's footprint of areas offering quiet contemplation.
Weather permitting, you can stroll around Bayou St. John, down Esplanade Avenue (the grand street on which the Pontelliers lived in Kate Chopin's The Awakening), and grab dinner at 1000 Figs or Café Degas. While there's no shortage of bars nearby, consider heading back to St. Claude to visit Kajun's Pub. It's a dive bar open 24/7/365 that owner JoAnn Guidos didn't close during Hurricane Katrina, a feat immortalized in Dan Baum's Nine Lives.
*
· SUNDAY ·
Octavia Books / Garden District Books
10 am
On your last morning, either of the city's largest indies are a solid option for browsing. Both stores stock contemporary literature alongside books of local interest, including cookbooks, and regularly host readings. I'm partial to Octavia for its large children's section, its support of the New Orleans chapter of Why There Are Words, and its t-shirts by local designer Tom Varisco: "Reading is Dreaming with Open Eyes" and "Unreliable Narrator." But Garden District Books' location, adjacent to Lafayette Cemetery No. 1, makes it an ideal destination for those who, after shopping, wish to set out on a self-guided literary tour.
*
The Garden District 
12 pm
While there are no major walking tours with a literary focus, you can create your own. Susan Larson's comprehensive Booklover's Guide to New Orleans, which would make an excellent souvenir, calls out several Garden District homes that, while not open to the public, are worth checking out. These include 1239 First Street, once home to Anne Rice, 2900 Prytania, where Fitzgerald lived briefly, Kate Chopin's home (1413 Louisiana Avenue), and the stretch of Washington Avenue that inspired Walt Whitman's "I Saw in Louisiana A Live-Oak Growing."
*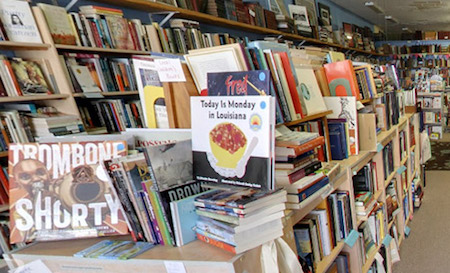 Blue Cypress Books (8126 Oak St.)
2 pm 
For your last stop, take the streetcar uptown to Oak Street, where you'll find Blue Cypress Books. While the store primarily offers used books, owner Elizabeth Ahlquist stocks new copies of popular titles and even sells them at Jazz Fest. She's papered the store with witty shelf talkers, and its tote bags and t-shirts proclaim, "READ OR DIE!" After you pet store cat Kitty Meow, Elizabeth recommends the poetry series at the Maple Leaf bar down the street, which starts at 3:00 pm on Sundays—or rather, a more relaxed "New Orleans three o'clock," she says. At forty years and counting, it's the longest-running poetry reading series in North America. Other notable series include Dogfish, a monthly salon at a private residence, and Loyola's 1718 series at the Columns Hotel. You won't be able to fit them all into one weekend, but they're a good reason to stay longer—or to visit again, if you need another excuse.
---