How the First Punk in East Berlin Became an Enemy of the State
Tim Mohr on the Teenage Girl Who Loved the Sex Pistols and Hated the Government
The very first punk in East Berlin went by the name "Major." She was 15 years old and lived in a neighborhood called Köpenick, about a 20-minute ride southeast from the center of town on one of the city's elevated S-Bahn trains.
It was September 1977.
Major's proper name was Britta Bergmann, and she had learned lessons about the Berlin Wall early. Britta had never known her own father, but she had an older sister whose father was a West Berliner who occasionally came to see the family in East Berlin. When Britta was five years old, her sister's father was over for a visit, and in the evening, when he said he had to be going, had to get back over to West Berlin, Britta had an idea.
"We'll come along," said little Britta enthusiastically.
She didn't understand why his face clouded.
"No," he said, confused. "You can't just come with me—you live in the East!"
That realization of what the Wall meant stuck with Britta.
Growing up, Britta was aware that her family had a history of opposition politics. Her maternal grandfather had been in the German communist party in the 1920s and spent time in prison after Hitler's rise; her maternal grandmother was officially branded an anti-fascist and placed on Heinrich Himmler's black list for, among other things, maintaining friendships with Jews and refusing to perform the Nazi salute. Despite their communist beliefs, life in Stalinist East Germany hadn't been easy for them, either, with her grandparents detained for weeks and accused of spying as a result of a friendship with a Swiss national. Britta grew up in her grandmother's apartment. Her grandmother was openly critical of the dictatorship and had a strong influence on her granddaughter's worldview—Britta learned not only to view government propaganda with a large dose of skepticism but to see the entire system as unjust and illegitimate.
All through school Britta suffered from the feeling that her choices were being usurped by the state, that—in more adult terms—she was being disenfranchised from casting a vote in the most crucial decisions in her own life and destiny, decisions about who she was and who she would or could be. She knew, she just knew, it was wrong that you weren't permitted to read whatever you wanted, that you couldn't openly express your opinions. Wrong that creativity, curiosity, and independent thinking were verboten.
I just want to be allowed to be an individual, to be who I am, to make my own choices.
In the summer of 1977, one of Britta's friends had a visit from a cousin from West Germany. The cousin told the girls about someone who had escaped to West Berlin by crossing one of the lakes that formed the border down in the southwest corner of the city, near Potsdam. 15-year-old Britta felt inspired: she wanted to escape, too.
The future laid out for me in the DDR is NOT acceptable.
It's time for me to get out of here.
She and her friend secretly discussed the idea and soon both of them began to make plans—Britta even wanted to go scout out the lakeshore. In the end, though, the escape attempt did not go beyond teenage daydreams.
"All through school Britta suffered from the feeling that her choices were being usurped by the state, that—in more adult terms—she was being disenfranchised from casting a vote in the most crucial decisions in her own life and destiny."
At the beginning of the school year in September 1977, Britta's sister gave her a stack of photos and pullout posters she'd amassed from the precious West German teen magazines her father brought her—images of ABBA, Boney M, Smokie, the cheesy chart toppers and heartthrobs of the day. As Britta leafed through the images, she suddenly stopped at one. It was a black-and-white shot of a band called the Sex Pistols.
What the fuck is this, she wondered, fascinated by their ripped clothes and sneering faces.
At school she asked around in class to try to figure out if anyone had heard of this mysterious band with the crazy name, the Sex Pistols. One kid in school knew everything about music, and sure enough he knew the Pistols: they were "punk," he told her. Punk? But wait, she thought, she'd heard that AC/DC was supposed to be punk, and she couldn't stand AC/DC. She hated hard rock. Not long afterward, though, Britta was listening to a Western radio station, Radio Luxembourg, and heard something that immediately caught her attention. The song started with a ragged, chiming guitar line and then the drums kicked in and then it got seriously loud, chugging along like some kind of overheated locomotive, a runaway train, and then the singer started—well, it wasn't exactly singing, the guy couldn't carry a tune, he was sort of howling in a tortured monotone, sneering and shrieking and growling . . . There's no point in asking, you'll get no reply . . . the song was like a punch in the gut and the singer sounded committed in a way she'd never heard before, almost possessed . . . I don't pretend 'cause I DON'T CARE . . . stuff your cheap comment 'cause we know what we feel!
It was as if the band was speaking directly to her. She felt like a switch had been thrown inside her, as if the song had activated something that had been buried inside her, something she hadn't known was there until this moment.
Holy shit!
She waited for the DJ to identify the band.
"That was the Sex Pistols, with 'Pretty Vacant,'" said the DJ.
The Sex Pistols!
Now that was what she had expected from the picture of the band, with their fucked-up hair and fucked-up skin and fucked-up clothing.
She hacked off her hair the next day, affecting the look she knew from the black-and-white photo of the Pistols. Then she started rummaging through her sister's stack of West German magazines for more shots of the band. Once she had a few, she began to modify her clothes to mimic the Pistols' look as best she could. She ripped holes in a shirt and then sewed the holes closed again with big, ugly stitches that were clearly visible. She cut out a swatch of white cloth and wrote DESTROY on it with a black pen, then sewed it onto the chest pocket of her jacket. Then she nicked the chain from a spare toilet plunger and attached it to the same jacket, stringing it from the chest pocket to one of the buttons. In one of the pictures Britta found, Johnny Rotten—the Sex Pistols' singer—had safety pins on the shoulders of his jacket. Britta could do that, too. She put a row of safety pins on the top of each shoulder of her own jacket—punk-rock epaulets.
You could hear the gasps at school when she showed up with short hair and her clothes ripped and stuck with pins.
One kid came up to her and greeted her based on her shiny metal epaulets:
"Hello, Major!"
From that moment on, that was her name.
"It was as if the band was speaking directly to her. She felt like a switch had been thrown inside her, as if the song had activated something that had been buried inside her, something she hadn't known was there until this moment."
School authorities did not take her stunt so lightly. Any deviation from the officially ordained path was seen as threatening to the social cohesion the dictatorship nurtured with its system of youth organizations and propaganda, all designed to feed properly indoctrinated workers into the planned economy. The school quickly sprang into action, and the principal and Major's teachers—in consultation with the local youth services office—secretly deliberated on how to deal with her. As Major learned years later when she gained access to her Stasi file, the teachers felt they were incapable of molding an acceptable socialist identity out of Major, and they debated whether  to have her committed to an institution where she could be treated for her "difficulties."
Major had problems in the classroom, too. Her grades fell as teachers began to look dimly on her work; they also gave her additional assignments, projects like preparing a poster about the good relations East Germany enjoyed with the Soviet army and writing a speech on the advantages of a planned economy. This was how the teachers hoped to reintegrate her into socialist society. Teachers also sent her home a lot, telling her she shouldn't return to class until she changed her clothes. She never changed her clothes. In fact, she continued to assemble more and more outfits, modifying more shirts and pants with paint and pins and pen markings, and adding homemade buttons with band names and phrases like I'M AN ENEMY OF THE STATE.
She had found the perfect vent. Punk sounded and looked and felt like liberation. Major had never doubted she lived in an illegitimate system, but she hadn't wanted to throw rocks or build bombs or murder anyone. She just wanted to be herself, and doing, saying, reading, and writing the things that would have made her feel like herself were all verboten. Becoming a punk imbued Major with a sense of power on two levels. First, the music seemed to give voice to the rage she felt inside and gave her the strength to survive in a system she hated. Second, the look provided an explicit way for her to show her opposition every time she stepped out in public.
Meanwhile Major's friend—the one she had talked about escaping with—had been corresponding with her cousin in West Berlin, and the two of them had naïvely mentioned the previous summer's teenage dream of swimming across the lake to the West; Major was mentioned by name. The girl's father came across one of the letters and he ratted out his own daughter, as well as Major, to the police.
On May 16, 1978, Major was ordered to report to a police station for questioning.
Led by a Lieutenant Müller of the Volkspolizei, the cops interrogated the 16-year-old all day and straight through the night. They also executed a search of her family's apartment while she was in police custody.
During the interrogation Major made a strategic error: she answered some of Lieutenant Müller's questions about punk, questions brought on by her outlandish look and then by things they'd found when they searched her apartment—song lyrics she'd jotted down while listening to the radio, poems she'd written that were deemed "politically negative." Major had discovered a bunch of bands she liked from Western radio: X-Ray Spex, Sham 69, Slaughter and the Dogs, Chelsea, the Clash, Cock Sparrer, the Buzzcocks, the Vibrators, the Stranglers, Stiff Little Fingers, Wire . . . She could rattle off a lot of names of bands she considered favorites by now. Unfortunately, most anything she knew about punk had to have come from Western media. This compounded the suspicions about Major stemming from her being mentioned in her friend's letter alongside chatter about something considered a very serious crime: Republikflucht. In essence, defection.
Major was finally released the next day, but the authorities anticipated more trouble from her. Anyone who self-identified with a youth culture that wasn't officially sanctioned was problematic enough. But in Major's case, not only was she a punk—or "pank," as the authorities sometimes wrote in reports—she had also written antisocial poems and broached the topic of defection with others. Any instance of attempted Republikflucht also triggered an automatic process: the Stasi had to be informed.
The Stasi started an official file on Major on August 27, 1978.
She was now on the radar of one of the world's most feared domestic spy agencies.
From that point on, Major was under constant surveillance. She was followed constantly and any mail she received was opened and read. The police never stopped tailing her, either. Lieutenant Müller was convinced he had ferreted out a dangerous enemy of the state in 16-year-old Major. And maybe he was right.
__________________________________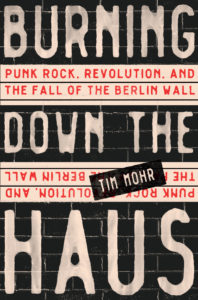 From Burning Down The House: Punk Rock, Revolution, And The Fall of The Berlin Wall. Courtesy of Algonquin Books. Copyright © 2018 by Tim Mohr. 
---