How Chekhov Made Sense of His Surroundings Through Writing Short Stories
Bob Blaisdell on Chronicling the Literary and Personal Life of One of Russia's Most Prolific Writers
Anton Chekhov's biography in 1886-1887 is captured almost completely in the writing that he was doing. Reading the stories, we are as close as we can be to being in his company.
In 1886, the twenty-six-year-old Moscow doctor published 112 short stories, humor pieces, and articles. In 1887, he published sixty-four short stories. The young author was, to his surprise and occasional embarrassment, famous; admired by, among others, Russia's literary giants Lev Tolstoy and Nikolay Leskov. In these two years, three volumes of his short stories were published.
Meanwhile, three hours a day, six days a week, Dr. Chekhov treated patients in his office at his family's residence, and also made house calls; he lived with and supported his parents and younger siblings. In the winter of 1886, he became engaged and unengaged to be married. He mentored other writers with matter-of-fact encouragement and brilliant criticism. He carried on lively, frank, funny correspondence with editors, friends, and his older brothers. Having written, he was exhausted, but in the midst of writing, whether venting and making jokes in letters or amusing himself and us with stories, his senses seemed fully alive, consciousness and imagination flowing together. Weary and suffering from various ailments including the tuberculosis he had contracted at twenty-four, he took a long trip south in the spring of 1887 to Taganrog, where he had grown up. He continued writing even on vacation.
In his short stories he identified with a variety of characters: doctors, patients, actors, drivers, writers, artists, children, women, men, drunks, religious folk, Moscovites, Petersburgers, exiles, villagers, judges, criminal investigators, cheats, lovers, midwives, business owners and animals. After a blue and dreary summer of 1887, he wrote a four-act play in the space of two weeks. He concluded these two years of artistic work by composing one of Russia's most famous children's stories, "Kashtanka," and the start of what became a renowned novella.
Reading Chekhov's stories, we are as close as we can be to being in his company.
Chekhov's imagination is what brought him to the world's attention and has kept him there. His imagination—and its prodigious flowering during these years—is the focus of this biography; the facts of his life build the frame around the picture of that imagination. In 1888 until to the end of his life, the amount of his writing only slowed to a pace that any other great author would have been proud of, and he eventually curtailed his medical duties. He died in 1904, the most famous writer in Russia other than Tolstoy; posthumously his short stories and plays became in translation the English-speaking world's model of everyday comedy and tragedy.
The stories and humor pieces that he was producing on deadline for St. Petersburg newspapers and magazines required that he keep an eye on topicality (e.g., New Year's, Lent, Easter, spring thaws, summer dachas, return to school, winter snows, Christmas). What I did not expect to discover in researching his life in these years is that when those 178 pieces are read in chronological order and in conjunction with the personal letters to and from him, they become a diary of the psychological and emotional states of this conspicuously reserved man. For example, when he was in the midst of his frustrating and anxious engagement, young couples in his stories are continually making their rancorous way into or out of their relationships.
When Dr. Chekhov was overtaxed by his medical duties, the doctor characters explode or implode. Chekhov's talented but drunken older brothers and Chekhov's domineering father became transmuted into characters, but almost always Chekhov converted the circumstances of the people he knew into fictional ones at various removes: the opposite gender, a younger or older age, a different profession, a different place, a different family. His clever brothers would have recognized themselves, though not the circumstances, in many comic and serious stories. His father, born a serf to a "slave-driving" serf-father, was reputedly incapable of recognizing the similarities between himself and the brutal or ridiculous fathers in his son's stories.
*
On my middle-aged way to learning Russian so I could read Anna Karenina in the original, I read dozens and dozens of Chekhov's stories, some in heavily annotated editions for us Russian learners. In English I had read all thirteen volumes of Constance Garnett's translations of Chekhov, and I either didn't notice or didn't care that she didn't arrange the stories chronologically. She gathered the stories the way a florist might arrange bouquets: loosely, occasionally thematically, occasionally by time-range, size or quality.
When I was reading Russian collections, however, I kept noticing that so many of my favorite stories had been published in 1886 and 1887. I loved Chekhov's later stories too, but there weren't so many of them. Had anyone else noticed all those 1886 and 1887 publication dates?… Of course others had! In the best book about Chekhov, read by me at least a few times since the early 1980s and "forgotten," there is this emphatic and dead-on declaration: "Eighteen eighty-six and early 1887 brought a whole stream of stories, unprecedented in Russian literature for the originality of their form and subject matter and for their compression and concision." I second that evaluation.
Chekhov's imagination is what brought him to the world's attention and has kept him there.
I chose to study the two years where Chekhov took center stage in Russian literature so that I could give myself and you, my reader, the illusion of comprehensiveness. There is no comprehensive biography of Chekhov, though there are many good biographies. Like Garnett's story collections, they too seem to focus on a theme or aspect of his life. Rosamund Bartlett, who seems to me to have the most thoroughly knowledgeable appreciation of Chekhov's life and work, focused her biography, Chekhov: Scenes from a Life (2005), on the places where he lived and visited.
Donald Rayfield's Anton Chekhov: A Life (1997, updated and revised in 2021) is large and long but not focused on his writing. It is informative about the Chekhov family's dynamics and is full of unexpurgated material from Chekhov's and his correspondents' letters that had never even been published in Russian. Michael C. Finke's Freedom from Violence and Lies: Anton Chekhov's Life and Writings (2021) is a good but brief biography that fairly balances the life and work. I have read all his 1886–1887 letters in Russian, and there are several collections of his letters in English, which I draw on and quote from. It's possible to catch Chekhov in the looking-glass in the miracle years of 1886 and 1887 because he had almost no time to look away.
*
"My work is like a diary. It's even dated like a diary."
–Pablo Picasso
*
I wish we really knew how he wrote his stories or even any single tale. In that hour or three wherein Chekhov's hand and imagination inscribed a story, even if we watched his quick right-handed penmanship slide and scritch across his narrow notebook pages, with sometimes not even a cross out, what would we know beyond the appreciation of his speed and focus?
Perhaps it would be like viewing the replayed iPad paintings of David Hockney, where in about sixty seconds the screen displays a flurry of the artist's eyes' and finger's decisions: lines, shapes, colors, tones, resizings…and voila, a beautiful tree-lined road. Chekhov's mother Evgeniya said, "When he was still an undergraduate, Antosha would sit at the table in the morning, having his tea and suddenly fall to thinking; he would sometimes look straight into one's eyes, but I knew that he saw nothing. Then he would get his notebook out of his pocket and write quickly, quickly. And again he would fall to thinking."
From some such perspective we can at least imagine him at work, and certainly we can see the proof in the pudding. Chekhov's stories are as personal as any great artist's landscapes and portraits. David Hockney is not the trees and he is not the friends he paints.
We know from Chekhov's thousands of pages of writing that the challenge of his life was to free himself to feel the entirety of his humanity.
But from Hockney's many works we know a lot more about how he sees and understands the world than we probably know about our own ways of seeing. He and Chekhov help us appreciate what can be appreciated, if only we were focused geniuses. We know from Chekhov's thousands of pages of writing that the challenge of his life was to free himself to feel the entirety of his humanity, which meant in his case a combination of intelligence and wit and a deep well of sympathy for the weak and the vulnerable:
What aristocratic writers take from nature gratis, the less privileged must pay for with their youth. Try and write a story about a young man—the son of a serf, a former grocer, choirboy, schoolboy and university student, raised on respect for rank, kissing the priests' hands, worshiping the ideas of others, and giving thanks for every piece of bread, receiving frequent whippings, making the rounds as a tutor without galoshes, brawling, torturing animals, enjoying dinners at the houses of rich relatives, needlessly hypocritical before god and man merely to acknowledge his own insignificance—write about how this young man squeezes the slave out of himself drop by drop and how, on waking up one fine morning, he finds that the blood coursing through his veins is no longer the blood of a slave, but that of a real human being.
That fearsome "young man" who squeezed "the slave out of himself drop by drop" was of course Chekhov. This declaration, written to his closest friend and confidant of the time (1889), is the most personal revelation he ever made, but unfortunately he himself never wrote that story, though his memoirist siblings and his conscientious biographers have ever since his death tried to do so. My modest suggestion is that his own stories do tell, in pieces and flashes, that story of himself, the "real human being."
No one has tracked his daily routines beyond what the editors of the invaluable Letopis' ("Chronicle") of his life have compiled. We have a few contemporary facts about some particular days, but there isn't an appointments calendar or a record of the patients he saw. He was on the other hand very good at keeping track of publications, sending follow-up letters and commissioning various brothers to round up the late payments from forgetful or tight-fisted editors.
During my mostly happy days of research, I had the big, great obvious idea of compressing this biography of two years of his life—writer, doctor, financial provider, joker, lover, friend—into a short story, written as if by himself. It would be brilliant, amusing and concise. We would know Chekhov from the outside through carefully selected observations and from the inside through his buzzing thoughts….I didn't manage to write that story.
For this biography, Chekhov would have advised me, had he been unable to dissuade me from writing it at all, to Keep it simple. Sketch the mundane everyday life and activities, but vividly. Admit what you don't know. Be modest. Be brief! That sounds simple, but as his friend Viktor Bilibin eventually protested when Chekhov cajoled him toward greater artistry in his writing: I'm not you, Anton Pavlovich!
__________________________________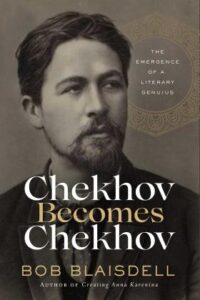 Excerpted and adapted from Chekhov Becomes Chekhov: The Emergence of a Literary Genius by Bob Blaisdell. Copyright © 2022. Available from Pegasus Books.
---