Growth, Loss, and a Mailbox Mystery: 13 Years in Gray's River Valley
Robert Michael Pyle Reflects on the Life Cycles of a Place
Mailboxes and Roses
When I got to my mailbox at the end of my daily walk down the mail-path, there it lay, bang in the wet grass by the road. "Rats," I thought, "somebody's bumped into it and knocked it down." But the mail lady told the postmaster that it had come away in her hands, the post rotted off flush with the ground. This was a special post that I'd put up myself, sturdy and braced, and it had lasted 15 of the 40 years the mailbox has been there. But I hadn't sealed it in concrete, and the ever-present rain and rot finally got to it below the grass line.
It was sad to see that rusty tunnel of steel laid low. I'd bought it new and shiny, nailed it down, and sunk the prior post in the turf that very first fall here. All these years it has stood there, keeping all those cards and letters, magazines, papers, and packages sound and dry. So for the time being, it was a five-mile round-trip to the P.O. for the mail, looking forward to a wet and difficult job in the cold rain and mud that afternoon. So imagine my surprise when I returned with a pipe and a strap and a maul, only to find the mailbox and post up again—soundly braced with green wire strung between two green steel fenceposts!
How did it get that way? I have no idea; no one will fess up. Perhaps I'll never know. I guess this is just the kind of place where such a thing can happen.
It is now 45 years since I first set foot in Gray's River Valley, 41 since I moved here, and thirteen since this book was first released. I am delighted that Counterpoint Press is now bringing it back for new readers. A number of folks have told me it is their favorite of my books. I can play no favorites among my literary children any more than if I had biological ones, but I can say that it is close to my heart, and that it is a true-felt love song to the place I've been so lucky to land.
Because I believe in the power of context (I deplore all those Internet pics that make the rounds with no hint of who, where, what) I am taking this opportunity to put readers in the picture as to how things have changed since the times reflected in the foregoing pages, having declined to update the text itself. Change comes slower here than most places, but it comes even so, and it may be well to share some of the ways in which the subject of the new edition of today may differ from that of the original.
Let's begin with the district. Wahkiakum County has finally picked up a little population, but it is still fewer than 4,500 souls, with no traffic lights, thank the gods. Our county seat of Cathlamet, twenty miles east, where much of the movie Snow Falling on Cedars was filmed for its unduplicated 1950s feel, retains its charm, hotel, and near absence of hot-spots. Happily, the fine River Mile 38 Brewery has arisen by the marina, and Maria's serves great tongue taquitos from a hut by the brewpub and overlooking the Columbia in their own establishment. But on the whole, our one incorporated little town has stayed much the same.
Coming nearer, Skamokawa still hosts the kayak center, a general store, Redmen Hall's good little bookstore, and the county fair. Our Grange finally won a blue ribbon in the fair booth competition for a rendition of the covered bridge made entirely of Darbury's great bread. We still run the spelling bee, but we've given over the laborious food booth to a church group.
Crossing the hills, one who knew this place back in the day will notice some larger changes. The logging is much the same as before, but more so. Almost all of the older second-growth has been liquidated. There may be smaller clear-cuts and more stream corridors, but there is little connected forest of any age. The county commissioners continue to tussle with the Washington Commissioner of Public Lands who tussles with Audubon and others over how much timberland should be "encumbered" with marbled murrelet habitat designation, when there would be plenty for all had the county bought the Cathlamet Managed Forest when it had the chance, a brainstorm by visionary farmer and Grange Master Bobby Larson some years ago. They didn't, and now it's a struggle with the state over slim pickings while the undertaxed absentee landlords continue to manage most of the land for maximum profit and pulp output.
But the biggest change for many is the gating of the roads. Almost every logging road in the Willapa Hills—hundreds of roads, thousands of miles—has been closed off with massive metal gates. They say it's because of vandalism and littering, but they sell access for substantial fees and it is widely thought the companies are trying to winkle every dollar they can out of the hills, while preventing scrutiny of practices, let alone biological exploration. Meanwhile the people—off-duty loggers, teachers, retirees, kids, lepidopterists—have lost access to lands they have used for generations for hunting, fishing, wood gathering, mushrooming, and general recreation, in lieu of the public roads they would possess were this national forestland. Now we can't even reach the beloved scenic spot and swimming hole above the Gray's River Gorge, without a very long hike on dusty, rocky logging roads. We may have escaped development here, but we have lost the one real compensation for living in a land of logging. I don't think my earlier book about this area, Wintergreen: Rambles in a Ravaged Land (Counterpoint), could even be written now, without that access to the inner hills and rills. But maybe a new generation of mountain bikers and tough hikers will rediscover these closed-off scapes. On balance, the wildlife will probably benefit. After all, a wolverine for gosh sakes, never before recorded west of the Cascades, recently crossed the Willapa Hills to be seen and photographed twice in Pacific County west of here! And mountain lion sightings are on the uptick.
The people—off-duty loggers, teachers, retirees, kids, lepidopterists—have lost access to lands they have used for generations for hunting, fishing, wood gathering, mushrooming, and general recreation.
Over on our side of K-M Mountain, the Rosburg School has become Johnson Park, a community center offering everything from movies to a food bank, a volunteer library to a weight room, a basketball court to a nature trail. The difficulty, as in all rural endeavors, is enough fresh blood for the volunteer force, as factions form and longtimers burn out. Across State Route 4, the Rosburg Store has reopened after a long, painful hiatus, kept open its long hours by Roni and her family. There we can find milk and local beer, excellent hamburgers and other meals made on site, and the news of the day, if not gas. For that we must journey fifteen miles farther west to the Johnson's One-Stop in Naselle, the other end of our home range. While there we can actually buy a fair range of groceries at Okie's, find a screw or a valve at Dave's redoubtable hardware store, check out a book at the Timberland Library, and visit the fascinating Appelo Archive Center for lunch or the fun of it. These landmarks limn the outer reaches of our valley and its neighboring valleys. Beyond that, it's Longview, Astoria, the Beach, or, heaven help us, the cities.
And now we home in on Gray's River itself. There's still not much here. The old creamery at the west end of the village has been beautifully restored (saved, really) by Krist Novoselić. He's got room to work on old cars and make and record music, and a thirty-foot ceiling studio for Darbury's massive fabric prints. Next comes the Grange Hall, of which more anon. The extraordinarily eclectic Duffy's Irish Pub continues to serve up massive meals of red beans and rice, catfish and butterbeans, homemade apple pie, and cool drinks on its perfect porch over the river, as venerable restaurateur Al Salazar presides over his end of town from his mobile chair. The Gray's River Cafe, down the block if we had blocks, is closed for remodeling and might or might not ever reopen. The only other business in town is a newcomer, housed in one of Al's rococo hobbit houses, simply and boldly named by its sole product on offer: cannabis.
If we were to walk the valley loop these days, the picture would be much the same, I am happy to say. Of course, some of the residents have changed, and I don't know them all. But on a recent perambulation of the whole loop, enough locals stopped to visit with me that it doubled the time of the walk. As it was a hot morning, I was glad to sit for a spell at Karen Bertroch's place under the shade of her aspen grove by the brook and her packed bird feeders. And again a little later in the shade of a willow swamp, watching Susan Burkhalter swing her big tractor around and around the adjacent field, baling fresh-cut haylage.
While some have died or moved away with broken dreams, others have thrived, and some good stories emerge. The Zimmermans have always home-schooled, and it was a delight to learn that Tom and April's daughter Chloe had been admitted to Yale. Now I see Tom out in the fields with his hands, planting, in his faded Yale T-shirt, and I know he must be proud (and I'm happy to have another Yalie in the valley with whom to compare notes when Chloe is home). And when Bonnie Linquist stops and I ask if her daughter Mindy still works for Senator Patty Murray, she tells me that she's now the Senator's chief-of-staff!
Agriculturally, some of the changes have been all to the good. Burkhalter's Dairy, the last one, has become a certified supplier for Organic Valley. They have acquired more fields and replanted them for higher-quality, organic hay and pasturage, keeping the green velvet fields beautiful without chemicals. Tom and April Zimmerman's Glory B Farms have also been certified organic, and there are always good things coming out of their fields, from strawberries to chard to their famous CSA baskets. A little farther around to the east, Phil and Sulema Zerr have made of Elk Mountain Ranch a superb Wagyu cattle farm, raising calves for eventual sale largely bound for Japan, and growing the masses of feed they require: a huge effort, with beautiful results for the valley's deep green visage. That face shows a lot more reed canary grass than before, and the old hay bales have largely gone in favor of big rolls of haylage that teens can no longer toss into pick-ups. But agriculture is alive and well in Gray's River Valley, a condition of which I was not at all sure it would be a few years ago. And it is mostly organic.
As I walk the valley, part of which I do almost every day, I see the course of the river changing here and there, especially beneath the covered bridge. A deviant loop that threatens the road has become almost an oxbow as the main course reasserts itself straight, creating an island and shifting the agate beaches back toward our side again. Those beaches resonate with the strident calls of our two summer shorebirds, killdeer and spotted sandpipers, the croaks of herons, and the güiro of the kingfisher, which nests in the banks eroded by the river's rogue loop along with rough-winged swallows. Beavers, if left alone, protect the point of land and the toe of the slope from the rougher flow of our stream into the river in winter. Currently they have three little dams, with pondlets where mallards and yellowthroats nest. Scouler's willows invading the fallow field feed the beavers and the mourning cloaks. The river slithers like a snake, slowly.
The two heavy horses at the Larsons' old place come to see me for apples, and if the 140-year-old King apple tree of Ahlberg's, out in the field, happens to be in fruit, the answer is yes. The Swedish-red farmhouse more recently built on the old Larson place, echoing the gabled style of Swede Park up above, is now occupied by a kind family named Pierce. They raise many veggies along with bees and rabbits and ducks, among others, and they have fresh eggs for me.
And then comes the covered bridge, still much the same since its restoration in 1989. The Grange's Ahlberg Park sits on one side, an unofficial Sorenson beach and boat launch on the other, and there is never a clement day without its bridge visitors. On hot ones, the voices of children and deeper, louder ones of Big Kids echo up to my windows from the swimming hole below the bridge and its swinging rope. I don't care for the owners of loud trucks who burn rubber on the wooden deck, or the few who write their names on the bridge walls, but I do love the voices of the children leaping into the cold water on a rare hot day. The Covered Bridge Festivals and picnics are things of the past, but now the annual observance, each October, is the Covered Bridge Dinner. Put on by and benefiting the local 4-H, this event sees dozens of happy diners out of the sun (or more likely rain) under the roof of the bridge itself, at pretty tables set up and served by 4-H kids in old-time togs, as Jeffrey strolls with his violin among them and Joel conducts an auction to benefit the club. A little later, I continue to visit the bridge at midnight on Halloween, and I still haven't seen Old Greenface.
Of course the people of the broader community have changed. The tragedy of long life in a village is seeing the ones you have come to care for fall away with the passing years. That has happened here in spades since this book first came out. Many of the most beloved old-timers have passed: Marilyn Gudmundsen, Norman and Myrtle Anderson, Glenrose Hedlund, Jennie Pearson, Marie Fauver, Carlton Appelo, and Bobby and Doug Larson within a couple of weeks of each other. I miss them all enormously. Over the same period there have also been many incomers, numbering among them some delightful and highly contributive folks. There has been a not-too-subtle shift to the right, as the old Finnish Reds died off, the timber unions broke down, and retirees from outside have come in. So that in this longtime Democratic district, even though our state reps are still Ds, within sight of the old L.B.J. FOR THE U.S.A. graffito one can today see TRUMP-PENCE signs. So far, a general civility still rules. As does generosity: a box of free potatoes will show up outside the store, or Beverly Wallace will send a note asking me over to her tidy knoll-top cottage to see her wonderful garden and send me home with dry peach and blackberry wines, pineapple-strawberry jam, more eggs, and a good book I haven't yet read.
The tragedy of long life in a village is seeing the ones you have come to care for fall away with the passing years.
Down at the Grange, we still convene. Our boat ramp washed away, but we maintain Meserve and Ahlberg parks on the river and the cemetery up above. We have instituted locavore dinners before meetings, with fewer cookies, fewer coffee drinkers, and no more Jell-O. Somehow we have cajoled Krist into remaining Master year after year, and he has instituted a farmers' market held in the Grange Hall on summer Tuesdays, with the leftovers served at dinner or sent home with members. Our membership has dwindled, but we manage to maintain the old rituals and traditions, more or less, including the Christmas party. Unless Merlin Durrah shows up, I now tend to be the senior member—not something I had anticipated during all those years when I was essentially the Kid. I'm not sure of the exact moment when a newcomer becomes an old-timer, but I think I'm there.
When it comes to the more-than-human residents in the valley, I am happy to report that they persist in good measure. A recent May Big Day Loop Walk I took, all day long, turned up about forty-three species: much the same as several May counts over past decades. But they are not all the same. There are lots of Pacific Slope flycatchers now, but I heard no willow flycatchers, formerly abundant. Bullock's orioles have disappeared, but black phoebes have moved in. White-tailed kites haven't been seen for years, but American kestrels are nesting here now. Band-tailed pigeons are still here but in lesser flocks, while Eurasian collared doves have come to stay along with Japanese knotweed. And so it goes.
Much the same can be said for the butterflies. Here, I really feel climate change is having an impact, but it's hard to say just how. Most notably, western tiger swallowtails used to appear in May, become common in June, and nectar abundantly on the mauve Rhododendron ponticum. But for several years now they have come out mostly in July and August, and nectar chiefly on butterfly bush and bramble. Warming should push butterfly flights forward, not back, one would think. But we seem to be experiencing wetter, cooler springs and early summers now, "Junuary" becoming more fact than fancy. Whereas a warm March day produced six species of butterflies here six years ago, there have since been few butterfly days (or butterflies) until much later. Of course, this could flip. It's very difficult to attribute any one change to any one or several causes, but I feel it is important to account for the changes nonetheless. So I will continue watching, and recording, as long as I have the privilege of doing so.
One of the happiest changes here has been that black bears, once almost eliminated by timber companies and hound hunters, have come back. And I, whom I considered the last man in Willapa to see a bear here, finally saw a bear. I'd been coming across bear scat for a few days, full of beeswax and berries, and a hired hand spotted one in my woods. At last, there it was: a young one, loping along Loop Road, right beside my mailbox. I'm happy to have bears here again, though they make keeping a bird feeder much more challenging.
Speaking of bees, that gets us to Swede Park proper. The fauna and flora of the house and grounds carry on. Moths on summer nights seem much depleted, which goes along with the general tenor of insect armageddon of which we've heard so much lately. Yet other insects seem undiminished here: bumblebees abound on a volunteer twinberry, many kinds of pollinators visit the Asian pear blossom, and hundreds of woodland skippers course about the place all late summer and fall, such that I studied their behavior during the total eclipse and wrote a paper on it. I just don't know about the moths; ask the bats. But the bees, at any rate, are going strong. The big colony in the wall, with its three custom patios, is healthy and well. However, they have kicked off a satellite hive that came into the house under a loose flashing and set up in a small attic—and from there, found a way into the house. Several times now I have entertained swarms of thousands of honeybees in my living room. Beekeepers George and Julie have helped, but I finally had to break a painted-shut window to release them. This situation remains as unresolved as it is unsatisfactory. Check in with me later, preferably before the next edition.
One of the happiest changes here has been that black bears, once almost eliminated by timber companies and hound hunters, have come back.
Outside, a big change has come to the Lincoln Oak, once the most massive red oak in the state, planted from an acorn that Ahlberg brought from Mrs. Lincoln's sanitarium in Illinois. After a great storm, yet another huge limb fell, this one to the west, thereby shifting the weight of the tree toward the east—toward the house. Thea would not sleep in it during a big storm, and arboriculturists advised us that it really was threatening the house and its occupants. In the end, the good men of Arbor Care in Astoria, who love to climb and would rather lose a digit than cut down a good tree, came and felled about two-thirds of the oak. This was extremely difficult to watch, and tears were shed. But now, several years on, I am thrilled with the new crown that has developed on the thirty-two-foot stump. The Lincoln Oak is now a short cool tree instead of a tall one, and still beautiful in all seasons, especially its scarlet autumn glow. Aside from one sugar maple that died in the aftermath, the other remaining big trees of H. P. Ahlberg's park are still intact and mostly healthy, though still shedding giant limbs from time to time.
By far the greatest and most grievous change here is the one I can never replace or reconcile, let alone accept: my loss of Thea. In summer 2004 she was diagnosed with advanced ovarian cancer, and in late autumn of 2013 she died in Astoria. Most of those ten years were lived well, and she took her eleven regimes of chemotherapy better than most. She set records for survival and used the time to good advantage, hunting chanterelles, making art on her loom, traveling with me to wild China. I wish she could have attended the giant garden party held here, with some three hundred guests, in the early spring of 2014. The place has never looked better, and so many friends were here she would have loved to see. But the gathering was for her.
The absence of the one person who knew what she was doing around this place has had its sad and obvious consequences: Thea's gardens have gone wild again, as they were when I first came. But a few gifts of Thea remain for me to harvest: blueberries, figs, and Asian pears, and some of the flowers still push and bloom above the tall grass prairie and fern preserve the place seems intent upon becoming. (And it's not much better on the inside.) Way across the valley I visit a little garden slope lovingly carved out of the forest by Bekalyn Zimmerman as a memory garden for Thea, full of daffodils and trilliums in April.
The old house is sound, but feeling its years and the neglect of a bachelor hermit. Sometimes I think it's near time for a young family here again, to rejuvenate the place. Lately, it seems many of my support systems have been failing: chief among them, Gloria, Gail, and Gwen. Thanks to Costco buying the election that put the state liquor control system out of business, Gloria Swanson's liquor store closed, and she didn't survive it long. With that went one of the best smiles and most indomitable spirits of the place, plus a local outlet for good wine or Scotch. My long, longtime haircutter, Gail, took her much-deserved retirement from Hair Villa. Ditto for my primary health provider, Gwen, at the local clinic. Adding insult to injury, the Naselle branch of the Bank of the Pacific closed, never mind that our community was one its first foundations. Many took that as near-treason, or a knife in the back at least, and left for other banks, never mind that the old bank is supposed to become a new clinic. But Wahkiakum West, our faithful independent telephone company, is still going strong, as are the Naselle Timberland Library, Betsy at the post office, and Lisa's Country Pet Vet—all still here, thank the gods.
Which brings us to cats, and compost. Some years ago, Virga, never accepted well by Firkin, disappeared into the night. We thought she was gone, but months later, when I returned from a teaching job in Montana for spring break, she padded out of the woods to say hello on my mail walk. That was the last time I saw that beautiful silver tabby. Firkin, the contented round tortoiseshell, passed in my arms one night late in life, as Bokis should have done before her. That left us catless until we chose two brothers, tuxedo kittens from the Long Beach shelter. Bentley had a bent tail and Bo a short wiggle-tail that looked bobbed. They slept together like yin and yang. But it wasn't long, in his first summer, that Bentley was snatched by a coyote off the back deck. Bo saw it all, and was terrified, and of course deeply bereaved. It wasn't long until I was bereaved as well, so Bo and I bonded uncommonly closely and for six years have been as tight as ticks. Like Bokis and Firkin before him, he went on the mail walk with me, hiked around the Swede Park trails, and shared all manner of rituals (cats are nothing if not ritualistic), and he slept with me every night: my one source of regular presence and touch.
But just five weeks ago, Bo did not return from a nighttime ramble. It is that time of year again when the coyotes are feeding their pups and combing the valley to harvest prey to do it; three neighbors' cats vanished the same weekend. In all likelihood, as I concluded a poem about Bentley, cat once again transmogrifies into dog. So there is no one to toss onto the compost anymore. But with no gardener in residence, there are no fresh cuttings on the compost for a nice soft landing pad, anyway.
With the coming of the Germ this spring, and the great shutting-down, I had to wonder whether I (as a high-risk old guy) might be joining the great compost of the ages myself soon. But so far, so good: there are still only six cases of COVID-19 in the county, far more actual corvids. There is no telling how it will change this valley, if at all. I plan to be here for a while yet, so maybe I'll find out.
All I can say is that tonight, June 20, 2020, the honeysuckle, mock orange, and styrax are all blooming in wild white cascades of petal and scent, their combined fragrance almost overwhelming. The hummingbirds get drunk on them, and a giant sphinx moth came bumbling into my bedroom last night. The Swainson's thrushes have never sung louder, later, or more numerous in the dusk, and the baby violet-green swallows on the porch chitter their hunger and trust as their parents bring the last deliveries from the aerial cornucopia for the night.
When I went down for the mail a couple of days ago, I saw from a distance the mailbox was capped with red. Neighbors had placed jonquils, bluebells, and daisies on it earlier. But now there were roses—a big cluster of fragrant, ruby-red roses—in a rather elaborate vase rigged up and wired to the trussed-up post, promising more flowers to come. Yes, it's just that kind of a place.
__________________________________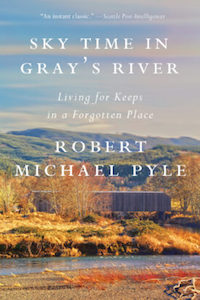 From Sky Time in Gray's River: Living for Keeps in a Forgotten Place by Robert Michael Pyle. Used with the permission of Counterpoint Press. Copyright © 2021 by Robert Michael Pyle.
---