From Mary Churchill's Diary: An Intimate Glimpse of World War II
"Glory Hallelujah!! A delicious poke in the snoot for Hitler."
When you think of Winston Churchill, you tend to think of 1940. This year will change everything for him and his family; their darkest but also finest hour. Yet for Mary it begins relatively inauspiciously. It certainly starts cold, with frequent frosts and heavy snowfalls that ultimately culminate in one of the most severe ice storms ever to hit the United Kingdom. And while there is no thaw in international relations, the full reality and horror of war is yet to register.
[…]
Everything changes again in May when her father becomes prime minister. […] Now, Mary is truly at the heart of events and expected to play a role. […] From September, and her eighteenth birthday, Mary is living in the prime minister's country residence, Chequers, a sixteenth-century manor house in Buckinghamshire, and working for the Women's Voluntary Services.
Her diaries show her following the military campaigns on which her father's premiership now depends. She is part of his inner circle and feels the reverses and successes very keenly. The failed attempt by a British and Free French expedition to take control of the strategic port of Dakar in Senegal, from forces loyal to the Vichy French regime, is damaging to both Churchill and de Gaulle. Yet the year ends on a high note with a small taste of victory against the Italians in North Africa and the family united in celebration.
*
Saturday 21 September
All this week I have been working with WVS to help refugees. This is the twentieth century – Look on London – look at the crowds of homeless, destitute & weary people in Aylesbury alone. I have seen more suffering & poverty this week than ever before.
I cannot find words to describe my feelings about it. I only know I am moved to a greater & wider realisation of the suffering war brings. I only know that I have learnt more about human suffering & anxiety than ever before. O God be with the homeless & anxious. I have seen so many worried & sad & lost expressions – & a great deal of courage & optimism & good sense.
Monday 23 September
Today the papers are full of the torpedoing of the liner carrying children to Canada. 89 children killed. May God rest their souls, and help us to wipe the curse of Hitler & the vilest burden mankind has ever borne from the world.
Thursday 26 September
A land mine having landed in Walton Grange garden – the WVS are refugees. Only 19 hurt. The withdrawal from Dakar is made known. I don't see how in the course of having to make endless decisions one can avoid some mistakes. But was it a mistake – or was it a muddle sur le champ – between Gen de Gaulle & our people? O God – somehow this minor reversal has cast a shadow over everything. I do hope the government will pull through – All my feelings are so mixed. Of course I want Papa to pull it off but not only for personal reasons – but also if he went WHO is to come??
Feel faintly pathetic – I want to help so much – & yet I really think I have done best thing. Oh dear how bloody life is.
Friday 27 September
. . . 133 Nazis shot down. All today seemed overcast with the gloom of the Dakar affair. It certainly does seem that there was misjudgement somewhere. Oh I am so anxious for Papa. He loves the French so much, & I know longs for them to do something grand & spectacular – but I fear he will take rather a bump over this. The papers exhibit varying degrees of rage & disapproval. The Mirror – hysterical & fierce queries & judgements. 'The Gallipoli Touch?' Oh – how unkind. The Mail & Express: More moderate – but demanding explanation. The Sketch – 'whose responsibility?'. Telegraph – calm – considered – awaiting full statement.
Tuesday 1 October
Am invited to dinner with officers for tomorrow. Yippeeee.
Hospital in the morning. Mrs Dixon helped me. Felt very young, inefficient & miserable. Saw quite clearly that library is full time job – quandary & dismay, because I grieve to relinquish useful work in Aylesbury . . . Am to remain with WVS but work whole time at library . . . wish passionately I could do both. Oh please why aren't there 10 days in the week & 2 of me? Feel faintly pathetic – I want to help so much – & yet I really think I have done best thing. Oh dear how bloody life is.
[…]
Tuesday 8 October
. . . Very agreeable dinner party in the officers' mess brought to an abrupt close by the swishing, crescendoing clatter of a bomb uncomfortably near. Everyone ducked ineffectually – & waited – it seemed an age – before a comparatively small bump – found us rather breathless but intact & morale on all sides good. They were all sweet to me – and I was feeling terribly excited & rather breathless – but thank God – not all white & trembly as I so often have imagined & feared I would be. We all went to the slits [trenches] – very muddy & spoilt my suède shoes. No more excitements SO FAR – but I was escorted home soon after. Damn those Bloody Huns for breaking up an enjoyable party.
Wednesday 9 October
First thing that greeted my eyes this morning was LARGE crater about 100 yds from the Mess tent where I dined last night! I am not feeling so ignored by the war.
Thursday 10 October
4.40 am WINSTON CHURCHILL junior arrived! Hooray. Pam weak but happy. Baby not at all weak & only partially happy!
Monday 21 October
. . . Tonight Papa spoke to France. So frankly – so encouragingly – so nobly & tenderly. I hope his voice reached many of them, and that its power & richness will have brought them new hope & faith.
Thursday 31 October
Papa said the other day – 'It is a very remarkable thing that the young should be so much braver than the old – for they have so much more to lose – but it is so.'
First thing that greeted my eyes this morning was LARGE crater about 100 yds from the Mess tent where I dined last night! I am not feeling so ignored by the war.
Wednesday 6 November
President Roosevelt elected for third term. Glory Hallelujah!! A delicious poke in the snoot for Hitler.
Monday 11 November
. . . There was no armistice service this year – no 2 minutes silence. But poppies were sold everywhere & I think everyone was thinking of the millions whose great struggle came to an end 22 years ago.
Sunday 24 November
Papa said: 'Of all wars, this is the most unnecessary. In 1933 or 1934 a dispatch would have stopped the German rearmament. In 1935 an ultimatum – in 1936 general mobilisation of France & England.' After the war – Papa said he had considered very seriously the formation of training colleges for those who embarked on a political career – for he considers that the quality of the personnel of the House has deteriorated.
Sunday 1 December
Drove home very early for little Winston's christening . . . Have rather sore throat.
Monday 9 December
The others went up early – leaving myself, Mr Seal & Papa to lunch. Papa was very worried and preoccupied and told me that at dawn this morning an attack was launched by the British troops in Libya. 'Pray,' he said 'for the victory of British arms.' I prayed most fervently. Very anxious waiting.
Wednesday 11 December
. . . Wrote out Christmas cards – I took more trouble than I ever have before with them – somehow there's more point now that I am separated from most of my friends & acquaintances.
Mummie rang up at about 7.45 and told me that our army has had a victory – Sidi Barrani is taken & many prisoners.* Thank God – thank God – it is too wonderful – after this dreary winter with so many blows – I could weep with excitement.
Mummie tells me that Papa conceived this campaign last July – and has been planning and developing it ever since. I am glad that it is a success so far anyway – of course for England's sake, but a little bit for my darling father as well. There have been so many buffets and burdens to bear – so much to discourage and dismay – so many heart-blows – but now this – ah dear God – it is wonderful.
How passionately I long for the day of Victory.
*Port on the Mediterranean coast of Egypt, recaptured from the Italian 10th Army
___________________________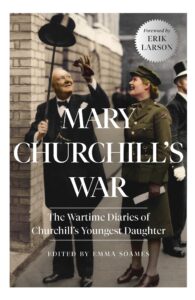 Excerpted from MaryChurchill's War by Mary Churchill, edited by Emma Soames, available via Pegasus Books
---