Five Books Making News This Week: Trilogies, Triumphs, and the Novel Trump Should Read
Jay McInerney, Colson Whitehead, Imbolo Mbue, and More
American Book Awards go to Laura Da', Susan Muaddi Darraj, Deepa Iyer, Mat Johnson, John Keene, William J. Maxwell, Lauret Savoy, Ned Sublette and Constance Sublett Jesus Salvador Trevino, Nick Turse, and Ray Young Bear. Activist, journalist, novelist and author Louise Meriwether, who followed her 1970 novel Daddy Was a Number Runner with a series of biographies for children featuring African American leaders, including Robert Smalls, Daniel Hale Williams, and Rosa Parks, is honored for lifetime achievement. This week's newsmakers follow two themes. Colson Whitehead's Oprah pick The Underground Railroad continues its upward trajectory, while Ben H. Winters' blend of alt-history, crime and sci-fi in his Underground Airlines also works for critics. Imbolo Mbue's first novel (a "book Trump should read"), the third novel in Jay McInerney's  Manhattan trilogy, and Joe McGinniss, Jr.'s Carousel Court all draw praise for capturing the financial crises of the first decade of the twenty-first century.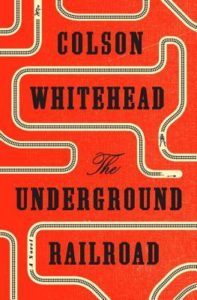 Colson Whitehead, Underground Railroad
Whitehead continues his triumphant trajectory from Oprah pick to critics' darling to best seller, announcing on Twitter August 19: "So, The Underground Railroad is going to be #1 on the NYTimes Bestseller list next week…"
"Disturbing and arresting, The Underground Railroad is Whitehead's magnum opus: charged with the same fantastic leaps as The Intuitionist and John Henry Days while taking the imaginative risks of Apex Hides the Hurt and Zone One but written with the economy of The Colossus of New York," writes Kima Jones (GQ) in the run-up to her  interview with Whitehead. "The Underground Railroad is Whitehead's conclusive and cruelest statement on the realities of black labor and American industry. The culmination of two decades worth of creative work from a writer strangely billed as a post-race thinker, The Underground Railroad is nothing short of an indictment on post-racial theory."
Kathryn Schulz (The New Yorker) takes a look at the literature of the Underground Railroad, with a focus on Whitehead's new novel, among others. "Whitehead has a taste for fantastical infrastructure, first revealed via the psychically active elevators in his brilliant début novel, The Intuitionist. Those elevators were the perfect device—mingling symbolic resonance with Marvel Comics glee, absolved of improbability by the particularity and force of Whitehead's imagination. In The Underground Railroad, he more or less reverses his earlier trick. Rather than imbue a manufactured box with mystery, he turns our most evocative national metaphor into a mechanical contraption. It is a clever choice, reminding us that a metaphor never got anyone to freedom. Among his other concerns in this book, Whitehead wants to know what does: how the Underground Railroad really worked, and at what cost, and for whom."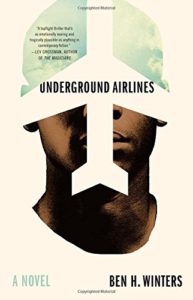 Ben H. Winters, Underground Airlines
Winters' Underground Airlines is an alternative history in which the Civil War never happened. Its narrator Victor is a former slave whose freedom depends upon his work as a "soul catcher" tracking fugitives from the Hard Four—the still existing slave states of Alabama, the Carolinas, Louisiana, and Mississippi. Winters, who has won an Edgar and a Philip K. Dick award for his Last Policeman trilogy, which blends crime fiction and sci-fi, credits Octavia Butler's Kindred as an inspiration, along with black mystery writers Walter Mosely, Attica Locke, Chester Himes, and others.
In her essay on the literature of the Underground Railroad, Kathryn Schulz (The New Yorker) writes, "Winters is ultimately far more interested in the political, intellectual, and moral compromises that people make in order to live in the presence of, and sustain the existence of, legal bondage. Like Whitehead, though in a strikingly different way, he wants to get us to see the past in the present—the innumerable ways that we still live in a world made by slavery."
"Winters crafts his thriller so deftly that the ingenious details of his sideways timeline often fly under the radar, blurring the line between Victor's world and ours," writes Kevin P. Sullivan (Entertainment Weekly).
Jon Michaud (Washington  Post) concludes, "Like Underground Airlines, the Last Policeman books offer an appealing hybrid of the best of science fiction and crime fiction, genres that have often been venues for writers to address themes considered too provocative or dangerous for mainstream culture. Underground Airlines honors its genre antecedents by presenting us with an unexpected way of looking at the history of race relations in this country. The novel succeeds so well in part because its fiction is disturbingly close to our present reality….Winters has written a book that will make you see the world in a new light."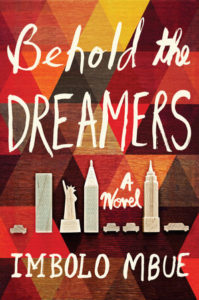 Imbolo Mbue, Behold the Dreamers
Film rights about this first novel revolving around the effects of the 2008 financial collapse on two Cameroonian immigrants and the wealthy couple who employ them have gone to Sony's TriStar Pictures, with producers George Clooney and Grant Heslov of Smokehouse Pictures. The buzz is just beginning.
Ron Charles (Washington Post) calls Behold the Dreamers "the one novel Donald Trump should read now." "Sometimes, a novel arrives at just the right moment. Here we are in a crater of xenophobia. One of our presidential candidates is foaming at the mouth about 'extreme vetting' for immigrants. But then along comes a debut novel by a young woman from Cameroon that illuminates the immigrant experience in America with the tenderhearted wisdom so lacking in our political discourse. While another author might have played that imperative title sarcastically, for Imbolo Mbue, Behold the Dreamers is a kind of angelic annunciation of hope, which ultimately makes her story even more poignant."
"Mbue's meticulous storytelling," concludes Hamilton Cain (Minneapolis Star-Tribune), "announces a writer in command of her gifts, plumbing the desires and disappointments of our emerging global culture."
Kelsey Ronan (St. Louis Post-Dispatch) compares Mbue's novel  to Grapes of Wrath and concludes it is "a witty, compassionate, swiftly paced novel that takes on race, immigration, family and the dangers of capitalist excess."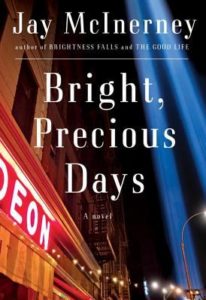 Jay McInerney, Bright Precious Days
The third novel in McInerney's Manhattan trilogy (after Brightness Falls and The Good Life) unfolds amidst the 2008 financial crisis. Critics find its tone less exhilarating, more elegiac than his earlier novels.
The books in McInerney's Manhattan trilogy, notes Cornel Bonca (Los Angeles Review of Books), "are a dutifully documented, tenderhearted take on The Way Manhattan's Elite Live Now."
"Nobody has a more exquisite appreciation than McInerney of the morbid, hypervigilant sensitivity we tend to harbor about our place in the world, especially when we're feeling down," writes Adelle Waldman (The New Yorker).
The secret romantic longings and professional disappointments of people like the Calloways, who spend summers in the Hamptons and live in a Tribeca loft (albeit a rent-stabilized one), might seem too frivolous to be placed at the foreground of a novel, let alone three. But McInerney rejects satire's self-protective distancing as surely as he resists its flattening effect on characterization; in tone, Bright, Precious Days is mellow, earnest, almost elegiac. It is intelligent, and knowing in its depiction of certain segments of New York (especially the world of publishing), but, unlike his best-known novels, it's rarely dazzling.
"What to make of this trilogy, which now totals 1,150 pages and could reasonably be called Tolstoyan, both in terms of its length and its committed consideration of the Calloways and their Manhattan?" asks Christian Lorentzen (New York):
"You are not the kind of guy who would be at a place like this at this time of the morning," goes the famous opening line of Bright Lights, Big City. That sort of question — am I the kind of person who launches a hostile takeover, cheats on a spouse, still snorts coke? — and its more generic corollary — am I a cliché? — govern the entire Bright-Good-Precious trilogy. McInerney is of course aware of this, and his willingness to dive toward the cliché as if it were Gatsby's green light is a strange form of daring. History sometimes favors the least common denominator, and in this respect it may be on his side.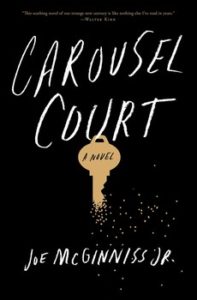 Joe McGinniss, Jr., Carousel Court
In his new literary thriller, following a couple whose move to Southern California drives them deep into financial despair, McGinniss displays an edgy mastery that draws comparisons to Joan Didion's Play It as It Lays and Nathanael West's Day of the Locust (Kirkus Reviews), plus Yeats' poem "The Second Coming" (Booklist).
McGiniss's Maguires "live on Carousel Court, in the fictional town of Serenos, near Los Angeles, where wildfires loom, coyotes roam and strangers trawl suburban streets to loot foreclosed, vacant homes," writes Ian Shapira (Washington Post). "The foreboding backdrop matches the dark and darkly comic storyline of a millennial couple teetering and holding on tight to whatever's left of their mores….How do the Maguires stay married? How do they save themselves from slipping out of what they view as their rightful orbit of Equinox gyms and Montessori schools? Only in the most conniving ways possible."
Steph Cha (Los Angeles Times) calls Carousel Court "a raw, close-up portrait of a married couple tormented by money problems in the midst of a national recession. There are no dates or defining specifics in the book, but it's easily recognizable as a product of the financial crisis of the late 2000s. Author Joe McGinniss Jr. zooms in on the lives of one couple with the kinds of stressors experienced by many in the poisonous privacy of their own homes. The result is thrilling and uncomfortable — a novel that dwells in the filth of love and hate and blame and money in post-crash America with an intimacy that never lets up."
Boris Kachka (New York) writes, "The story of broken California dreams is alive and well in McGinnis's second novel — more than you could say for the dreams themselves in this valley-dry tale of a marriage and a house-flipping scheme gone awry."
---