On Sunday the 15th, the season one finale of HBO's comedy-drama The White Lotus aired. The six-episode series, helmed by showrunner Mike White (Enlightened), chronicles a week in the life of a group of guests and staff at a tropical resort in Hawaii. The series has been met with considerable critical acclaim, and the second season has been greenlit, which will follow a new group of characters at another White Lotus resort. According to Variety, the series debut has now been watched by over seven million viewers.
One of the things that the show does well is its critique of clueless, privileged white people, which in turn also brings up the legacy of colonialism and the exploitative ills of the tourism industry. As with HBO's other recent hit Succession, viewers just can't seem to get enough of rich white people being miserable and behaving badly. In a review for The New Yorker, Naomi Fry praises the show as "one of the best shows of the year," calling it "an examination of what happens when the veneer of conventional sociability dissolves and the power struggles stoked by race, class, and gender erupt from beneath the surface of everyday life."
Indeed, The White Lotus may feel sympathy for some of its characters, but that doesn't mean it excuses their faults. And while a show's wardrobe can provide meaningful insight into a character's personality and inner psyche, so can reading choices. The books that characters are seen reading act as an extension of their characters, speaking to relationship dynamics. An obvious example is college friends Olivia (Sydney Sweeney) and Paula (Brittany O'Grady), who carry books around like badges of honor and have a habit of reading Camille Paglia and Frantz Fanon by the pool. In the third episode, Shane (Jake Lacy) attempts to flirt with Olivia and Paula by teasing them about the books they're reading. Olivia wryly replies, "No, they're just props."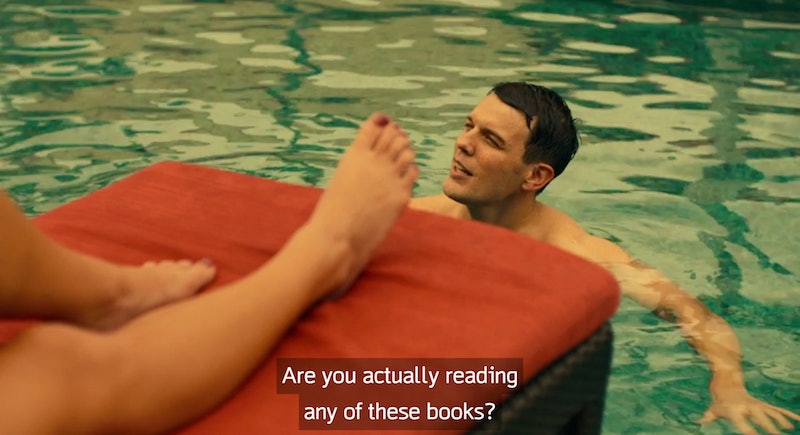 Mike White told the Wall Street Journal that the book choices spoke to "something about who they are—or how they want to be seen." In specific regard to Olivia and Paula, White said, "They're the type of young woman that I have met that has a mastery of all the latest lingo and is able to reduce everything to a cultural stereotype in a funny and cutting way—and then you add an intellectual approach as well."
Below are the titles spotted on The White Lotus. I can't really say that all of these are your standard beach reads, but because the outside world causes me enough stress and grief, I tend to pick beach reads that offer solid escapism. Regardless, whatever your reading proclivities, these books are sure to inspire contemplation and/or lively discussion. Or, at the very least, they'll totally add to your dark academia aesthetic, if you're going for that sort of vibe.
*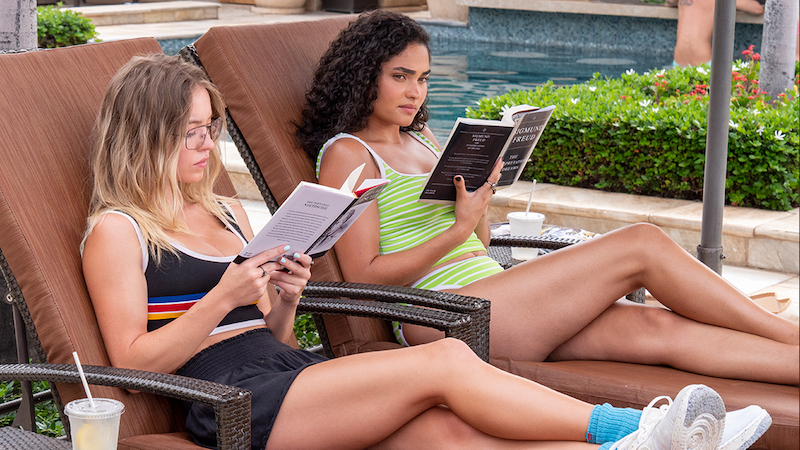 Friedrich Nietzsche, The Portable Nietzsche and Sigmund Freud, The Interpretation of Dreams
When we first see Olivia and Paula, they're reading Nietzsche and Freud by the pool. This volume, translated by one of the world's leading authorities on Nietzsche, features the complete and unabridged texts of Nietzsche's four major works: Twilight of the Idols, The Antichrist, Nietzsche Contra Wagner, and Thus Spoke Zarathustra. Freud's Interpretation of Dreams examines the meaning of dreams, why we dream, and more. Nietzsche seems to be the go-to for college students who want to be taken seriously, at least in the world of cinema. (Prime example: Josh (Paul Rudd) in Clueless reads Nietzsche by the pool, complete with Ray-Bans and an all-black ensemble.)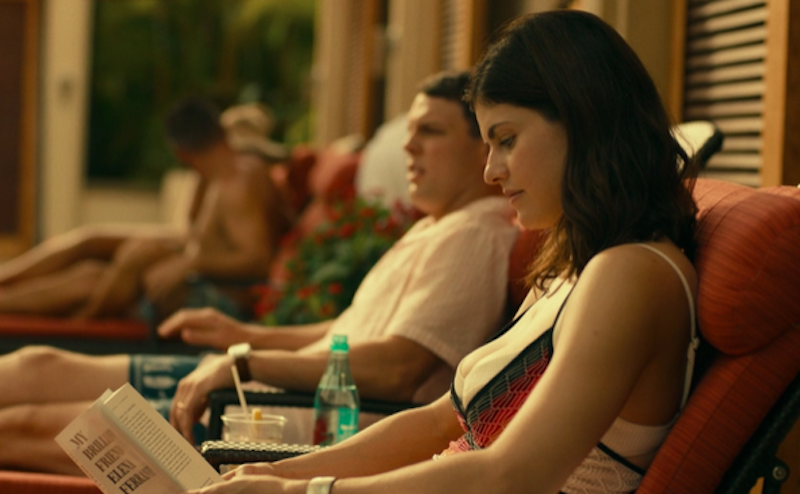 Elena Ferrante, My Brilliant Friend
Rachel (Alexandra Daddario) is a newlywed from a working-class background who is unsure if she's made the right decision in marrying Shane (Jake Lacy). Shane comes from a wealthy family that favors traditional gender roles. When Rachel tells her mother-in-law (Molly Shannon) Kitty that she wants a fulfilling career, Kitty dismisses her wishes and advocates for a "career" as a trophy wife. White told the Wall Street Journal, "I love Elena Ferrante's books, but they are a little trendy. Rachel is not someone who's going to be reading some obscure book. It made me feel like she's a smart reader, but she's also trendy—and maybe a little behind the trend."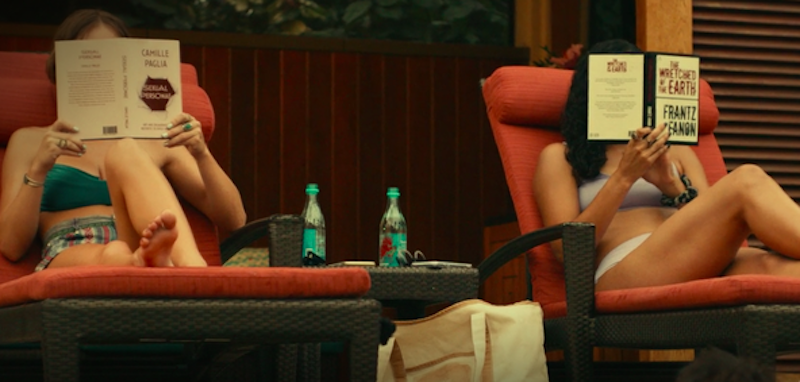 Camille Paglia, Sexual Personae and Frantz Fanon, The Wretched of the Earth
Olivia and Paula choose these books for yet another poolside excursion. In Sexual Personae, Paglia examines the connections between art and pagan ritual. Fanon's The Wretched of the Earth (originally published as Les damnés de la terre in 1961), is a revolutionary study of race, colonialism, and psychological trauma.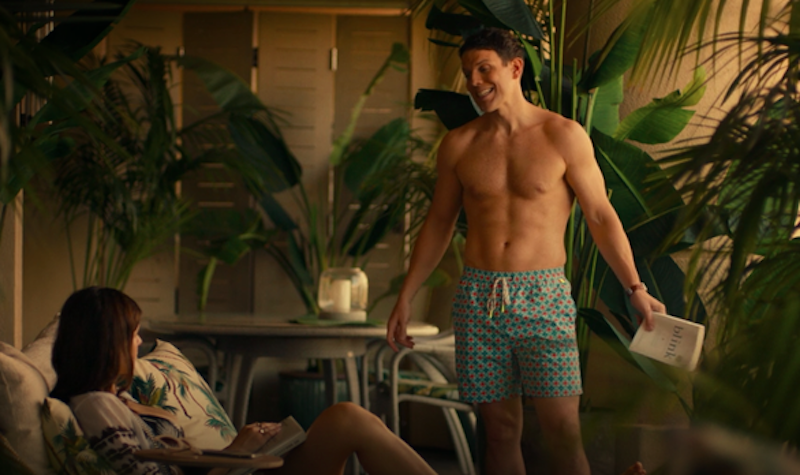 Malcolm Gladwell, Blink
Unlike Olivia and Paula, Shane sticks to one book during the entire trip. Gladwell's bestseller seems like a safe choice for a man who has the emotional depth of a teaspoon. White told the Wall Street Journal, "It seems like he's stoking his curiosity, but it hasn't gone very deep. [Gladwell] is the kind of writer that makes you feel smart while you're reading it whether you are or aren't." Although seemingly accessible, Gladwell has received backlash in recent years.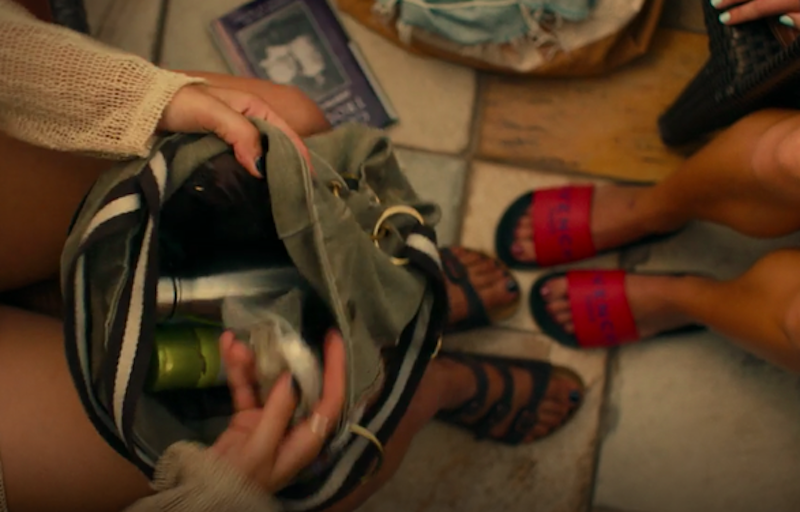 Judith Butler, Gender Trouble
Seen in a brief flash, Paula pulls out Butler's Gender Trouble from her bag. This scholarly work, which was published when Butler was 33, makes the case that gender is a form of improvised performance. In a 2016 interview with The Cut, Butler reflected on the legacy of the book: "In many ways, it's a very dated book . . . And it's one that wasn't able to profit from the extraordinary scholarship that's happened in that area [trans identities] in the intervening years." Still, without Gender Trouble, we wouldn't have the "genderqueerness that we have now," Jack Halberstam, a gender studies professor at Columbia, told The Cut.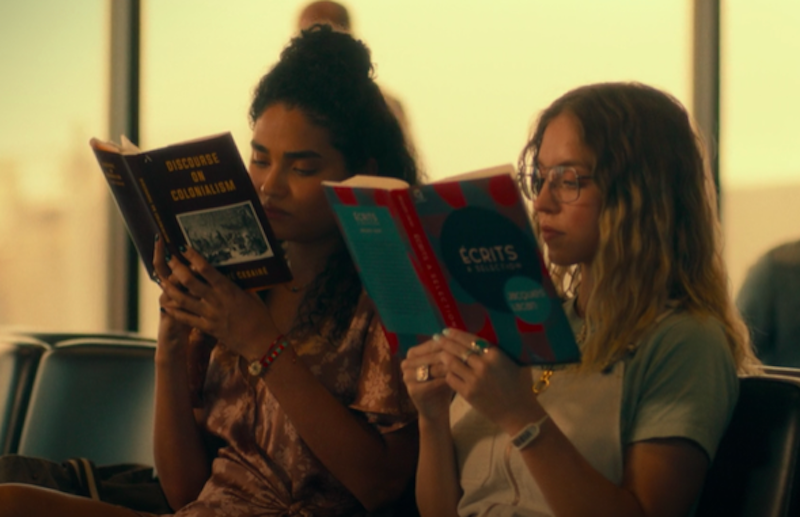 Aimé Césaire, Discourse on Colonialism and Jacques Lacan, Écrits
At the end of their trip, the two young women are seen reading Césaire and Lacan at the airport. Discourse on Colonialism examines the impact of colonialism on both the colonizer and the colonized. Lacan's work unpacks otherness, subjectivity, sexual difference, the drives, the law, and enjoyment. At this point in the series, the cracks in Olivia and Paula's friendship have broken open like a weak dam. The choice of books could be read as an extension of this fraught relationship. Paula, a woman of color, has had the sneaking suspicion that Olivia, despite her protests to the contrary, is just like her parents: privileged white people who are content to live in their own gilded cage, taking from those they deem inferior. Olivia, who desperately wants to be seen as a "good white person" and not like her parents, purposely has chosen a book to support this self-crafted image. However, as Amanda Whiting says in her Vulture recap of the final episode, "Paula's right that Olivia isn't very different from her parents, but Paula's not so different either." Indeed, as captured by Olivia and Paula's characterization, we go through life battling two conflicting ideas: The person we think we are and the person we present or "perform" for the world.