The Story Prize, established in 2004 and sponsored by the Chisholm Foundation, honors the best short story collection published in the previous year. The Award comes with a $20,000 purse and an engraved silver bowl, making the award one of the largest U.S. annual prizes for fiction. Previous winners include Edwidge Danticat, Patrick O'Keeffe, and Mary Gordon.
The latest winner, selected from an extraordinary shortlist, is Deesha Philyaw, for her collection The Secret Lives of Church Ladies, about faith, love, and desire in the lives of Black women and girls. The collection is also in development as an HBO series, with Philyaw and Tessa Thompson as executive producers.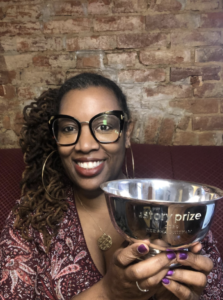 This is the first time the Story Prize winner has been published by a small or university press, and Philyaw is the 4th debut writer to take the prize. She was also a finalist for the 2020 National Book Award for fiction and is a finalist for the PEN/Faulkner Award and a Los Angeles Times Book Award.
The judges said the following about the winning title:
"I haven't read stories as startlingly intimate, as brazen, as the ones in Deesha Philyaw's The Secret Lives of Church Ladies in a very long time. Told from the perspectives of multiple generations of Black women and girls who speak like they don't know the world would rather they keep quiet, the stories in this collection ask us to consider Black women's desires rather than their oppressions, fears, or anxieties. The result is a series of astonishing characters whose voices I will not easily forget. Their desire—not just for sex, but for supportive, nurturing relationships with one another, and even themselves—take us into psychic spaces fiction too rarely invites us into these days. This book is a marvel."
"Deesha Philyaw's debut collection of stories about Southern Black women struggling to find their place, and their true voice, within the constraints of the church or their circumscribed society, are emotionally powerful. Philyaw's writing is stunning. Each turn of phrase takes your breath away. Her characters range from young women coming of age to middle age women reclaiming their power and discovering their sexuality. This collection was a total joy to read. This is what readers dream of—discovering a new voice; writing that just steals you away into someone else's world."
The runners-up for the Award are Danielle Evans and Sarah Shun-lien Bynum, who will each receive $5,000.
A hearty congrats!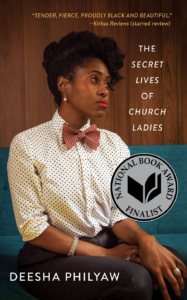 ---
Listen to Deesha Philyaw read from The Secret Lives of Church Ladies