Dear Edward Abbey: Things Aren't Looking Great for the Wild
Amy Irvine on America's Vanishing Wilderness
The following is from Amy Irvine's essay collection Desert Cabal: A New Season in the Wilderness. Throughout the collection, Irvine confronts and converses with iconic author Edward Abbey, whose environmental classic Desert Solitaire: A Season in the Wilderness, turns fifty this year.

You taught us at the get-go that the problem we were up against wasn't just coal mining and uranium tailings. It was tourism, too. Like you, I was a park ranger in Utah, although my job happened amid limestone instead of sandstone, at Timpanogos Cave National Monument, just south of Salt Lake City. Once, on the trail, I caught Boy Scouts smashing a rattlesnake into pulp. Another day, in the cave, I caught a Japanese tourist break­ing off and pocketing a stalactite as souvenir.
In case you've completely dispensed with the concept of time, I'll let you know that the 100th anniversary of America's National Park System was just two years ago. That year, over 330 million people visited the lands within the system's protection. The next year, Donald Trump leaped from the stage of a reality TV show and landed in the Oval Office. According to the National Parks Conservation Association, here's what our current president did to our national parks and monuments during his first year of office:
• Issued a hiring freeze on National Park Service staff, despite parks already having ten percent fewer rangers and other staff than they did a few years ago, and despite record-breaking crowds.
• Repealed the Clean Water Rule, which pro­vides protections for many streams, wetlands, and other waterways that are essential to the health of national parks and monuments.
• Issued a sweeping executive order on "energy independence" with numerous negative consequences for public lands. It mandated:
• The Department of the Interior to review standards that protect more than forty national parks from the impacts of oil and gas drilling inside their boundaries.
• The Environmental Protection Agency to withdraw and rewrite rules mandating that power plants limit carbon dioxide.
• Federal agencies to no longer consider the effects of climate change when deciding whether to issue permits for fossil fuel production.
• Both the EPA and BLM to delay enact­ing standards to reduce methane pollution from oil and gas operations.
• Repealed the Clean Power Plan, which reduced emissions from energy development and improved conservation measures to combat climate change, the number one threat to national parks.
• Rescinded an NPS directive to use compre­hensive, science-based management practices to combat climate change, biodiversity loss, invasive species, pollution, and other threats to national parks. By repealing the measure, the agency is removing scientific considerations from its management practices.
• Issued an executive order calling on the Department of the Interior to consider grant­ing energy developers access to areas previ­ously closed to offshore oil and gas drilling, threatening coastal parks and marine wildlife. It also orders the Department of Commerce to refrain from designating or expanding any national marine sanctuary until it is evaluated for energy resource potential, and to review any marine sanctuaries or monuments estab­lished over the last ten years.
• Signed proclamations removing protections from more than two million acres of national monument land at Bears Ears and Grand Staircase-Escalante National Monuments, opening up previously protected land to potential drilling, mining, and logging.
ROCKS
You won't be surprised to hear that in Utah nearly every trail has been widened. The loca­tion of every petroglyph publicized. And so many sheer, patina-coated walls are now studded with shiny climbing bolts and fixed anchors—all of which are inserted with motorized drills.
I'll confess that, in my twenties, I bolted a few rock walls on BLM lands. One line was a perfect V, either side of which contained gently folded lips of flesh-colored sandstone. There was a deep run­nel, made by water, right down the middle. It was the most vulvar, un-phallic rock formation I'd ever seen. I bolted it. Climbed it and rated the difficulty. I also named it "God Between Their Lips," the title of a book written by my favorite professor of all things feminist and theological, who taught in the women's studies program at the University of Utah. In my memory, the man who belayed me for the first ascent didn't feel comfortable with the route name. This was the man I betrayed, a man with whom I fought on our wedding night because he didn't think Susan B. Anthony deserved to appear on US currency. A few years later, when a guide­book to this particular climbing area came out, the route had been renamed, downgraded, and its first ascent claimed by some guy from St. George. Maybe this serves me right for having taken a drill to the rock in the first place.
And while you know these next thoughts, I'm going to say them anyway: the minute there is a line drawn around these lands, a sign staked on their behalf, the masses come running. They come at full tilt, with their mountain bikes, ropes, and GoPros—these are cameras they strap to their heads to film the thrill of the moment so it lasts a lifetime. Sure, they wear their eco-fleece and they mostly bury their poop and stay on the trails, but still we're talking about droves of people—and yes, here in mid-rant I haven't forgotten that I am one of those folks too. Except I am not very sporty, or gear-intensive—not anymore. Now I just want to wander off the beaten path in my torn-up jeans. I want to get lost, I mean so totally turned around that I see the land without preconception. As if for the very first time. But with every new human added to our population, every new guide­book written, and every new place protected and promoted, it's getting harder to have a wild and reckless reckoning that has nothing to do with recreation. And entertainment. That has everything to do with sensation. And salvation.
Sure, monuments and parks also keep things out—the drill rigs and ATVs. At least they used to, pre-Trump. But back to the elephant in the desert—us. I cannot help but wonder how the re­lationship between the desert and me, just one of so many bodies in need of a getaway, could possi­bly be, at this point anyway, symbiotic. Aren't we, too—if only by our sheer numbers, our hunger for a break from our crazed, compressed lives—blindly careening toward our own release without know­ing the body-that-is-the-desert, simply as it is? Something beyond a pornographic projection of our own aesthetic and athletic appetites?
You and I, we are complicit. We took ranger jobs not because we wanted to show people the places we loved deeply and privately. No, we took those jobs for a more selfish reason: so we could make bank while spending our days in the wild. We winced when folks asked if they could see the place in less than an hour and we seethed when new graffiti was gauged into the rocks. We picked up trash, pointed to porta-potties, then gritted our teeth when we had to say, "Thank you and come again."
It bought us both space and time. All the while, we secretly hoped that some of them, any of them, would fall in love—and madly. That they'd swear fealty. Because if people came to care about the way the air shimmers when the rabbitbrush shrugs off the heat and sends it rolling across the slickrock, the way the antelope bolt like lightning unleashed from a squalid sky—maybe we'd stand a prayer of a chance to save the places we trea­sure from those who would take some quick and dirty form of amusement over poetry, beauty, and wonder.
Be safe. Play only in clockwise, conchoidal directions. We'll have to do more than have fun together.
____________________________________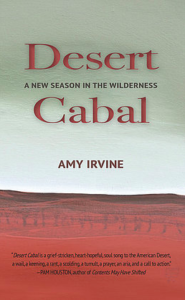 From Desert Cabal: A New Season in the Wilderness. Used with permission of Torrey House Press. Copyright © 2018 by Amy Irvine.
---