David Milch on Language and Obscenity in Deadwood
The Series Creator on Westerns, Civility, and Iambic Pentameter
It seemed so obvious to me that the West I had encountered in my research had nothing to do with the Westerns I had experienced as a kid—Hopalong Cassidy, The Cisco Kid—which weren't even good on their own terms. They didn't interest me particularly even then. And going back and watching some classic Westerns, those too had very little to do with the West that I was studying (though they told some good stories).
Then I did some research to figure out how that had happened, how the Westerns of the 30s, 40s, and 50s had developed, and what I discovered was that it had everything to do with what Hollywood was about at that time, and nothing to do with what the West was about.
There had been a period of five or ten years in the late teens and early 20s when films had gotten a little racy. The dream factory was operated exclusively by immigrant Jews, but then some of the other popular thinkers of the 20s were guys like Charles Lindbergh and Henry Ford, who were saying, "We've got to do something, the moneylenders are taking over," and worse than that. The Goldwyns and Lanskys and Mayers and Zanucks wanted to stay behind the scenes and keep making their movies and their money, and in order to keep doing that they wanted to send a message that they weren't going to rock the boat any more in terms of the stories they were telling.
They got together and hired a front Gentile named Hays, who instituted what was called the Hays Production Code that proclaimed, "Obscenity [. . .] in spoken word, gesture, episode, plot, is against divine and human law, and hence altogether outside the range of subject matter or treatment." That was the guys in Hollywood saying, let us run the show, and you will get 150 features a year that glorify innocence and an absence of conflict. And those rules governed all of television and film from 1934 to 1968.
But there's no rule that can stop art, though there are plenty that will change it. If you're an artist, when you're confronted with those kinds of strictures, you can refuse to participate or you can try and find a way to internalize them such that it doesn't distort the story you're trying to tell. And so some of the great storytellers in films of the 30s and 40s extrapolated a character who was very laconic. Not only didn't use swear words, this character just didn't talk much at all. His stoicism invoked a whole set of values.
The extremity of the language was, in its own way, one of the few alternatives to law.
There is a way to make a character like that credible, and that's part of what I saw in the historical Bullock and would explore in that character. But that's just one way to be, and I believed that would be a pretty rare, if important, type of person, very much the exception rather than the rule, and that what made him that way would be as dark and complicated, obscene let's say, as anyone else.
Every day, before I start to write, I pray, and I ask to be willing, and then I see what happens. "I offer myself to Thee to build with me and do with me as Thou wilt. Relieve me of the bondage of self, that I may better do Thy will." People who've been in recovery might recognize that as the third-step prayer, and that's the one I say every day. It's my asking to have the perspective of self lifted and to give myself to the situation and the characters. I find that I function most effectively when I sort of disembody myself. I lie there on the floor and I talk and the words come up on the screen and then I fix the words, but I never actually lay my hands on anything, a computer or a typewriter, none of that.
It was time to listen, to find the characters up and walking and hear who they were and what they had to say. In everything I read about the West, and gold camps in particular, one thing about which there was uniform agreement was the language that was used in these communities. The extremity of the language was, in its own way, one of the few alternatives to law. The same way that an ape may beat his chest to signify his willingness to do something that, if he had to do it every time he signified his willingness, he'd be in fights all the time, the obscenity was one alternative for people in the camps, and it was a crucial alternative for me to portray in the absence of these other ordering mechanisms.
It seemed to me that the people in that environment who had recourse to books were highly, highly motivated.
If you went out to an environment like this it wasn't because you were doing great in Wilkes-Barre, Pennsylvania. There were some personality attributes, maybe there was a warrant or two out. Because there were no laws, any question potentially had lethal implications. If I say, "Where are you from?" you're usually gonna say where you're from. In Deadwood, if you say, "Where are you from?," the response was, "What the fuck is that to you?" Immediately it becomes a potentially mortal situation. It was a way of announcing "Don't come in here with any weak shit." But the obscenity is not indiscriminate. It's calibrated according to the given personality and the given environment. The obscenity is meant to do a lot of different things.
The language, it seemed to me, had to serve two functions. The first was to beat down the viewers' preexisting expectation that any law would be obeyed, sentences so soaked with obscenity as to bleach out the expectation that civility could be expected to govern in any given scene. To ask the viewer to live in that emotional environment with the characters, that was the first part of it.
The second part was that I wanted to show how words generated meaning not because of any intrinsic quality but because of the context of emotional association in which they were expressed. The meaning would come from the community we build around and through the words. As the series unfolds, I wanted to show language complicating itself as one of the alternatives to statute, that people come to govern their own behavior as much through language as through law.
I was also interested in the patterns of speech and the distinction between people who had what was called book learning and people who didn't. The people who had book learning tended to speak in an almost Elizabethan way. This was Victorian times. For those who had book learning, it was the Bible, Shakespeare, Dickens, Victorian literature, plus adventure stories, but that access wasn't strictly tied to class.
There's a story about Kit Carson riding seven days to get his new collection of Sir Walter Scott. It seemed to me that the people in that environment who had recourse to books were highly, highly motivated. It was an alternative state of being for them, which stood in contrast to the way they were living. And so I found it credible that people who had recourse to that sort of rhetoric would go for the gusto. Trying to get those rhythms right was a challenge, but it was one I very much enjoyed.
Most of the show is written in iambic pentameter. I believe one way God says, "I too have a hand here" is in the rhythms and metrics of speech, that the metrics of speech are important and representative of our fellowship even in those of us who feel, mistakenly, that we are separate from each other as individuals.
When a character in Deadwood, or anyone, talks in certain locutions, unbeknownst to themselves, they honor a divine presence.
_____________________________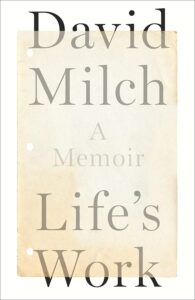 Adapted from the book LIFE'S WORK: A Memoir by David Milch. Copyright © 2022 by David Milch. Reprinted by arrangement with Random House, a division of Penguin Random House LLC. All rights reserved.
---