Danielle Evans on How to Play With Time and Chronology in a Short Story
"We have never been so tied to the past."
This first appeared in Lit Hub's Craft of Writing newsletter—sign up here.
On the last day of 2019, freezing and only slightly warmed by Scotch, I waited in a parking lot for a door to open, ready for the party that would close the year and begin a new one. The party was the last hurrah for a closing art gallery; I had never been to the gallery while it was open, and though I trusted the man who had brought me to know there was a party here, from the outside it seemed equally possible that the door would be opened by a confused person wondering why we were knocking to get into their basement apartment. The door did open; there was a party, and a friendly welcome, and an assortment of champagne. All of the art had been taken down–the room held only a few chairs, a strobe light, the bar, and a vintage typewriter on which people were meant to type notes that would go on the wall as the night progressed. It felt like an auspicious beginning, exactly the combination of laid back and delightful that I hoped the year to come might be.
I've always loved New Year's Eve, for perhaps the same reason I've always loved the short story. There is a particular compression of time that feels honest to me. New Year's Eve—and my favorite stories—offer at once a hard reset, a clear before and after, and an invitation to nostalgia, an occasion to linger with what haunts us. So often we begin a year believing ourselves to be at the beginning of something, focused on possibility, and yet obsessively cataloguing everything that has happened, shaping it into some kind of narrative, flinging ourselves into our future versions while mining and showcasing all of our backstory. We have never been so certain that the future can be different; we have never been so tied to the past.
2020 was of course not the year I, or anybody, hoped it would be. On the last day of 2020 I celebrated New Year's Eve alone on my couch, with back-to-back Zoom parties. At midnight I watched the ball drop and fought my cat for my glass of prosecco. I couldn't find any comfort in the idea of cataloguing the year that happened or pretending that this new one would be a clean break, because my relationship to time had never been more fraught. 2019 could have been a decade ago or it could have been yesterday. I have been almost entirely alone since mid-March of last year. I have lived in the future: in my hope for a return to what feels like normal life, or at least some semblance of human community. I have lived in the past: in the memories that ground me and remind me of delight, and also in a return to everything I've grieved. You thought you had time, 2020 said repeatedly, but you didn't, and I heard in it the echo of everything and everyone I ever lost, of every possible door that had closed without me meaning to shut it. I have a hard time focusing on the present these days, and even when I do, the present, in its escalating death counts, its stark disparities, its violence, has felt both ominous and haunted, a repeat and a warning. Most of my usual markers of time and forward motion have evaporated.
And yet, while stuck—in time, in my apartment, in the version of myself that I would have to live with until the world opened back up and various possibilities for reinvention or unexpected revelation existed again—my new collection, The Office of Historical Corrections, entered the world, and I went on a book tour from my living room sofa. In trying to explain the project of my new book, I thought a lot about time in the short story, about the way a short story can insist on the urgency of the present, and then, seamlessly, forget it entirely. In the opening story "Happily Ever After," I worked to find the right frame for a narrator who, living with enormous grief, kept her focus on the present, stalling on a decision about her own future. I looked for where the slippage between the past and the present felt most natural, and knew that the shape of the story would have to be associative, not chronological. In a later story, one in which the narrator is haunted in a different way by family history, I leaned into the division between the past and the present, and let the retrospective narration be a frame that marked the difference in the narrator. I wanted the history that haunted her to be confined more neatly. In other stories, I thought about time and consequence. In the wake of a trauma or harmful action, as in "Boys Go to Jupiter," "Why Won't Women Just Say What they Want"—for whom does time stop, and for whom does it keep moving? I thought about how to use time to examine the structural politics of a story's world, how to play with time to shift the reader's sense of whom the story might belong to.
Time is the real operative force in many of my favorite stories. I have taught Edward P. Jones' "The First Day" at least a dozen times and read it by now probably a hundred, and I still can't tell you exactly how he manages the magic of the story's density, starting with a single clause in the opening sentence—"long before I learned to be ashamed of my mother"—which hovers over everything and builds a subterranean story about legacy and history and coming of age and heartbreak even as the present action feels clear and immediate and marked by childlike wonder. I come back to Alice Munro all the time, and marvel at how often her stories exist in multiple planes of time at once, sometimes, as in "How I Met My Husband" in a way that blends the past and the present and lets them illuminate each other, and other times, as in "Fiction" in a way that starkly pulls the reader into a new time, demanding we ask but where did it all go? I think of Jhumpa Lahiri's work in stories like "Hell-Heaven" and "Only Goodness," in which personal and family histories weave their way into the lives of the next generation in sometimes unexpected ways. Some of my favorite recent collections, Laura Van Den Berg's I Hold a Wolf By the Ears and Jamel Brinkley's A Lucky Man, also beautifully manipulate time to illuminate to how we are haunted and shaped by our memories.
I do not think that fiction, or all of art, can save us collectively—that will take a different kind of work—but I do think it can sometimes save some of us individually, perhaps even enough of us to remember why the work of survival is worth doing. Thinking about the short story over the course of a year that felt lost in many ways reminded me that time is not a fixed point: that I can be stuck here in the present and also stuck in the past and also on the brink of something enormous. I can resolve to change and also mourn some earlier version of myself and also be in some way all of those versions of myself forever.
For most of the year, the superstitious part of me felt betrayed by how 2020 began. I had done my part: I had gone out into the world to declare my intentions for the year, and it seemed I had been promised a year of delight, and pleasure and community, not one of the grief and isolation that followed. I had focused on the possibility—the strobe light, and the champagne, and the midnight kissing, and the artists. Only as I considered my quiet plans for 2020's end did I think of the end of 2019 from another angle. The gallery could only host a party because it was closing and empty. The night was a celebration and also a goodbye. A person looking for a warning might have found it. The story of the end of something was right there in the story of the beginning the whole time—both versions almost always are.
*
Read more on writing the past, present, and future: 
John Berger explores how we stop time with stories.
On Virginia Woolf's "multiple, looping timelines of memory."
Tishani Doshi describes writing in solitude and the literature of loneliness.
Jamel Brinkley on the truths that make life "dense, confounding, rich, and haunting."
*
5 Books That Play With Time
RECOMMENDED BY DANIELLE EVANS
Jamel Brinkley, A Lucky Man
Edward P. Jones, Lost in the City
Jhumpa Lahiri, Unaccustomed Earth 
Alice Munro, Too Much Happiness
Laura van den Berg, I Hold a Wolf by the Ears
__________________________________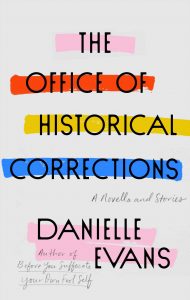 The Office of Historical Corrections by Danielle Evans is available via Riverhead.
---