Writing Through Wordlessness in a Time of Isolation
Tishani Doshi on Seclusion and Life Along the Coast
There's a question in Henry Thoreau's Walden—"What do we want most to dwell near to?"—that I asked myself (in a less bombastic way) when I decided to move from my eight-million-strong city of Chennai in South India to a rural coastal village 80 kilometers south. For Thoreau, Walden was a move away from the post office, bar, grocery, school house, any place where men congregated, toward the "perennial source of our life." I had no such lofty goals when I moved to Paramankeni. The entirety of my life's ambitions amounted to: Be a poet, live on a beach.
In the early 2000s some friends and I talked about buying a piece of land together along the Tamil Nadu coast. I was tired of pollution, traffic, the high cost of city living and the neighbor's reverse car alarm piercing my every morning with Jingle Bells. At the time, I was working as a dancer and a freelance journalist (read: broke), and had to convince my parents it would be a good investment. The place we found was a spit of land between the Buckingham Canal and the Bay of Bengal, a road veering off the coastal highway connecting Chennai and Pondicherry. The day the broker brought us to see the place, it took us half an hour to walk from the car to the shore. We saw a jackal scurry into a thicket of casuarinas. Kingfishers and bee-eaters swooped around like jeweled flashes, and all the trees—neem, flame of the forest, cashew—grew wild and horizontally, stunted because of the strong sea wind. When we finally got to the ocean, we could see a fishing hamlet in the distance, a jumble of colorful catamarans under coconut trees, a goat-herder leading her animals home. My friend's harlequin Great Dane, Pasha, tore up and down the shore madly, and it was decided, we had found our place.
There were complications. Buying the land involved getting the paperwork right, which involved paying the village head. There was also the question of a sacred rock on one part of the land, which after a series of pujas and negotiations, had to be shifted further down the beach. In 2004, the Indian Ocean tsunami knocked down the entire frontage, tossing granite pillars around like matchsticks, eating up the flimsy green mesh screens a third the way up the compound wall. For over a decade, the central government has been threatening to build a coal plant ten kilometers down the coast, which would make it a decidedly not great place to dwell near to. Still, we began construction, and four years later, by the time the house was ready, I found I didn't have to move into it alone as previously envisioned. I'd found a fellow-writer/husband to move in with me.
Solitude exaggerates everything—beauty, danger, terror, calm. Solitude is in effect, a search for intimacy, a search for ourselves.
Life in Paramankeni was adventurous at first. No postman delivered, so Carlo and I did without mail and newspapers. We had no doorbell, no television, no internet router, no takeaway options. Our nearest market was a twenty minute drive to the nuclear plant township of Kalpakkam. A couple from the village, Sampath and Ammu, lived as caretakers on the land with us, but aside from them, we had little interaction with human beings. Disposing of garbage became our biggest problem. We composted what we could, but the rest we had to collect in bags. The nearest bin was an hour away. In the village, with no garbage collection services on offer, rubbish was routinely burned, including plastic, and on those occasions, we'd have to close all the windows and wait for the dioxin fumes to pass.
Unlike in Walden, where Thoreau lived twenty minutes from the main house, where mama was always available to do laundry and offer a hot meal, we were living essentially off-grid (although my mama frequently sent care packages of homemade muesli and quiche crusts). Friends who visited were instructed to bring food if they expected to eat. Grocery demands read as anti-scurvy lists: limes, oranges, papayas, guavas, tonic water.
All around the world, particularly in India, the flow of people is from periphery to city center. To move in the other direction is seen as anarchic. It's also one of privilege. Two freelance writers can live anywhere, but choosing to withdraw from the world, to turn inward and away from society, was seen as a perplexing move. It's like telling people who have kids you don't want them for yourself. It's perceived as an affront, a judgment on their lifestyle.
For Thoreau, who was deeply suspicious of new-fangled communications such as the magnetic telegraph, solitude was a way to counter this stampede of modernity. His idea of bliss was to "sit amongst the pine and hickories and sumachs in undisturbed solitude and stillness." I was not so much of a Luddite, although for the first five years of living in Paramankeni I was off social media and happily adrift. There was something about stilling the noise of the world that allowed you to "live deep and suck out the marrow of life" that Thoreau talked about. I wanted that too.
Time expands in solitude. Our days and nights took on a different rhythm at the beach. Carlo worked in a room down the corridor and I worked at a desk in our bedroom. He was in charge of lunch, I was in charge of dinner. We met for meals and walks but for many hours of the day, we sat behind doors in rooms by ourselves. Certain experiences took on religious proportions—swimming in the ocean with dolphins, observing a black-shouldered kite hover and swoop, hover and swoop. Interactions with bronze-back tree snakes, frogs, field mice, and our army of Indian beach dogs (at one uncontrollable point, we peaked at eighteen), came to form the backbone of our days. Our rule became: It's okay if we talk to the dogs, but once the dogs start talking back to us, it's time to go to the city.
The city was sometimes Pondicherry but mostly Chennai, which offered a heady mix of multiplex cinemas, dinner parties, concerts and conversations. After a few days of jubilance, a malaise would set in, the pall of city life, that reminder of what Neruda talked about in his memoirs: "Solitude and multitude will go on being the primary obligation of the poet in our time." The understanding that you could be antisocial and gregarious, the constant rattle between the two.
what happens to the nature of loneliness when you live in extreme isolation, when language fades and landscape takes over?
A question I asked myself repeatedly was, could I live alone in Paramankeni as I'd initially imagined? This led to the premise of my novel, Small Days and Nights, where a woman called Grace comes to live in a coastal pink house much like the one I live in, to care for her sister Lucia with Down Syndrome—a sister she hadn't known about, who was raised in a residential facility. Grace and Lucia live in the house with their dogs and a housekeeper Mallika. I was interested in exploring what happens when speech shrinks and the imagination expands. Lucia has limited language abilities, between Grace and Mallika there's only a kind of rickety Tamil, so what happens to the nature of loneliness when you live in extreme isolation, when language fades and landscape takes over?
India brims with the literature of loneliness. Nirmal Verma, Premchand, Kamala Das, Amrita Pritam. In fact, you could argue that the reason people become writers in the first place is in order to fill that loneliness. Writers in India have not needed to set themselves apart from the cacophony of the city to experience alienation, but you sense that their adoration of loneliness is precisely because it's so hard to physically find yourself alone. My muse in this regard has always been Anita Desai, who was the first writer I interviewed. I remember her saying when she first started writing in Delhi, there was no community of writers, no sense of fellowship. The only writer she knew was Ruth Prawer Jhabvala, who she'd seen pushing a pram around the neighborhood, and who later invited her over to talk about books.
Both had German mothers and experienced deeply the feeling of being outsiders. Desai talked about how writing was private, 'almost secret,' something to be done as soon as the children left for school and put away before they came back. And that in turn, echoed a whole history of women who wrote in secret. Jane Austen hiding her manuscript behind blotting paper when friends came to visit. More recently, Rajathi Salma, squirreling out poems from her strict Tamil Muslim household, where she wasn't allowed out; using a pen name to write about seclusion and menstruation and "tedious sex." In the history of women's literature, secrecy and solitude form the core, so while any number of male writers have chunnered on about loneliness, you always caught the shadow of a woman not far behind, propping them up, whether it was Thoreau and his mother Cynthia, Wordsworth and his sister Dorothy, DH Lawrence and his wife Frieda.
Part of this history must have been rattling around in my head as I wrote Small Days and Nights because men are tangential in my novel. I wanted to write about the claustrophobia of smallness and still rejoice in it. To write about the lives of women across class, caste and ability. To write through and around domesticity and caregiving while resisting the urge to be constantly nice, and in doing so, insist that these "small" narratives about freedom and duty, desire and alienation, deserve to be part of the larger narrative of nation and country.
Living in Paramankeni had made me rethink my place in society as a woman. Fear works on a different level there. In the city you're always alert, surrounded by people. In Paramankeni, I'd sometimes go out on the beach alone and there would be nothing, no one, and suddenly, a group of men would appear over the dunes, and even if there was nothing threatening about their behavior, there were still all the stories in the news, all the horrible statistics. Real fear and imagined fear began to feel not so far apart. How then to assert freedom through all these fears? Friends from the city would visit and the first question would always be—is it safe, why don't you have a security guard, do you have the number of a local cop?
Solitude exaggerates everything—beauty, danger, terror, calm. Solitude is in effect, a search for intimacy, a search for ourselves. I think of Virginia Woolf and the legacy of Shakespeare's Sister, a place of equality. My husband and I writing in our rooms, linked by one corridor. The knowledge that another person works at a desk with the door closed, trying to create this mad thing called a book, and another person not far away is doing exactly the same thing. It is in fact, a kind of unity, of being alone together, and the best representation I've found of this is when we go out on the beach with our dogs, which is something Grace and Lucia do too. These dogs occupy the margin between the domestic and the wild, they aren't pets but they are fiercely territorial and mostly loyal. When we tear out on the beach with them there's so much joy, they raise their heads to the sky and howl, and we howl with them too. How it is a sound that joins us to each other and returns us to the world.
__________________________________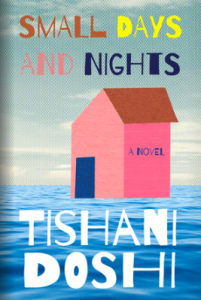 Small Days and Nights by Tishani Doshi is available via W. W. Norton.
---