City of Exiles: When Mario Vargas Llosa Met Julio Cortázar in Paris
What It Meant to Be a Mid-Century Latin American Writer in Paris
I think that many Latin Americans began to feel Latin American thanks to what was called the Boom. That was certainly the case for me. I was born in Peru, grew up first in Bolivia, and then in Peru. I discovered my vocation as a writer while very young, and I came of age, as I think many writers of my generation and previous generations did, reading above all translations of North American and European writers. I grew up mostly unaware of what was happening in the field of literature, especially in the field of fiction, in the countries neighboring mine. I met some Latin American writers who were icons, who were first-rate stars, such as Neruda, for example, whose poetry was read in all of Latin America, but practically, until I arrived in Europe, I didn't know Latin American fiction writers.
An Argentine critic, Ana María Barrenechea, had passed through Lima, speaking to us about Borges, and thanks to her, I read some of his stories, but it was, in fact, in Paris where I discovered that there was a very rich, very novel, very original Latin American literature, which I read—devoured—and from which I learned a lot. Among the things I learned were to feel Latin American, to discover that, in Peru, I was only a small part of a community that had very large common denominators, not just language but also history and social, political problems that, with rather minor variations, were being lived from one corner to another of Latin America.
The first Latin American writer I met, I met in Paris, and it was Julio Cortázar. It was in December 1958. I was studying at Madrid's Universidad Complutense. I was working toward my doctorate and had gone to spend a few weeks in Paris, and a Peruvian from UNESCO invited me to dinner and sat me, at his house, next to a very thin young man whom I thought was about my age. He spoke with a slight French accent and told me he had already published a book of stories and that Juan José Arreola was going to publish another book of stories of his in the Presentes collection, in Mexico. I told him that I had a book of stories that had won a prize in Barcelona and was coming out soon and that I was very excited about the idea of seeing a published book of mine for the first time. And later, at the end of the dinner, I discovered that that young man who appeared to be my age was 22 years older and was named Julio Cortázar. He was there with his wife, Aurora Bernárdez. They were the most asymmetrical couple in the world: he was very tall and she was very short, and between the two of them, there was a kind of understanding and complicity when they spoke that never ceased to amaze me. Every time I was with them, I was fascinated, bewitched by the manner in which they spoke. You had the impression that they had rehearsed their conversations, due to the elegance, the grace, the humor, and the way in which they complemented each other, telling anecdotes, speaking about what they had read recently about the exhibit they had just seen. They were two very important people to me in those first years in Paris; I was impatiently waiting to be invited to dine at their house, because dinners at the Cortázars' were amazing.
That Julio Cortázar, who was of course already a magnificent writer, later experienced a mutation, the most extraordinary one I've seen in my life, an absolute change in personality. The first Julio Cortázar was a character who was supremely courteous and supremely aloof; he had that courtesy that always keeps one distant. He could be very affectionate and sweet, and at the same time, one constantly felt that there was a secret dimension in him, surely the most important part of his personality, that which nourished his writing, which one would never be able to reach. He lived a very isolated life, hated big groups, hated politics; I once tried to introduce him to Luis Goytisolo and he said, "No, no. He's too political for me." He was interested in things that were rather strange. He once took me to a congress of witches, in Mutualité: palm readers, fortune-tellers . . . there were dozens and dozens of them. I confess that I was supremely bored, and I think that seldom had I seen him so excited, so enthusiastic about those characters: great hucksters, some very skilled hucksters, but for him, they opened the doors to a certain dimension of a reality that was mysterious, esoteric, and rationally uncontrollable, which, of course, fascinated him.
Going to an exhibit with Julio Cortázar was amazing because of the liveliness of his observations, the richness of his comments. At the same time, he was a very modest man who lacked social ambition, so natural in the world of literature. He had few friends, but he showed them they were truly dear, and possessed a very rich, opinionated, and original depth of literary culture.
I learned a lot from him, and among the many things I admired in him was his generosity: he was one of the first people to whom I took my novel The Time of the Hero; he made some very generous comments to me and tried to find me a publisher. Later I worked with him and with Aurora at UNESCO, as a translator, and, I insist, their relationship was mutually enriching, they always seemed to have read the same books, they seemed up to date on literature, not what was new, but ultra-new, even what was to come. Julio Cortázar had something that I do think was one of his characteristics, one of the few common characteristics to writers of the Boom: he wrote in a language that seemed natural, that seemed like spoken language, everyday language; he laughed a lot at writers who put on a suit and tie to write. He and Aurora greatly mocked a phrase—though I do not know whether it was true or if they had invented it—from a novel by Eduardo Mallea in which a character walks into a room and turns on the light and they would say, "So-and-so enters the room and transforms the obstinate darkness into electric light."
Latin American literature of Cortázar's generation broke a bit with this "literary" language, which was pretentious, bombastic, full of itself, and which, thinking itself literary, distanced itself from common, everyday language, the language of the streets; a language that Cortázar knew how to convey marvelously in his writing, which gave his stories, and would later give his novels, their personality and charm.
In those years he was writing Hopscotch, and one of the things that most surprised me, me for whom it took a lot of work to write, was to see the ease with which he wrote such a complex novel, practically without a plan, without a script, without a previous outline. Many times, I heard him say, "Today, I don't know where the novel will go." What he most liked was precisely that feeling of risk, of insecurity, that was sitting down every morning without any preconceived plan, to move forward the novel he was writing, and which, as you know, made him enormously popular. I think, nonetheless, that at some point, Cortázar experienced a sort of trauma or interior revolution that completely changed his personality. This secret, intimate, private character, suddenly turned public, began to live on the streets, let an enormous red beard grow, began to show interest in the politics that he previously deplored, and became a young revolutionary when he was on the verge of turning 60. And a problematic, belligerent, and, I believe, enormously naïve and simultaneously extremely pure revolutionary, without any of those stumbling blocks that often turn politics into an activity or task that corrupts and psychologically and morally degrades some of its devotees. I think that he was innocent, authentic, although I don't think he was always right in his political choices.
Our political differences did not in any way cast a shadow over our friendship: every time we saw each other, there was the old cordiality, and there were always reasons to maintain the admiration and affection I felt for him the first time we met.
Translated by Anna Kushner.
__________________________________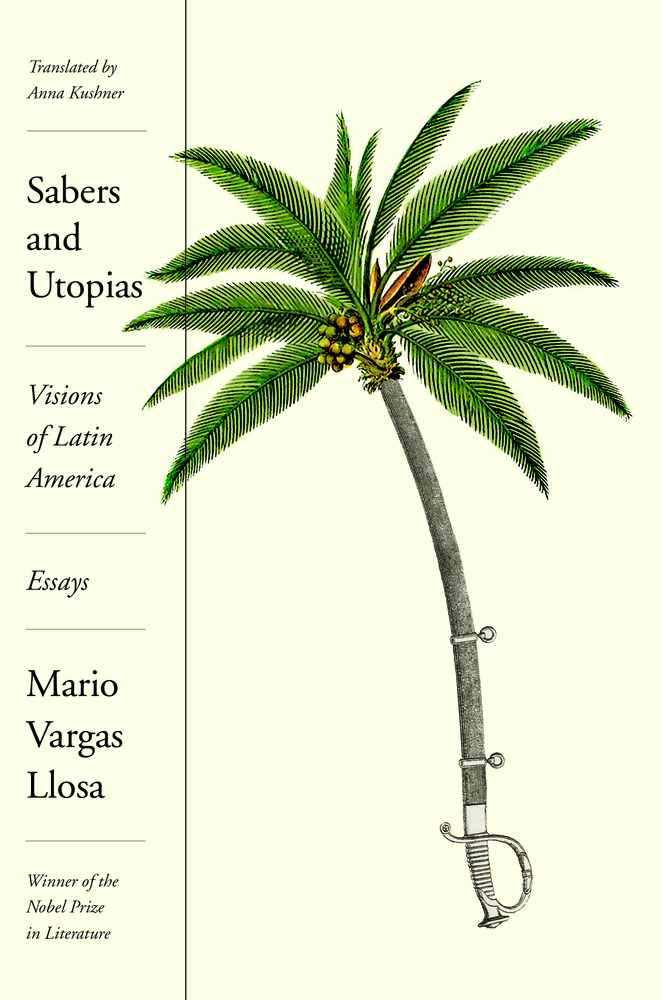 Excerpted from the essay "Fifty Years of the Latin American Boom." which appears in Sabers and Utopias: Visions of Latin America: Essays by Mario Vargas Llosa. Published by Farrar, Straus and Giroux. Copyright © 2009 by Mario Vargas Llosa. Translation copyright © 2018 by Anna Kushner. All rights reserved.
---