City Lights: A Young Cree Boy Journeys to Edmonton
From Darrel J. McLeod's Memoir, Mamaskatch
I rub my eyes. Is this real? This is what the city looks like? Wide sidewalks on both sides of the smooth paved street; swarms of people bustling by, looking straight ahead with expressions ranging from serious to glum. Tall white people, men wearing suits, ladies in tight knee-length skirts with tan or black nylons, dressy blouses—some frilly and others plain; faces made up and hair done as if they were going to a wedding, or maybe a funeral. Waves of fragrance, one second roses, the next a blend of green apples, peaches and moss. A handsome blond man with pale-blue eyes strides by in an invisible cloud of sage and mandarin orange peel. I catch a glimpse of his perfectly manicured hand.
In the gutter, a crow is ripping apart a crumpled A&W hamburger wrapper—doesn't even notice me.
"Hello.
"Hello.
"Helloooo?"
I greet every passing stranger. No response, not even a nod. Am I invisible?
Curvy red letters read Lido Café, long angular blue letters spell Paramount Theatre, a white sign for Teddy's Diner and flashing red for the Black Hat Café. Tall buildings, including the CN Tower—the new skyscraper we had seen pictures of in school. I read each sign aloud, my voice warbling. Then I stop—turn around and turn again. I don't recognize one landmark. I start to wail.
Minutes later, I'm standing in the same spot holding a strawberry ice cream cone an old man bought for me. He looks on as I lick. What I am doing here? Why didn't anyone meet me? Where will I sleep tonight—at this old man's house? Why did Ned want to get rid of me? I could have stayed with Auntie Margaret—she wouldn't have minded one more kid. Where is Mother?
The old man stays with me until Greggie and a few of Auntie Mable's kids show up and take me home with them. Boiled wieners and macaroni for lunch. Tigertail ice cream in the evening.
*
Whistles, bells, metal grinding against metal, tinny music, booming explosions, amplified voices commanding us to go watch the midget toss or thump miniature clowns into little holes. A machine blows threads of sugar into elongated pink and blue beehives. The unfamiliar aromas make me drool: corn dogs, miniature donuts, french fries, caramel apples.
A giant sign flashes: Welcome to Klondike Days at the Edmonton Exhibition. Pot of Gold Tickets Here. An enormous wheel strung with hundreds of bright bulbs and dangling bench seats rotates upward into the darkening sky. Beside it, a gigantic machine with two similar wheels, but half the size, begins to flip end over end. A chorus of screams and laughter. I try to calm the quivering of my stomach.
My brother-in-law, Rory, leads Debbie and me toward another huge metal structure. Multicolored cars move along parallel tracks, climb slowly to a high point, then dive over the other side. They swirl around a tangled mess of steel, climb even higher and then swoop down in a near freefall. At ground level, harried riders stumble out and wobble away.
"We're goin' on that one, Darrel!" Rory says.
"Are Mother and Swede coming? Mom said they would."
"C'mon. You'll be in the same car with me and your sister. We'll hang on to you."
Our car inches up the rails, jerking slightly every few feet. Maybe I'll be able to spot Mother from up here. Seconds later we are at the top. In front of us, a void of dark sky.
"Oh my God! We're gonna fall. We're gonna die!" My hand clutches Debbie's thigh.
The car dives. I scream, squirm and duck under the metal frame. Rory and Debbie holler something I can't make out. I pull myself back onto the seat. A breeze cools our faces as the car swoops, then slows and rolls smoothly onto a level stretch of track before it starts climbing again.
"No… No—oh my God, let me off o' here! Can they stop it?"
Rory and Deb laugh loudly, their voices blending into the din around us.
*
My second night in the city. This bed is so comfy. A fuzzy brown bedspread with cozy blankets in a basement bedroom that I have all to myself, in Rory's father's house. It's like in the Dick and Jane books: a white picket fence, tidy lawn and cement walkway. What if we got to stay here? I think about Gaylene, Travis and Holly—cramped together in the bottom bunk in our tiny room—or has Gaylene moved to the top bunk now that Greggie and I are both here in the city? I tear up as I picture the pudgy, berry-stained cheeks I kissed goodbye. Cousin Luh-pi, our babysitter, had baked a blueberry pie that day—in my honour, I thought, since she knew I was leaving. I was baffled when she didn't give us any for dessert. After she left, I took the pie and four forks into the bedroom. I woke the kids. We sat in a circle on the floor and devoured the whole thing while giggling triumphantly.
I replay my day in my mind—the morning at Auntie Mable's, then the afternoon and evening at the fair. I begin to squirm in the bed. Mother and Swede came by Auntie Mable's house to see me, but only stayed for a few minutes. Debbie and Rory showed up unexpectedly, and now I was spending the night with them. Questions fly through my head: Where will we go tomorrow? Debbie said they might take me home with them, to Two Hills, on the prairies. For the day? For the week? Forever? Why are they taking me? Why doesn't Mother want me?
__________________________________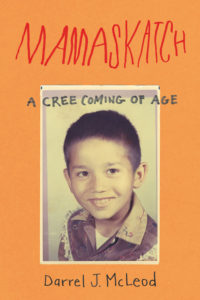 Excerpted from Mamaskatch. Used with permission of Milkweed Editions. Copyright 2019 by Darrel J. McLeod.
---