Charlotte Wood on the Subconscious Act of Writing
"In 20 years of writing I'd never abandoned ship like this."
This first appeared in Lit Hub's Craft of Writing newsletter—sign up here.
A small, wild stray cat approaches two houses on a rainy night. It makes to slip into the first, but is frightened by a sturdy baby clomping down the shadowed hallway towards it. The cat appears at the next house, where I've been waiting. I silently open the door and flatten myself against the wall, willing it to come inside. I meet its eyes as it crouches, reluctant, shivering in the rain. A few large, rotting frangipani leaves fall in spears to the path, and the creature decides. It darts through the wet falling leaves into my dark house.
On waking I know this for certain as a dream about writing. The cat is my work, and everything else in the dream is me: both houses, the clumsy baby scaring the cat away, the quietly opening door through which the wary creature enters at last.
The images speak to the uncomfortable tension I've long felt between two opposing forces in my creative self. There's the dreamer, the mystery-seeker, the watcher for spooky symbols and signals from other realms. This is the self who finds surprises, neither biddable nor controllable, blossoming up from the deep unconscious. Then there's the pragmatist who trusts in hard work and grit, discipline and routine, who's irked by tortured-artist dramatics, and who brings a novel into life as much through determination and tenacity — sometimes even resentment — as any more inspired impulse. For long periods of a book's development, it's the pragmatist who keeps the thing on the rails.
Some years ago I used an academic thesis — a study of several writers I knew — as an opportunity to examine the texture of my own creative process. How does fiction happen in the mind, moment to moment? How much of my work is done by the stomping baby, how much by the wild, capricious cat? I was fairly aware of my deliberate techniques, but I wanted to understand whether there might also be other, less conscious methods at work. I wanted to investigate whether there were any methods I used without knowing I was using them.
I learned that there were: nine distinct processes, in fact, falling broadly into two categories. The first was of ways, involving obscure hunches, blind instinct and almost no logic, to generate the raw material of a book. These methods seemed to come from the subconscious, dreaming mind, and to work best when left unquestioned. I called them "heat seeking," "connecting and associating," "digging and diving," "waiting and suspending." The second category was governed by more conscious thought and used more diagnostically. They worked as problem solvers, applicable only once I had some material on the page. I called them "circling and cycling," "impersonation," "forecasting and hypothesizing," "disrupting and overturning," and "territory mapping."
Other writers will intuitively recognize many of these. Heat seeking, for example, means following anything that gives the writer even a glimmer of energy. It might be something as tiny as an image or a word, or as conceptually enormous as war, or death. The only criteria for "heat" are that the writer is energized by the thought of it, and that writing into it fuels more writing. Learning to trust your instinct for "heat," especially lacking any rational reason to do so, seems to me an important step in every artist's development.
"Connecting and associating" unalike concepts or things is a well-documented hallmark of creative thought. Digging/diving and circling/cycling are related, though subtly different, and involve returning to existing material to re-examine it, turn it over, try again from a different angle. Annie Dillard's famous quotation of Thoreau gets closest to this one: "Know your own bone: gnaw at it, bury it, unearth it and gnaw at it still."
Waiting and suspending — almost a non-process — will also be familiar to many writers. The novelist Joan London once quoted Kipling to me: "When your Daemon is in charge, do not try to think consciously. Drift, wait, and obey" — which pretty much sums it up, although knowing whether it's your Daemon or your laziness in charge is a trickier question. There's a line between deliberate "waiting" and nervy avoidance, and only the writer herself can know the difference.
When I recall the writing of my most recent book The Weekend, a comedy of manners about growing older and friendship between women, one clear source of heat jumps out at me. I'd hoped for an easy ride with this book, unlike the difficult years spent dwelling in the theme of misogyny for my previous novel The Natural Way of Things, a strange and harrowing book most often described as feminist dystopia. With The Weekend I wanted to write an antidote, something joyful. I wanted to rest in it, amusing myself with an acerbic portrayal of ordinary friendship between women (albeit a tense and scratchy friendship; I need more than a few drops of acid to stay interested, for "niceness" turns out to be a creative dead end for me). I envisaged a wry celebration of domestic realism, without the frightened wading through my murky unconscious the previous book had demanded.
But soon a decrepit, geriatric dog arrived in my "joyful" story and began giving off uncanny vibes. It seemed my writing mind wasn't ready to abandon the surrealism that had suffused my girls-in-a-desert-prison book, and The Weekend's Finn, a dementing, staggering labradoodle, emerged as a carrier of abstruse, unnerving messages. For a long time, I had no idea why the ghostly aspect of Finn was important, and the insolubility of this question made me anxious. But I knew enough to trust the heat when I felt it.
That long time became a new lesson for me in "waiting and suspending": a complete abandonment of all writing for several months. At that point in the process I had three fractious friends trapped in a house together by the sea at Christmas — but no idea why, or what was keeping them there. Perseverance wasn't helping me, and nor was anything else. There was no engine for the story. I'd received a prestigious fellowship to write the novel and I dreaded failing my benefactors, but forcing and pushing the novel along — relying purely on my long-cherished work ethic — was simply not working. It was time to stop.
In 20 years of writing I'd never abandoned ship like this. There'd be no note-taking, no sneaky observing or musing, no attention at all devoted to the world of the book. It felt like giving up, and I was afraid, but by that stage surrender even to that possibility was a relief. For six long months I enjoyed a sedate earning and domestic life. I taught, traveled, gardened. I did those household chores neglected when you're absorbed by work: had the leaking roof fixed, cleaned windows, tidied cupboards under sinks.
But writers will understand the queasy feeling that inevitably comes, the melancholy ache, when you've been away from work too long. I had to go back.
I returned the only way I could, in pragmatist mode. I reread, prodded and poked at the stalled book, pushing through the sludge of resistance for weeks, making no progress. But at some stage a tiny hairline fracture in the problem's sealed casing appeared, then widened — and then cracked open. I still remember the part of the bathroom wall I was staring at when the thought arrived, mid-shower: it wasn't just a house, it was their dead friend Sylvie's house. They were there to clean it out for sale. The friends are not simply crabby with one another; they're lost to one another. Kipling's Daemon had finally come to the rescue, and from there I was on my way. Finn's pathetic ghostliness now made sense — he was sometimes himself, sometimes a mirror, sometimes a mute and fearsome messenger from Sylvie. He reveals to each woman the illusions she's held about herself until now, and the truths she must face in her time left on this earth.
One thing my study showed me is that different books will demand different processes to dominate in their creation. While the origins of The Natural Way of Things were dreamlike and primitive, the more pragmatic of my nine processes turned out to be most useful in getting it written. "Overturning," for example, saw me abandon a setting in the past and a naturalistic prose style, flipping both to result in a near-future setting and a slightly fantastical, surreal narrative style. "Impersonation" helps bolster a writer's flagging confidence by imaginatively taking on characteristics of another artist, a writer — even another art form or thing. For The Natural Way of Things I clung secretly to the artist Louise Bourgeois as my psychic guide. In my mind, the mighty Bourgeois would never quail at the violence of the female experience she was birthing in her sculptures and installations, and she would certainly not waste time hand-wringing in feeble anxiety, worrying endlessly about why she was doing it. I'm just being Louise Bourgeois, I'd hum nervously to myself, hanging some creepy uteruses in a cage. The real Bourgeois' motives were immaterial — my imaginary Louise made me braver.
I said earlier that the processes seemed to fall naturally into the two categories — unconscious and conscious, dreamy and pragmatic. The truth is that in practice they're not so easily separable. The membrane between them is porous, their expression interdependent, dynamic and often simultaneous. What I've slowly come to accept is that the tension I've found so uncomfortable throughout my writing life — that space between the two kinds of thinking — is actually where creativity lives. The baby might be clumsy, but it also directs and corrects, guiding the daemon creature to arrive, at last, in the right place. I need the grit before I can earn and accept the gift — that surprise moment when the book finally opens up to me and tells me how to write it.
*
Read more on the act of writing while not writing: 
On letting your characters take over.
On the importance of fallow periods, and discovering that the secret to writing is maybe not writing.
On the tension between the private and the public, and finding inspiration in the strangest places.
How some writers rely on ritual to get them in the mind-frame to write.
*
5 Books that Explore the Mysteries of Writing
RECOMMENDED BY CHARLOTTE WOOD
Annie Dillard, The Writing Life 
Gale Sher, One Continuous Mistake  
Jerry Saltz, How to Be An Artist
Ursula K. Le Guin, Steering the Craft 
Charlotte Wood, The Writer's Room
__________________________________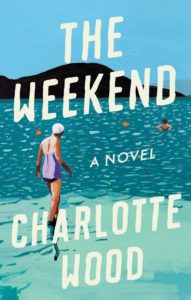 The Weekend by Charlotte Wood is available via Riverhead.
---