Alex Trebek's Life in
Three Timelines
Claire McNear Behind the Scenes with the Beloved Host of Jeopardy!
The following is from Answers in the Form of Questions: A Definitive History and Insider's Guide to Jeopardy!, which was written and reported over the past two years. With the tragic death of Alex Trebek, it is dedicated to memory of the host and his extraordinary achievements in more than 36 years behind the Jeopardy! lectern.
*
Among the stranger things about Alex Trebek is that he has spent nearly half his life living in three simultaneous time lines.
Time line one: the present, in which he, like the rest of us, goes to work, does his job, and comes home.
Time line two: two months in the future, filming episodes where he warmly wishes his audience greetings for whatever season or holiday will be in full swing when the episode finally airs. (A 1998 contestant, Bob Harris, once recalled the shock of Trebek appearing onstage during his first game dressed as the Statue of Liberty, eventually realizing that although they were taping in mid-September, the episode would air on Halloween.)
And time line three: the past, keeping careful track of whichever months-old taping is just reaching the airwaves on any given day, so that he can tell you in cheerful present tense, for example, about the remarkable run of then-rampaging eight-time champ Karen Farrell—despite the fact that he'd actually witnessed Farrell's streak, and eventual loss, weeks earlier.
It would get any diarist tied up, but Trebek has, at any rate, had some practice. Since 1984, when he became the host of Jeopardy!, today has been a flexible term.
"I was told by a producer many, many years ago," Trebek told the Today show in 2016, "'Alex, this is a precarious business, and if somebody makes a job offer—take it.'"
But Trebek didn't set out to be a game-show lifer: In 1986, he told a reporter that he originally saw hosting as "merely an avenue through which I could break into show business." Trebek was forty-four when the Jeopardy! revival debuted, and he wasn't not meant as eye candy. A story in the Los Angeles Times early in his Jeopardy! tenure noted that he, with his signature mustache, "could be an unusually handsome professor" and was "more than just another pretty suit" before making mention of the—pardon me while I loosen my necktie–"throbbing electronic Jeopardy! set."
People ran a breathless story on the then-single host under the headline "Sorry, Girls, Mom Keeps House for Jeopardy! Host Alex Trebek," in reference to the fact that Lucille shared his Hollywood Hills mansion-slash-bachelor-pad. Trebek joked about asking out Wheel of Fortune hostess Vanna White, noting that she was quite intelligent: "She always turns me down," he said.
In the mid-80s, Jeopardy! ran a series of ads showcasing the host as a Bond-esque man of mystery, rescuing various scantily clad damsels in distress. "We risked everything for these questions," gasped one just-liberated woman as a tuxedo-clad Trebek rushed her past her captors' gunfire; "That's why we call it Jeopardy!" the host replied. "Jeopardy! is my life," he cooed to a different woman, who was wrapped in a bathrobe after being fished out of the sea by Trebek. Said he: "It's the second most exciting game I know." Hubba hubba.
When Trebek ditched his soup strainer in 1997, it was mourned in People as one might an actual person: "Host Alex Trebek, 59, has shaved off his mustache, 20." The magazine pulled no punches—the headline was "Alex Trebek: Naked."
At his wedding to Jean Currivan in 1990, private security ejected no fewer than five tabloid reporters from the nuptials, who could be overheard gabbing about Jean's dress to editors from a nearby pay phone booth. For his vows, Trebek responded, "The answer is . . . yes."
*
As Trebek walks into his dressing room, he spots my phone on the table in front of his couch. It's there as a backup recording, just in case my actual recorder alongside it decides to eat our interview.
"You're recording on both?" he asks, folding himself onto the couch. Yes, I tell him, just in ca—
He leans eagerly over the phone. "Can you hear me now?" he asks more loudly, knocking furiously on the table. "Can you hear me?"
He turns back to me and grins. "I just blew your machines right off," he says.
Trebek has changed—he's ditched the button-down and is now nearly stage-ready: hair and makeup done, dressed in suit pants and shirt and tie, though no jacket. But he's tired. He's fighting a bad cold—not to point any fingers, but your reporter came down with her own bad cold a few days later—and thought at one point he might even lose his voice.
Over thirty-six years, with five suit changes two days a week, it is entirely possible that Trebek has worn more suits than anyone else in history. While we speak, I catch a glimpse of a rack in the adjoining closet that's lined with dozens of neat black and navy blazers. The ties can't be far behind: He claims to have never thrown any away, though some have been disbursed in Jeopardy! giveaways, and boasts that he has bolo ties and even dreaded "wide ties" at home. "I have more than 250," Trebek will say later, a little like it might be a threat, or at least something Jean is extremely aware of.
On game shows, it was long traditional for the host of the program to also be introduced as the star. On Jeopardy!'s first-ever episode with Art Fleming in 1964, he was indeed introduced as such—and why not, given he's the one who was there week after week, season after season. So was Trebek on many of the shows he did before Jeopardy!: He was "the star of M'ama Non M'ama," a dismal reboot of an Italian dating show, and, on The $128,000 Question (a revival of its $64,000 predecessor), "the host and star of our show." But when he took over the Jeopardy! reboot in 1984, he was adamant: He was the host. The contestants were the stars, and Johnny Gilbert has introduced him accordingly ever since.
But it's hard to deny the reality that nearly forty years at the center of one of American television's most popular programs has given him some star power. When school and tour groups and game-show obsessives line up outside the studio for the chance to spend a couple of hours inside the Jeopardy! studio, they're as interested, maybe more interested, in seeing the host as they are in seeing all those shiny blue set pieces. So great is the demand that the show has put out, alongside an enormous glass case with the dozens of gleaming Emmys racked up by Jeopardy! over the years (it had won 35 by the start of Season 36), a cardboard cutout of Trebek in the lobby for people to take pictures with. And do they ever.
__________________________________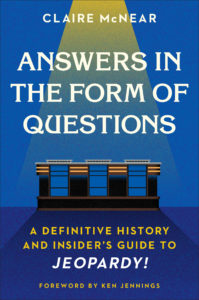 From the book Answers in the Form of Questions: A Definitive History and Insider's Guide to Jeopardy!,. Copyright © 2020 by Claire McNear. Reprinted by permission of Twelve/Hachette Book Group, New York, NY. All Rights Reserved.
---