A Novel That Celebrates—and Mourns—Pre-Revolutionary Iran
Dina Nayeri on Javad Djavaher's My Part of Her
"Why was this country handed over to mullahs? In exchange for what? No one knows . . . Because, starting in 1979, they have been far less free, their lives more difficult than before." 
In the 1980s, when I was a girl, my family drove to the Caspian Sea on holiday. We rented a villa and visited the mountain villages. We gawked at Western toilets, slept under mosquito nets outside, grilled corn in the garden. We waded into the sea, the men on one side, women on the other, fully clothed. I heard my parents whispering stories of the seaside before . . . Women in bikinis, their black hair inking the water, couples eating smoked fish and flirting on the sand.
I heard about an Iran that no longer exists, and I sensed the specter of a coming-of-age that I would never live for myself. The youthful explorations of my parents' generation, on beaches and in villa sheds and in crevices of the mountain, was a birthright yanked away over two summers in 1978 and 1979, when those same students and hot-blooded activists made an astonishing error. 
It has been a jagged stone in their hearts, a collective regret, for forty years. 
Like many his age, the narrator of Javad Djavaher's novel My Part of Her is tortured by his own complicity. At times he tries to explain it away. "The masses are desperately shortsighted and endowed with a reptilian memory," he says. "The proof is that for two hundred years, at each major turn of history, they always make the worst choices."
But his torment isn't just about an ill-fated plot to free the country from imperialism and Western plunder (goals that even the most mournful of the revolutionary generation don't disavow), but about a lifetime spent in self-preservation, betrayal, hubris, and cowardice. As a boy, he despises his kind-hearted, soft-spoken parents for their deference to the educated and the rich. At the same time, he is ashamed by their working-class trappings, the good halva and the well-washed rug.
One asylum lawyer told me that Iranians start every story at the beginning of the universe.
He sees himself as activist, scholar, Svengali to a circle that, over time, widens to include underground communists and revolutionaries. Broken by his own most human instincts, he takes solace in books, and in the memory of Nilou, his mother's first cousin, after whom he lusts with the egoism and self-loathing of a child, peddling her trinkets and underthings to fellow village boys.
Nilou's family escapes to the narrator's Caspian village each summer, and though he claims to love her, she is only a symbol of his class struggle and of the secrets of adulthood. She is something to possess and brandish about. He boasts when he is allowed into her bedroom, when she confides in him, when she allows him into her mind via the books he brings to her. 
He is despicable and yet he has come to understand something vitally important—and he imparts his wisdom in a vitally important way. 
In my work with asylum seekers I learned that their biggest hurdle is to be believed, first in asylum interviews, then in every future interaction with the Western-born. The trouble is that, to be believed, they must tell their stories differently. One asylum lawyer told me that Iranians start every story at the beginning of the universe. 
And so, I chuckled when Djavahery opened like every grandfather and great-aunt and toothless uncle I've known: 
"I have to start from the beginning and things often start much earlier than we think. Let me tell you a bit more about the Caspian Sea . . . " 
For me, the choice is defiant, and assurance that what's coming is a true story, told in a true way, in an Iranian way. There will be no kowtowing to the Western reader in these pages. There is no room for that gaze, because this is a story about our part in Iran's undoing. It is a collective reckoning with ourselves, with our part of her—the monster we created. 
Given that, Djavahery's artistic choices move me. His confessor's voice, situated decades later from somewhere in the West, harkens back to an old Iranian style of storytelling. The story is told to a specific person we never see, for an unstated and devastating reason we somehow understand. The unnamed narrator himself isn't a realized character so much as the universal "writer," a voice of reason, caution, experience, and shame (that very Iranian sentiment).
We might even think of him as "Javad" without presuming autobiography. And then there are the archetypes: the broken boy who returns a villain; the unsullied beauty capable only of good. 
A Western critic unfamiliar with our storytelling will dismiss these as unrefined—they are deliberate and, in a story shrouded in regret and altered by deep memory, powerfully true. 
The sea, once an invitation to boundless freedom, a passage to other lands, has become a public hammam, a place of "entertainment without pleasure."
Djavahery is a screenwriter, and his descriptions are precise and cinematic. He describes village roads in pre-revolutionary north, the young loitering "on the fenders, on the hood, sometimes even on the roof . . . It was summer, it was night, the hajji at the wheel already had a few glasses of arak in his blood. Everyone was swimming in happiness. The roads were bumpy. The cars drove slowly. The gleam of their headlights . . . illuminated in the darkness the face of your sweetheart, her silhouette, and maybe more . . . " 
Though I was transported to the kind of summers that I missed, I wasn't allowed to linger, for Djavahery never fails to remind us of the catastrophe to come. "Who could have believed that the majority of those Don Juans of the summer, those youths full of promise united around a fire, writhing with laughter, telling salacious stories, quarreling for a yes or a no, showing their muscles . . . were destined for the worst suffering, for horrific deaths? That many of them would return in wooden boxes . . . That the sand would be stained with their blood, for executions would take place on the beach itself, in the calm of the morning." 
And yet Djavahery hints at a horror beyond the loss of life. Something bigger has been struck down and buried. The sea, once an invitation to boundless freedom, a passage to other lands, has become a public hammam, a place of "entertainment without pleasure," without the night strolls, the bonfires, the prowling boys and joyous swimmers. The people who inhabit it are a different species. They are undead.
"People who settled for the sea mutilated in this way. Summer vacationers like we had never seen before. Who were they? . . . These women who were bathing fully dressed, these men who were strolling in exclusively male groups. Not shaved, with extra-long bathing trunks." 
Djavahery is unsparing in his condemnation. None of this was inevitable. This repression, the annihilation of joy, youth, and love isn't an outgrowth of misplaced idealism. It was a collective human failure, an entire country destroyed by revenge—"of the past on the future . . . The revenge of the peasants on the city-dwellers. And we, with our complicity, were only feeding the monster that was growing in the shadows, secretly multiplying." 
Even so, the story ends on a seaside, in a moment brimming with hope, at the moment of one heart's triumph over a whole lot of human stupidity. It is a confession and a prayer, an ode to bygone days, a love letter to joy and sex and youth, a warning to the young, a thrilling memory of old Iran. Djavahery reminds us that men and women are destined toward ruin but also toward each other, that we must take care, as "the domain of evil is far vaster than that of good. Much more complex, much deeper." 
__________________________________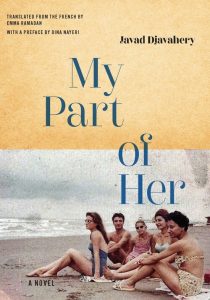 From the preface to My Part of Her by Javad Djavahery. Used with the permission of the publisher, Restless Books. Preface copyright © 2020 by Dina Nayeri.
---