Leila Aboulela: Novels About the Soul Come in Disguise
Five Books With a Decidedly Mystical Dimension
Literary novels about the needs and mysteries of the soul do not announce themselves. They do not flaunt their credentials. Instead they come disguised. They dress up as "dystopian," or "coming of age" or "tragicomical" or "countercultural." Aware that they must distance themselves from their embarrassing, feel-good cousin the "spiritual novel," they can sometimes seem aloof. Knowing that they are likely to be misunderstood, they are too proud to explain themselves. So, they approach us at an angle, determined to be taken seriously or not at all, requesting us to jump in and hang on. They can be a fable or a journey, steeped in a specific setting and society or more individualistic. What they share is a religious intensity without much formal religion, a surreal journey toward liberation that could or could not be described as spiritual, an urge for self-knowledge, for meaning and healing which might be achieved wholly or partly or not at all.
These novels are concerned with beauty but they not glamorous. They are too muted for that, too drenched in unsound humanity, too conflicted in their politics. Intellectually challenging though never opaque, they can, in C. S. Lewis's words, tune up their readers to a higher pitch.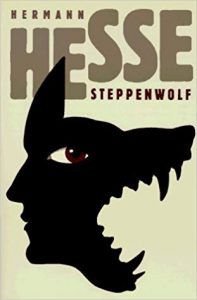 Herman Hesse, Steppenwolf
Posing as the ultimate "sex and drugs" classic, Hesse's kaleidoscopic novel sinks its teeth in a man's whole being, exploring and unravelling the self to find an unquantifiable endlessness. The protagonist Harry Haller, like Hesse himself is an intellectual repulsed by the ravages of the First World War and appalled at the rising fascism that is hurtling his country towards more bloodshed. A lover of the arts, even his books offer no solace because "…all humanity's attempts to create something sublime, great and enduring were reduced to a fairground farce." Shunning society "that tame, insincere, well-behaved way of living," estranged from family and friends, he wonders, "How had this paralysis so slowly and stealthily come over me, this hatred of myself and everyone else, this emotional constipation, this profound, evil disgruntlement?" Suicide is the solution, but he is saved by the young Hermione, his "one way out into the open air," who teaches him how to dance and introduces him to a world of opiates and courtesans. Then there is the Magic Theatre with its myriad portals and surreal experiences, where he finds countless versions of himself and a chance to relive memories and take up missed opportunities. In a looking glass, he sees the timid, furious, stray wolf of the steppes flowing through his body "just as a tributary of a different color can be seen merging with a major river, churning and clouding its waters. The two were locked in painful combat, eating away at one another, each longing to assert a fully formed identity, but in vain."
Hermione also tells him about "…the realm beyond time and appearances. That is where we belong, it is the home we are striving with all our heart to reach … Sadly, Harry, we have to grope our way through so much filth and rubbish in order to reach home! And we have no one to show us the way. Homesickness is our only guide."
Reading Steppenwolf, the reader too gropes their way through the unique self of Harry to a broader consciousness. The ending is a victory against suicidal despair, a plea for the kind of balance that would initiate a healing. Harry had been right all along about the absurdity of the world and yet wrong. He must, "… learn to listen to life's damned radio music, to respect the spirit that lies behind it while laughing at the dross that it contains."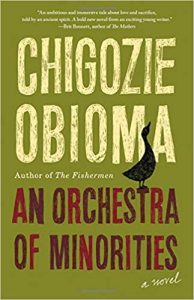 Chigozie Obioma, An Orchestra of Minorities
The faults of mankind are spread out in clear view of the unusual narrator of this novel, Chinoso's chi or guardian spirit in Igbo cosmology. Chinoso is a chicken farmer in Nigeria who falls in love with Nadali, a pharmacy student from an affluent family. The tragedy waiting to unfold originates in the sin that is Nadali's parent's arrogance, how much they disdain their daughter's suitor. At a party held in their mansion, Chinoso is forced to serve as a parking attendant. His submission to this humiliation and Nadali's sorrow when she finds out, is heart-breaking. The novel is framed as a plea from Chinoso's chi to the Almighty after Chinoso commits a crime that is yet to be revealed to the reader. The biggest limitation affecting humans, says the chi, is that they do not know what is coming next (neither does their chi). Desperate to improve his social standing and impress Nadali's parents, Chinoso takes the advice of an old school-friend, sells his farm and travels to Cyprus for an education.
But he is the victim of a scam and as things go from bad to worse, he ends up in a Cypriot jail. When he returns to Nigeria, Nadali is lost to him and he is unable to build a new life without her. Instead he comes face to face with the school-friend who had stolen his money and ruined his life. The chi intones, "Tell, O, world, tell! Tell them this; in the end, there will be reckoning. They must recite it like an anthem. They must tell it from the tops of trees, on the tops of the mountains, on the pinnacle of the hills, along the river shores, at the marketplaces, in the town squares. They must say it again and again: in the end, it does not matter how long it takes. There. Will. Be. Reckoning."
The wise chi warns and flashes thoughts into his host's mind but to no avail. He wrings his hands and is unable to prevent further tragedy. The chasm between human and divine mercy is huge and seemingly impossible to bridge. Without spiritual longing, without acceptance of guidance, humans are the minorities of the novel's title, passionate and articulate beings propelled by their loves and hatreds.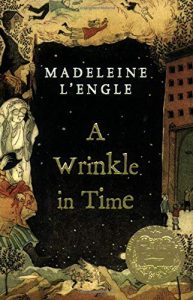 Madeleine L'Engle, A Wrinkle in Time

The guardian spirits in A Wrinkle in Time take human form and have more bearing on the plot. Mrs. Who, Mrs. Whatsit and Mrs. Which are endearing figures and we are after all in optimistic young adult territory. But A Wrinkle in Time powerfully illustrates the need to go all the way there, traveling with difficulty and risk, traveling together but alone, to the spiritual realm, in order to fix something here among humans. The novel is fused with respect towards otherness- places, creatures, languages and even experiences which cannot be put into words. The narrative unfolds as a space adventure in which adolescent Meg, her friend Calvin and her younger brother Charles Wallace travel to rescue Meg's scientist father from a disembodied evil brain that is gradually conquering the universe, and which also succeeds in taking over Charles Wallace. The novel opens on a stormy night—

high winds, thunder and lightning

—

heralding a sense of awe which continues throughout the journey. Nothing is like Meg thinks it is, there is more in the universe than can be counted or understood, things that are temporal and others eternal, huge distances can be traversed, and the opposite of evil is not goodness but love. She must learn patience and bear that after finding what she was seeking

—

her father

—

he is incapable of making everything all right.

Madeleine Le'Engle's Christian faith is integral to the novel, and a cause of controversy. The book was banned in schools by conservative Christians who objected to a passage in which Jesus is referred to as a 'light' among other "lights" like the Buddha and Einstein. In the recent movie adaptation, religion was entirely erased because "society has progressed." This is a failure to milk the meanings of this novel. When Calvin falls to his knees after seeing Mrs Whatsit transform into a majestic creature, "an exaltation of joy" with wings "made of rainbows, of light upon water, of poetry," she says to him, "Not to me Calvin. Never to me. Stand up."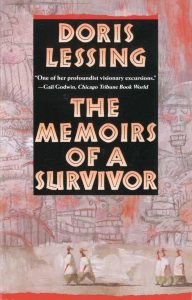 Doris Lessing, The Memoirs of a Survivor
After the publication of The Golden Notebook, Doris Lessing's disappointment in communism led her to explore non-western paths. She studied Sufism and accepted as her guide, Idris Shah, author of The Sufis. In the last years of her life which coincided with her Nobel win and an intense War on Terror, she was compelled in interviews to fend off questions on the threat of "the growing Islamic presence in Europe." Her dystopian novel The Memoirs of a Survivor carries strong Sufi elements, but they steal up on the reader gradually. The setting is post-apocalyptic England, after 'the crisis' has ended ordinary life. Civil society is in shambles, food is scarce, families are packing and leaving the city. Communication systems have broken down and gangs of children roam the streets.
As the physical world disintegrates in a realistic fashion, inside the middle-aged narrator's apartment there is a surreal development. A wall starts to dissolve, and she is able to enter visionary worlds of extraordinary vividness. The woman's awareness of what lies behind the wall evolves from forgetting that the "wall could open, had opened, would open again" to feeling that "the flavour of the place behind the wall did continuously invade my real life." As time passes the presence behind the wall becomes more powerful and she is more conscious of it "as if that place was feeding and sustaining us and wished us to know it." At first the world behind the wall is the narrator's childhood, glimpses of her parents revived as if they are movie scenes she is walking through. These then give way to "gardens that lay one above the other…. riches…scent and running waters…" a way out of the decay and trauma of "this collapsed little world into another order of world altogether."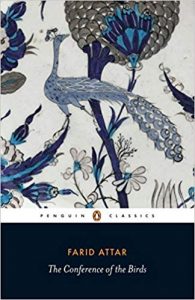 Farid ud-Din Attar, The Conference of the Birds
Attar's allegory takes the soul into a journey towards enlightenment which keeps going and going further than the expectation of the reader. It starts with the birds of the world gathering to discuss their need for a sovereign, the legendary Simorgh, who dwells in Mount Qaf, a mountain range at the end of the world. Many find excuses not to set out towards Him. The journey is too dangerous, and they are held back by their weaknesses and avarice, their pride and ambitions. Then there is false humility and misguided longings, the parrot would rather sit tight in a corner of its cage and the peacock is content with thoughts of Heaven. Their guide, the Hoopoe bird, urges them to, "Cast off the shame of narcissism….Surrender your ego and step into the Path, cross that threshold dancing."
The group that eventually fly out feel as if their whole life would be spent on the route. Some get distracted by the charming scenery, some are eaten by wild animals. Some go mad from hunger and dash themselves against the rocks. Some are burnt and drowned and molested. Only thirty birds survive to the very end. They reach the majestic court battered and bruised without feathers or strength. Why on earth would the Sovereign Simorgh receive you? the court's herald asks. You are nothing to Him. When they beg and cry, they are granted an audience. At long last they are in the presence of their Beloved. They see suns and stars, lights upon lights. Within this brilliance they see their greatest shock—they see themselves. Thirty birds, in Persian si morgh. It is as if they are looking into a mirror. It takes them time to solve the puzzle. Their existence is within the Beloved because nothing exists outside of Him. The birds merge with the One they had flown towards, the One who was themselves and everything else. They rise again so that seeker, destination and the way became one.
__________________________________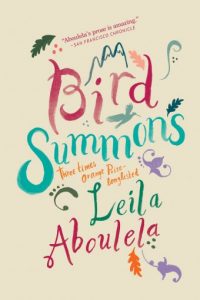 Bird Summons by Leila Aboulela is available now via Grove Press.
---