A Literary Long Weekend in Charleston, South Carolina
Confronting History and Celebrating the Arts in the Kingdom by the Sea
To celebrate our partnership with Kimpton, enjoy 20% off their Best Available Rate. Cozy up in your hotel room with one of our seasonal book recommendations, or venture out on a book lovers' travel itinerary.
Charleston locals believe that Edgar Allan Poe both fell in love and had his heart broken here—in the "kingdom by the sea." They insist that the ghost of Annabel Lee, or Anna Ravenel, as she is known in coastal Carolina, still appears at the Unitarian Church graveyard where she and 18-year-old Poe would rendezvous. Charleston is also where Pat Conroy, South Carolina's Prince of Tides, set all of his novels. He wrote, "My wound is geography. It is also my anchorage, my port of call."
Charleston is renowned as an arts and culture center; from late May through mid-June, it transforms into a stage. Spoleto Festival USA fills the peninsula and its neighboring sea islands with performances by both established and emerging artists in opera, theatre, dance, literature, and chamber, symphonic, choral, and jazz music. The festival was founded by Pulitzer Prize-winning composer Gian Carlo Menotti in 1977, and has since gained a community- and accessibility-focused arm, Piccolo Spoleto, which presents free literary events. Charleston's preserved architecture, historic theaters and churches, and outdoor spaces provide captivating venues for audience members and guest performers alike.
Undeniably halcyon and handsome with its architecture, pink-and-orange skies, and seascape dotted with bobbing dolphins, Charleston was voted the World's Best City in 2016. But any well-read person knows, there is more than what meets the tourist's eye. Mixed among Colonial and Georgian townhouses are former brothels, the Old Slave Mart Museum, and the recently devastated Mother Emanuel A.M.E. church. It is no wonder that the Lowcountry houses writers of all kinds, from young adult and romance novelists to trauma memoirists, historians, biographers, and poet-activists.
· FRIDAY ·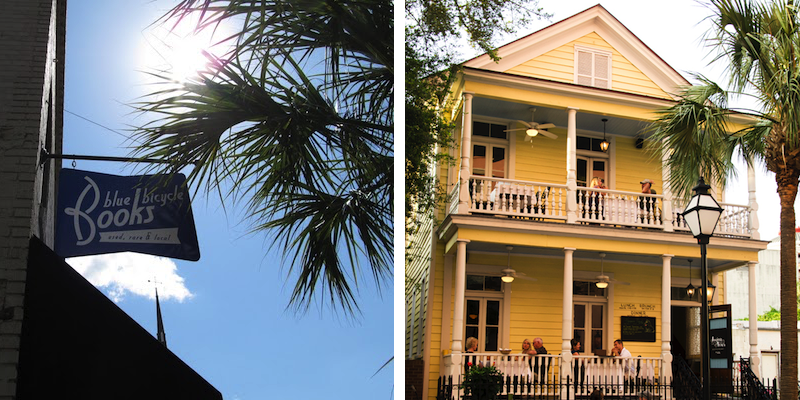 Blue Bicycle Books: 4:00 PM
420 King Street
Best to begin your weekend here, as owner Jonathan Sanchez knows everything about the local literary scene. His bookstore stacks 1,565 feet of used, rare, and local books, including hardcovers on military history, first editions, Lowcountry cookbooks, and half-off paperbacks. In the fall, the store hosts YALLfest, which annually draws 65 YA authors and twelve thousand fans to the peninsula. Sanchez and his crew are also responsible for the Piccolo Spoleto Fiction series, The Write of Summer kids' camp, and over 200 author events each year.
Poogan's Porch: 8:00 PM
72 Queen Street
A restaurant named after its building's former porch mainstay, Poogan, a down-home Southern dog. Order Chef Issac's she-crab soup, fried green tomatoes, and country fried chicken and settle into what so starkly contrasts chapters of Lowcountry history: its hospitality.
Poogan's Porch is housed in a Victorian two-story built in the 1800s, much like the "town homes" (as opposed to country homes) of the elites mentioned in Conroy's South of Broad and in correspondence between members of the Middleton clan. (Borrow a copy of Best Companions: Letters of Eliza Middleton Fisher and Her Mother, Mary Hering Middleton from the Charleston County Public Library to learn more about one of Charleston's most prominent families.)
At the Piccolo Spoleto Festival:
Piccolo Spoleto Sundown Poetry: 6:30 PM
135 Church Street
Take a bike taxi down King Street to Church Street for an al fresco poetry reading at the Dock Street Theatre courtyard. The series invites poets such as Pushcart Prize-winner Alan Michael Parker and Pulitzer Prize-nominated poet Peter Makuck. Sundown is the perfect time to lend your ears to poetry amidst downtown charm and its in-season, sweet-smelling confederate jasmine.
· SATURDAY ·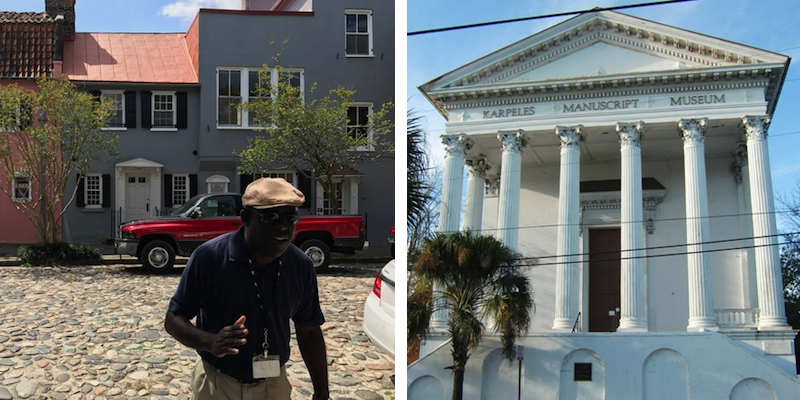 Buxton Books – Lost Stories of Black Charleston Walking Tour: 9:45 AM
2A Cumberland Street
Lost Stories of Black Charleston is a two-hour walking tour through the South of Broad neighborhood. Professor, writer, historian, and tour guide Damon Fordham has been handed down oral histories from several generations back through a lineage of former Carolina slaves. He begins his tours by playing a vibrato tune on the harmonica then leads the group down a cobblestone street, describing not only the architecture of the Holy City, but also the heroes and antiheroes who mingled in its blue-shuttered houses and under its steeples. Fordham explains why mansions here had, and still have, spiked fences (the wealthy whites feared black rebellion), how Porgy and Bess really came about, who the Grimke sisters were (as in the abolitionist and feminist, Sarah Grimke, from Sue Monk Kidd's Invention of Wings), and how enslaved people and newly freed blacks created and consumed literature before, during, and after the Reconstruction. Serious truth-tellers wanting to write about this (or any other) part of the South should go on this artful tour. As Fordham reveals, "This ain't no Colonel Sanders suit, no hoop skirt, no mint julep, no Gone with the Wind foolishness."
College of Charleston Cistern + Crazyhorse: 12:00 PM
Grab a baguette sandwich and eclair from Christophe Chocolatier & Patisserie (90 Society Street) or an arugula and truffle champagne vinaigrette salad from Caviar and Bananas (51 George Street) for a picnic at the College of Charleston Cistern. Sit under live oaks and Spanish moss as you contemplate the heartbreaking details you just learned from the walking tour and think up a story to pitch to Crazyhorse. The magazine was founded in Los Angeles in 1960 but has called C of C home since 2001, where it publishes work that's been reprinted in Best American Short Stories, Best American Poetry, and Best American Experimental Writing. If you're lucky, you might run into the magazine's editors: Jonathan Heinen, Bret Lott, Gary Jackson, Anthony Varallo, and Emily Rosko. They're the same folks behind the brand new C of C MFA program. (5 College Way)
Karpeles Manuscript Library Museum: 2:00 PM
68 Spring Street
The 10 Karpeles Manuscript Museums across the country—which together form the world's largest private collection of original manuscripts—stage rotating exhibits. The collection includes drafts by Mark Twain, the Wright Brothers, and Charles Darwin, documents from the American Congress addressed to John Jay and Benjamin Franklin, and the Emancipation Proclamation. The manuscript museums were founded in California in 1983 by real estate magnates David and Marsha Karpeles. Its Charleston branch is located in a former Methodist church, once used as a Civil War Confederate hospital. The building was destroyed by Hurricane Hugo in 1989 but has since been restored to its original beauty. The Greek Revival style perfectly complements the scope and size of the Karpeles collection. Historical fiction writers would certainly feel prompted to discover, ponder, and take notes here.
Leon's Oyster Shop: 7:30 PM
698 King Street
Leon's serves what Bon Appetit calls "elevated fried chicken and low key vibes." The restaurant is set up in an old garage and serves lard-fried poultry, raw oyster, American and foreign beers, and brightly-flavored brussels sprouts and kale salad—everything you need after a long day of discovery in a walking city.
Elliotborough Mini Bar: 9:00 PM
18 Percy Street
A kind of public living room for beer and wine drinkers, Elliotborough Mini Bar is a cozy neighborhood spot that serves a seasonal menu of beverages and bites. They host local musicians every night and once a week, a poetry open mic. Each poet is allowed five minutes to read, sometimes longer, particularly when The Unspoken Word appears with their politically-charged word play.
At the Piccolo Spoleto Festival:
Piccolo Spoleto Fiction Series at the Charleston Music Hall: 5:00 PM
37 John Street
Blue Bicycle Books and the Charleston City Paper co-host Piccolo Spoleto's longest-running event. Piccolo Fiction invites local authors to read original, 1,000-word short stories, each beginning with the words "I ducked into the alley…" This year's reading will be at the historic Charleston Music Hall.
· SUNDAY ·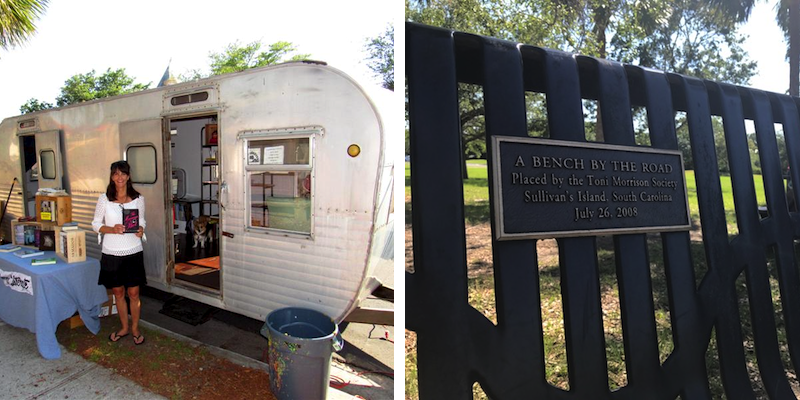 Itinerant Literate Books and Brunch: 9:00 AM
730 Rutledge Avenue
Itinerant Literate is a bookstore on wheels. Owners Julia Turner and Christen Thompson, graduates of the University of Denver Publishing Institute, have one goal: to handsell to each adult and child in the community their new favorite book. The bookmobile can be found at The Park Café on Sundays, where new releases and bestsellers are paired with avocado toast, Danish pop-overs with house-preserved jam, and egg-and-bacon-stuffed breakfast ravioli. Diners browse the bookmobile's selection while waiting to be seated or after their meal, often with Park Café's signature Gin & Juice in hand—gin and hand-squeezed grapefruit juice topped with a torched rosemary twig.
Sullivan's Island: 12:00 PM
1214 Middle Street
The water surrounding Sullivan's is almost always at bath temperature, and its street names sweetly commemorate one of its most famous former residents, Edgar Allan Poe (Poe Avenue, Gold Bug Avenue, and Raven Drive, to name a few). There's even a grub-n-pub named after him (Poe's Tavern, 2210 Middle Street). The island's name can be found in books such as Pat Conroy's The Boo and Beach Music, and the title of a Dorothea Benton Frank beach read. But here's what one other work of literature will remind us: that 40 percent of enslaved Africans brought to British North America passed through here. The Book of Negroes tells the story of Aminata Diallo, an 11-year-old kidnapped from Mali in 1757 and sold into slavery. Sullivan's Island, originally named O'Sullivan's Island, was the main point of entry for ancestors of nearly half of the African-American population. And yet, Toni Morrison writes, "There is no suitable memorial, or plaque, or wreath or wall, or park or skyscraper lobby. There's no 300-foot tower, there's no small bench by the road." In 2008, the Toni Morrison Society dedicated a small bench facing the water to the memory of Africans forced into slavery.
So, sit on this bench, under palmetto trees, and write. Write about what a contradictory place Charleston is: pockets of quiet on a peninsula booming with tourism, a harbor and a slave port, and an idyllic getaway frequented by many ghosts.
---