A Film Executive Wants to Know: Why Do Most
Movies Suck?
And Yet, Ted Hope Remains Optimistic
My new book, Hope for Film, was written over the course of several years. Early on, I pitched projects to financiers and presented finished films to distributors. Then, for a time, I sat on a different side of the business. As one of three "triheads" of Film for Amazon Studios, I saw the independent film universe from a very different vantage point: as a buyer. But my quandary has always remained the same: Why do most movies suck? Why are scripts not better? And how can we engineer better movies? Can we transform the mediocre into something magnificent?
Ironically, this book helped me land my job at Amazon. After Amazon's then-chief Roy Price read it, he asked me if I'd like to focus on making the movies that I love. To build a team. At Amazon. And immediately I said "yes."
But how do you make great films for the times we are living in? Though I'm working on more projects than ever, I ask myself the same questions every day: Why is this specific film important at this specific time? Why do I think it is worth spending precious time on it this week? Will people be willing to alter their routine and actually get off the couch and out of the house for it?
I also appreciate ambition more than ever. It's surprising to me how many people and businesses seem to aim for mediocrity. They're not willing to dream big, to believe that they can take the form and style further, or bring real emotional truth to their characters and stories.
I recently sat with a director I tremendously admired. And I said, "Don't you have scripts you really want to make?" He said, "No, I know how to separate my shit from the good stuff. I have drawers of bad work that no one will ever see." I wish that was true for most filmmakers. I'm sure most people show their drawers.
I continue to tell filmmakers that you have to show us something original and unexpected. Audiences want to discover that freshness. Even in cinema we are starving for change—change from what has come before; change from where we are in the world; change in terms of the art form. If I'm going to read past page 20 of a screenplay, I better feel like I've discovered something, and if I'm past page 50, those enhancements better occur in a new and exciting way. Either reveal or reinvent the world, and do it in a transformative way.
If I'm going to bring somebody in for a meeting, and if they actually want to work with us, I hope they recognize the opportunity. All too often, I find that filmmakers who come into my office ready to ask for money aren't prepared for our conversation. They haven't tested their story yet and been challenged by their friends. They don't know how to demonstrate it will be something truly distinct or that it must be made. They don't know how to make the movie feel inevitable—and necessary.
If I'm going to read past page 20 of a screenplay, I better feel like I've discovered something, and if I'm past page 50, those enhancements better occur in a new and exciting way.
On the other hand, a great director came into Amazon's office the other day and pitched a very elaborate movie. But in ten minutes, he defined the theme, how it affected his characters, and how it evolved through the acts. He expanded my expectations for it. I was completely sold. Most people aren't able to do that. Or for some reason, they are resistant to doing so.
This isn't that different from how it was when I was making movies 25 years ago, but now it's more necessary. With so much content and so much competition for eyeballs, the necessity to show you can be trusted to do what hasn't been done before is all the more crucial.
But I continue to truly love cinema, filmmaking, and the opportunity to advance both the business and culture. I see far better material as an executive than I ever did as an independent producer. I am constantly learning from the people I get to meet and work with. And I will continue to be passionate about the filmmaking process. It is definitely an interesting life that I have been privileged with. As a fan of lists, here are ten reasons why I continue to have hope for film:
1. Film is the art form that I love most, and other people love film, too. That helps me to survive. Passion is contagious and I love to be infected with it.
2. Cinema is a tangible product—I can share it, build upon it, find things related to it—and it can represent me as much as it can represent others.
3. Movies can change the world: When it gets tough, I remind myself of that. The struggle is worth it.
4. Movies are not just a transaction, but a deep and rich experience. They are worthy of our attention, our love, and our labor.
5. Movies are a very good tool for communication: What do I think is important and how do I share it with others? Movies do those two things—define and transport ideas—really well.
6. Movies help us talk about difficult subjects and concepts. It's really hard to talk about death, but if you make a movie about your parents dying, everybody starts talking to you about it. Sometimes it's hard for me to express my love to those I care about most, but then we watch a movie together and say, "God, that's just like us! This is what we feel. This is what we dream about!"
7. Movies allow us to share an emotional response with strangers in the dark, legally. They require conversation afterward. They propel us into action. When you share with others, your opportunities for connection and discovery expand. All of that has value: some that can be commodified and some that remains intensely personal.
8. Movies expand our sense of possibilities; they blow open our doors of perception. We often feel that life has limits, but some of our most personally defining times are when we discover new possibilities. Movies keep us reaching further.
9. Movies render complexity and transform it into beauty: I love seeing things I don't understand made clear. I had lunch with someone from NASA a while ago, and he said, "We manage complexity." And I said, "That's kind of what I do, too."
10. We are in the midst of a great boom of creative opportunity, particularly for ambitious film. We owe it to ourselves and others to take advantage of that opportunity.
__________________________________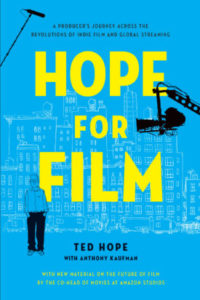 Excerpted from Hope For Film. Used with the permission of the publisher, Counterpoint Press. Copyright © 2020 by Ted Hope.
---