A Brief Survey of Men Having Opinions About What Women Are Reading
Sophie Vershbow on Condescension, Guiltless Pleasure, and Inf*n*te J*st
No TV moment swept my Instagram feed this summer as aggressively as Jake Lacey negging two college girls about their books on episode three of White Lotus. That it resonated with so many real-life readers suggests a crater of truth simmering under the surface of premium cable.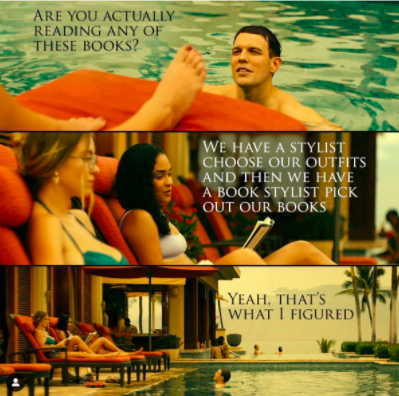 There's a historical (and sadly, current) precedent of condescending attitudes surrounding women and books. Women outside of the upper class were rarely taught how to read in westernized society leading up to the 20th century, and those who did read were seen as engaging in a leisure activity rather than expanding their minds. Women's books were guilty pleasures—tales of romance and scandal to titter about with friends, not important tomes about war and politics men needed to run the world. To this day there's an entire genre called "women's fiction" focused on the lives of women, suggesting that regular fiction—real fiction—is concerned with the lives of men. With such an unliterary history, is it any wonder that a thirty-something trust-fund baby would believe a young girl could only be holding Nietzsche as a prop?
White Lotus is fictional, but there are real men in 2021 who think that women use books as props to ensnare them as if they were falling prey to Marian the Librarian. As someone who regularly reads alone in bars, parks, and coffee shops, I've had more than my fair share of unwanted questions on both what and why I'm reading. The answers are, "don't yuck my yum," and "spending time alone in a crowd brings me comfort." Sorry fellas, no man-eating aspirations in sight.
"There have been lots of arguments where I have told men I just want to read and be left alone," Briana from Portland, Oregon, told me. "They have pushed back, telling me the only reason I am in a bar and reading alone is that I actually DO want men to talk to me." Ginger from Ohio agrees, "the most common response I get when reading alone at the bar is that I'm doing it because I'm lonely… rather than actually wanting to be alone around people and enjoying my book." Drinking at a bar without a gentleman suitor, how sad.
Receiving opinions, often unsolicited, on the types of books they read, was a near-universal experience among the women I spoke to.
Receiving opinions, often unsolicited, on the types of books they read, was a near-universal experience among the women I spoke to. "I had been on a few dates with an English teacher and we had originally bonded over our love of reading and bookstores," Courtney in North Carolina recounted. "When he came over, he said that my bookcase was filled with 'trashy' books—mainly romance and YA. I think he meant his comment to be funny, but I felt the need to start defending myself. I was in the middle of my PhD program and was reading a lot of dry science crap all day. I liked to come home and unwind with something engaging. He then tried to recommend smart books that a smart girl like me should read. That is when the night ended."
Courtney isn't alone in feeling the need to justify her reading material to a man. Many I spoke with felt their partners were indirectly, or in some cases directly, labeling their book choices as unworthy of intellectual merit without even having read them. "The guy who thought that my reading was frivolous really didn't like it when I was reading the Anne Rice Vampire Diaries series," Kelli from Dallas told me. "He also asked why I 'wasted my time with that crap' when I brought a used copy of Peter Taylor's A Summons to Memphis on a trip. It won the Pulitzer!" Like several of the men I heard about, this man "thought any book that wasn't about business was a waste of time and money."
Of all the genres, romance seems to be the one most open to male scorn. Meg, the woman behind the often-cringemaking and hilarious Twitter account @menwritewomen, says she often recommends romance books to men who ask her what to read in order to write women more realistically. "When they hear that, I get reactions like 'is there anything else…?' As if they couldn't possibly sink themselves as low as to read ROMANCE." Instead, many look for sci-fi or mystery novels they can learn about women from. You know, masculine books about rocket ships.
Besides the fact that all genres are capable of merit—or of simply being enjoyable—romance books support a billion-dollar industry that can serve as the financial backbone of a publishing list. "A few years ago I switched jobs to a position that focused primarily on romance novels," Jodi, a big five publishing employee told me. "Men would laugh and be dismissive: 'Why?' 'Have you thought of getting a real job?' 'Have you thought of working on real books?' 'So you read that crap?' 'If you meet my family don't tell them what you do.' Imagine telling your architect boyfriend (as long as we're talking about scenes from romantic fiction) that the office building he designed is too embarrassing to tell your parents about. Ted Mosby would take that really well.
Even women who don't read romance novels get lumped in with the stereotype of romance as the female genre. "Men always assume I'm reading some romance novel and never actually bother listening to me when I'm telling them what my book is actually about," Olysa, whom I spoke with over Twitter DM, noted adamantly. "It's almost like women are incapable of reading something than romance novels." Not wanting to overexaggerate, I asked her to clarify whether this happened more than once. "Yes," she confirmed, "and with the most random men sometimes: my dentist, a waiter, uni professors, but also family members and colleagues." Maybe if some of those men read a genre written primarily by and for women they'd know better than to assume we're only capable of engaging with stories about love.
Imagine telling your architect boyfriend that the office building he designed is too embarrassing to tell your parents about.
You'd think men might sit out commenting on books written by women about female rage, but you'd be wrong. "A 'Nice Young Man' decided that it would be helpful to tell me, in the midst of the Kavanaugh hearings, to simply stop reading so many books 'about abortion and angry women, because you're just making yourself crazier,'" Jessie from New Jersey told me. "I consider it a personal feat that I did not heave my copy of Rage Becomes Her at his head, but instead froze for a minute and asked whether he would like to borrow them instead." But wait, there's more. Molly in Washington, D.C. said a dude asked: "why do you need a book to tell you about female anger?'" while reading Rebecca Traister's Good and Mad, which, as she points out, "is EXACTLY why I needed that book."
I'll spare you a rant about Infinite Jest, but it's so omnipresent in straight male reading culture that I've been in multiple long-term relationships with men who kept a copy by their bed never to once open it while we were together.
There are obviously cisgender, straight men who manage to avoid this trope, but you didn't come here to hear me drone on about the occasional hot guy in a book club who properly critiques the male gaze. You came here to read about men being super weird to women about their reading habits, and it was really, really easy to find examples. I didn't even mention the guy who refused to read anything other than Jack Kerouac, or the multiple women who told me they dated men who refused to read books written by women.
Like so many things women contend with, it can feel as if there's no getting it right, and the good news is that there's no need to try. Who cares what a man who probably reads less than you thinks about the books that bring you joy? Take a note from Paula—say something devastating then return to your copy of Infinite Jest, or as I like to call it, men's fiction.
---