9 Classic Country Songs and the Books They Pair With
From Dolly Parton to Doestoevsky
As Johnny Cash once said, "Of love and hate and death and dying, mama, apple pie, and the whole thing. It covers a lot of territory, country music does." Like a great short story, a country song evokes complex lives in a condensed amount of space. Songwriters create tension between sorrowful lyrics and sweet melodies, and no other genre employs humor quite as well. So much of the fiction writer's craft is present in this form, yet out of all the musical genres, country music songwriting attracts the least amount of scholarship.
Country music struggles to divorce itself from the hillbilly image conjured in the early 20th century when the Carter Family first began recording. Stereotypes about the genre have created a barrier around it as a topic worthy of serious inquiry. While I was researching my second novel The Whole Way Home, I gained a new appreciation for this music too often associated with ignorance and discovered many similarities between its classic songs and my favorite works of literature.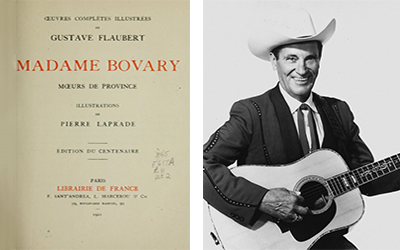 Madame Bovary by Gustave Flaubert
"I'm Walking the Floor Over You" by Ernest Tubb

Emma Bovary believed Rodolphe when he told her they could run away together, leave her bore of a husband Charles behind to botch surgeries and entertain his overbearing mother. She even believed him when he told her they could bring her neglected daughter Berthe along too—but Rodolphe left town in his carriage alone. Ernest Tubb's song "Walking the Floor Over You" similarly captures the despair and disillusionment after being abandoned by a lover who has broken a promise.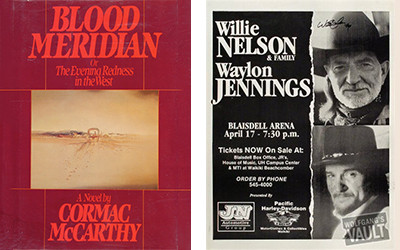 Blood Meridian by Cormac McCarthy
"Mammas Don't Let Your Babies Grow Up to Be Cowboys"
by Waylon Jennings and Willie Nelson
Surely the kid had a mother. Too bad she missed this iconic song by Waylon Jennings and Willie Nelson, the self-proclaimed outlaws of country music. If she had, then maybe, just maybe, she might've directed her son in a different direction. Cormac McCarthy's violent anti-Western novel Blood Meridian defies the romantic notion of the free-roaming cowboy from the Hee Haw, Buck Owens generation. None of those singing cowboys would survive in a McCarthy novel.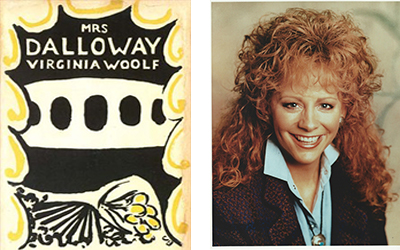 Mrs Dalloway by Virginia Woolf
"Whoever's in New England" by Reba McEntire
Although she rejected his marriage proposal in their youth, Clarissa Dalloway's mind always returns to Peter Walsh. Reba McEntire's song "Whoever's in New England" is told from the point of view of the devoted partner of an unfaithful lover. Though Clarissa doesn't have a physical affair, her mind often wanders to Peter, to her other adolescent love interest, Sally, to her childhood—she's having an emotional affair with the past. When her attention returns to the present, her husband Richard is always there, emotionally unavailable though he may be.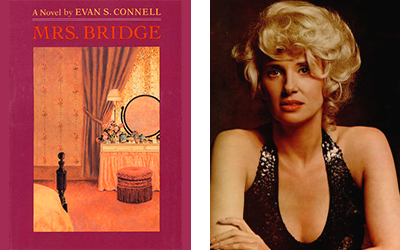 Mrs. Bridge by Evan S. Connell
"Stand By Your Man" by Tammy Wynette
Mr. Bridge might choose to sit through dinner at the country club despite an impending tornado or stop in the middle of a Parisian street to admire the lingerie his wife would never wear, but no matter what her husband decides, Mrs. Bridge—a dutiful early 20th-century housewife—stands by her man until the very end. Tammy Wynette sang "Stand By Your Man" in 1968 as a four-time divorcee—but who's counting? (Mrs. Bridge, that's who.)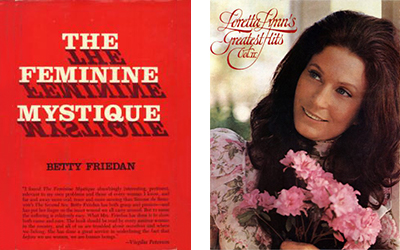 The Feminine Mystique by Betty Friedan
"The Pill" by Loretta Lynn
Loretta Lynn released "The Pill" in 1975, and it quickly became one of her most popular—and most controversial—songs. Radio stations refused to play it. (This wouldn't be the last time this happened to her.) The speaker in this song is jaded by marriage and her role as a housewife who is expected to give birth to as many babies as her body will allow. She compares her home to a chicken coop and her role within it as a hen laying eggs. But she's done with all that, she informs her husband, because she's discovered the pill. This song offers an example of the frustrated housewife Betty Friedan studied to write her seminal book The Feminine Mystique, which was published in 1963.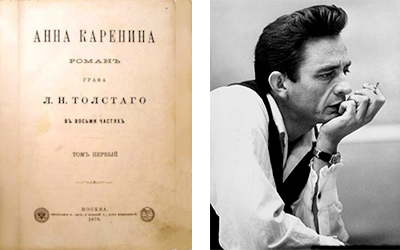 Anna Karenina by Leo Tolstoy
"Ring of Fire" by Johnny Cash 
Anna Karenina is familiar with the burning desire Johnny Cash sings about in this song, which was written by his future wife, June Carter. Affairs often begin with the kind of irresistible lust Cash evokes, and Anna discovers this compulsive feeling when she begins her extramarital affair with Count Vronsky. The song features repeated images of falling, and, well, spoiler alert, Anna's desire leads her to a fallen state, ending, of course, at the train station.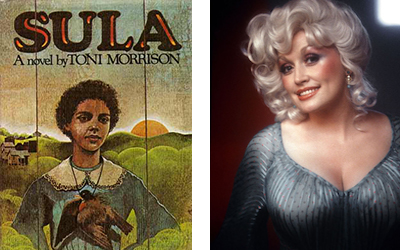 Sula by Toni Morrison
"Jolene" by Dolly Parton
It's generally good advice to avoid having an affair with your estranged best friend's husband. But after returning to her Ohio neighborhood, the Bottom, as an outcast, Sula does just that. "Jolene" is told from the perspective of a woman like Sula's former friend Nel; the speaker knows her husband is tempted by another woman with bright red hair and green eyes. Parton uses second person point of view to address the temptress directly, begging the woman not to take her man despite her power to do so.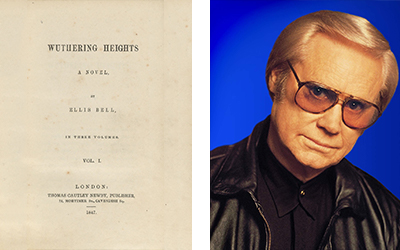 Wuthering Heights by Emily Brontë
"He Stopped Loving Her Today" by George Jones 
In what might be the most romantic of all country songs, "He Stopped Loving Her Today" by George Jones depicts one man's unrequited love that he harbors until the end of his life. The day the townspeople remove his corpse from his home is the day he stops loving the woman he fell in love with in his youth. Bronte's only novel, Wuthering Heights, depicts a similar devotion. At the end of this complicated love story, Heathcliff is so obsessed with the memory of his adopted sister Catherine that he talks to her phantom.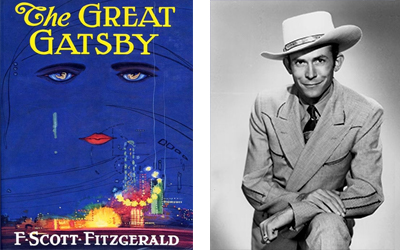 The Great Gatsby by F. Scott Fitzgerald
"I'm So Lonesome I Could Cry" by Hank Williams
Jay Gatsby surrounds himself with glamorous strangers who adore him, yet he remains a mysterious figure to all who meet him, including Nick Carraway. The only person who might relieve his loneliness is Daisy, but he doesn't understand the woman Daisy has become. She struggles to know herself. Every character in this novel is lonesome: the party goers, Daisy, Gatsby, Tom, Myrtle, and even Nick. The iconic Hank Williams song "I'm So Lonesome I Could Cry" depicts this unique kind of sorrow and might be the saddest country music song ever recorded.
__________________________________
Sarah Creech's novel The Whole Way Home is out now.
---