9 Books That Destroy New York City As We Know It
Light Reading For When Escape is Not an Option
At this point in the summer, if you live in New York City, you may be wondering: why? The smell of hot trash assaults you as you walk down the blistering sidewalk. The subway platforms slowly suffocate you as you wait hours for packed trains. No one you need answers from is in the office, or will be ever again. And have I mentioned the hot trash smell? This is all to say that we've reached the time of year when I find myself fantasizing about the (further) destruction of New York City, imagining the many ways it might dissolve as a kind of personal concrete catharsis. The following books help in this imaginary city-killing. Also, they happen to be pretty good late summer reads in their own rights. Go figure.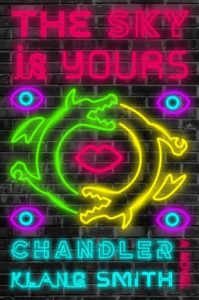 Chandler Klang Smith, The Sky is Yours
Technically, the charbroiled, bombed-out city in Smith's excellent novel is called Empire Island, but that's about as good of an alias as Gotham, so I'm counting it. Sure, building Torchtown, the prison colony downtown, was probably a bad idea. The trouble really started when two dragons appeared in the sky, for reasons known to no one, and began spewing flame at random down into the metropolis, "little love bites on the city's face, not too big to extinguish but too frequent, too persistent, to ignore." Well, at least at first. For the first fifty years, the Fire Department kept the city livable, but eventually, a series of violent mutinies and in-fighting caused it to collapse.
When the fires began to rage unchecked, many reconsidered the decision to linger in this place. Over the years, we had seen many waves of evacuation, but for those of us inextricably bound to the city, this was the worst. The hot-meat carts rolled away. The last of the fluorescent lights flickered off in the conference rooms. The buses, stolen by their drivers, rumbled over the bridges, never to return.
. . .
Even in the best of times, a city does not love you back. We city-dwellers are a strange breed, lodging in cramped rooms, filling our lungs with smog. Our buildings block the sun; our lights weaken the night. Humans make a city, but a city makes humans tolerate the intolerable. We have always known this in our minds. Now we know it in our broken hearts. Empire Island will kill us in the end. But what would it mean to leave?
Like I said: it's obviously New York.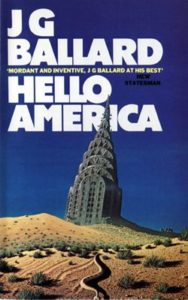 J. G. Ballard, Hello America
When this novel begins, America has long been deserted—that is, it has both been abandoned by all of its previous inhabitants and turned into a desert by climate change (see what I did there?). The European explorers who land on the shores of Manhattan find the old city covered in dunes ten feet deep, the golden sand blown in from the Appalachians, but the skyline as they remember it from their history books (including the Twin Towers, which makes for somewhat dissonant reading)—if a little altered by time. I particularly love this description of the Verrazano Narrows bridge:
In some way it had managed to exaggerate itself during the long century it had been forgotten by everyone else. Many of the vertical cables had snapped, and the huge, copper-hued structure, covered with rust and verdigris, resembled a recumbent harp that had played its last song to the indifferent sea.
Destruction can be lovely, after all.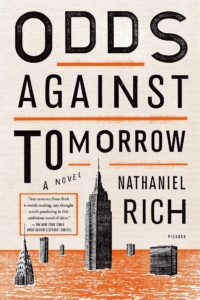 Nathaniel Rich, Odds Against Tomorrow
In this oddly prescient novel, a disaster forecaster becomes a strange kind of celebrity when one of his predictions comes true, and a storm floods New York City with water. "The city had been blanketed by an uncanny iron darkness," Rich writes. "The only time they could see anything was when the lightning struck, filling the sky with baroque blue designs. . ." As the water rises, the forecaster resorts to traveling the city in a canoe.
They saw things they instantly tried to forget. The swollen corpse of a tabby cat, its head unnaturally inclined; doggy-paddling rats; a child's coloring book, the bleeding ink turning the water different colors; a red sports bra. On Forty-sixth and Second, a brownstone had capsized, effectively damming the street with brick sections of wall and squat sandstone plinths. The rooms were completely bare inside; even the wallpaper in some places had been torn off by the wind. And once in a while they saw bodies. These tended to gather at street corners and beneath the parked cars. They were all half submerged, limbs sprawled and distended. Many were naked, their clothes having been torn off by the force of the flood.
As far as the prescient bit goes: this novel, in which the city is decimated by Hurricane Tammy, was written before Hurricane Sandy hit, and came out soon after.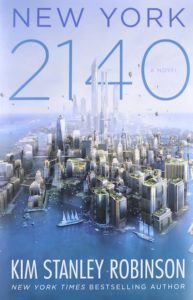 Kim Stanley Robinson, New York 2140
Another novel in which New York City has been drowned—much less whimsically, but somehow more humorously (Robinson has described the novel as "a comedy of coping"). It is 2140, and the oceans have risen by 50 feet, drowning lower Manhattan when the tide is in, and effectively turning the Cloisters into Wall Street, "the capital of capital." But this seems to have, somehow, rather improved the city (though not for the many who drowned in the transition period, I suppose). Or at least it hasn't made it any worse. "Yes, people returned to the drowned parts of New York," we are told "Actually many of them had been living in such shitholes before the floods that being immersed in the drink mattered little. Not a few experienced an uptick in both material circumstances and quality of life." The city had adapted in this novel, as I can only imagine it would in reality: with skybridges, with boats, with enterprise. Still, you can't deny that from our current vantage, it's a disaster zone.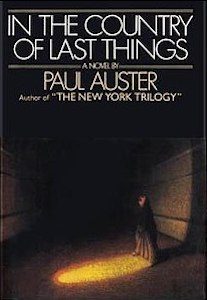 Paul Auster, In the Country of Last Things
The city in this novel is unnamed, but it feels like New York, or at least the New York of the near future, a future in which everything has been reversed and nothing is being remade anymore, in which most of the population is homeless, the rich have fled, and certain kinds of suicide are fetishized, everything is in constant flux. "A house is there one day, and the next day it is gone. A street you walked down yesterday is no longer there today," our narrator Anna tells us. Rubble is everywhere. "You must learn how to manage the unseen furrows, the sudden clusters of rocks, the shallow ruts, so that you do not stumble or hurt yourself. And then there are the tolls, these worst of all, and you must use cunning to avoid them." Men have built barricades out of fallen buildings and piles of rock, and "they mount them, with clubs, or rifles, or bricks, and wait on their perches for people to pass by." The tolls smell. This is one way to avoid them.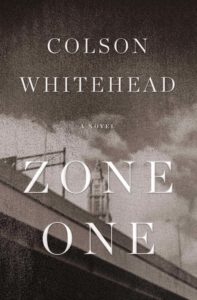 Colson Whitehead, Zone One
You know how to really destroy a city? Mix in some zombies, naturally. In this novel, downtown Manhattan has been dubbed Zone One, and while most of the zombies have been cleaned out by the Marines, the deeply mediocre Mark Spitz is part of the cleanup crew eliminating stragglers—so that the city can be inhabited by the living again.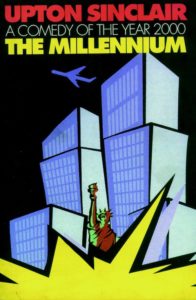 Upton Sinclair, The Millennium: a Comedy of the Year 2000
Certainly not Sinclair's best work, but amusing as a curiosity: it's the year 2000 (obviously) and in the middle of Central Park the Pleasure Palace, an enormous playground for the uber-wealthy, is opening. But during that opening, there is an accident—an explosion that kills everyone in the world! Except the eleven people inside the Pleasure Palace, who are able to escape in a super-fast aircraft dubbed "The Monarch of the Air!" Upon landing, the eleven survivors begin to rebuild society, first making all the same mistakes that we did in the first go-around, but eventually finding their way to something a bit better: socialism!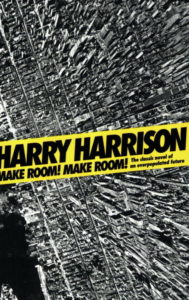 Harry Harrison, Make Room! Make Room!
This classic 1966 science fiction novel is probably best known for inspiring the cult film Soylent Green (in the book soylent is made of soy beans and lentils, not people), but it's the one that I think about when I'm trying to get home on the subway at rush hour. And not just because people are often literally shouting its title in a small space. It's 1999 and New York City is hopelessly overpopulated, pushing 35 million inhabitants in a world of seven billion. Needless to say, the city has devolved into rampant homelessness, disease, riots, looting, murder, malnutrition, and (least but longest of all) marches in favor of state-ordered population control. You think your apartment is small now—imagine sharing it with six more people.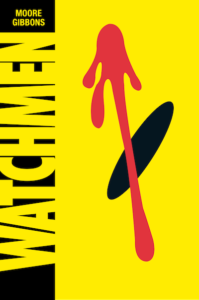 Alan Moore, Watchmen
As Brian Raferty put it recently in WIRED, the alternate-history New York City of Moore's classic graphic series is "a ravaged, ready-to-pack-it-in loony-toon town beset by all sorts of dangers, from social-engineering sociopath billionaires (oh, hey, sounds kinda familiar) to hysterical, chaos-churning far-right news outlets (that, too) to a frowny, jowl-gestating US president with a team of suspect advisors and easy access to nukes (gulp)." So basically, New York has already been destroyed! However, at least it has not yet been attacked by a squiddish faux-alien monster that leaves buildings decimated and piles of bodies in Times Square.
---