25 of the Most Expensive Books You Can Buy on the Internet
In Case You've Got Some Extra Money Lying Around
When you have a little extra cash burning a hole in your pocket, it's always a good idea to spend it on a book. When you have a lot of extra cash burning a hole in your pocket, and your pocket is made of silk or gold or unicorns or something, then well—it's probably an even better idea to spend it on a book. A very expensive book, perhaps. Luckily, many of these are available on the Internet, and it's actually pretty fascinating to see how old books and first editions are priced—it's sort of like the art world, in that it's not always clear why something is valuable. To that end, I've collected some of the most expensive for you to look at here.
By the way, this is by no means a scientific experiment—I certainly don't claim to have looked at every book sale on the Internet. I excluded maps, manuscripts, ephemera, lithographs, and books that were primarily illustration (Audubon, etc.), as well as multiple books sold together as a lot. I also picked and chose among the most expensive books I could find, and have highlighted what was most interesting—whether because of the book in question or the history behind it (or lack thereof). Most of the books on the below list don't get anywhere near the most expensive books ever sold—but unlike any of those, the books below could be yours today. Or, you know, today plus 3-5 business days for shipping.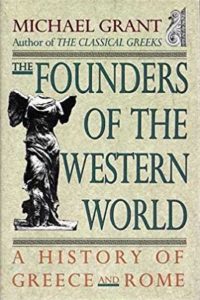 Michael Grant, The Founders of the Western World: A History of Greece and Rome (First Edition) — $700,011.00
Sold by JARE Inc. dba Miles Books at AbeBooks
Article continues after advertisement
From the seller: "Suitable as a gift."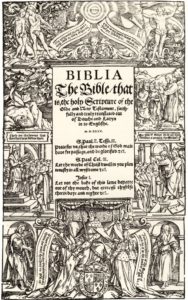 1535 Coverdale Bible (First Edition of the First Printed Bible in English) — $695,000.00
Sold by RareBibles.com at AbeBooks
From the seller: "An extraordinarily fine copy of the first edition of the printed Bible in English. Six parts in one volume, folio (12 1/4 x 7 7/8 in.; 311 x 200 mm). Text in double columns, black letter (English for preliminaries, Schwabacher for the text with roman for marginalia and disputed words), General title within woodcut border attributed to Hans Holbein the Younger, Separate titles within woodcut borders composed of eight blocks for parts two (The seconde parte of the Olde Testament) and four (All the Prophetes in Englishe) of the Old Testament, the Apocrypha and the New Testament, each with separate registers and foliation (as well as for the Book of Job which has a drop title), 158 woodcut illustrations made from 68 woodblocks derived from designs by Hans Sebald Beham (which first appeared in a Bible printed at Frankfurt by Christian Egenolff, 1534), woodcut and flourished gothic script initials; washed and pressed, [Maltese cross]1–6, TT5, and folding map (as usual) supplied in fine old facsimile by John Harris, minor marginal repairs to some leaves chiefly to lower right corners. Early twentieth-century crushed black morocco, spine in six compartments lettered gilt, gilt-ruled turn-ins, edges gilt; spine and board edges very lightly rubbed. From the collection of Dr. Adam Clarke (1760-1832), a prominent Methodist theologian and contemporary of John Wesley. Clarke is best remembered for his commentary on the English Bible, in which he references this volume. Later acquired by William Gott (1797-1863), including his engraved armorial with the motto 'Nec temere | Nec timide.'"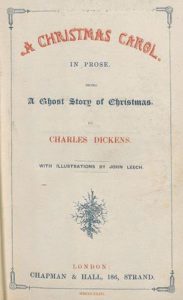 Article continues after advertisement
Charles Dickens, A Christmas Carol (First Edition) — $500,000.00
Sold by the Antiquarian Bookstore at AbeBooks
From the seller: "Rare true first printing of A Christmas Carol. Being A Ghost Story of Christmas by Charles Dickens. London: Chapman & Hall 1843. (Blue and Red title page, blue half title, "Stave I"). Bound in a fine signed Riviere binding with inner gilt. Four color plates + four woodcuts all by John Leech. The entirety in incredibly fine clean condition. Own the Finest."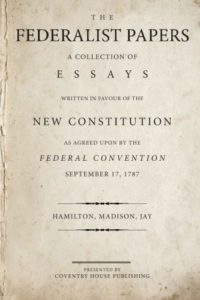 Alexander Hamilton, James Madison, & John Jay, The Federalist (First Edition) — $450,000.00
Sold by the 19th Century Rare Book & Photograph Shop at AbeBooks
From the seller: "First edition of The Federalist, the most sought-after of all American books. An exceptional copy in the original boards, with the edges untrimmed. A splendid association copy from the library of Major Roger Alden. Alden enlisted as a soldier in Benedict Arnold's expedition to Quebec in September 1776. He fought at Germantown in October 1777, and spent the winter at Valley Forge. He rose through the ranks, ultimately serving as aide-de camp, with the brevet rank of Major, to Brigadier General Jedediah Huntington. After the war Alden was elected deputy secretary of the Continental Congress, became deputy secretary of Foreign Affairs under Washington, and was the man entrusted with the original Constitution after its signing. . . Two years later, Alden was again entrusted with the great state papers, this time including the Declaration of Independence. When the new government was formed in 1789, President Washington ordered Charles Thomson, secretary of the Continental Congress, "to deliver the Books, Records, and papers and the late Congress, the Great Seal to Mr. Roger Alden, the late Deputy Secretary of Congress; who is requested to take charge of them until farther directions shall be given." Alden was keenly interested in the debates surrounding the new government, and he evidently treasured his copy of The Federalist, signing each volume on the cover and on the title. . . In July 1789, the First Congress under the new Constitution created the Department of Foreign Affairs and directed that its Secretary should have "the custody and charge of all records, books, and papers" kept by the department of the same name under the old government. When Washington wrote to Thomas Jefferson in Paris on October 13, 1789, offering him the post of Secretary of State, he suggested Roger Alden to be his assistant: "Unwilling, as I am, to interfere in the direction of your choice of assistants, I shall only take the liberty of observing to you, that, from warm recommendations which I have received in behalf of Roger Alden, Esq., assistant Secretary to the late Congress, I have placed all the papers thereunto belonging, under his care. Those papers, which more properly appertain to the office of Foreign Affairs, are under the superintendence of Mr. Jay, who has been so obliging as to continue his good offices, and they are in the immediate charge of Mr. Remsen." This extraordinary survival, worthy of the most discriminating collector, combines excellent original condition with an outstanding Founding era provenance. This is one of the most desirable examples of The Federalist remaining in private hands."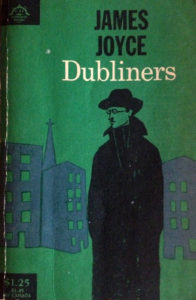 James Joyce, Dubliners (First Edition) — $423,644.78
Sold by Peter Harrington at AbeBooks
From the seller: "Octavo. Original red cloth, titles to front cover and spine gilt. Housed in a custom red quarter morocco and cloth slipcase, with matching chemise. Spine slightly faded, small white mark to centre of spine, light foxing to contents. A very good copy. First edition, first impression, presentation copy, inscribed by the author in the month of publication on the half-title, "With the writer's compliments James Joyce Trieste 23 June 1914". This is one of the earliest copies inscribed by Joyce: under his onerous contract with Grant Richards, he was obliged to purchase 120 copies of the book himself, and this copy would have been among the first batch sent out from London to the author after the official publication date, 15 June. Trieste was then in the grip of tight postal restrictions, with the Great War only days away, and foreigners in particular were subject to customs inspections and postal delays. Joyce mentions these a number of times in his letters around this date. Rare: just three inscribed copies of Dubliners appear in auction records since 1975, of which only one other was inscribed in the month of publication (the other two were signed by Joyce much later, in the late 1920s). In a typical piece of self-promotion, Joyce has not only inscribed the book, but also inserted in it "Press Notices of Chamber Music", carefully reprinted from his scrapbook of clippings. Following Ellman, the traditional wisdom has been that Joyce requested Grant Richards to print the leaflet for him, but this is extremely unlikely. It would have been quite out of character for Grant Richards to agree to print a puff for any production of Elkin Mathews, his commercial rival, and it is clear from the leaflet's appearance that it was Joyce himself who had the leaflet printed in Italy. There is no contact address given for Elkin Mathews; the typography and paper size are both characteristically Italian, rather than English; and the punctuation is eccentric at a time when Joyce was mulling over his reinvention of punctuation for Portrait. The press release is unrecorded as an original Joyce item, though, as it was clearly assembled from press cuttings and published by Joyce, it rightly belongs in the bibliography."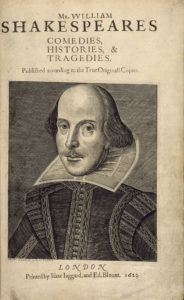 William Shakespeare, Comedies, Histories, and Tragedies (Published according to the true Originall Copies; The second Impression) — $394,923.10
Sold by Peter Harrington at AbeBooks
From the seller: "Mid 19th-century red crushed morocco, spine divided into six compartments by raised bands, gilt-lettered direct in second, dated in third, other compartments with gilt cornerpieces, sides with wide gilt frames enclosing centrepiece, board edges and turn-ins gilt, marbled endpapers, edges gilt over earlier red, by Hayday. Red morocco backed folding-case. . . Spine faded, extremities a bit rubbed, a few scuffmarks; the first leaf with Jonson's "To the Reader" inlaid, title-page lightly soiled and with marginal repair, Aa6 with marginal repair touching 2 letters and costing a bit of rule, marginal repairs to last several leaves, very occasional tiny rustholes or light soiling, a number of minor corrections in an early hand. A tall and very fresh copy. Engraved portrait of Shakespeare by Martin Droeshout (third state) on the title-page, woodcut initials and head- and tailpieces, text printed in two columns within rules. The Second Folio, that is, the second edition, first issue, of the collected edition of Shakespeare's plays, set page-for-page from a corrected copy of the First Folio, 1623, edited by John Heminge (d. 1630) and Henry Condell (d. 1627). This is the edition of which William Prynne complained that it was printed on best crown paper. It is estimated that the original edition was of 1,000 copies, shared between the five publishers listed in the colophon, all of whom were proprietors of rights to one or more of the plays. This copy is one of those printed for Robert Allot, who took the lion's share. The book is also notable for containing "An Epitaph on the admirable Dramaticke Poet, W. Shakespeare" by John Milton, printed on the Effigies leaf, the first of his English-language poems to be printed."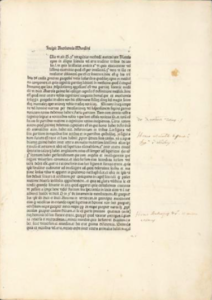 Mondino dei Liuzzi, Anatomia (First Edition) — $375,000.00
Sold by Jonathan A. Hill at AbeBooks
From the seller: "First edition, a remarkable discovery of the third known copy of the true first edition of the first modern book devoted solely to anatomy. The other two surviving copies are in the Biblioteca Corsiniana (Rome) and the Biblioteca Comunale (Viterbo). The rarity of this book is well-known: it is revealing that Castiglioni, Choulant, and Garrison all cite the 1478 edition as the first printing. . . A very fine copy with all edges uncut and preserved in a slipcase. Two contemporary annotators have made a number of neat comments in the wide margins. This copy was clearly removed from a sammelband. The final four leaves have some worming, becoming increasingly more pronounced (but not at all offensive) touching the text of the final three leaves."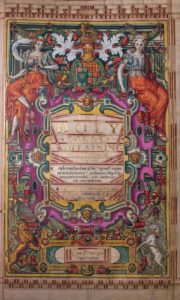 1616 Illuminated Folio of the Authorized King James Bible — $350,000.00
Sold by RareBibles.com at AbeBooks
From the seller: "An extraordinary illuminated copy of the first small folio edition of the Authorized (King James) Version of the Bible. One of the "Lost Treasures of Stowe House," it belonged to the first Duke of Buckingham and Chandos. As a celebrated cornerstone of the library at Stowe House, it was prominently featured in a large portrait of Dr. John Morecroft (an early Reformer and previous owner). The General and New Testament titles within historiated woodcut border incorporating the Royal Arms, full-sheet map of the Holy Land, full-page woodcut of Adam and Eve in the Garden of Eden, all richly colored by a contemporary hand and highlighted with gold, title-page and calendar only from the Book of Common Prayer, Genealogies with 34 pages of woodcut family trees, these leaves, along with every page of the volume are handcolored and/or illuminated with dense geometric border designs with many initials, chapter headings and headlines highlighted in gold. Contemporary black morocco, panelled in gold and with bands of silver applied to the covers and board edges, spine gilt in eight compartments, plain endpapers and gilt edges."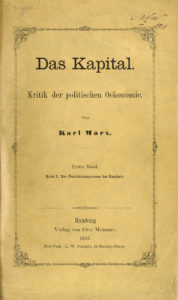 Karl Marx, Das Kapital (First Edition)— $316,223.72
Sold by Antiquariat INLIBRIS Gilhofer Nfg. GmbH at AbeBooks
From the seller: "First edition: a fine copy of one of the most influential books ever published. The exceedingly rare first volume was the only one to be completed by Marx in his lifetime, while the second and third volumes were completed posthumously by Engels from Marx's papers (1885 and 1894). . . Stamp of the Würzburg Volksbildungsverein on title page (slightly trimmed at bottom during rebinding ca. 1900). Occasional slight staining to edges near beginning, not touching text; a few pencil annotations by an economic scholar, ca. 1900. Altogether a tight, well-preserved specimen."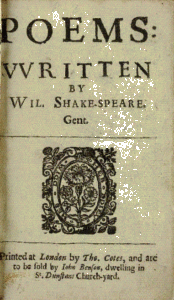 William Shakespeare, Poems (First Edition, 1640) — $275,000.00
Sold by Battledore Ltd at AbeBooks
From the seller: First Collected Edition. This edition by Benson brings together all but eight of the sonnets: "A Lover's Complaint", "The Passionate Pilgrim" (mostly not by Shakespeare), "The Phoenix and the Turtle" (attributed to Shakespeare), and elegies and other poems honoring Shakespeare by Jonson, Milton, Digges, Herrick, Strode, Carew, and others. Benson famously reorganized the sonnets, probably out of concern that an old-fashioned sonnet sequence would not appeal to the generation of the Cavalier Poets. Many are run together to form poems of twenty-eight lines or more, and all are given titles. Benson also made some effort to disguise the homoerotic content of some sonnets, perhaps most strikingly in his changes to Sonnet 101 ("O truant Muse, what shall be thy amends"), which he runs together with Sonnet 100 under the title "An invocation of his Muse" while he also switches the gender of the pronouns to make the poet's lover female."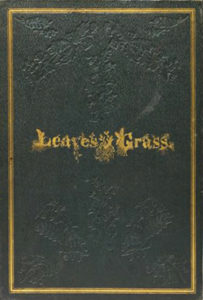 Walt Whitman, Leaves of Grass (First Edition) — $270,000.00
Sold by the 19th Century Rare Book & Photograph Shop at AbeBooks
From the seller: "First edition, one of only 200 copies of the first issue of Whitman's Leaves of Grass. . . According to the bookbinder's records, 795 copies were bound; Whitman reported that 800 were printed. The first 200 were bound in June 1855 in binding A (green cloth with extra gilt stamping and all edges gilt). In December 1855 to January 1856, another 262 copies were bound in binding B (green cloth with less ornate stamping), and at this same time another 150 copies were bound in binding C (paper wrappers). Finally, in July 1855, 46 copies were bound "in boards mounted." Ours is an excellent example of the first group of 200. Most copies of this fragile volume that have appeared in recent years have been heavily restored. This is a very handsome copy. Provenance: signature of Thomas Bucher dated October 1855. The first issue Leaves of Grass is rarely found with an 1855 provenance. . . Original gilt decorated green cloth, all edges gilt (binding A). First gathering reinserted, minor repairs at gutter. Very minimal wear. An excellent copy."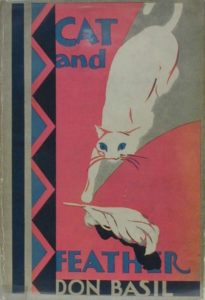 Don Basil, Cat and Feather (First Edition) — $250,275.00
Sold by Rushton H. Potts at AbeBooks
From the seller: First American edition, Near Fine condition/ Near Fine dust jacket with one external tape repair. Plagiarized from The Back Bay Murders by Roger Scarlett.
William Blake, Poetical Sketches (First Edition) — $250,000.00
Sold by John Windle, Antiquarian Bookseller at AbeBooks
From the seller: London: 1783. Slim 8vo, 76pp. Complete with the final blank. Modern full green morocco, enclosed in a quarter green morocco box. With the bookplates of J.O. Edwards in the book and H. Bradley Martin in the box. First edition of Blake's first book, of which 24 copies are recorded with three of those in private hands; this is Copy E. Of these copies, all are in Institutions except for one known but unlocated copy, Essick's copy, and this copy, which was sold at the Bradley Martin sale in 1990 for $121,000 and resold to a private collector. Presentation copy inscribed by John Flaxman to William Long. This copy has five manuscript corrections by Blake that are also found in two other copies. "The original 1783 copies were seventy-two pages in length, printed in octavo by John Flaxman's aunt, who owned a small print shop in the Strand, and paid for by Anthony Stephen Mathew and his wife Harriet, dilettantes to whom Blake had been introduced by Flaxman in early 1783. Each individual copy was hand-stitched, with a grey back and a blue cover, reading "POETICAL SKETCHES by W.B." It was printed without a table of contents and many pages were without half titles. Of the extant copies, eleven contain corrections in Blake's handwriting. Poetical Sketches is one of only two works by Blake to be printed conventionally with typesetting; the only other extant work is The French Revolution in 1791, which was to be published by Joseph Johnson. However, it never got beyond the proof copy, and was thus not actually published. Even given the modest standards by which the book was published, it was something of a failure. Alexander Gilchrist noted that the publication contained several obvious misreadings and numerous errors in punctuation, suggesting that it was printed with little care and was not proofread by Blake (thus the numerous handwritten corrections in printed copies). Gilchrist also notes that it was never mentioned in the Monthly Review, even in the magazine's index of "Books noticed", which listed every book published in London each month, signifying that the publication of the book had gone virtually unnoticed. Nevertheless, Blake himself was proud enough of the volume that he was still giving copies to friends as late as 1808, and when he died, several unstitched copies were found amongst his belongings."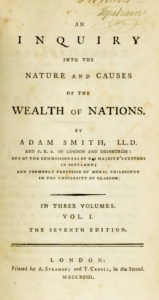 Adam Smith, An Inquiry into the Nature and Causes of the Wealth of Nations (First Edition) — $235,000.00
Sold by Quintessential Rare Books, LLC at AbeBooks
From the seller: "First Editions, First Printings of both volumes in this (2) volume set. A wonderful copy of this true first edition bound in contemporary calf with red gilt-lettered spine labels. The bindings on both books are solid with minor wear to the spine and edges. The pages are clean and complete with light wear. Overall, a fabulous set in collector's condition."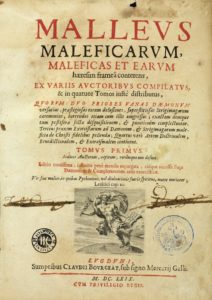 Heinrich Institoris, Malleus maleficarum (First Edition) — $221,356.60
Sold by Antiquariat INLIBRIS Gilhofer Nfg. GmbH at AbeBooks
From the seller: "First edition of the notorious Hammer of Witches, which laid down procedures for finding out and convicting witches. Due to the innovation of the printing press, it contributed significantly to the early modern witch craze. "The most important and most sinister work on demonology ever written. It crystallized into a fiercely stringent code previous folklore about black magic with church dogma on heresy, and, if any one work could, opened the floodgates of the inquisitorial hysteria[. It was] the source, inspiration, and quarry for all subsequent treatises on witchcraft" (Robbins, Encyclopaedia of Witchcraft and Demonology). The book was published and republished in at least 13 editions up to 1520, then revived from the late 16th century, undergoing at least 16 editions between 1574 and 1669, as well as numerous editons in German, French and English. Complete copies of the first edition are rare, and only a few copies are found in American institutions. Upper cover stained and soiled, first three pages of text with some soiling and staining, neat repair to final printed leaf. All in all, a remarkably fine, clean copy from the famous Donaueschingen library of the princes of Fürstenberg with their printed spine title and shelfmark "298" on the spine label (repeated in pencil on recto of f. 1).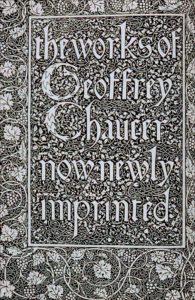 Geoffrey Chaucer, The workes of Geffrey Chaucer, newlie printed, with dyvers workes whiche were never in print before: as in the table more playnly dothe appere (1532) — $215,412.60
Sold by Peter Harrington at AbeBooks
From the seller: "Contemporary blind-tooled calf lifted from the original binding and relaid on heavy boards and rebacked to style (a pencilled note dates the restoration 1946), the sides panelled with a stylised wheatsheaf roll and a decorative roll incorporating heads, the fore edges showing the marks where clasps and catches were formerly attached. Housed in a dark brown cloth flat back box. Early ownership inscriptions of John Rappe in French, one in The Romaunt of the Rose (foot of sig. 2E3v) dated 8 June 1583; early ownership inscriptions of Ro: Tirell (=Tyrell) at head of The Canterbury Tales part-title and again at head of The Knight's Tale, and of Thomas Lanham at foot of Troylus and Creseyde part-title; some early underlines and contemporary marginalia throughout; front free endpaper with pencilled note (in the hand of Lord Kenyon?) stating that the book was bought at the sale of Captain Walter Tyrell's books, Christie's 1891; modern bookplate of Robert S. Pirie. . . First complete collected edition of Chaucer and the first attempt to collect into a single volume the complete writings of an English author. The Canterbury Tales alone had been first printed by Caxton, first without and then with woodcuts, before Pynson attempted something like a collected edition in three separate publications of c.1526, but Godfray's publication "was the first attempt at a critical edition and for over 200 years provided the standard text of The Canterbury Tales" (Hayward). Only The Canterbury Tales is illustrated: the cuts of the Knight and Squire are copies from Pynson's 1526 edition (Hodnett 2066, 2067), while the remaining 13 were cut for Caxton's 1483 edition (Hodnett 214–236). The editor was William Thynne, clerk of the kitchen and of the green cloth to Henry VIII, and recipient of numerous grants and appointments. Thynne provides the first printed editions of a number of Chaucer's major works in verse and prose, including The Book of the Duchess, The Legend of Good Women, Boece, and The Treatise on the Astrolabe. He also printed a large number of works not by Chaucer, including poems by John Lydgate, Thomas Hoccleve, Richard Roos, and Robert Henryson, giving the volume an additional if accidental value as a poetical miscellany. The introductory materials to the edition are prefaced by an unsigned dedication to Henry VIII by Sir Brian Tuke, the king's secretary, arguing for the poet's pivotal role in the development of the English language. The publisher Thomas Godfray was associated with some of the more radical propagandists of the Tudor revolution and Thynne's edition began a gradual process in the 16th century by which Chaucer was established both as the father of English poetry and claimed for the nation as a proto-Reformer, so that John Foxe the martyrologist would eventually acclaim him as "a right Wycliffian". In its care and attention lavished on primarily secular literature, it also provided the model for the folio editions of the Jacobean dramatists. This is much the most complete copy to have appeared in commerce in the past 40 years. The only other substantially complete copy in that period was the William Morris–Richard Bennett–Michael Tompkinson–Albert May Todd copy, lacking six leaves."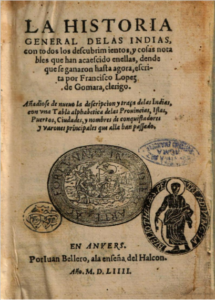 Francisco Lopez de Gomara, Primera y segunda parte dela historia general de las Indias contodo el descubrimiento y cosas notables que han acaecido dende que se ganaron ata el año de 1551 (1553) — $208,000.00
Sold by Daniel Crouch Rare Books at AbeBooks
From the seller: "The first printed history of Mexico, and the first appearance of the name "California" to describe the West Coast of North America. Two parts in one volume. First edition. Small folio (302 by 205mm). Gothic letter, two columns, woodcut title to part one printed in red and black, large woodcut of the arms of Cortes on title to part two, woodcut initials, two woodcut maps showing the new and the old world, woodcut of a bison on cxvi verso in part one, 262 leaves, 5 leaves (ai-iiii and ci supplied in facsimile), title, maps, and first few leaves with damage to sheet edges with small areas of loss skilfully repaired with reinstatement in ink facsimile, fiiii, gii, and miiii with small tear at foot, folio liii recto with the word "ygualar" without the cancel slip recorded on the copy at JCB, tiiii torn at lower right corner in first part, biiii, gii, and tiiii with small tears in second part, one line of text on verso of folio lvi in second part corrected by means of a printed overslip "narvaez" not previously recorded by other bibliographers, this example without the printed overslip on folio xxxvii noted on several previous examples. Contemporary vellum over boards, rebacked."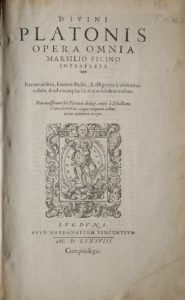 Plato, Omnia opera — $205,000.00
Sold by WP Watson Antiquarian Books at AbeBooks
From the seller: "2 parts in one vol, folio (292 x 192 mm), ff 488 [including the two blanks, 2/4 and ii4] paginated [xxxii] 502 [2, blank]; 439 [1], Greek type [with some Roman, i.e. on Greek and Latin title, Aldus' dedication to Pope Leo X, Latin table of contents, Greek and Latin colophon], initial spaces with printed guide letters, Aldine device on title and colophon; some marginal waterstaining on corners of first ten and last 20 leaves, not affecting text, otherwise a remarkably clean copy, bound in red morocco for King Charles II by Samuel Mearne, sides with gilt filleted panels with crowned royal cypher at corners, gilt panels on spine with same cyphers, 'C.[arolus] II. R.[ex]' at foot of spine, gilt edges, old repair to head and tail of spine, joints a bit rubbed, in a red-morocco-backed box. Editio princeps of Plato's Dialogues and of the other works contained, a magnificent copy bound for King Charles II by the Royal binder Samuel Mearne. Plato's dialogues and other writings are the foundation texts of Western philosophy and science and central to the intellectual development of the West. As Alfred North Whitehead remarked, all of Western philosophy can be regarded as 'a series of footnotes to Plato'.Besides the texts of Plato, the edition includes Timaeus Locrus, a Hellenistic paraphrase of the Timaeus, and Diogenes Laertius's Vita Platonis (in Greek) from Plutarch's Lives and sentences of the Philosophers.This work was edited by Marcus Musurus (ca 1470-1517), working closely with Aldus. Musurus apparently utilised manuscripts belonging to Cardinal Bessarion, along with others. Aldus dedicated this work to Pope Leo X.Charles II, upon his restoration to the throne in 1660, appointed Samuel Mearne (1624-83) Bookbinder to the King. Samuel, along with his son Charles, bound over 700 volumes for the Old Royal Library (later incorporated into the British Museum Library)."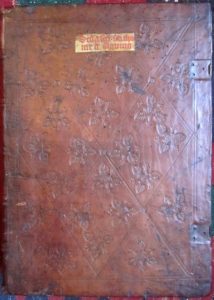 Thomas Aquinas, Summa theologia: Secunda secundae (1467) — $180,000.00
Sold by Musinsky Rare Books at ABAA
From the seller: "A very fine, full-sized copy of the first dated edition, the second printed, of the Secunda secundae, the most influential and earliest printed of the various parts of Aquinas's Summa theologiae, the most important philosophical treatise of the medieval Church ("the dogmatic Bible of Catholicism" – Verfasserlexikon 2) and an essential philosophical work of the Western canon. This was the first book printed by Peter Schoeffer alone, following the death of his father-in-law Johann Fust, Gutenberg's financial backer, in 1466. Fust and Schoeffer had printed in partnership from 1457 until Fust's death. The type used in this edition was originally cut for the 1459 Duranti, Rationale divinorum officiorum, the fourth recorded edition from their press. . .Unlike Mrs. Doheny's vellum copy, this copy is without cancels (as is the copy in the Morgan Library). Three variant settings of the 9-line colophon are recorded, showing that the colophon was apparently printed in a separate operation from the rest of the page. This copy has the setting described by Hain and BMC, with Aquinas' name in line 1 and with the date in line 9 reading "die sexta mensis marcij". . . The handsome binding is decorated with four tools of which two have been ascribed to the workshop of the Benedictine Monastery at Asbach, Lower Bavaria (now Austria), active from the mid-fifteenth-century to ca. 1513. The tools are Schunke, Schwenke-Sammlung Palmette 26 and Einbanddatenbank s021178, a curious small triangle with an internal swirling design ("Wirbelfigur")."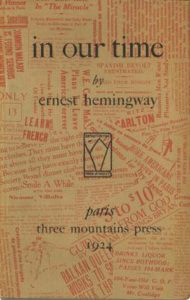 Ernest Hemingway, In Our Time (First Edition) — $150,000.00
Sold by Peter L. Stern & Co. Inc. at AbeBooks
From the seller: "First Edition of Hemingway's second book; one of 170 numbered copies. Binder's glue stains on endpapers, as usual; some rubbing; chipping at the extremities; a very good copy in a cloth slipcase, with chemise. Presentation copy; inscribed on the front free endpaper, 'For Bertram and Gusta Hartman with love from Ernest Hemingway/ Paris 1924.' Hartman, an American painter, married a German photographer's assistant who made an unsuccessful business of selling hooked rugs based on her husband's designs. Hemingway wrote an apparently unkind sketch about them. On the recommendation of the artist, Hemingway, with his wife and son, found cheap accomodation in the Austrian Alps, where Hartman was his bowling companion, and where he painted a watercolor of the author. Inscribed copies of this book are considerably scarcer than Three Stories and Ten Poems, accounted for only in part by the larger printing of the first book."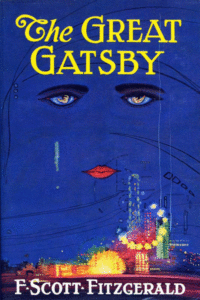 F. Scott Fitzgerald, The Great Gatsby — $143,608.40
Sold by Peter Harrington at AbeBooks
From the seller: "Octavo. Original dark green linen-grain cloth, titles to spine gilt, to front board in blind. With the original dust jacket. Housed in a blue quarter morocco solander box by the Chelsea Bindery. Spine very slightly rolled; an excellent copy in bright cloth, in the jacket with some loss to foot of spine extending into panels, rear panel with additional 1 inch loss to lower left corner, a couple of shallow chips to head of front panel and spine, extremities rubbed and nicked, light mark to rear panel, nonetheless the iconic front panel presenting nicely. First edition, first printing, first state of the text, first issue dust jacket. The copy is the correct first printing, with "chatter" on p. 60, line 16, "northern" on p. 119, line 22, "it's" on p. 165, line 16, "away" on p. 165, line 29, "sick in tired" on p. 205, lines 9-10, and "Union Street station" on p. 211, lines 7-8; the jacket is the first printing, with lowercase "j" in "jay Gatsby" on the back at line 14 hand-corrected in ink. The iconic jacket was designed by Francis Cugat (1893–1981). Charles Scribner III ("Celestial Eyes – from Metamorphosis to Masterpiece") argues that not only is the jacket recognised as the most eloquent in American literary history, but that Cugat's artwork demonstrably had an effect on Fitzgerald's evolution of his literary masterpiece, as the author responded to sketches and artwork shown to him before the book was complete, a perhaps unique occurrence in literary history. Fitzgerald wrote to his publisher sometime in August 1924 from France: "For Christ's sake don't give anyone that jacket you're saving for me. I've written it into the book." Though artistically superb, the jacket included a misprint on the back panel that required hand-correction and it was left a little taller than the book itself. As a consequence almost all of the small number of examples that do survive have wear of some description at the edges."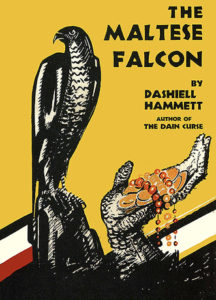 Dashiell Hammett, The Maltese Falcon (First Edition) — $136,000.00
Sold by The Book Collector's Library at Biblio
From the seller: "Spectacular First Edition, First Printing. 8vo., 268pp. Publisher's original gray cloth with the famous Falcon Motif to upper board in blue with titles & geometric design to spine in black & blue, top edge stained blue. In the original pictorial first issue dustwrapper. A near fine or better copy; minor offsetting to the endpapers only from the simply stunning dustwrapper's flaps. An exceptional example, completely unrestored; the colours sharp & bright, the spine absolutely unfaded, three inconsequential short closed tears, price-clipped, the bottom of the front flap, neatly clipped – the original owner having [mistakenly] removed a thrift shop ink price early on. . . Custom cut stiff clear Mylar outer protective jacket. Half yellow chevre custom ribbon tied clamshell case—lettering stamped in black at the spine & decorated with the distinctive illustration of the falcon hand rendered. One of the finest copies of this treasure to come along in years."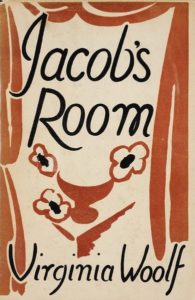 Virginia Woolf, Jacob's Room (First Edition) — $125,657.35
Sold by Peter Harrington at AbeBooks
From the seller: "Octavo. Original crocus-yellow cloth, printed paper spine label. With the dust jacket designed by Vanessa Bell. Housed in a black quarter morocco solander box by the Chelsea Bindery. Cloth soiled and darkened, label rubbed and chipped, short tear to lower joint at head, inner hinges cracked, an artist's copy in the chipped jacket that is dust-soiled, lacks the upper portion of the spine, and has the rear panel detached. First edition, first impression, presentation copy to Vanessa Bell, inscribed by the author on publication: "Vanessa Bell from V.W. Oct. 1922". An exceptional association copy: Jacob's Room was the first of VW's books for which Vanessa Bell designed the dust jacket, and the text represents VW's attempt to do in fictional form what her sister had been doing with her paintings for the past decade. Jacob's Room does not carry a formal dedication, but given the collaboration between the sisters in its design and the identity of their artistic aims, this might be regarded as the de facto dedication copy. . . Virginia Woolf noted in her diary for Saturday 14 October 1922: "I have seen Nessa, Maynard, Lydia, Desmond, Saxon, Lytton, Frankie Birrell & Marjorie Fry, all within this week; & had two letters, from Lytton & Carrington, about Jacob's Room, & written I don't know how many envelopes; & here we are on the verge of publication Richmond writes to ask that date of publication may be put ahead, so that they may notice it on Thursday." Jacob's Room was due to be—and was—published on Friday 27 October. The first edition was of 1,200 copies. The first full-length book to be published by the Hogarth Press, its publication marking the moment when the Woolfs decided to run the Press as a genuine business concern."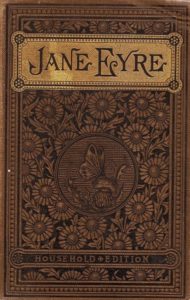 Charlotte Brontë, Jane Eyre (First Edition) — $125,000.00
Sold by Peter L. Stern & Co., Inc at AbeBooks
From the seller: "First Edition; three volumes; publisher's cloth (Smith's binding variant 'A; the other variant was issued in boards); the fly-title of the publisher's catalogue is dated June, 1847 and the catalogue itself is dated October, 1847. This set has the very uncommon 'Calcutta Review' ad inserted (while copies lacking it are not considered incomplete, it is preferable to include it); complete with the half-titles in each volume. This set is in what might be termed, for a book so seldom seen in its original binding, in usual condition, and in this instance, this standard is not a high one. Overall, this set is in on the shabby side of good condition. Unlike many of those few sets that have surfaced in cloth, it has not been rebacked, but it has undergone modest cloth mending; there is cloth staining and numerous, but generally minor, paper repairs to small chips and tears. However, the title page of the first volume has been rehinged. For all that, Jane Eyre is nearly always seen rebound, and these defects aside, a better copy is rarely seen. In a custom cloth clamshell box."
William Faulkner, The Marble Faun (First Edition) — $125,000.00
Sold by Peter L. Stern & Co., Inc. at AbeBooks
From the seller: "First Edition of the author's first book. Original paper covered boards with spine and cover labels; about fine in the rare dust jacket with tiny chips at the extremities and only very minor wear; in a custom cloth slipcase. Especially scarce in this condition, this fragile volume's spine is often either damaged or entirely perished. Inscribed at publication on the title page by the author, 'William Faulkner/ 24 December 1924.' The dedication copy, inscribed to his parents, was presented at Christmas. While the Four Seas Company published many well-known literary authors, such as Williams, Stein and Aiken, it was largely a vanity publishing house, where authors were expected to advance the costs of publication. Faulkner's first attempt to do so in 1923 was a failure, but, with the help of his friend Phil Stone, he managed to provide the firm with $400.00 the following year to print 500 copies, an optimistic number. Fewer than 100 copies were probably sold, and most of the printing was remaindered, much of that likely pulped."
---