I don't know who needs to hear this, but today is Tuesday. The only way I know that today is Tuesday is because all these new books are coming out today! So get excited, stay inside, order any of these titles from Bookshop if you're so inclined, and maybe #BuyGiftCards to support your local bookstores!
*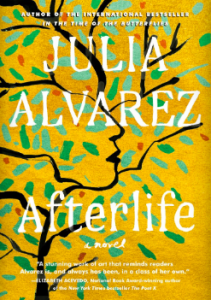 Julia Alvarez, Afterlife
(Algonquin)
Julia Alvarez's first novel in over a decade centers on a widowed professor of literature who must have the worst retirement ever. Shortly after she leaves her hard-won position teaching literature at a New England college, Antonia Vega's husband of many years dies, her sister goes missing, and an undocumented immigrant girl in need turns up in her life. What an interesting counterpoint this novel makes to Jenny Erpenbeck's novel Go, Went Gone, also about a professor suddenly roped into the court of political action on behalf of migrants. Here Alvarez imagines, in her usual big-hearted way, that it's not seeing or reading, necessarily, but loss which tenderizes us to sympathy for others. What a book.
–John Freeman, Lit Hub Executive Editor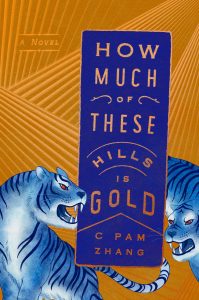 C. Pam Zhang, How Much of These Hills Is Gold
(Riverhead)
At the beginning of this debut novel, a pair of siblings are left orphaned in the American West. Hoping to find a way to bury their father, a former gold prospector and miner, according to Chinese tradition, they stuff the body in a suitcase and set off to scare up the required two silver dollars to cover his eyes. Thus begins an adventure the likes of which you've almost certainly never read.
–Emily Temple, Lit Hub Senior Editor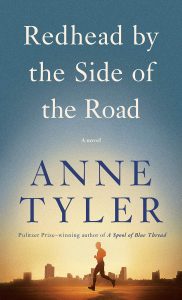 Anne Tyler, Redhead by the Side of the Road
(Knopf)
Most of Anne Tyler's novels teach a lesson to people forced to lose control. Untidiness, in her world, both literal and emotional, is the soil of happiness. Mica, the hero of her latest book is poised for a reckoning in that regard. He cleans his house in a daily routine that would make Marie Kondo beam. He eats breakfast at the same time, jogs on the same trails. He's so careful a driver he tootles around Baltimore with an inner traffic cop praising and parsing his performance. So fastidious has he become, though, that he recognizes very little of what the world's telling him, like how his girlfriend is about to lose her apartment. When a teenager turns up at his door, convinced Mica is his father, Tyler's hero must confront the messier parts of his past and look at the difference between fantasy and reality.
–John Freeman, Lit Hub Executive Editor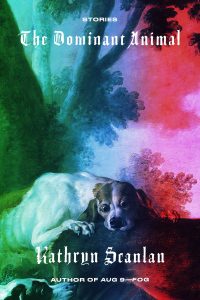 Kathryn Scanlan, The Dominant Animal
(MCD x FSG)
The stories in this collection are perhaps the perfect thing to read right now because they occupy a strange and defamiliarizing space. Kathryn Scanlan, the author of Aug 9 – Fog, brings you to a golf course, a flower shop, an all-you-can-eat-buffet, where she turns the banal into something sinister. But she also sometimes makes you bear witness to real oddities (the clay head of a man is purchased as a trophy). Here you will encounter the uncanny, the surreal, and the downright disturbing. Prepare to be disarmed.
–Katie Yee, Book Marks Assistant Editor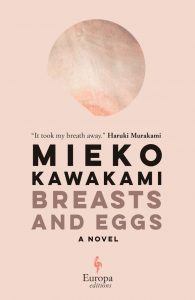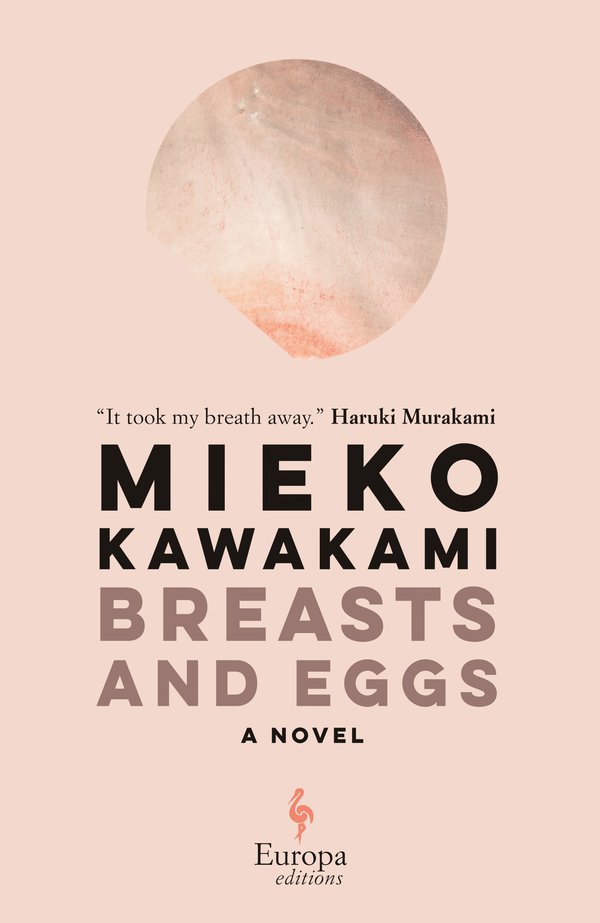 Mieko Kawakami, tr. by Sam Bett and David Boyd, Breasts and Eggs
(Europa)
Mieko Kawakami's first full-scale novel to be translated from Japanese into English reveals what a Catherine Wheel of talent she is, how unplaceable and unique. How forceful. In the book, three women undergo transformative change, while trying to keep up appearances. Natsu, her sister Makiko, and Makiko's daughter, Midoriko. In the book, Makiko goes to Tokyo in search of a reasonably priced breast enhancement; meanwhile, Midoriko refuses to speak to her mother except through writing. A decade later, Natsu wonders about her life without children. Kawakami is an explosive, hilarious, and deeply perceptive writer. The way she moves among her characters here will make clear why Breasts and Eggs is the Makioka Sisters of its time.
–John Freeman, Lit Hub Executive Editor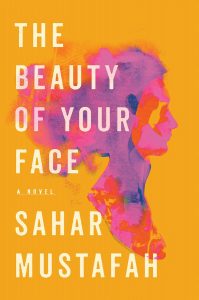 Sahar Mustafah, The Beauty of Your Face
(W. W. Norton)
Afaf Rahman is the principal of Nurrideen School for Girls, a Muslim school in the suburbs of Chicago, when a shooter—radicalized by the alt-right online—attacks the school. Alternating between the attack and her memories of Palestine, The Beauty of Your Face explores faith, family, and hate with haunting precision.
–Emily Firetog, Lit Hub Deputy Editor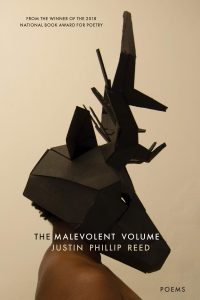 Justin Phillip Reed, The Malevolent Volume
(Coffee House Press)
Justin Phillip Reed's second collection moves like a mock gothic, stepping into the spaces that have been dangerous and more for the poet, and summoning bestiary of counter-menace. Heads mounted on the wall, hawks that prey in the sky, bees which noisy their hives and sweeten better than tangerine, which is "mostly texture anyway," Reed animates them all with this huge, lance-like voice of his. Throwing their mighty symbolic power into the space of desire and his body. The beveled densities of Indecency appear less frequently here, and in its place is more of an oracular sound. How Reed found a way to write a book as fanged and fabulous and complexly musical as this one right after his National Book Award-winning debut, Indecency, is a mystery, but one thing's clear now: he's here to stay. These are strong poems, showcasing a range of moods and affects. Sometimes punctuated, otherwise so neatly joined they don't need it. Sometimes gentle, in other moments, wielding fury's high bright tone.
–John Freeman, Lit Hub Executive Editor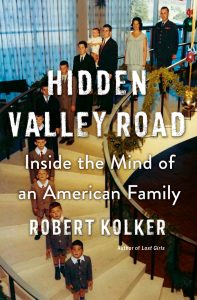 Robert Kolker, Hidden Valley Road
(Doubleday)
As in Rebecca Skloot's phenomenal work of science, this highly readable work of narrative science tells two heartbreaking stories. In one, there is a family, in this case, one of fourteen, six of whom by the 1970s had been diagnosed with schizophrenia. On the other track, Kolker narrates the unfolding saga of the disease, its discovery, treatment, and the many decades of frustrating research. This is an astonishing work of research and empathic reporting.
–John Freeman, Lit Hub Executive Editor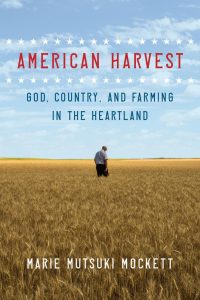 Marie Mutsuki Mockett, American Harvest
(Graywolf)
Well, the Iowa caucuses are a couple weeks away and we're doing it again: fly-by politics-as-sports reporting that frames everything as RED STATE vs. BLUE STATE, in a game that nobody can possibly win. America is much more complicated than that, and needs—if not deserves—to internalize a whole new set of narratives that center empathy and tolerance rather than the calcified mythologies of tribe and creed… Which is why Marie Mutsuki Mockett's memoir, American Harvest, is such an important book for 2020. Mutsuki Mockett, whose father's family goes seven generations deep in the Nebraska panhandle was born and raised in Carmel, California, to a Japanese mother, her childhood as removed from a Midwestern wheat field as you might imagine. But when she inherits the family farm, Mutsuki Mockett begins a journey into the center of America—its agrarian rhythms, its generosity, its enormous blindspots—and comes out the other side with the kind of perspective we need more of right now.
–Jonny Diamond, Lit Hub Editor in Chief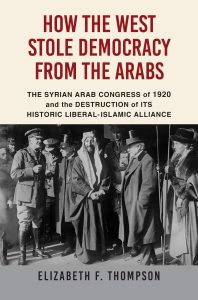 Elizabeth F. Thompson, How the West Stole Democracy from the Arabs
(Atlantic Monthly)
This eye-popping work of history reveals the extent to which Europe is complicit in the failure of democracy in many parts of the Middle East. During World War I, Arab nationalists in greater Syria rose in revolt against Ottoman Rule, with backing of the British. In 1920, the Syrian-Arab Congress declared a constitutional government in Damascus that guaranteed equal rights to all citizens. Rather than back this move, the British and French imposed a system of mandates on the region, claiming it wasn't ready for self-government. When the Arabs resisted, the French Army invaded—smashing the growing nascent democracy and crushing a chance for a secular Arab government. A necessary work of history in an era when the region, as ever, is treated as having "ancient hatreds" at the root of its problems. The appearance of Thompson's book gives yet another important corrective to this historical myopia.
–John Freeman, Lit Hub Executive Editor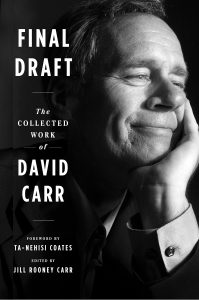 David Carr, Final Draft
(Houghton Mifflin)
I'm very glad for this collection, because even though the story of David Carr's darkest days is an important one (as told by the man himself), it is important to remember him also as the wonderful reporter he was, who made a 25-year career with wry, trenchant stories on all manner of subject, from celebrities to media consolidation to national politics. And though it's a selfish thought, one only wonders at what Carr—and his fearless wit—would have made of the present moment and all its absurd extremes.
–Jonny Diamond, Lit Hub Editor in Chief