Young, Gifted, and Black: On the Politicization of Nina Simone
Examining Lorraine Hansberry's Impact on an American Genius
Nina Simone credited her friends of the black intelligentsia for facilitating her political education in the 1960s, offering a set of strategies for critical analysis of the cultural situation. Prominent among them were other socially engaged writers and dramatists: Langston Hughes, James Baldwin, and Lorraine Hansberry. Significantly, these figures were outspoken critics of American racism whose literary and dramatic works reflected this critique.
Of further importance is that Simone's political tutors, like herself, brought to their works a sense of race complicated by gender difference, underscoring a sense that race and gender are always critically entangled. All three of these authors expressed what could now be called queer affinities. Simone's circle was deeply involved in civil rights activities and the development of black political consciousness, and brought the nuanced experience of race imbricated with gender and sexuality to their civil rights efforts. It was with Hughes that Simone made her first trip to Africa. Hansberry's unfinished play "To Be Young, Gifted and Black" became the source of Simone's anthem of the same name, later adopted as a theme song of the NAACP. It was with Hansberry that Simone attended organizing meetings in New York.
By the early 60s, politicized black artists like Hansberry and Simone were bringing the politics of race and gender together in their works, and thinking about both of those in a world context informed by class struggle. Of Hansberry, Simone wrote:
Although Lorraine was a girlfriend. . . we never talked about men or clothes or other such inconsequential things when we got together. It was always Marx, Lenin and revolution—real girls' talk. . . Lorraine was most definitely an intellectual, and saw civil rights as only one part of the wider racial and class struggle. . . Lorraine started off my political education, and through her I started thinking about myself as a black person in a country run by white people and a woman in a world run by men.
Because of her leftist activities, Hansberry had been under FBI surveillance since 1952, following her work on Paul Robeson's newspaper Freedom. The agency had an informant report on the content of her play A Raisin in the Sun before it opened, to be sure it was not overtly communist. Informed by Hansberry's analysis, Simone's account of her own thinking reflects a critical self-awareness defined by broad terms of opposition and contextualizes a performance of resistant subjectivity politicized by race and gender.
Simone's original song "To Be Young, Gifted and Black" reflects the politicization of her music and performances, and the influence of Hansberry. Having incorporated the composition into her regular set, Simone performed the song from the piano while her band accompanied in a 1969 concert in a Morehouse College gymnasium in Atlanta, Georgia. The men in the band wore dashikis, while Simone wore an elegant black suit, made fashionably militant with high black boots and a large Afro hairstyle, and accessorized with silver jewelry, Cleopatra-style eye makeup, and a corsage. The song suited the college gymnasium setting, as its repetitive refrains and simple melody convey a direct, pedagogical quality removed from Simone's jazziest techniques. As one of the choruses explains:
When you're feeling real low
There's a great truth that you should know
To be young, gifted and black, you've got your soul intact
The song is an exercise in black pride, directed at motivating the coming generation, such as the excited group in attendance at Morehouse College, many of whom were young African American women wearing Afros themselves. With black studies courses and programs emerging around this time in American universities, this song asserts a politics of redefinition, updating a Du Boisian "talented tenth" sensibility with the more inclusive language of black positivity. That music star Aretha Franklin adapted the song for her successful 1972 album Young, Gifted and Black indicates the popular reach of this discursive effort.
Speaking directly to her audience, Simone ad libs a few words in this energetic performance, adding to the song's written lyrics. Rather than "when you're feeling real low," Simone elaborates, "when you're feeling depressed, alienated and low" framing the notion of feeling with emotional and political dimension. Typical of Simone's performances, additional utterances lead to sections of mid-song oration, delivered here as the music continues to play.
Feeling good now? Yes, yes, yes. Langston Hughes is gone but he meant the same thing. And all you know about Billie, poor Billie, they killed her for the very same thing that you have a party on. You know? They killed her 'cause she smoked pot. Really. They killed her. And now of course Lorraine is gone. Enough, enough, enough, Nina. Feels so good. By the way this is a black orchid given to me last night—where were we?—Jersey City—by the black students council and I preserved it until tonight so you could see it.
This interjection, typical of Simone's self-interruptions, specifies a historical context for the performance. Simone places herself in a tradition of transgressive black women singers when she invokes Billie Holiday, who had died in police custody a decade earlier. Simone's creative interpretation of Holiday's death suggests an act of black imagination, while indicating the stakes of the song, oriented around an urgent political need for new black leadership. Simone aligns herself with Hughes here, offering herself as a surrogate when she says he "meant the same thing."
A similar sentiment is offered in a 1967 live recording of Simone's song Backlash Blues, an adaptation of a Hughes poem, in which she sings: "When Langston Hughes died—He told me many months before—Nina keep working until they open up that door." Simone figures herself as a continuation of Hughes's political and artistic project. At the Morehouse event, Simone completes this story with Hansberry, who had died of cancer several years before. By the time of this 1969 concert, these deaths would have been framed in the imagination of this young, predominantly black audience by the assassinations of Martin Luther King, Jr., and Malcolm X.
Simone's elegy meditates on life and death in Afro-America, but rather than discussing black leaders in the political sphere, she emphasizes artists as radical agents. The meaningful absences invoked in this spoken libation are finally met by the presence of the corsage, given to Simone by black students in the North and delivered here to the South in a symbolic act of solidarity. Simone's messenger/courier routine manages twin surrogations, establishing a continuity of her political project with her deceased mentors, while linking their project to the emerging black political movement of which "young, gifted, and black" students would be the custodians.
A similar investment in futurity is found in Hansberry's use of the phrase, which Simone adapted for her song. Hansberry wrote the term "young, gifted, and black" into an address to the winners of a United Negro College Fund writing contest. In her comments, Hansberry adds, "in the month of May in the year of 1964, I, for one, can think of no more dynamic combination that a person might be." This episode appears toward the end of the published text of Hansberry's To Be Young, Gifted and Black, a posthumously assembled series of fragments in the late author's voice.
The book, which was adapted as a play and presented at New York's Cherry Lane Theater in 1969, speaks from multiple perspectives about the problems of race, gender, and life's possibilities. The decentered text, which moves through scenes of plays, letters, short prose, and other notes provided by the author, resembles the multiplicity found in Simone's formal approach, one which assembles diverse materials, and allows for interjections and exclamations to circulate throughout her performances. The continuity of To Be Young, Gifted and Black is the discontinuity of Hansberry's experience. Hansberry was not only a friend and tutor to Simone, but this final work in her oeuvre formally resembles Simone's own complex enactment of multiple positions that exceeds prohibitions on a unified black subject. However, unlike the work of Baldwin, Hughes, or Hansberry, Simone's expressive mode was not just founded in her body, but deployed through her body as well.
Accordingly, Simone's criticality was not only configured in intellectual terms. Simone describes the physical dimension of her political awareness in her autobiography:
The bombing of the little girls in Alabama and the murder of Medgar Evers were like the final pieces of a jigsaw that made no sense until you had fitted the whole thing together. I suddenly realized what it was to be black in America in 1963, but it wasn't an intellectual connection of the type Lorraine had been repeating to me over and over—it came as a rush of fury, hatred, and determination. In church language, the Truth entered into me and I "came through."
In her most politically direct works, it is through an embodiment of exclusion that Simone articulated a position from which to act. Simone, who became known commercially as "The High Priestess of Soul," empowered this position by channeling a transitory revolutionary spirit, as in the religious allusion above. Simone authorized the criticality of her political consciousness by performing a deeply invested physical presence.
This personal investment is evident in Simone's typically animated delivery of "Mississippi Goddam," which was composed shortly after the events described above. The 1964 album Nina Simone in Concert, which documents a performance at Carnegie Hall in New York, contains the first of many live recordings of Simone's notable civil rights composition. Simone's provocative chorus indicates both a personal subjectivity and a national political context:
Alabama's got me so upset Tennessee makes me lose my rest
And everybody knows about Mississippi Goddam
What "everybody knows" is what was then the state of race violence  in the American South. Prominent cases from 1963 included the slaying of activist Medgar Evers in Jackson, Mississippi, and the bombing of the 16th Street Baptist Church in Birmingham, Alabama, which killed four young girls. In her autobiography, Simone cites these two widely publicized events as important influences on her activist intentions, claiming that like anyone "with half a brain," she had followed the civil rights movement, but that these murders contributed to a personal political awakening, of which "Mississippi Goddam" was an acknowledgement.
Simone elaborated on her motivation in a television interview in September 1964: "First you get depressed, then you get mad. And when these kids got bombed, I just sat down and wrote this song. And it's a very moving, violent song 'cause that's how I feel about the whole thing." For Simone, the experience of feeling was a contact point with the broader political context. Political specificity began to emerge in Simone's work through this engagement with personal subjectivity; the "me" who was so upset by Mississippi and Alabama was surely Simone herself.
Still, "Mississippi Goddam" produces noticeable intertextual gaps. Simone's genre-invoking quip about the song being a show tune is delivered with an ambiguous tone, and the song's mood is strangely ironic. While presenting a radical politic with lyrics like "This whole country is full of lies—You're all gonna die and die like flies," the song is delivered over a bouncy 2/4 piano beat in a quick and witty pitter-patter of lyrics, each "Goddam" accompanied by a major-chord crescendo. This upbeat vaudevillian quality belies the anger of the lyrical content and the earthy ferocity of Simone's performance. Her unique voice conveys sincerity, but also a hint of sarcasm. This ambiguity is tested after the first verse, when she asks the audience, "You thought I was kidding, didn't you?" Her direct yet theatrical presentation distances while it makes familiar. While grounding her performance in a seemingly authentic expression of black subjectivity, the intertextuality of that performance creates gaps of intelligibility through which Simone projects evident criticality.
__________________________________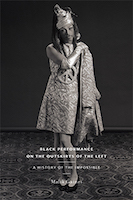 From Black Performance on the Outskirts of the Left by Malik Gaines, courtesy of NYU Press. Copyright Malik Gaines, 2017.
---