You Should Probably Watch Godzilla vs. Hedorah, One of the Campiest Entries in the Franchise
Come for the Psychedelic Dance Sequences, Stay for the Environmental Allegory
Newcomer Yoshimitsu Banno, a TV director and former assistant director for Akira Kurosawa, was brought in to helm Godzilla's new adventure facing off against an original foe: Hedorah, aka the smog monster.
The film is a psychedelic indictment of mankind's pollution of the earth, with Godzilla no longer a proxy for the destructive nature of man, but instead of the earth itself. Godzilla here is protector, a natural response to the man-created Hedorah, a being originally from space that becomes mutated by the toxic sludge filling our oceans and skies.
The story follows a scientist and his family after they discover what appears to be a living tadpole made out of inorganic material. It is a being that shouldn't be alive… but is. And it is made of pure pollution. What's more, anything it touches corrodes, and the more contaminated matter it devours, the larger and more dangerous it becomes.
Godzilla challenges Hedorah multiple times, but every time Hedorah only grows more powerful. Even if Godzilla forces him to retreat, the bits of pollution that are expelled simply crawl back to merge with it, allowing it to evolve and grow!
You truly believe that this is a creature made purely from the filth mankind has carelessly dumped away.
Eventually, thousands perish as a result of Hedorah's attacks, and a group of young people holds a kind of vigil for humanity at the base of Mount Fuji. One final night of music and fun before the world ends the next day (made even more bleak by the use of black and white photography during part of this sequence). But Godzilla arrives to challenge Hedorah again… and loses! Hedorah overpowers our monstrous hero, even going so far as to injure one of Godzilla's eyes. All hope seems lost before the army builds a final hope for a last stand: a huge electricity array that will hopefully dry out the beast. And Godzilla arrives to help, prompting the final epic—and exceedingly slimy—final battle.
This film is a divisive entry to Godzilla fans, not least because it is stylistically one of the boldest films in the franchise. Psychedelic dance sequences, animated sections, musical numbers, even Godzilla suddenly having the ability to fly… they all come together in an unforgettable movie that is pulp entertainment but with a very clear environmental message.
The design of the Hedorah suit is also one of the more unique in the franchise. Built by former Godzilla special effects assistant Teruyoshi Nakano, it features a number of unique forms, as it evolves from fight to fight. In addition to its original amphibious form, it sprouts wings and flies, and of course stands upright, blinking out with its striking red and green eyes. The special effects in this film are particularly visceral, with Godzilla jamming its hands into Hedorah's eye sockets, black sludge spurting like blood, or huge tentacles of black sludge oozing down the stairs of a nightclub like a scene out of The Blob. You truly believe that this is a creature made purely from the filth mankind has carelessly dumped away.
One particularly interesting bit of trivia from behind the scenes of this movie is that the actor who played Hedorah suffered appendicitis while filming, and due to the length of time it would have taken to remove his suit, they had to perform the surgery on set while he was still dressed as Hedorah! That's kaiju commitment.
Veteran Godzilla producer Tomoyuki Tanaka famously disliked this film, and brought in Honda to give notes in order to help the final product. Despite the master's help, Tanaka still felt the wild eco-friendly allegory strayed too far from Godzilla's path, and Banno's future would be summed up by the text at the end of the film which reads, "Will there be another one?" There was a clear answer: no.
Banno did indeed have a sequel planned involving Hedorah returning and wreaking havoc once again, but due to Tanaka's disappointment in the film's final product, that sequel wouldn't happen. Banno would go on to work on more Godzilla sequels, however, as a producer on Gareth Edwards' Godzilla in 2014, and posthumously as executive producer on Godzilla: King of the Monsters and Godzilla vs. Kong.
Toho would return to form with Godzilla's next outing the following year, bringing back a familiar director as well as a number of classic monsters. It would also mark the final time Haruo Nakajima would play the icon he had portrayed in every film since Honda's original…
____________________________________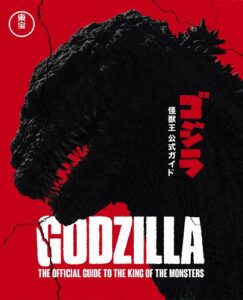 From GODZILLA: The Ultimate Illustrated Guide by Toho Co. Ltd and Graham Skipper. 
---