Writing As Therapy: My Year of Teaching in the Locked Ward
Ayelet Gundar-Goshen on Balancing Authorship and Psychotherapy
On my first day, the supervisor pointed to the metal door. "That's the most important thing in the ward," she said. "The main door should always be locked." As I assembled the patients for the first creative writing session, she busted in and took the pencils I had brought. "Never give a sharp pencil to a psychotic patient," she warned. "He may take his eye out, or yours." As she was about to leave the room, she pointed at the emergency button. "Press this if you feel threatened," she said, "and don't try to be a hero." Then she left. I stayed in the room with ten men and two women who were being held in the mental hospital's locked ward after a court or county psychiatrist had declared them to be a danger to society or themselves. To be honest, at first I felt terrified. Today I find these people to be less dangerous to society than many politicians I know of. But back then, in that first session, I just wanted to leave the room. Then I thought, Well, writing saved my life. Perhaps it can save theirs.
As an author and a psychologist, I find writing and psychotherapy to have a lot in common. In both cases, your job is to try and understand the human condition, without making judgments. Some of the patients in the locked ward have done terrible things before being hospitalized. And yet, in order to help them as a psychotherapist, I must be able to try and understand their acts, just as a writer has to understand the inner motives of their characters. And this brings us to the big difference between the two professions—an author has "their" characters, they're the one telling the story. But a psychologist isn't the "owner" of the patient's story, her job is to merely to facilitate the creation of a story told by someone else. While I knew most of my time in the locked ward would be dedicated to psychotherapy, I also wanted to bring in my experience as a writer—the tension between the two was soon obvious.
In college creative writing workshops, students want to know how to get their novel published. Or, in earlier stages, they might ask how to take the few paragraphs they've written and extend them into a full-length manuscript. But in the creative writing workshop in the locked ward, the questions are fundamentally different. In the first session, the main question was whether it's possible to put into words the chaos inside someone's head. Or whether it's possible to write a single sentence.
For some patients sitting in that first class, reality was so unbearable that the only way to survive it was to turn their backs to it. Some grew up in disturbed and abusive families and had to find refuge inside their own heads, ceasing communication with the outside world. But to write is to communicate—it's opening a window onto the dark room of solitude. For some patients, that's just too scary. Some of the people in the first session would go on to attend the workshop each week for an entire year, without being able to write a single word.
For others, words came out like a flood. The manic patients who came to the first workshop were full of ideas: the first session hadn't even started yet, but pages were rapidly filled as I was preparing to open the meeting. I was hoping to get a chance to look at some of these pages, to try to gain insight into the inner riddle of what had brought these people to the hospital. But just as I was about to ask one of them to read, by way of introduction, the battle for territory began.
One of the more manic patients started to sing and clap her hands, and another patient started shouting at her to stop, arguing that we're here to write, not to sing. I tried to control my own nervousness, reminding myself that territorial battles are not unique to locked-ward groups. The human need to be seen, to be recognized, is as prominent within the walls of the hospital as it is outside. I'd seen struggles like these when leading groups at the university, nothing to panic about. But in the university there were no metal doors that had to remain locked, no emergency buttons. In the university, patients were usually able to discuss their pain, rather than break things.
During my year teaching in the locked ward, the creative writing workshop became the center of my week.
As the room filled with noise, one paranoid patient thinking the turmoil was about him—became restless. I know how this restlessness can erupt into violence, if the individual thinks someone is trying to hurt him. I decided put aside my papers, along with the exercise I was planning to give them on my first day. To write was no longer the challenge of this first session. Our goal was to be able to sit in the room without the need for security guards or tranquilizing medicines, to understand the feelings the encounter evoked in us.
I talked quietly, yet firmly. I asked everyone to sit down. I took out a few sage leaves I'd picked earlier that morning from the bush at the entrance to the hospital. My original plan was to make myself a cup of herbal tea during my ten-minute break, but now I passed the leaves around the circle and asked everyone to smell them. "Today we will talk about scent," I said. "I want each of you to write one word that this scent reminds you of."
"Food," said one.
"Freedom," said another.
Then somebody said, "Prison."
"Prison?" I asked.
"How come you can go out and smell the sage, and we're locked here like animals?"
Now it was me versus them. The battle over territory, which divided the patients earlier, became secondary as they united in their resentment of me. I fought the urge to justify myself, to explain that they've been hospitalized for their own safety, or to apologize in the name of society, which decided to put them here. I forced myself to wait. "Write about prison," I asked them eventually.
I'd been planning to ask them to write about a scent from their childhoods, but I soon learned that in the locked ward, one should never make too many plans. So they wrote about prison. To my surprise, the patient who first talked about prison read her text aloud, and said that a womb is also a prison—the baby is locked inside, yet it protects him as he grows.
"That's a beautiful sentence," I tell her. "So perhaps the ward is both a prison and a womb that enables you to grow till you can go outside and live on your own?"
I soon learned that in the locked ward, one should never make too many plans.
She smiled. At the end of the workshop I asked the patient whether I could mention her sentence about the womb and the prison to other writing students. The question flattered her, but also gave me pause: Do I really care about these patients, or am I only here as a "story hunter" in search of a good line? I'd wrestled with this question a few years before, as I began my training as a psychologist shortly before publishing my first novel. It was my beloved mentor who helped me realize that the mixture of motives isn't unique to my situation as an author who is also a psychologist. It's present in every encounter between a patient and a therapist, while the patient asks himself is this person here to take care of me, or to take care of his own narcissistic needs. Perhaps this is an incarnation of the ancient question we face our parents with: are you here for yourself, or for me? We all hold on to the wish that someone will be there just for us. But reality is more complicated than that. Growing up, we gradually come to terms with the fact that the other person is never fully ours, that someone can be there for us, as well as for himself at the same time. It's not ideal, but it's as good as it gets.
During my year teaching in the locked ward, the creative writing workshop became the center of my week. Tension would rise in me the night before each meeting: would we be able to listen to each other? Would the patients relate to the weekly writing exercise, or would half of them storm out of into the corridor half way through? Politeness won't get them to stay for even a minute: if the writing exercise is too intimidating, or evokes too many emotions—they're out. If it doesn't touch their souls—they're out. If the boundaries between internal thought and outside reality is too shaken—they leave, or their paranoia rises. Some weeks, the sessions were terrible. Other weeks, they were full of beauty and compassion.
During this year in the ward there was pain, and anger, and even hate. But as I left the hospital at the end of the day and listened to the news, I felt that the outside world was much more crazy. The cynicism, the indifference to suffering that I saw in our streets, made me think that the real danger to society isn't my hospital patients.
To write is to imagine something different from your daily existence. It can be a brilliant escape. A man can be locked in a small cell, yet free in his words. But writing isn't only about escaping, it's also about diving deeper within oneself. It's about trying to understand the forces that shaped our lives and made us who we are. When I ask a patient to write, I'm actually saying, "What you have to say is important. What's inside you is worth looking at. I'm not afraid to look."
____________________________________________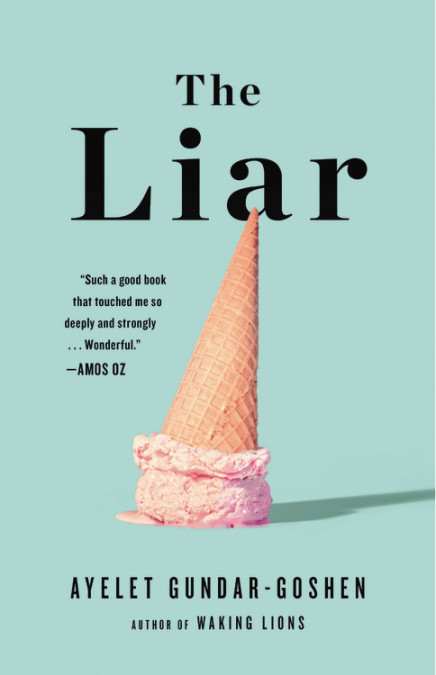 The Liar, by Ayelet Gundar-Goshen, is available now from Little, Brown.
---