On the Difficulty of Explaining Why a Piece of Music is Good
How John Mauceri Finds Beauty in Structure
Whenever someone wants to persuade you to love music by writing about it, the "proof" sometimes comes in some form of structural analysis: an intellectual pursuit justifying what is essentially an emotional response. The tools used to describe structure usually have to do with the relationship of keys and melodic (pitch) elements, and how they are deployed and developed to make a satisfactory construction. For those of us who read music, this can be really interesting, like delving into the mind of a composer who consciously or unconsciously created structural underpinning to his works, especially when it comes to music from the German tradition. But what if you can't hear them, or don't even subscribe to the idea that they are of significant importance in determining whether you like the piece or not?
When I was a freshman in college I learned how musicologists and music theorists analyze classical music, something that had never occurred to me. For eight years I had been going to the Metropolitan Opera regularly, listening to new and old classical music with friends, and attending concerts as well as Broadway musicals. Structure? Imagine my surprise to delve into a Bach cantata and a Haydn string quartet to see what made them tick. Classical music was becoming a puzzle to be solved—a pursuit of the mechanisms that were at play when a composer made music in long forms. Our eyes, staring at our miniature scores, were teaching our ears to hear what might not have been obvious. On the page we could see a melody move from a violin to a viola and then to a cello. We could see the structural repeats, because there was a repeat sign on the page.
With ever-increasing insight into how composers construct music, we were like kids with Rubik's Cubes, taking the music apart and putting it back together again. As a student composer, all of this prepared me for the various ways to get from the first note to the last. As a conductor, it has served me well in getting inside the machine itself. The question will always remain as to whether an untutored listener is at a disadvantage in not having this training when hearing music. Do you need to be able to take apart and rebuild your toaster in order to enjoy the toast it makes?
By the time I was learning the rules of counterpoint and harmonic progression at Yale, I already had, to name just a few, two complete recordings of Beethoven's nine symphonies, Wanda Landowska's complete Well-Tempered Clavier of Bach (on six LPs), three recordings of Aïda, every new work recorded by Stravinsky, and one live recording from Bayreuth of Parsifal (also on six LPs)—all bought with money I earned mowing the lawn, painting the house, and babysitting. I had given lectures in high school on Wagner's Ring Cycle, Strauss's Elektra, and the history of French opera, and I am sure structure never came into my thinking at all, though it is a source of both approbation and severe criticism in academic music.
The first movement of Tchaikovsky's beloved Piano Concerto no. 1 was considered a disaster by a number of conservatory professors, starting with his Berlin-trained mentor, Nikolai Rubinstein, for structural as well as technical reasons—the principal one being that the opening is in the "wrong" key, D-flat major, for a work ostensibly in B-flat minor. When you listen next to this movement, notice that the famous opening melody is heard only twice and never again. Instead, Tchaikovsky moves onward in the "correct" key and the rest of the movement behaves the way most every first movement is built (see below). In other words, from a structural point of view, the first four minutes of the concerto are an oversized introduction (in the wrong key) before the main event: the exposition. Some music theorists have done very creative backflips to prove the subtle relationship of that big and beloved tune with the rest of the concerto, but it is doubtful anyone hears it or, more importantly, cares.
At its 1875 world premiere, the tradition-minded Bostonians responded to the new work with unbridled enthusiasm. Tchaikovsky, wounded by the scathing criticism from his mentor in Russia, gave the concerto and its world premiere to the Austrian Hans von Bülow to play on tour in the United States and thereby distance himself from any potential public humiliation. The premiere was a sensation, and the audience demanded that the last movement be repeated. (Humiliation was meted out by one of Boston's critics who famously wrote that the concerto "was hardly destined to become classical.") As Tchaikovsky wrote during his trip to America in 1891, "I am a much bigger deal here than in Russia."
Most listeners are less interested in the architecture of music and far more attracted to its narrative capabilities.
Because of classical music's ability to create sonic environments that change and develop throughout the duration of each piece, it could very well be that most listeners are less interested in the architecture of music and far more attracted to its narrative capabilities. In my experience, the great works do both.
It's fair to say that there are two kinds of structures: the ones composers use to get from here to there when writing, and the ones people experience when, free of the score, they simply hear the music—and of course, hearing is the point. When Arnold Schoenberg developed his system of composition using all twelve notes within the octave by creating a unique ordering of them for each new piece (and the procedures for using them), he found a method to create a consistent sound. But no one I have ever met can actually hear and replicate a 12-tone row or perceive how it functions by listening. It is a structural device that is quite different from, say, building a piece out of a theme and variations.
But let's back up for a moment. What are structures in sound? We could say that they are like invisible houses made of vibrating air and experienced through time. Are they important to the way we appreciate music? They certainly can be. If structures are building blocks, are they less important when a classical work is narrative rather than a kind of solved aural puzzle? In other words, is structure more important in a Bach fugue than in a Mahler symphony?
That is much harder to answer. I doubt anyone who loves Mahler is thrilled because of his creative use of the sonata form or the key relationships between the first and last movements. It may have a subliminal effect, mind you, but that would be a guess. After all, who knows what's going on in your mind as you are hearing a 70-minute-long symphony?
Structures and procedures, however, are essential in creating longform classical music. It is how composers stretch melodic ideas into whole movements, and sometimes whole symphonies. Hector Berlioz, for instance, came up with the concept of an idée fixe—a melody that keeps returning (among other melodies) within his Symphonie fantastique. It gives us a sense of continuity and comprehensibility. That little, and memorable, tune pops up in various guises throughout the five movements of this brilliant and passionate work and also helped the composer find his way to write the piece in the first place: a programmatic symphony that describes in musical metaphors "an episode in the life of an artist" who is obsessed with something or someone ("a beloved image"). It is a fact that Berlioz had fallen in love with the Irish actress Harriet Smithson, whom he saw play Ophelia in Paris in 1827. Having written to her many times, and to no avail, he composed his symphony about obsession, which premiered in 1830. (She did not attend.) But they did eventually meet and were married in 1833; Berlioz soon found out that reality and fantasy were two very different things. Nonetheless, the fact that an audience can also participate in Berlioz's structural device of a recurring idée fixe allows us to "understand" the notes being performed.
Music never simply is: it is always becoming.
When Richard Strauss set out to write a series of tone poems, he took preexisting traditional structures (created by other composers) to act as the framework for his narratives. It is as if he had it both ways: each work has a title and a story, but is built firmly on tried and true procedures of predecessors who were not composing works with story titles. (We will discuss the dichotomy of "absolute" music and "program" music a bit later.) When you hear Till Eulenspiegel's Merry Pranks you might recognize it as a rondo, with a "refrain" that gives the work coherence that is free of its title and its overt storyline. Ein Heldenleben makes use of an extended sonata form, and Don Quixote has the subtitle of "fantastical variations on a theme of knightly character."
Whenever you look at a building you rarely think about what holds it up, or all the things that go into the feelings you get when you enter it. The obvious architectural triumph of Gothic cathedrals is a good example, where stone and glass were made to rise hundreds of feet into the air in an artistic and technical triumph: a metaphor of the power and majesty of God. The same is true of the invisible architecture of music. One of the many things that link architectural design with musical structures is that they both must be experienced through time. You, however, control the time spent in architectural spaces, whereas music controls your time. Music never simply is: it is always becoming. Inevitably it also shares a resemblance to storytelling, even when it is called "Symphony no. 2" or "op. 27."
In a curious way, the music of the central canon shows both a structural integrity and a narrative capacity. The masterpieces are well-told tales. The first lesson I ever received from Leonard Bernstein was his belief that all the great works were built on a single tempo out of which all tempos are related. In other words, every movement of Handel's Messiah is based on a single pulse, multiplied or divided, but always expressing the work's temporal spine. At a seminar with us young conductors, he asked a colleague, "What is the relationship between the slow introduction to Till Eulenspiegel and the allegro?" The answer was 2:1. The slow introduction (marked "leisurely"—gemächlich—by Strauss) should set up the tempo of the allegro ("very lively"—sehr lebhaft), which is precisely twice as fast as the opening. The listener might not be overtly aware of this, but according to Bernstein, it is the glue that holds the piece together.
Verdi composed his operas based on multiples and divisions of tempo. Un ballo in maschera has at its spine multiples of 40 beats per minute, with 80 and 160 acting as interim guideposts. Did he expect us conductors to observe them, or was it one of his methods to, as I said earlier, get from here to there? Because Verdi indicated tempo in both expressive words (allegro giusto, andante) and metronome marks ("quarter note = 66 [beats per minute]"), we musicians are given the feeling Verdi wished to express and the recipe for achieving it. It was not surprising when, after a speech I gave at New York University in 2001, an Italian scholar told me that the composer had also created the architectural specifications for the expansion of his home, the Villa Verdi, in Sant'Agata.
The sonata movement created the template for the rewards of memory.
If you are unaware of the most common structures in classical music, they are pretty obvious once you learn what they are, because you can hear them. The last movement of Beethoven's Symphony no. 3, the Eroica, is a series of variations on the theme that is played, after a brief and energetic introduction, on pizzicato strings. Brahms lets you know right away what he is up to by his title Variations on a Theme by Haydn. In every case of encountering this structural procedure—theme and variations—you can follow the creativity of the composer in adapting the simple tune in a series of transformations. The joy comes from remembering the original theme (usually presented a couple of times at the top) and measuring it against each new iteration.
Memory is the key to perception of any musical structure. In the case of Rachmaninoff's 1934 Rhapsody on a Theme of Paganini, the variation that is world famous (no. 18) cannot be perceived as such because it does not sound anything like the original melody. It is registered by the brain as a new tune in the middle of the piece. For this variation, the composer took the original melody and turned it upside down. This is called an inversion. In other words, every time the original melody goes up, the inversion goes down the same amount, and so forth. Inversion is something composers have used as a way of inventing new melodies that are still part of the fundamental musical materials, but they rarely can be understood when heard by the listener. It is doubtful that anyone cares, it should be said. (In Jerome Kern's score to his 1927 musical Show Boat, the melody that underscores the words "Cotton Blossom" in the opening number is inverted to create the famous melody for "Ol' Man River." Because it is short [four notes] and retains the same rhythm, it is perceivable.)
It is much like the word play known as anagrams. Leonard Bernstein, like his friend Stephen Sondheim, loved anagrams, because by reordering the same letters of any word, a completely different-sounding word is created. This is very much what a composer does with the same intervals in a melody. Change the order and you have a new tune, even though it is made up of the same elements. English is a particularly good language for this word game. The name "Cathy," for example, can be transformed into the word "yacht." Of his and Sondheim's West Side Story, Bernstein particularly liked taking "It's alarming how charming I feel," from the song "I Feel Pretty," and anagrammatizing one word so that the result is "It's marginal how charming I feel." Since most people are not literate in reading music, the general public cannot study the score to see how the composer makes use of inaudible structures, whereas everyone who is reading this book can marvel at the alchemy of anagrams. "Leonard Bernstein" = "online bartenders."
Of all the structural forms in classical music, however, none has proven more useful than the one known as sonata form. (The term "sonata" can be ambiguous, because it also refers to a work for a solo instrument. However, once Haydn began playing with the ways to compose string quartets and symphonies, sonata form was established.) It is one of the greatest achievements in Western art. That may sound hyperbolic, but it is not. It is safe to say that the first movement of every symphony, concerto, string quartet, and piano sonata in the classical canon uses this form. What is it, and why did it overwhelm all the other possibilities composers had at their disposal?
The basic idea of a sonata form, like that of Western music itself, is simple. Two contrasting themes are played, one after the other. (They are linked by a short transitional figure.) The important thing is that they are of an obviously differing character. In order to posit this information in the listener's memory, this opening section is played twice without variation. What follows is a section in which the two opposing themes are "developed." That means their intervals and rhythms are transformed and we the listeners get to explore some of the implications of those two tunes. In some cases, they seem to morph into each other. Once this section has come to an end, the magic happens: the two themes are brought back again in a recapitulation. We hear the themes in a new way. They are no longer opposites but part of a whole. The one does not exist without the other, and their external differences melt into a consistent whole. It is as if Papa Haydn and centuries of Western musicians all studied Chinese philosophy, in which two opposites are part of oneness.
To help show this oneness, the two themes heard in the first section are originally presented in different (but related) keys, but when they come back in the last section, they are played in the same key. Exposition (repeated)–development– recapitulation. That's it. Every first movement of every Beethoven symphony. Your favorite concerto. A Mozart string quartet you are hearing for the first time. And yet . . .
I was attracted to classical music from a very early age and had absolutely no idea about structure. I just liked it. How did I manage to love this music without that knowledge? And I suspect many of you reading this might be asking the same question.
If there is one aspect of the power of music you do understand however, it is the power of memory and the joy of recapitulation. The finale of Sibelius's Symphony no. 2 contains just such a moment. A long transition out of the third movement sets up a tremendous sense of expectation when a glorious melody is stated, complete with triumphal fanfares. It then goes away. The composer gives us a break from it in a series of far less important sequences, until more than six minutes later that melody returns, leading to a great hymn of thanksgiving and joy. A big, beautiful melody is of course a great thing, and not easy to compose. But when, after a long time, the big melody returns, we are fulfilled.
The sonata movement created the template for the rewards of memory. Memory structures are, for example, how long jokes and witticisms work. Set up a humorous situation, continue speaking, and then refer back to it. Your brain connects the two and you laugh. Entire situation comedies on television make use of this technique, as do comedic plays. It activates your participation in the game: you are in on it and it rewards you.
__________________________________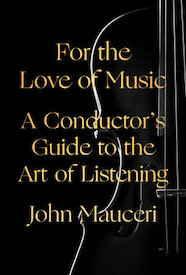 Excerpted from For the Love of Music by John Mauceri. Copyright © 2019 by John Mauceri. Excerpted by permission of Alfred A. Knopf, a division of Penguin Random House LLC. All rights reserved. No part of this excerpt may be reproduced or reprinted without permission in writing from the publisher.
---