Writing About Dementia Means Confronting Readers'
Deepest Fears
Lynn Casteel Harper on Demystifying and Destigmatizing Illness
At the bus stop, I stand in line behind a chatty husband and wife who are returning to Maine after a weekend in New York City. They tell me how magical the Yiddish version of Fiddler on the Roof is. They are happy to be able to make these sorts of trips now that they are retired. They ask what I do. They wonder what I write about. The husband does not skip a beat: Oh, if I ever get an Alzheimer's diagnosis, my next stop will be the gun shop. That evening, I added "shoot self" to the list of suicide methods I have heard when I tell people I write about dementia.
Self-harm responses, I have noticed, typically fall into two categories: (1) jokey-euphemistic: Take me on a long walk off a short pier. Give me a golf club and wheel me into a lightning storm, and (2) well-researched: I'll be ordering my pentobarbital from Mexico, thank you very much. The former category is far more common. But I have been surprised by the latter, by those people who have "done their homework"—the retired hospital chaplain who told me he had his pill cocktail ready and instructed me to make my own plans. The gun shop response struck me as, perhaps, a third category: non-euphemistic, open violence. I suppose, however, that each method—whether drowning, electrocution, or poisoning—has its own grisly dimensions.
I have sometimes wondered if there is a conspiracy among strangers and friends alike to unload their grimmest thoughts and feelings about dementia onto me—the negativity has felt so consistent, uniform, almost orchestrated. I am fairly certain if I had written a book on end-stage kidney disease I would not have elicited these types of responses. Over the course of writing On Vanishing, I have witnessed how people's initial excitement upon discovering that I am writing a book quickly turns to unease when they learn its subject matter. I soon become a container into which family, friends, colleagues, acquaintances, and strangers pour their anxieties about dementia, disappearance, death. This anxiety often manifests in reflexively negative comments, the most obvious and extreme of which is suicidal ideation.
But it's not always suicide. Sometimes fear comes in the form of other stark pronouncements: "it's the worst thing that can happen to a person"; "it's worse than death." Sometimes it comes by way of nervous laughter among aging people about "senior moments" and self-deprecating, getting-old-sucks jokes. Sometimes the anxiety comes packaged as bleak praise: I must be a "special person" with "unique gifts" to work with those people, to write about such a "depressing" subject. (The implication: regular people are not built for this, and can maintain a safe distance.) And sometimes anxiety takes the form of reductive, overly-optimistic "solutions." I've been shown brain games on people's phones, and told that if I play them every day it will stave off dementia—or if I do the daily crosswords, or take Ginkgo Bilboa, or never sit in the same seat two days in a row.
Sometimes it comes obliquely. A couple, friends of friends, upon hearing about my book, requested to meet with me—they had "urgent information" to share related to dementia. They invited me to their home, where I sat between them at their kitchen island as they shared stories of caregiving for their respective mothers who had died of Alzheimer's disease many years ago. After two hours of listening and taking notes, I detected urgency neither in their content nor tone. When I closed my notebook and stood to leave, exhausted and a bit bewildered by why they had pressed so hard to meet—the "urgent information" arose in the form of two loaded questions: Will we end up like our parents? Is there hope for us? Their fear palpable, I sat back down at the island.
In my more sensible moments, I am aware that what seems conspiratorial is only confirmation of why I wrote On Vanishing. Dread and fear is the air we breathe in a culture that highly stigmatizes dementia. Equated with unmitigated horror, dementia is often imagined as gradually exterminating the person as person. Rather than a set of symptoms related to cognitive loss—and one among many challenging conditions that befalls humans—dementia takes on an extraordinary moral and spiritual charge. As I drew close to finishing the book, I crossed paths with a geriatric social worker who also cares for her father who has dementia. She told me that the family dog, which used to be affectionate with her father, now seems scared to go near him as his condition has progressed. She worried that this may indicate that her father's soul is gone, the disease's "final theft."
These years of writing and researching led me to the edges—where more humane visions are unfolding.
In the common language of our time, people do not simply have brain disease; rather, they are imagined as suffering the "death that leaves the body behind," the "longest funeral"; their dementia-producing illness is "stealing," "robbing," or "hijacking" them, turning them into "shells," "husks," the "living dead." People don't live with dementia—they are envisioned as fading away or vanishing, even in their most essential selves.
To be sure, dementia raises existential questions in ways other chronic or terminal conditions do not. Dementia affects aspects of our lives that we believe make us human, raising questions about "self" in relationship to others. By distinctly and directly impacting our abilities to communicate, it brings our fundamental lack of ultimate control over our lives, and their endings, to a head. Rather than stripping us of our humanness, it confronts us with the fact of our humanness: to be human is to be limited, even in our most cherished capacities. But we seem to have placed dementia beyond the pale of personhood, as if this condition alone reveals some shameful secret: the ease with which we all will disappear.
Language not only reflects and reinforces a reality, but also creates one. It should come as little surprise that the people who are imagined as gone, faded, vanishing or vanished, suffer mistreatment at higher rates than their peers. The National Council on Aging reports that nearly half of people with dementia have experienced abuse or neglect. Abuse and neglect fall on one end of a spectrum, upon which more subtle slights and forms of abandonment are considered normal. When a neighbor learned of my book, he told me that during the last three years of his mother's life with dementia he never brought his wife and young daughter to visit her. This allowed them "to preserve their good memories of mom," he reported. Denying his mother contact with her granddaughter and daughter-in-law did not register with him as a kind of desertion. His course of action is by no means unusual. A third of people with dementia reported losing friends following a diagnosis, and over a third said they have felt lonely recently, according to a recent survey by the U.K.'s Alzheimer's Society.
The fear that underwrites stigma and fuels poor treatment is not foreign to me; I am no dispassionate observer and chronicler of strong reactions. I have associated my worth with my intellect, and my intellect with my ability to remember. My memory has been a source of pride—and, quite frankly, income, too. I am a minister in a tradition that places great emphasis on preaching and teaching, on the fluent communication of complex ideas and texts. A writer's vocation prioritizes similar functions.
To this baseline fear, add my particular situation: halfway through completing On Vanishing, I learned that both of my parents carry one copy of ApoE4, a gene variant strongly linked to late-onset Alzheimer's disease. I have a 50 percent chance of having a single copy of the gene, which doubles or triples my risk of developing the disease. I have a 25 percent chance of having two copies, which elevates my risk by 8 to 12 times, giving me a 51-68 percent chance of having Alzheimer's by the time I am 85. I have drawn my own Punnett Square—fixing my glaze on the three of the four boxes that possess the ApoE4 variant, the one box that contains two copies of it. The caustic remarks, which had always struck me as harsh devaluations of people living with dementia—the long walks off short piers, the gun shop trips—suddenly took on a new, personal dimension.
I wrestled with whether to resolve any doubt and to get tested myself. Would the results haunt or help me—or, perhaps, both (or neither)? After weeks of waffling, I ultimately chose not to take the test, to live only with my probabilities—at least for the time being. My interest in dementia has never hinged on personal risk and lab tests, on the clinical, diagnostic, or prognostic. A genetic risk factor does not determine one's fate anyway. Nevertheless, I have no reason to believe I am exceptional or lucky. I need only revisit my paternal family history, replete with great aunts and uncles who lived their final days with dementia, or recall the vivid snapshots of my maternal grandfather's forgetting, to eliminate any denial I may harbor about my own future.
What has given and continues to give me hope is, not so much the idea that I can stave off dementia or vanquish fear, but a growing understanding of how dementia does not have to mean the end of life, love, and relationships. These years of writing and researching led me to the edges—where more humane visions are unfolding.
"Tell them we are not suffering!" Jim, a dementia activist, said to me at the end of our video chat.
I have had the good fortune of meeting dementia activists who are self-advocating for full inclusion in civic life—people like Australian Kate Swaffer, chair of the global advocacy group Dementia Alliance International. Resisting attitudes and policies that dictate that she and others living with dementia should forfeit their pre-diagnosis lives and brace for demise, Swaffer talks about the irony of dementia bringing clarity to her life. She found renewed purpose in taking care of herself and changing the negative narratives and policies around dementia. "Dementia is full of paradoxes," she told me on a video chat. "I know so much more than I did before." Activist physicians, such as Allen Power and Peter Whitehouse, are challenging modes of treatment narrowly focused on diagnoses, drug interventions, and segregated living environments. In their reimagined care schema, the whole person is respected, included, and supported within the wider community—well-being is given primacy.
While many reactions to the book have trafficked in negative tropes, I've been encouraged by the refreshing counter-narratives. I am thinking of the college student who attended an early reading of portions of the book and told me about her grandfather. Qualifying her initial statement that he did not recognize her anymore, she went on to say: "But he tells me all these stories from the old country, when he was a boy in Iran; he tells me, in Farsi, all these beautiful stories I've never heard before. So maybe he trusts me, maybe he knows I'm someone familiar he can trust with his stories…so maybe, in that way, he does recognize me." She powerfully reframed her relationship with her grandfather as one marked by trust and familiarity rather than only or primarily by loss. A friend shared how she was strangely grateful for her mother's dementia, because her mom did not have to live through the final illness and death of her son as intensely as she would have years before. Dementia, it seemed, had mitigated some of the impact of her grief. A son, whose father was a resident at the nursing home I worked, told me that his once-distant dad now kissed and hugged him, gestures of affection the son relished. I tapped into my own untold stories, too, of how I felt a certain warm connection with my grandfather who had dementia; previously a gregarious and larger-than-life personality, whose "bigness" often eclipsed others including those closest to him, he seemed to soften in his final years, and I had a chance to be with him in a way I had never before.
"Tell them we are not suffering!" Jim, a dementia activist, said to me at the end of our video chat. He gave me this singular message to deliver back to my readers. Diagnosed with dementia in his early 60s, Jim made it clear that he was tired of being labeled a sufferer, a victim, that his experience of dementia was more than a tale of suffering. In fact, the source of his suffering was more often the ways in which others treated him.
I believe Jim. In my many years as a chaplain in a nursing facility, in my relationship with my grandfather who lived over a decade with Alzheimer's disease, and in my current role as a minister with older adults, I have seen how dementia is not exclusively suffering; I have experienced the resilience, creativity, and emotional sensitivity of people living with dementia; I have witnessed the rich possibilities for meaningful connection and interaction when environments support the full humanity of persons with dementia. I am trying to take Jim's admonition seriously, to faithfully report his message to readers. My humble hope is that by writing and working with and through my own and others' fears of dementia, I might help create a culture in which stigma is reduced, where people's first impulse is not to take a trip to the gun shop but to take a deep breath and reach out to a world eager and unafraid to reach back.
__________________________________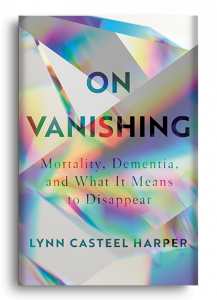 On Vanishing: Mortality, Dementia, and What It Means to Disappear by Lynn Casteel Harper is available now via Catapult.
---