Last Chance Tourism Destroys the Very Places People Want to Save
Climate Change Should Not Be Treated As Spectacle
When we travel to a place, we travel at a certain time. Traveling to the United States in 2020 would be very different to a trip in 1920 (or even 2120). Places change, and sometimes they are erased from the map altogether. Fighting destroyed the Porcelain Tower of Nanjing during the 1850s. In 1982 a Brazilian hydroelectric project submerged the world's most powerful waterfall, Guaira Falls, under an artificial lake. I backpacked around Syria in 2005, gawking at Aleppo's Umayyad mosque and the ruins of Palmyra. Through war, these majestic sites have now been partially destroyed. 
Tourist spots have always come in and out of existence. Yet there is a growing feeling that places will soon be winking out of existence en masse, because of climate change. This has led to a sharp increase in "doom tourism." Travelers are rushing to see the Maldives before the sea submerges them, and the Columbia Icefield before it melts. Tourists don't want to miss their "last chance" to see these places.
Alaska is already facing climate change. Warm winters are causing the permafrost layers to melt, and the sea ice to retreat. Have you heard the legend, "Eskimos have 50 words for snow?" The legend is problematic, not least because the Arctic has many native peoples, with many different languages. Nonetheless, there is some truth in it. For example, the Yupik people of western Alaska have many different words for sea ice. Yet researchers have found that some of these words, such as tagneghneq (thick, dark, weathered ice), are becoming obsolete.
I didn't travel to Alaska because of last chance worries, but I did once travel to Antarctica with them in mind. When I was little, I inhaled stories about Antarctic explorers. Ernest Shackleton. Roald Amundsen. Apsley Cherry-Garrard. When I was older, I feared that if I didn't see the white continent in its pristine state soon I might miss my shot. 
"Last chance to see" tourism has been around for a long time. In 1989, thousands of tourists travelled to Germany to witness the "last" of the Berlin wall before it fell. Yet the past few years have seen a sharp rise in this kind of tourism, and this is connected with growing awareness about climate change. 
The Earth has undergone cycles of warming and cooling throughout its history but there is scientific consensus that its recent, accelerated period of warming is our doing. Burning fossil fuels like oil and coal has released carbon dioxide and other gases into the atmosphere. Think of the atmosphere as a kind of blanket around the planet, trapping the sun's heat. When the blanket gets thicker, less heat escapes, leading to a warmer Earth. Scientists estimate the planet is warming ten times faster than on its usual cooling– warming cycle. 
The problem is that the act of visiting "at-risk" places may hasten their demise.
As a result of the Earth's temperature rise, many of its  features are changing. With few exceptions, glaciers around the world are retreating. (Leaving behind them, as naturalist John Muir once put it, hollows like the tracks of "traveling animals.") The northern regions of the world are seeing less snow cover, and less permafrost. The oceans are warming, and some sea creatures cannot survive the warmth. This has led to the "bleaching" and death of coral reefs. 2016 saw another huge swathe of Australia's Great Barrier Reef killed off.
At the Poles, ice sheets and sea ice are melting, leading to rises in the planet's sea levels. Parts of the Kiribati islands are already underwater, and a project is underway to relocate its citizens to Fiji. The last ten years have seen a global sea level rise of four centimeters. Scientific projections estimate the level could rise by as much as two meters over the next century. Even a 0.5 meter rise would be hugely problematic for coastal regions such as the Maldives, the Seychelles, the Solomon Islands, Micronesia, the Netherlands, and southern Florida. 
The growing consciousness that these places are at risk has led to an increased drive to visit them. "Doom tourism" is not the only label for this phenomenon. It has also been called "catastrophe tourism," "last chance to see tourism," "extinction tourism," and even "climate change voyeurism." These worries drove Douglas Adams and Mark Carwardine's 1990 book Last Chance to See. The writer and zoologist traveled to exotic locations aiming to find species on the brink of extinction, including Indonesian Komodo dragons and Chinese Yangtze river dolphins. 
A 2014 Time article, "10 Amazing Places to Visit before They Vanish," featured Montana's Glacier National Park and the Seychelles. A 2016 Rough Guide article, "20 Destinations to See before They Disappear," included Brazil's rainforests, Tanzania's Kilimanjaro, and Argentina's ice fields. A 2016 article in Condé Nast Traveller explains that global warming is the reason for the disappearances of these places in its title. 
The Effects of Global Warming: 12 Places That Are Disappearing 
1. The Dead Sea
2. The Alps
3. The Great Barrier Reef
4. The Amazon
5. Venice
6. The Rhone Valley
7. Key West
8. The Maldives
9. Alaska
10. Napa Valley
11. Mumbai
12. Glacier National Park 
Condé Nast Traveler, 2016 
What is the ethical problem of doom tourism? Ethics is the branch of philosophy dealing with morality, with right and wrong. Some human actions, such as theft and murder, are generally deemed wrong. Other actions, such as nursing the sick and giving to charity, are generally deemed right. In itself, there's nothing unethical about the practice of doom tourism. If a tide is about to sweep away a sand castle, why not run to the beach to catch a last glimpse? 
The problem is that the act of visiting "at-risk" places may hasten their demise. Coral reef tourists may accidentally whack the creatures, or leave rubbish and sunscreen residue in the water. By feeding fish, tourists can change their behavior. Arctic tourists are concentrated in particular areas, and large numbers can trample delicate vegetation. Boat and helicopter noises disturb the wildlife, and trash doesn't break down in freezing temperatures. 
As these places are being damaged by tourism, it looks as though the best way to guard them is to stop tourism.
At-risk places are sometimes so remote they require huge fuel expenditures, by plane or train or boat. Polar cruises are especially unkind to the environment, producing high carbon dioxide emissions per person per trip. Over the last decade, this problem has become known as the "paradox" of doom tourism. Tourists are hurrying to visit a place before it's gone, yet this very activity is contributing to the place's destruction. If the act of visiting at-risk sites puts them at further risk, it may not be ethical to visit them. 
We usually believe it is immoral to destroy things that have value. It is wrong to murder, because human lives are valuable. It is wrong to destroy art museums, because artworks are valuable. If glaciers or coral reefs are valuable, it would be wrong to hasten their demise. 
Why might we think at-risk places are valuable? Environmental ethics is concerned with precisely these kinds of questions. It offers two kinds of answers. One answer is, these places are valuable to humans. The Kiribati islanders need their islands to live on. Polluting the landscape is bad for our health. Destroying coral reefs destroys creatures we find beautiful.
Another answer is, these places are valuable in themselves. The well-being of animals and plants matters, regardless of how useful they are to humans. We should value the richness and diversity of non-human life for its own sake. These claims are usually made about animals and plants but we can extend them to inanimate landscapes. Glaciers and coastal regions are also rich and diverse, and we should also value them. This is the position of Henry Thoreau and John Muir. 
Many at-risk places are valuable to humans. We all need clean land to live on, to grow food, and source water. I also believe these places are valuable in themselves. If you think they are valuable in any way, then the right thing to do is protect them. As these places are being damaged by tourism, it looks as though the best way to guard them is to stop tourism. That would halt the damage caused by human visitors, and slow their destruction. 
____________________________________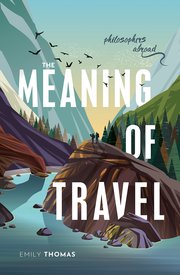 From The Meaning of Travel by Emily Thomas. Copyright © 2020 by Emily Thomas and published by Oxford University Press. All rights reserved.
---