"Writers Write." Laura Dave on Writerly Affirmations and Love for Nora Ephron
The Author of The Last Thing He Told Me Takes
the Lit Hub Questionnaire
Laura Dave's novel, The Last Thing He Told Me, is available now, so we asked her a few questions about her writing practice, idols, and influences.
*
Who do you most wish would read your book?
I just love this question. I had a teacher in graduate school who said we should imagine writing a novel as if it were a love letter to one, specific person. I love that idea. I worked on The Last Thing He Told Me on and off for eight years. I even wrote about throwing out the first draft for Lit Hub. The vastly different iteration that is making its way into the world concretized for me after I gave birth to my child in 2016. And this story became a love letter to him. So, one day, I can't wait for him to read it.
What time of day do you write, and why?
In the morning, as early as possible. I sit down with a cup of hot coffee, turn on my music, and write while I'm still a little foggy from sleep (before going online, before the demands of the day rile me up.) I find this keeps my inhibitions lower, and allows me to write more freely, and meditatively. I am less able to tap into that kind of groove as the day goes on, and by nighttime, I'm pretty useless.
Which books do you return to again and again?
So many! I reread my favorites often and ravenously. A few that are never far from my bedside table are Heartburn by Nora Ephron, The Idea of You by Robinne Lee, The Lost Legends of New Jersey by Frederick Reiken, Pride and Prejudice, The Joy Luck Club by Amy Tan, and Slouching Toward Bethlehem by Joan Didion. I have also become something of a thriller junkie and two of my favorites are Defending Jacob by William Landay and The Last Flight by Julie Clark.
Which non-literary piece of culture—film, tv show, painting, song—could you not imagine your life without?
Music plays a huge role in my writing process. I tend to listen to the same song on repeat the entire time I'm working on a novel. For this novel, the song that was in the most frequent rotation was a live version of "If I Should Fall Behind" by Bruce Springsteen and the E Street Band. I can't imagine my life without the songs so many incredible musicians have brought into this world (Stevie Nicks! Amos Lee! Bob Dylan!), and I can't imagine this book's journey without "If I Should Fall Behind".
What's the best writing advice you've ever received?
I have it above my desk: Writers write. What makes you a writer is not what you've published or how your art is being received. What makes you a writer is that your butt is in the chair and you're working. The process is what you need to stay devoted to, and what you need to fall in love with. Again and again.
__________________________________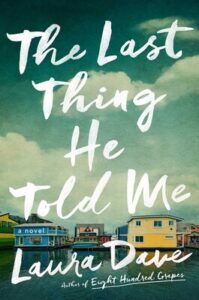 The Last Thing He Told Me by Laura Dave is available now from Simon and Schuster. 
---