Wordsworth: Caught in the Act of Making Poetry!
Adam Nicolson on the Friendship Between Coleridge and Wordsworth
Only after a long time did I realize that this was as it should be, that I could not expect to receive all the blessings and beauties from them without incurring some version of the costs, especially when I spent time with the notebooks of William Wordsworth, where the struggle to register and respond to the realities swaying and surging between mind and world are evident on every page. This was, in fact, the price of poetry, a price that is rarely allowed to surface in any published text but surely lies below much of it, the cost of beauty, the fee exacted by the need for resolution. "Do you not see," Keats would write in a letter to his siblings, "how necessary a World of Pains and troubles is to school an Intelligence and make it a soul? A Place where the heart must feel and suffer in a thousand diverse ways!"
*
In Wordsworth's notebooks, the scattered lines read as if gobbets of music and language are pushing out through his pen on to the surface of the visible world. The atmosphere is of retrieval, of quite literally the re-collection of ideas and associations, the memory of sights and sounds he had gathered when out in the woods and on the high tops of the Quantocks. It is tempting sometimes, from these ragged, scratched-at, fragmentary pages, to think that they must have been written on site, notations from the living world, from his presence in that world; but that was not his method. He was clear, when asked about this late in life, that for poetry to surface it had first to pass through the great digestive organ of his mind. Poetry did not lie out in the fields and woods like mushrooms or autumn leaves. Poetry existed only in the meeting of mind and world. Poetry was that act of becoming, feeding on what had been ingested long before.
He told Aubrey de Vere, the Irish Victorian poet and his lifelong admirer, that he "had hardly known anyone but [himself] who had a true eye for Nature," and talked about another poet, but did not name him, who
went out with his pencil and notebook, and jotted down whatever struck him most—a river rippling over the sand, a ruined tower on a rock above it, a promontory, and a mountain-ash waving its berries. He went home, and wove the whole together into a poetical description.
Is this, darkly, a description of Coleridge, for whom no friend was more loyal or trustworthy than his notebooks, and without which he never went out of the door? Or even Southey, who as Hazlitt noticed, was never without his notebook in hand?
De Vere described how Wordsworth paused at this point, for effect, and went on with a "flashing eye and impassioned voice," saying that
Nature does not permit an inventory to be made of her charms! He should have left his pencil and notebook at  home; fixed his eye, as he walked, with a reverent attention on all that surrounded him, and taken all into a heart that could understand and enjoy. Then, after several days had passed by, he should have interrogated his memory as to the scene. He  would have discovered that while much of what  he had admired was preserved to him, much was also wisely obliterated. That which remained—the picture surviving in his mind—would have presented the ideal and essential truth of the scene, and done so, in a large part, by discarding much which, though in itself striking, was not characteristic.
That may have been the Victorian mage speaking. Certainly the notes from the winter of 1798 do not read as calmly and monumentally resolved as those words suggest. They arrive fragmentary and immediate on the page, the traces left by moments of expansion and recognition, in which Wordsworth seems surprised at their emergence into the world, as if he were not the source but merely the conduit for them.
This can be seen as what it is: the proclamation by a poet, to himself, about himself, that his subject is the greatness of his own human spirit.
He tussles with the Coleridgean idea that love between human beings is somehow dependent on love of everything that is. At first, it is expressed in the negative: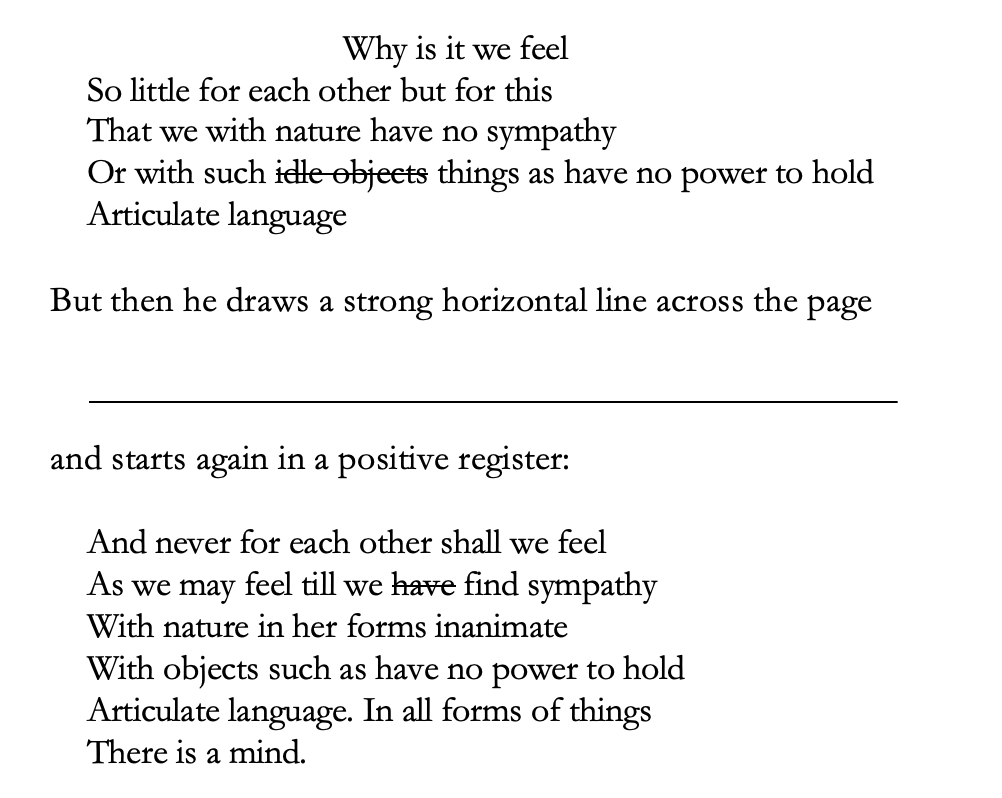 This is one of his great transitional moments, leaving behind that negative figure who walked the roads with his eyes turned down into the dust and becoming instead the disciple of his friend. "In all forms of things/There is a mind," he writes, as if sitting at Coleridge's knee, a moment of recognition that what his friend had been telling him all year was true. Then, written in between two drawn horizontal lines:
The echoes beat the rocks as if with wings.
Self and world are melting into each other at their boundaries. On another page, something longer, rolling out under its own unsummoned impetus:
Transfigured by his feelings he appeared
Even as a prophet—one whose purposes
Were round him like a light—sublimed he seem'd
One to whom solitary thought had given
The power miraculous by which the soul
Walks through the world that lives in future things
He writes that as it comes, no revision, no punctuation apart from the two dashes, eased perhaps by using the third person, not daring quite to enunciate a naked recognition of himself as a prophet, which this surely is, but disguising it as the description of another. Nevertheless, this can be seen as what it is: the proclamation by a poet, to himself, about himself, that his subject is the greatness of his own human spirit, and that the realm across which he now intends to stride is nothing less than eternity.
No record exists of Wordsworth writing these lines. The notebooks are their own and only record, written in the dark of that winter, supremely solitary, and enabled by that solitude. To hope for more would be contradictory. By definition, these lines and this turn in Wordsworth's poetry could only have occurred in private and in secret, these pages a precious trace of that transformation. There is nothing public in them. They can often flirt, in their vagueness and their striving to express something which seems no more than half-known to Wordsworth himself, with the borders of the meaningless. And they can only be read with a conscious attempt at empathy, listening for what they are and what he wanted them to be: a poet reaching for a form of poetry, both epic and personal, both confessional and declaratory, for which he had no model.
Wordsworth himself seems to occupy the universe, as a stream that runs through time.
It is all far from programmatic. Quite suddenly two lines appear in the notebook, written in the dark ink of a newly charged pen, that sound as if they are a memory of Annette Vallon:
And thought of that poor woman
Whom I had known & loved.
That was its naked first form, later—perhaps immediately—amended and obscured to:
And thought of that poor woman as of one
Whom I had known and loved.
He then turns again to Coleridge's sense of a universal connectedness in all things that are living now or have ever lived:
Of unknown modes of being which on earth
Or in the heavens or in the heavens and earth
Exist by mighty combinations, bound
Together by a link, & with a soul
Which makes all one
After one false start, crossed out with rapid, authoritative vertical lines, he writes this: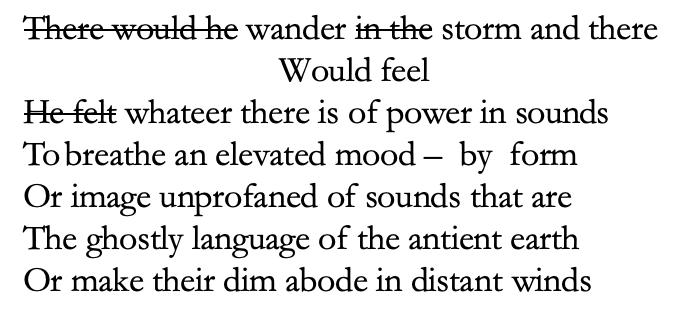 These are the earliest of lines that would find their way into The Prelude, almost a transcription of a winter's night on the Quantock ridge. The winds watched over Ulysses like dogs, Wallace Stevens suggested in "The World as Meditation," and no phrase could be truer of Wordsworth this winter. All is uncertainty, distant in time and space. The scale of what he is describing is enlarged by its unembraceability, by the strange substanceless substance of the winds, which can nevertheless transmute into the bodily intimacy of a breath. The feeling man stands at the centre of an ancient cosmos that speaks to him through its winds.
The poetry is in the communication of those opposites, in the connection between the most inward, private aspects of the mind with the most unimaginably vast extent of what has been or could ever be.
Then: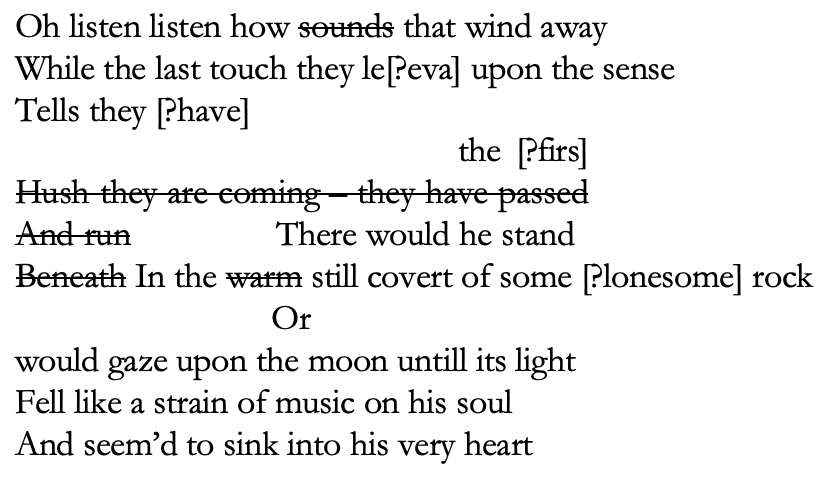 Any sense of sociability has gone. The life of the household, his friendship with Coleridge, the children, Dorothy—all are banished from his mind. Wordsworth himself seems to occupy the universe, as a stream that runs through time, or more than that, a tide that ebbs and flows, a tidal self that floods out into all the far and shrouded corners of the world and then withdraws, seeping out into everything he might feel around him, only then for the surge to come again, his enormous boundary-less self fluxing and flexing into the hidden provinces of being.
I lived without the knowledge that I lived
Then by those beauteous forms brought back to life again
To lose myself again as if my life
Did ebb and flow with a strange mystery
Coleridge's sense of one life embracing all is never far from these winter pages. Wordsworth here and there simply repeats what Coleridge had been saying to him.
In To every natural form, rock, fruit, & flower
Even the loose stones that cover the high-way
He gave a moral life; he saw them feel
Or linked them to some feeling. In all shapes
He found a secret & mysterious soul
A fragrance & a spirit of strange meaning
Both Wordsworth and Dorothy were able to enter trance-like states, and there are snatches here of Blake-like questioning of the universe:
Are there no groans in breeze or wind
Does misery leave no track behind
Why is the earth without a shape & why
Thus silent is the sky
Is every glimmering of the sky
Is every lamp hole [?] in the world an eye
Has every star a tongue?
The night at times remains infused with guilt and pain, a haunted universe of strangeness, bodily suffering and high visions, human life invigilated by unknowable and higher powers:
Away away it is the air
That stirs among the wither'd leaves
Away away it is not there,
Go hunt among the harvest
sheaves There is a bed in shape as
plain
As form of hare or lion's lare
It is the bed where we have lain
In anguish and despair
Away and take the eagle's eyes
The tygers smell
Ears that can hear the agonies
And murmurings of hell
And when you there have stood
By that same bed of pain,
The groans are gone the tears remain.
Then tell me if the thing be clear
The difference betwixt a tear
Of water & of blood.
Night walks up the steep and stony road on the winter hill above Alfoxden fed straight into the lines, where ecstatic transcendence was never without an awareness of the body that was experiencing it:

This connection of the human and the more-than-human is the organ at the heart of the poetry, and the night buffeting of the storm winds became for him a central emblem of that connectedness of mind and world: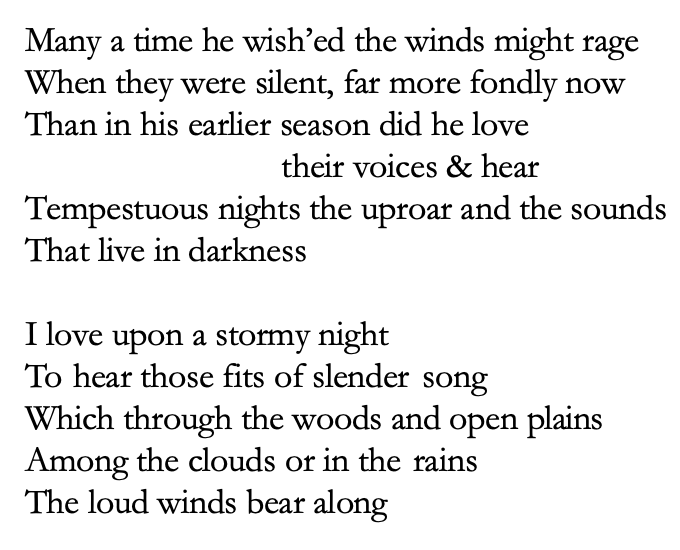 All is fragmentary and disconnected, a kind of impassioned roaming through these newfound elements of scale, self, uncertainty, listening to the under-music of the wind, disquiet playing its role as a path that drops into the sublime, the body as the frame of being in the physical world, a portal to worlds both beyond and within the physical:
Sensation, soul and form
All melted into him.
Repeatedly in these pages you catch Wordsworth in the making of poetry, the sudden translation into words of the moment of being, running over whatever he found in his hand, shifting it, testing and retesting what feels like the way to say it, stating and restating, refining his meaning in consecutive phrases like a man moulding and reshaping the nature of what it is he needs and wants to say, trying always and repeatedly to catch the animated greatness of the wind in these trees and on these heights.
The forms that emerge in the notebooks are the shape of a mind thinking, a process more than a conclusion, so that it becomes clear that a poem is not an idea. It does not exist outside itself. It only is as it is, as it develops, through the turning of its lines and the breathing of its meter, so that the real poems in these notebooks are not the lines in their final form but the sequence by which Wordsworth felt his way towards them. The finding of the way is the poem itself, a walk through the pages of the notebook. And so a poem that tries repeatedly to encapsulate the breath of a moment on the hill or the fluttering of the flames on a fire is more of a poem, more whole, than one which addresses an objective fixity, or anything that existed before the poem made it what it was.
———————————————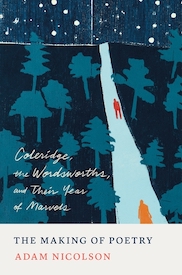 Excerpted from The Making of Poetry: Coleridge, the Wordsworths, and Their Year of Marvels by Adam Nicolson. Published by Farrar, Straus and Giroux January 21st 2020. Copyright © 2019 by Adam Nicolson. All rights reserved.
---