Why We Should All Be Less Like Satan, More Like My Mom
Rye Curtis on Why Absolutism is (Almost Always) Bad
When I was a young child my mom decided she'd divorce my dad and live romantically with a woman who prepared and sold taxidermy and owned a coffee shop in town. This was in a little windy portion of the Texas Bible-belt. A good many people in small places like that don't care for lesbians, or anything queer for that matter, particularly back then. And my mom was not quiet about it either; for a time we lived above the coffee shop, which also served as a popular hangout for the gay community. There was an enormous pink triangle painted on the side of the building. So it seemed everybody knew about my mom and the way we were living and seemed everybody had an opinion about it. 
Some people were kind enough, but plenty of them looked at us like we were a canker setting into the good and true morality of the county. Somebody hucked a brick through our living-room window, and some slow-eyed boys in boots caught up with me after school to knock me on the head. Some people endeavored to save our souls. Looking back at it now I have a great deal of gratitude for those who, even though they might have believed my mom was going to Hell, were people of tolerance and just let us be. Tolerance like that may be the civilizing nature which keeps us all from living like dogs. 
Letting people be is not always an easy endeavor. When somebody believes there is a right way and a wrong way to go about living, often as not they'll tell you about it. I imagine people have been imposing on each other probably since the very first believer stood tall on a rock and warbled some crazy parable to the clouds, and then wolloped somebody with a stick because they wouldn't warble along with them. Perhaps it's only natural.
One of my elementary school teachers, let's call her Mrs. Pigeon, took me aside one day and told me that I needed to be bathed in the Blood of the Lamb for the sins of my mother. She may have believed that she was making an earnest effort to save my soul, but all the same I gravely disliked Mrs. Pigeon and all that she stood for; a conservative, doctrinal Evangelical with a soft voice and a spooky smile.
Later on, in my rebellious early teenage years, I put a paper sack of my feces in her mailbox and wrote her letters from Satan. Now that I'm older I've come to the realization that sacks of excrement and letters from Satan probably aren't likely to help much of anything. In fact, maybe that kind of thing is akin to the bigotry that brought that brick to lay on our living-room floor or got Mrs. Pigeon to thinking it was a good idea to discuss blood-bathing with a child she hardly knew. 
Now that I'm older I've come to the realization that sacks of excrement and letters from Satan probably aren't likely to help much of anything.
As I get older I'd like to do my best not to end up like Mrs. Pigeon. I don't want to wind up with that wild conviction that mine is the privileged perspective from which I can gaze upon universal truths and impart them to strange children. I'd like not to act out against people because they keep certain beliefs or behave in ways I find bizarre or even repugnant. A good rule of thumb I have is to try and consider people more like my mom does. She has a fine ability to see all sides of a thing and to hold them all at once in her mind like some kind of relativistic chimera, often to be found out back of her house soaking in an old hot tub after a day of work with a glass of wine and a fine dew glowing all over her tonsured head.
She had a hard time of it for a while there after the divorce and coming out and there was no shortage of intolerance to reckon with, particularly when the courts gave my dad full custody because her lifestyle was "abnormal." My dad is a fantastically kind and caring father and saw this ultimately wasn't any good, so I grew up half the time with him and half with my moms, and in the end it all worked out somehow. But I will tell you it is a wonder that my mom was able to come through all of that with her otherworldly sense of fair perspective and compassion undiminished, perhaps even emboldened. 
Rarely will you hear my mom pass a harsh judgment on anybody, even if they'd done some patently weird and upsetting things or had taken part in some esoteric sort of deviancy. I expect my mom's inclination toward extreme tolerance is due in part to her experiences coming out, but also to the years she's put in as a counselor specialized in gender identity and sexuality in a largely homophobic and repressed culture like we have back in the Texas Panhandle. You can bet she's heard a good deal of sadness and confusion.
Much of her life's work has been to help mitigate misunderstanding in all manner of discarded people, some of them even troubled sex offenders of some kind or another; all of them the sort of haggard pariahs moralists like Mrs. Pigeon might have made some effort to convert or at least marginalize. Against all odds, and even though she herself has often not been treated as fairly, my mom endeavors either to help people on their own terms or peaceably let them be. But when it comes down to it we can't just let everybody be. Not if we want to hold on to some semblance of individual freedom in a world where it seems freedom is always threatening to ebb away.
A free and morally pluralistic society must necessarily tolerate mutually exclusive monistic systems of belief, often systems which are inherently intolerant. But it would seem that these belief systems ought only be tolerated if they don't impede an individual's right to ignore them. I don't think I'd much like to tolerate being told by some hat-wearing fascist that I have to worship a garden snail or sleep only with women lest I should be bashed to death or otherwise exterminated.
Sometimes you just have to put your foot down. So here sits the age-old and nearly paradoxical consideration that for a movement toward a tolerant and pluralistic society we are sometimes obliged to be intolerant. And it's a fearsomely delicate duty to make that decision when you ought to rightly say, "No, I'm sorry, I can't allow you to live that way or say such crazy things. Cut it out, Mrs. Pigeon." 
Absolutism can be intoxicating, so it makes sense to me that we live in a society mostly made up of diverse absolutists.
I suppose the worrisome thing about deciding when it's appropriate to limit another's freedom is that it puts us all at hazard of slipping off into fascistic attitudes of self-righteousness, across all walks of life and ideological perspectives. It's a fine and nuanced thing to study, that liminal corridor between that which somebody might find baffling or indecent or immoral or even flat-out wrong and that which is a threat to the efficacy and effort of social freedom for all.
I don't claim any perfect grasp on the complexities of it. But when I snuck out in the middle of the night to make some mischief with Mrs. Pigeon's mailbox, I didn't think I was doing anything wrong at the time. Rather I thought I was making some poignant statement against hate, I was somehow avenging my mom, somebody I love tremendously who I felt had been done an injustice. I had an idea about what was absolutely good and what was absolutely bad. 
Absolutism can be intoxicating, so it makes sense to me that we live in a society mostly made up of diverse absolutists. Most everybody has it in their heads that they're on the side of good and that they know what is right and what is wrong. I'm not so sure. Perhaps readily accepting that feel-good, comfortable way of thinking is as myopic and juvenile as an angry and hurt mama's boy heading off into the rural dark with a sack lunch of his own feces and some letters from Satan in his pocket.
The older you get the more sorry you are for what you've done in your younger days. And I'm sorry now for the letters and many other things I've done, but I imagine I learned something from them, even something about writing. Writing something off-putting is a good way to put doubt into the doubtless, and maybe somewhere in doubt there is compassion and tolerance. It was a long time ago now, but I think one of the letters went something like this: 
Dear Mrs. Pigeon, 
I love you. I always have. Affectionately yours, 
Satan 
I'm still trying my best not to end up like Mrs. Pigeon. 
__________________________________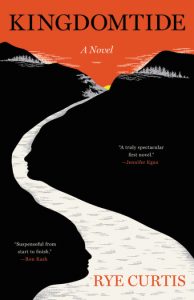 Rye Curtis' novel Kingdomtide is available now from Little Brown.
---