Tragic: The Gathering, Philadelphia's Reading Series for Trans Writers
Berry Grass on Creating Inclusive Literary Spaces
I've noticed that literature from transgender writers is most often given awards and praise by cisgender institutions and reviewers and readers when the work is about our trauma. The political projects of whiteness and empire continue to tighten their vice grip on trans people across the world, and I've certainly written about and into my own survival. So while there's obvious merit to exploring trauma in our writing, the uncomfortable feeling remains that trans writers are most (only?) visible to the literary superstructure when we are in pain.
So what happens when there's a whole lineup of us reading? And a room filled with an audience of trans people? A space of diverse understanding and solidarity and joy for trans people might only be visible to the cisnormative gaze as a collection of sob stories and struggles. As a big ol' tragedy.
I named my Philadelphia reading series Tragic: The Gathering because of the cheeky wordplay related to the popular collectible card game Magic: The Gathering, yes, but also to poke fun at the expectations placed on literature from trans writers. There's nothing tragic about the energy in a room of people laughing and vibing and responding to Kayleb Rae Candrilli's work about gender euphoria at the beach or Gen Z audience members suddenly reevaluating the professional wrestling their dads watched in the 80s because of Colette Arrand showing us the homoerotics of the squared circle. And there's nothing tragic about Raquel Salas Rivera disrupting binary notions of what a literary reading is by reading all their work in both Spanish and English—Spanish first.
When a crowd comes together to feel fully themselves and show out with looks to prove it, as in lii xu's head-to-toe floral prints, Noor Ibn Najam's fishnet crop top, or Lily Kulp's vintage faux fur, it's a powerfully uplifting experience, and I started Tragic: The Gathering in part because I needed a series like this.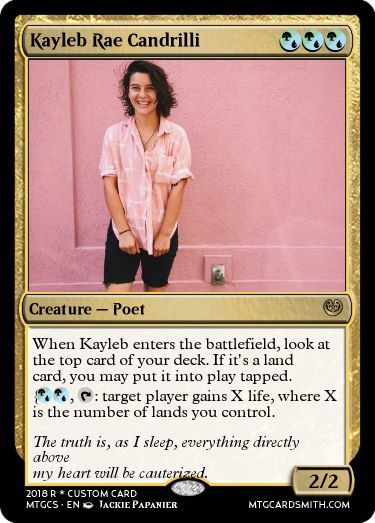 Another reading series in Philadelphia provides that space for me, and it bears special mention: You Can't Kill a Poet, run by Boston Gordon. The lineups are exclusively made up of queer and trans writers, including plenty of first-time readers and ones who don't seem to be booked for readings outside of You Can't Kill a Poet. It's my favorite series in the city.
Philadelphia is a tremendous literary city, and there are multiple regular reading series happening every week. It's not uncommon in this city to have nine or ten readings you'd like to attend in one week. I knew that if I wanted to start a series it would need to offer something unique within Philly's literary landscape, and I didn't want to launch a knockoff of You Can't Kill A Poet.
One thing I'm proud of is that despite not having any institutional support or backing, I've been able to get readers for Tragic: The Gathering paid.
I decided to create a reading space for trans writers who don't live in Philadelphia. We're often ignored by institutional reading series and prominent bookstores, and beyond the expense, touring behind your work as a trans writer can be very difficult if you don't have connections in other cities. I wanted Tragic: the Gathering to be an occasional series where trans writers from outside of Philly could share their work for a strong audience and be supported by some of the city's many wonderful trans writers.
Headlining writers are often promoting a recently published book, but sometimes it's a chapbook or a self-published zine. It doesn't matter to me, though, if readers at Tragic: The Gathering have publishing credentials or not—both because the publishing industry is very selective about what constitutes a "publishable" trans voice, and because this series is also open to the many trans poets working in spoken-word traditions.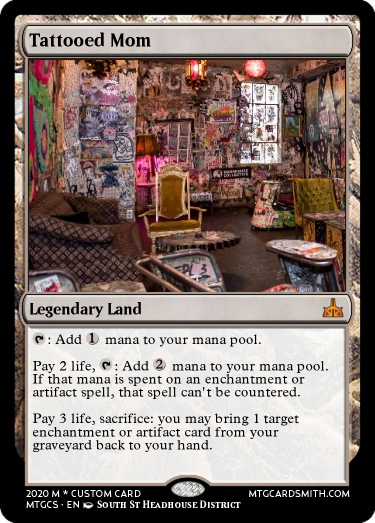 I like to call this an "occasional" reading series. Instead of a consistent schedule of one event every month or two or four, I only book readings around trans writers who want to read in Philly. This might mean four events a year, it might mean two, it might be seven—who knows?
I reach out to writers I'd love to see headline an event, but mostly the headlining writers approach me. We work out scheduling details together, and then I ask a couple of local writers to participate as well. The first Tragic: The Gathering back in 2017 had five scheduled readers, but over time I've come to book only three readers per event. I've found that audience attention is at its sharpest if there's no intermission, and with three readers an event can keep a brisk one-hour pace while also giving each reader ample time on the mic.
One thing I'm proud of is that despite not having any institutional support or backing, I've been able to get readers for Tragic: The Gathering paid—on average, $30-$40 each. For a community that seems like it's passing the same $12 back and forth on Venmo all the time and sharing each other's GoFundMe campaigns because our necessary healthcare costs are so high, this deserved honorarium, though small, is crucial. I ask for donations during the event and supplement them with money from my own pocket—though my ability to contribute personally towards the honorarium has been diminished lately by my own employment struggles (another routine experience in the lives of trans people). And readers can sell whatever they want at the event.
Tragic: The Gathering usually packs a room back to the door, whether I host it at supportive dive bar Tattooed Mom or at the anarchist bookstore Wooden Shoe. Perhaps part of the reason for our strong attendance is that my promotion leans hard into Magic: The Gathering references. I make up a mock creature card for each reader (and coming this year: land cards for venues and artifact cards for the authors' books!). I've been playing Magic for over 20 years, and I take care to make cards that are theoretically playable and also reflective of the authors and their work. I hope that readers feel seen in a new way, because my mock cards come out a place of deep reflection with their work.
But really, I think attendance is strong because LGBTQ audiences in Philly are hungry for literary spaces that don't exclude trans writers with misguided language like "women and femmes," by booking transphobic writers, or through misgendering and disrespecting the few trans writers who do get booked. Fortunately, some of the most well-attended of Philly's reading series are explicitly trans-inclusive (like TireFire, Charmed Instruments, The Hatchery, and Accidental Player, among many others).
LGBTQ writers here support the places where we feel supported. What I like to do with Tragic: The Gathering is show out-of-town trans writers what that support and energy looks and feels like. Philly's lit scene is at its best when we play a Howling Mine and all draw extra cards together.
---