Mahogany L. Browne on Audre Lorde and Tools for Liberation
Also, How Black Writers are Acting as Agents of Change
Sister Outsider by Audre Lorde, published this month by Penguin Vitae, presents a collection of essays and speeches from the groundbreaking feminist writer. We asked poet Mahogany L. Browne, who penned the foreword to the book, to answer a few questions about how Lorde has affected her life and work.
*
How has Audre Lorde's work served as a resource to you as a teacher?
I was at a teaching crossroads. I was facilitating in some of the most underserved areas of the city and traveling ten minutes away to private institutions. I turned to Lorde's work as a resource because it was one of the few texts that speak to both rooms. Constantly being told your anger negates the root of the problem is not only alienating but blood-curdling. The tactic is designed to destroy our ability to constructively critique situations that in the long run disable our desires for collective learning and healing.
What are some of the challenges of teaching Lorde to students?
I think Lorde was a master at using accessible language for complex social theories. I believe some of the challenges arose when academia's provided more roadblocks than resources to share/teach tools for liberation.
You write in the foreword, "I believe Lorde penned these essays to explain the world to our children." How would you describe the resonance of Lorde's writing for mothers in particular?
A mother, particularly, is often an emptying well. In my time of need, I searched for text to fortify and explain my debilitating self-judgement and guilt. Often met with cookie-cutter responses, it was in the work of Lorde's that I was able to articulate my frustration and fears as I tried to raise a healthy daughter amidst a system designed to continuously destroy and oppress marginalized bodies. Lorde's essays and poems served as a well of wellness, where I found myself returning to again and again, a process of return and rejuvenation with her archived litanies of survival.
You also write, "The Black woman body can tremor resilience and remorse, trauma suppression and survival; joy as resistance, and liberation as fashion." How has Lorde, either in "Uses of the Erotic: The Erotic as Power" or other essays, affected your thinking around the Black woman body?
I was introduced to who I was as a Black woman in the world through the lyrics of hip hop. Conflicted most times and empowered rarely, I began to consider a variety of ways to be my whole self. A young woman and mother. As time passed I went from listening to Lil' Kim for inspiration to reading Nina Simone and interviews with Grace Jones. I found June Jordan and soon, Audre Lorde. In this time, through this 15-year awakening, I reclaimed my desires as a right to sexual liberation and found power in my ability to choose for myself whom I wanted to share space with.
How do you see Black authors continuing and adding to Lorde's work of radical love and resistance today?
This question brings me pause. I have found Black authors constantly fueled by Lorde's work but also diminished when they find their "allies" aren't as familiar with Lorde as they are of, say Foucault. And so, I see a constant effort of leveling the playing field (culturally, economically and socially) resulting in a fractured mindset of "wokeness" and well-meaning folks. I see Black authors pooling together resources to rally both their writing and organizing efforts.
These active agents of change include the likes of Jason Reynolds and his work with Rhode Island Writers Colony, Aja Monet, and her work with Smoke Signals, Eve Ewing & Nate Marshall, and their work with Poetry Incubator, Glory Edim and her work with Well-Read Black Girl, Dhonielle Clark, and her work with We Need Diverse Books, Renee Watson, and her work with I, Too Arts, Jacqueline Woodson, and her work with Baldwin for the Arts, or Miriame Kaba, and her work with Project Nia. There are so many Black writers picking up their pens to bear witness demanding change as citizens of this country. They are superheroes, using their position and platform to engage with their communities with a clear understanding that these social justice efforts support the necessary changes required to achieve true liberation for all people.
__________________________________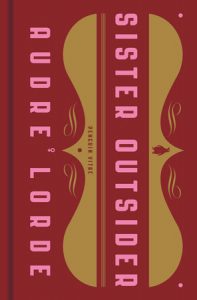 Sister Outsider by Audre Lorde, with a foreword from Mahogany L. Browne, is out now via Penguin Vitae.
---