Why We All Need Dinner Parties in Our Lives
Natasha Feldman is a Big Proponent of Friendsday Wednesday
I've met most of my favorite people at dinner parties. My closest pal of ten years, Julianna? Collected her at a dinner party I hosted to find a new roommate. The night ended in sticky cinnamon buns.
My friend Phi? I met her at a dinner party I was invited to when I ran into a guy I did theater with as a kid.
The guy I did theater with? Well, we aren't tight, but the woman he was dating at the time, the one who threw the dinner party where I met Phi? She is a very close friend of mine now too.
The photographer for my book? Wanna guess how I met her? Yup. At a dinner party.
My husband, Andy? I knew it was the real deal after I brought him to a dinner party hosted by my two best friends. There was risotto involved.
My dog, Malone? Well, she used to be my friend's dog until we fell in love at a dinner party, and the rest is history.
I could regale you all day with stories about people I've met at dinner parties and clung to like a baby koala. Dinner parties bring people together. There's just something about having dinner and drinks at a friend's house that is 1,000x more memorable than going to a restaurant. So as a believer in the power of dinner parties, I spent my mid-twenties attending as many as humanly possible.
But then, as my friends and I got busy with careers, dating lives, families, and general garbage, the dinner parties got further and further apart. One day, I was sitting on the couch feeling unsettled, thinking about what had shifted, and it became really obvious. I knew what I needed. Enter Friendsday Wednesday.
Friendsday Wednesday (n.): A Wednesday when your friends come over for dinner so your week doesn't suck.
If nothing beats the joy of sitting squished around a table with lots of food, flowing drinks, and your favorite people, then why don't we do it more often? Why would we deprive ourselves of this joy and "free therapy"? There are two main reasons many of us avoid hosting dinner parties like root canals: (1) fear of not being a "good enough" host or cook and (2) decision fatigue! And luckily, the impossibly handy flowchart below is designed to alleviate both issues.
Don't feel like making dinner? The flowchart says, "Don't! Order takeout and make a cocktail." Tired of using your brain? The flowchart's response: "All good! Just answer a few simple questions and I'll lead you to the perfect menu." Now that problems #1 and #2 are solved, there's only one question left: when are your friends coming over?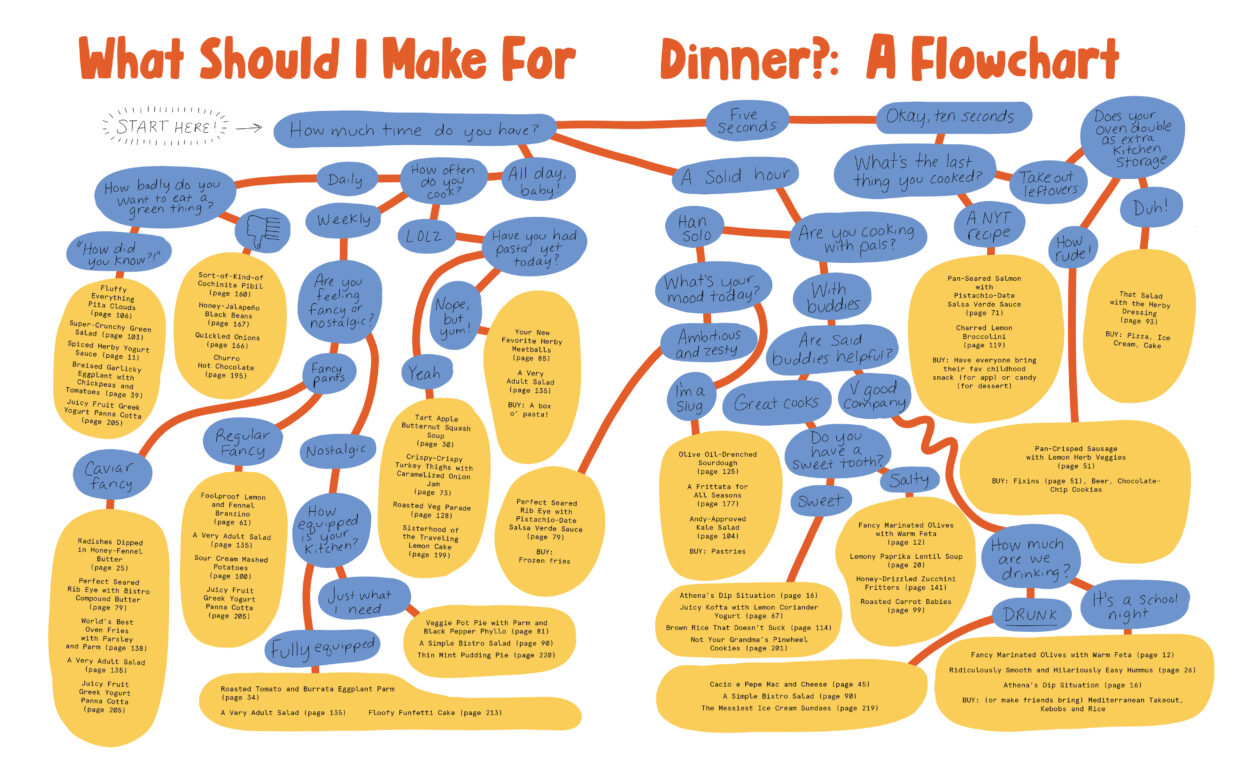 It began with a Google Sheet where people could sign up for one of six open spots per week. I thought just a few people would sign up, and that maybe some weeks no one would sign up, and I would have to deal with the existential question that all humans ask themselves in their darkest moments: "DO ALL MY FRIENDS HATE ME?"
But right away the entire month was booked! I was incredibly excited. I used the first Friendsday Wednesday as a chance to dust off cookbooks I'd been meaning to crack open. I'd pick one recipe I was really excited about and make simple sides to serve with it. I made things like Moroccan
stewed lamb with cherry rice, extra-gooey butternut squash mac and cheese, grilled kebabs with fluffy homemade pitas, and cochinita pibil tacos.
On occasion, if the day exploded, I would just order takeout. Guests always brought the booze.
Friendsday Wednesday quickly became the best day of the week, not just for me and my partner (hi, Andy!), but for all of our friends. People started texting me to find out what we ate on nights they weren't there, or to ask if they could bring a plus-one, and to get ideas about how they could host their own version of Friendsday Wednesday.
The act of gathering and feeding people allowed me to maintain sanity, support my community, and have some fun. Being an adult can be sort of a drag a lot of the time, and gathering around food is the greatest antidote. Am I saying that becoming a regular dinner partier will necessarily lead you to a fulfilling career and the love of your life? I'm not not saying it.
__________________________________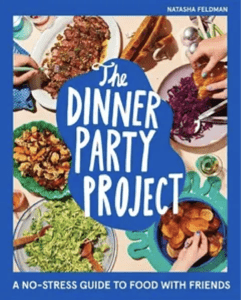 From Dinner Party Project by Natasha Feldman. Copyright © 2023 by Natasha Feldman. Reprinted by permission of Harvest, an imprint of HarperCollins Publishers.
---