Why This Era of Global Change Demands New Language
Audrey Schulman on the Limits of Scientific Terminology
Carl Linnaeus invented our taxonomy system. Like God in a lab coat, he used the system to classify and name species from polar bears (Ursus maritimus) to garlic (Allium sativum). Potentially, he took on this work because he himself was renamed three different times.
I'll call him Carl Nimaeus—the name he was given at birth. I don't know which name he preferred, which name he would have turned at most quickly if it was called out behind him.
He was born in 1707 in Sweden, back when the patronymic system was still in use. This meant his last name, Nimaeus, came from his father's first name, Nils. His sisters were given the female version, Nimaea. This word was not so much a name, as a prepositional phrase: of Nils. The child's identity derived from being the property of the dad.
*
As a child, I regularly visited my uncle's farm in Quebec. There were feral cats everywhere, pouncing on mice in the fields, cleaning themselves on the stone wall, giving birth to mewling kittens in the hay loft.
During the winter, the cats searched for warmth. They'd sleep curled up on a horse's back in its stall. They'd press against the farmhouse windows, staring in, their coats puffed out and eyes as big as a raptor's. When the car drove up and parked, they'd jump onto a front tire to climb into the warm engine block. Each morning, before my uncle got into the car, he slapped the hood hard with his hand. The cats flew from the tire wells like rabbits from a hat. I did not ask if he did this to protect the cats or the engine.
None of these cats were named, any more than the chickens were. The cats were not considered individuals, but only tools to catch mice.
Each night, my aunt tossed the leftovers from dinner onto the driveway for the cats. The rest of their calories, they caught. Whenever the cats became so numerous that they became bony and desperate, my uncle would collect all the kittens he could find in a bag and take them down to the stream. That and the slap on the car hood was the extent of his care.
*
If the patronymic system had continued, Carl's children would have received a different last name from his. This meant there could be no multigenerational reunions of his Of-Carl family. Instead, at the reunion, there'd be kids lining up for the barbecue with last names like Of-Lars, Of-Erik and Of-Peter.
This naming system worked well in a small town, but in a city, it could become difficult to determine which Hans Of-Thomas owed you the money.
*
In 1989, my uncle's farm changed. He didn't want to carry kittens down to the river anymore, so he asked my veterinarian sister to neuter the cats. Christmas morning, he caught them all and my sister anesthetized them. At one end of the kitchen counter, my aunt prepped the turkey, its legs splayed open for stuffing; at the other end, my sister worked on the splayed cats—both my aunt and sister humming along to Bing Crosby.
New terms can erode assumptions, allowing the mind to flow in unaccustomed directions.
After that, there were no new kittens. With fewer cats, my aunt and uncle began to recognize several and appreciate their personalities: the big hunter with the bent tail, the stray Siamese who cried like a baby. The next winter vacation, I noticed they let their favorite cats sneak into the house on particularly cold days.
*
With Swedish cities getting larger, the government was having difficulty collecting taxes—too many people with the same name. Thus, the government ruled that each family should rename itself, selecting a unique name to be passed down on the male side of the family. To attend university, Carl's dad had to register his family's new last name.
It's possible he thought hard about it—this word that he and his wife and their kids and descendants would be known by, this name that would become famous, taught in biology classes for centuries. Or, perhaps, he was irritated with the paperwork and believed this new system was a fad. Maybe he did nothing more than glance out the window and write down the first thing he saw.
The family was named after the large Linden tree on their property. Carl's last name became Linnæus.
Being named after a tree seemed appropriate since Carl loved plants from the earliest age. He loved wandering through the garden, memorizing details about organisms that did not move, becoming a walking botanical encyclopedia. If he lived in the present day, his ability to fixate on and memorize enormous amounts of arcane scientific information may have been considered a potential indicator of autism; however, back then, that diagnosis did not yet exist. Instead, he was simply a child who could retain enormous amounts of information about plants.
And there was a lot to retain, since experts didn't agree on the names of plants or even how many species there were. One expert announced there were 12 kinds of daisies, naming several after his siblings. The next declared 14 species, named after his local streets. With no real system to the classification or names, the experts duked it out for popularity. Carl read them all, primarily in Latin, the language of learning. His teachers told his parents he would not amount to much—perhaps he could apprentice to a cobbler.
As Carl grew older however, one teacher (who knew some botany) recognized his knowledge and unswerving allegiance to logic, so Carl was allowed to attend university. By that point, he loved Latin and thus, at the age of 21, he registered himself for school as Carolus.
*
Most people don't name their pets anymore based on physical attributes, no more Snowflake or Fluffy. The other day, waiting at a veterinarian's office with my dog, I heard the receptionist phoning clients with appointment reminders. She said, I'm calling about Henry's check-up. Or, Hey, Jeanie has a Tuesday appointment.
This trend toward giving pets human names comes from a change in why we want a pet. Never forget that order: a need changes our words, then those words change our thinking and actions.
In the appointment, the vet asked me if I was my dog's "mommy" (this question was a trifle disturbing coming from a medical professional).
Throughout these shifts in naming conventions, cats and dogs have remained the same. What's changed is the need the animals fulfill, and how we refer to them reveals that need. A tool to kill mice. A cuddly object. A surrogate child.
*
When Carl was young, there was no standardized spelling of words. There were no clear rules (I before E except after C), no national spelling bees showcasing children with eidetic memories asking, Language of origin? Spelling just had to be phonetic enough that the word was understood. Color was fine, as was Colour and Culler.
This must have irritated an exacting person like Carl. To give you an example of his character, in his mid-twenties, he visited Hamburg. The mayor showed Carl his most treasured possession, the taxidermied body of a many-headed hydra—a relic worth a small fortune. Carl examined the body and discovered the hidden sutures enclosing the bones of weasels in the skins of snakes. Without hesitation, he told the mayor. He believed everyone loved the truth like him. He was thrown out of town.
I've always thought there's a large difference between being clever and being wise. Carl was a clever man, filled with facts. He could have triumphed on Jeopardy week after week, stating esoterica with speed. However, to paraphrase Einstein, being wise is less about answering a problem quickly, and more about having the good judgment to avoid the problem. At times, Carl wasn't capable of that.
It's possible that his society's loosey-goosey imprecision with spelling and names was partly what motivated him to take on the task that made him famous: classifying and naming all of life in a logical way. He created a system based on each species' unique unchanging characteristics. Perhaps he wished he himself had been named as thoughtfully.
Of course, Carl started with classifying and naming plants. He grouped them based on the number and type of pistils and stamens, whether the seedling had one leaf or two. Each category and species was named for what made it unique. A genus with poisonous levels of tropane alkaloids was called Atropa, after the Greek Fate responsible for cutting the lifeline. He named a species in that genus belladonna—beautiful lady—after the fact that women at the time took small amounts to dilate their pupils in a striking way. His names were infectious: easy to remember and useful.
He classified and named animals in the same way, using the similarity of physical structures. Chordata meant animals with backbones. Mammalia, a subgroup, were those with mammary glands.
He published these names in his first book Systema Naturae. It was just 14 pages long, but it went viral, its impact still felt today. He spent the rest of his life refining the concepts and details in his publications.
Other humans, however, continued to be sloppy. Carl's name on his books ranged from Caroli to Carolo, from Linnæo to Linnaei—as though his publisher was unsure and making guesses, mumbling names at a cocktail party. And ironically, after his work became famous, Carl was reclassified again, this time as a noble. He was renamed Carl von Linné.
*
New terms can erode assumptions, allowing the mind to flow in unaccustomed directions.
The term super-spreader shifts how we feel stepping into a crowded room. Gig economy widens our focus on a single job. Structural racism changes how some of us see that high-school photo of the all-white AP class. Over time, new terms can widen our perceptions, changing how we think and act.
*
Dig a wide pit 15 feet down into the ground, then step back and you can see time.
In the dirt's cross-section, each epoch is scribbled in a different color and density. Cambrian, Permian, Cretaceous.
There's an official push to rename our current era: Anthropocene. A few millennia from now, archeologists digging in the ground will come to a different layer. Less pollen, fewer tree trunks, a vast reduction in the bones of wild animals. A layer of ripped aluminum foil and plastic bits and chicken bones and radiation from nuclear tests. Even sedimentary layers of the oceans floor will show changes, the circulatory system shifted, the current that distributes salt and temperature globally. We humans are writing our autobiography in the planet's dirt. When looked at through the lens of geologic time, our speed isn't that different from a meteor strike.
*
Terms can also narrow our perceptions. Consider the names we have for the living world, this complex biosphere that our existence depends on, that provides the food we eat and the air we breathe.
The environment? That's like naming your child organism. Such a lack of love or awe. The term brings to mind an office cubicle, something generic you can disassemble and reshape as you wish.
*
One of Carl's names was hated. He noticed all apes (including humans) had similar physical structures, so he put them in a single family and called that family Anthropomorpha: human-like.
This term created an uproar. The church considered humans to be made in God's image. Classifying a gorilla as human-like, meant it should not be shot, stuffed, and hung on the walls. For a decade, people wrote Carl outraged letters, declaring the name a blasphemy and obviously wrong.
Probably, he'd angered many people over his lifetime, incidents like the one with the hydra. Perhaps, gradually, he'd learned how to react better. Or maybe the uproar went on too long. Whatever the reason, he gave up on Anthropomorpha. He denied the obvious similarities with other apes and grafted an imaginary branch called Homo (man) onto the tree of life. Perching humans all alone on that branch, he named our species sapiens, meaning wise.
Wise Man, was this unctuous praise or sarcasm?
*
In terms of our biosphere, is the word, nature, any better?
The way nature is used, it implies anything untouched by humans. Nature is something we watch on TV, or visit on vacation, something apart from us. But we are nature, in the same way a deer or orangutan or mushroom is. It roils in our lungs and hearts. If it goes wrong in our guts, we can end up in the hospital or morgue.
If we used a better word for our living miracle of a home, would our thinking change? If the word helped us understand our dependence on the biosphere for every inhalation and morsel of food, would our actions change? Name your dog Richard and it's harder to mistreat him.
*
Carl, a man honest to a fault, had denied the truth. He created the genus of Homo sapiens to allow us to ignore all we share with other great apes: fingernails and French kissing, the rapid pant-pant of laughter and the ability to recognize ourselves in mirrors, to love our children and, at times, to die of grief.
What term should we use for our biosystem? We need a name both memorable and useful, one that viscerally conveys the importance of its health.
However, fossils and genetic sequencing have shown his original classification was close to right. Scientists have moved humans back onto the branch with the rest of the great apes, and then out onto the same twig with chimps and bonobos, who are both classified in the genus of Pan (chimpanzee).
It turns out we are genetically as similar to both of them as species of finches are to one another. There's no justification for our genus. If we were honest, we would reclassify ourselves as Pan sapiens. Wise chimp.
But we are a chimp who has a single-minded focus on tools and facts, who has a much greater facility with answering problems quickly, than avoiding them. A chimp reminiscent of Carl, more clever than wise. Perhaps we should call ourselves Pan vorsustus. Clever chimp.
*
How do you evaluate us clever chimps? In the past we've focused on characteristics that made us unique—tool use or brain size. However, modern science has shown even molluscs can use tools. Dolphins, elephants and whales have larger brains for their body size. Even when we pick the criteria, we don't win the competition.
And why do we insist on this competition? It's like wondering if red blood cells are more important than liver cells. Outside the body, both become just a drying smear. It's the system, not the parts, that matters. It's time we became wise. To exist, we need mollusks, elephants and dolphins; we need trees, beetles and bacteria.
We are now using CRISPR to improve our health. Let's use words to change how we think and act. What term should we use for our biosystem? We need a name both memorable and useful, one that viscerally conveys the importance of its health.
What about The Body? This gives an image even clever chimps can understand. The Body allows us to feel the damage. The Body has a rising temperature. Its circulation is slowing, oxygen levels lowering.
Perhaps with the term, The Body, we can change our actions so we write a better, longer autobiography in the dirt.
__________________________________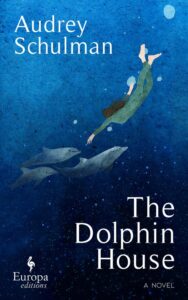 The Dolphin House by Audrey Schulman is available via Europa Editions.
---